Roses are red, violets are blue, did you know that we have a printable rose template, too?
Roses are grown for their beauty and attractive fragrant.
This is perfect to include in your lovely flower collection.
Your children can color this rose stencil in any color they want, including red, pink, white, yellow, and orange.
The more vibrant, the better!
Rose symbolizes love, appreciation, and friendship.
Use this printable rose template to show appreciation or gratitude to someone you care about.
Prepare for a busy weekend by using these printable rose template ideas for fine motor, arts and crafts, and sensory play activities.


*By the way, this post may contain affiliate links which means I may receive a small commission at no additional cost to you if an item is purchase through that link. For more information, click here.*
Printable Rose Template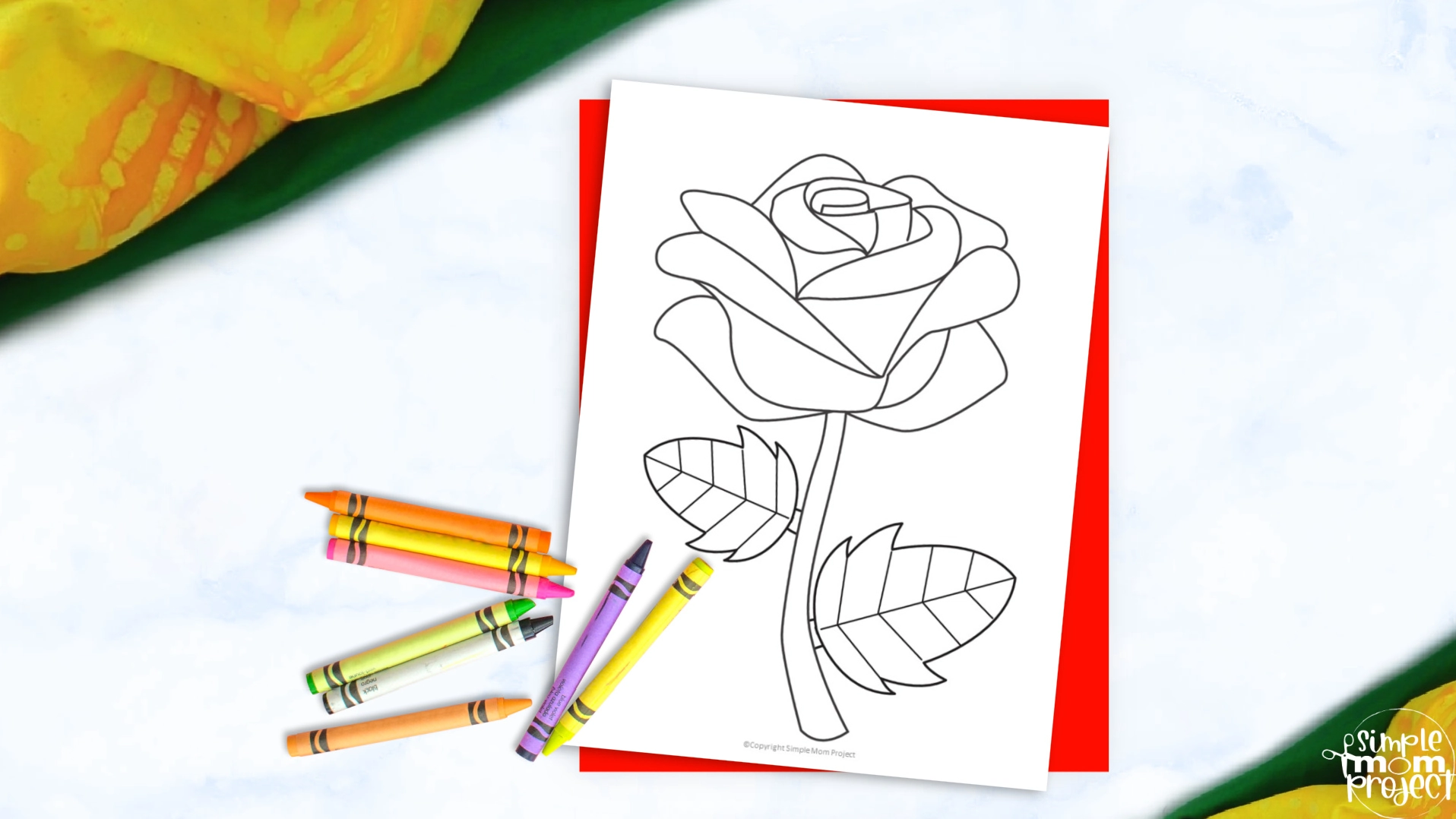 Printable Rose Template Materials Needed:
Printable Rose Template (FOUND AT THE BOTTOM)
Make your child's finished printable rose template a forever memory by laminating it! We use this laminator and cannot express how much we love it! It is not only inexpensive, it is SO easy to use!
Your kids will love seeing how much you adore their art work when you laminate and display it for years to come!
Looking for more beautiful flower crafts ideas? Check out our Lily, and Rose Cut and Paste Craft.
Ideas for Printable Rose Template
We want learning to be fun, so we gathered these fantastic ideas for you.
This printable rose template can be incorporated into your school and home plans whether you are looking for an art or science activity.
1. Flower and Gardening Books to Love
Your lesson plan will be incomplete unless you include a good read book.
These books will teach your little ones about how flowers and plants are grown.
Engage them with educational stories that have beautiful, colorful pages.
2. Paper-Rolled Roses
When we teach our kids to do arts and crafts activities, we must also teach them how to be resourceful.
They will be able to easily adapt to new challenges and deal with situations with limited available resources.
When I was a little kid, I used to make paper flowers and origami out of newspapers and magazines.
If I needed to give a gift to a family member, I consider all of the resources I have at home.
Because of this trait, I learned to be creative and saved a lot of money.
That's why I'm excited to share this printable rose template idea, in which you can use any kind of paper you have on hand.
This paper-rolled roses activity is also great for developing fine motor skills.
The materials we are going to use are scrap paper or any kind of paper you have, scissors, hot glue, and a pen.
Start with cutting a circle out of the paper.
Draw a spiral shape on the circle, cut it, and roll it until it reaches the center.
Put hot glue onto the sides of the spiral to secure it in place.
Repeat the process with different sized circles.
Decorate your preschoolers' study or bedroom with these paper-rolled roses.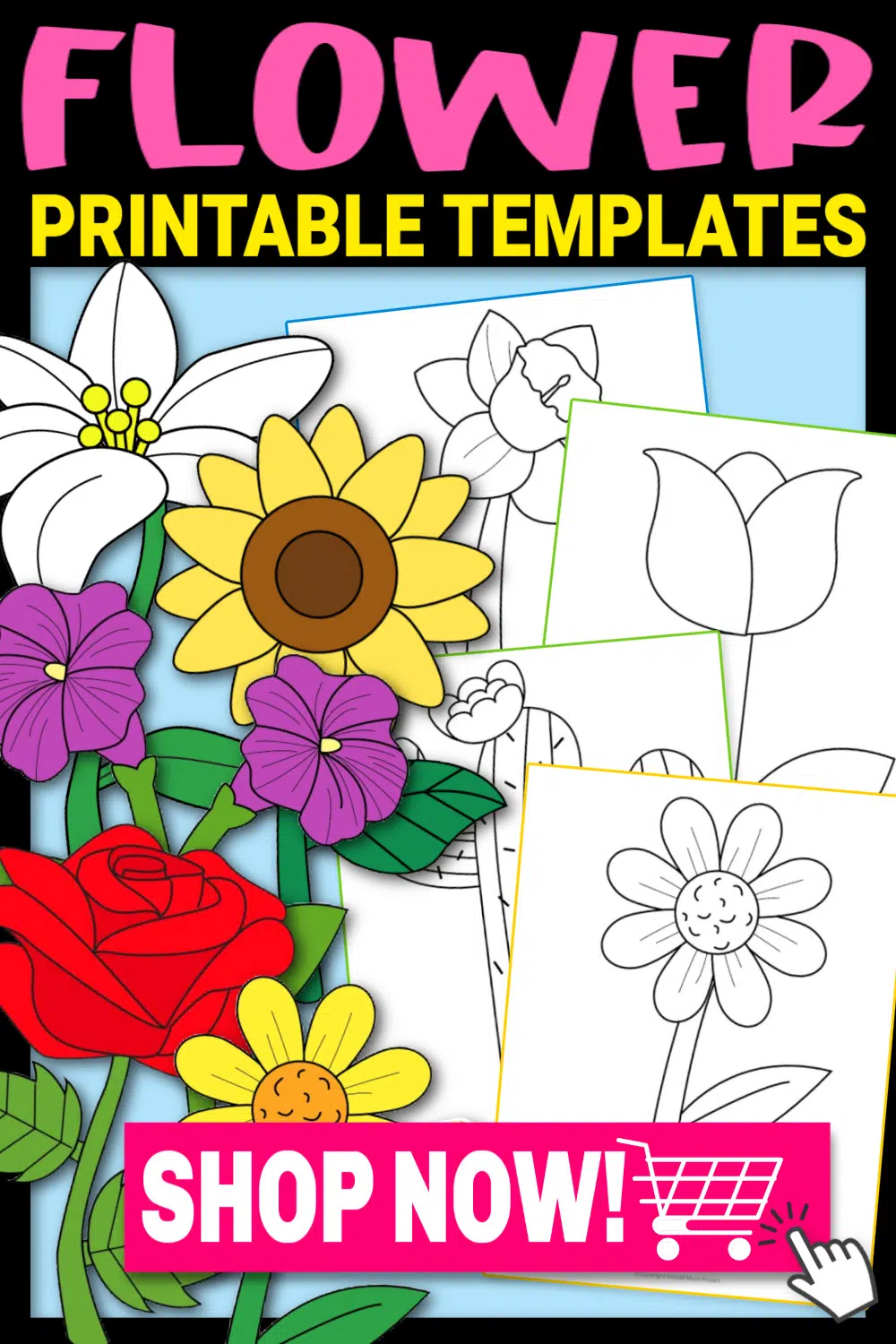 3. Celery Rose Stamping
Did you know that when you cut celery in the middle, it forms a rose shape?
Create beautiful roses with this celery stamping activity.
This printable rose template idea is a fun and easy-to-do activity for all ages.
We are going to need celeries, paint, and paper.
Let's start with cutting across the middle of the celery.
Guide your children to dip the celery into the paint and gently stamp it onto the paper.
Make beautiful celery roses by combining different colors of paint.
These celery roses are perfect for hanging on the wall or putting in a frame.
4. Floating Flowers Water Play
Are you planning an outdoor science activity for your children this weekend?
Head outside and get ready for this printable rose template idea.
Learn about flowers and discover objects that sink, float, and are heavy and light.
Take a walk through your garden and go on a scavenger hunt.
Collect flowers, leaves, rocks, and small wood pieces.
Let your kids explore with whatever they can find around.
The more objects they have, the more they will learn from this activity.
Prepare a tub of water.
Place one object one at a time in the tub.
Begin the sink or float lesson by explaining that if an object falls into water, it sinks and becomes heavy.
If the object remains on the surface, it floats and is light.
When you put the flowers in the water, you will notice that they float.
Rocks, on the other hand, will sink due to their weight.
Add more objects into the tub and let your kids enjoy exploring nature and science.
How did you find incorporating the printable rose template into your plans and routines?
What was your little one's favorite idea?
We always love to share ideas with the simplest and most awesome activities to share with your family over the weekend.


Printable Rose Template:
Excited to work on the printable rose template?
Bring out your crayons and colorful markers and let's get started on some beautiful roses!
This simple flower drawing is best for little ones to enjoy during their quiet time, art time, or any time of day.
Spend time coloring these rose coloring pages with the whole family and then share your finished pieces.
Print as many coloring sheets as you want to add to your collection of flower template coloring pages.
We hope you have an awesome time with these ideas.
We want to see all your thoughts and experiences!
Leave us a message in the comment section.
Don't forget to share your creations on Simple Mom Project's Facebook Page and follow me on Pinterest!

Kaitlen D.
More Fun Flower Templates