Are you enjoying all of our vehicle crafts templates?
You're in for extra fun this week as we make a new transportation craft for your kids.
If you want your kids to spend their free time doing something productive, this printable trash truck craft template will come in handy.
Make it a part of your classroom activities as well.
Children can engage in arts and crafts, discover the importance of recycling, learn about shapes and community helpers, and more.
This trash truck craft is perfect if you're searching for a preschool activity or something to do this weekend to spend quality time with your kids.
We want kids to have a good time learning with this vehicle and to be able to progress in any way they can with our activities.
There has never been a more exciting and educational way to learn about trash trucks!
This printable trash truck craft template would be ideal to include into your preschool activities.
You can give your preschoolers and kindergarteners a choice of two trash truck templates.
They can cut out the colored trash truck or they can start coloring the simple black and white template.
Children will be kept busy while they cut and arrange the trash truck parts together.
This is also a wonderful place to begin helping them develop their patience and fine motor abilities.
Enjoy this week's lesson on trash trucks with the printable trash truck craft template!


*By the way, this post may contain affiliate links which means I may receive a small commission at no additional cost to you if an item is purchase through that link. For more information, click here.*
Printable Trash Truck Craft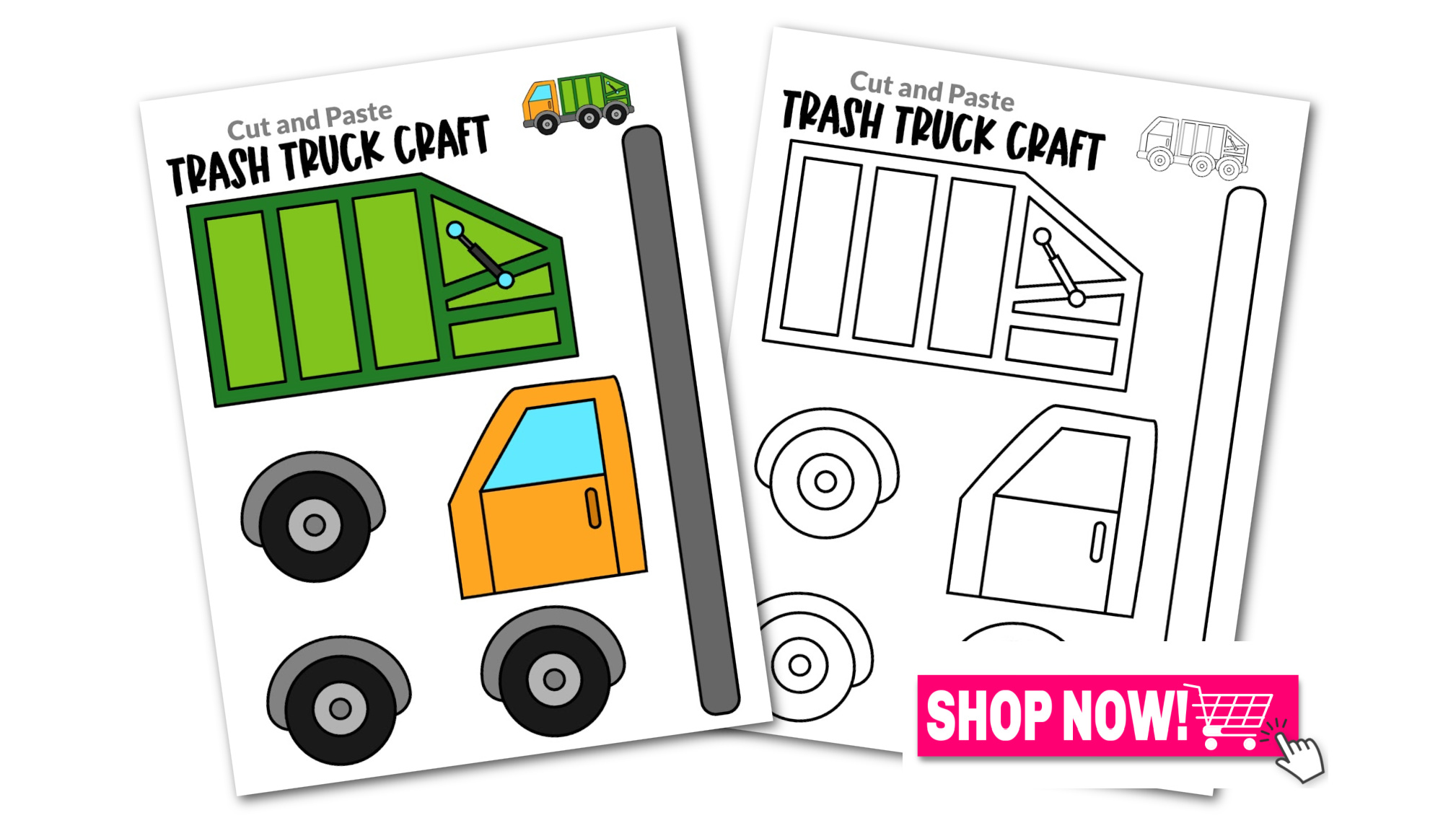 Trash Truck Craft Supplies Needed
Need more crafty vehicle fun ideas? Check out our Tractor Craft, Dump Truck Craft and Cement Truck Craft.
 T
hey are perfect for those days when staying indoors is the only thing your family can do!
Ideas for Easy Preschool Paper Trash Truck Craft
If you're wondering how to get the most of this printable trash truck craft template in your routines, we've got you covered!
Incorporate this trash truck craft into your daily activities with the help of these easy and simple ideas that we have prepared.
These wonderful ideas are all great for preschoolers and all age-appropriate!
Keep scrolling for more info, and don't forget to take notes!
1. Great Trash Truck Collectibles for Kids
We're sure the kids won't be able to get enough of these trash trucks, so why not prepare some learning materials for them to use during activities?
The fantastic thing about this trash truck collection is that you can use it to start arranging your lesson plans.
They can also be used to create a trash truck-themed learning area for your children at home or in the classroom.
Before having children work on the printable trash truck craft template, you could start your lesson with good-read books about trash trucks.
End the day with a fun memory matching game for the whole family after they have finished their trash truck crafts.
After completing their trash truck crafts, kids can play with a toy garbage truck with their friends!

2. Recycling
Did you know that the kids can learn about recycling while doing this printable trash truck craft template?
While the kids are making the trash truck craft, you may integrate a brief lesson on the importance of recycling.
You may incorporate this recycling lesson into your science classes in school as well.
Explain that some of the garbage collected by the trash truck is recycled to make different products.
Another important thing to emphasize to the kids is that they can recycle some of the household items rather than throwing them out.
Teach kids that the more we recycle, the less waste there will be in landfills.
Paper, bottles, and other things should all be recycled in order to keep the environment clean and reduce pollution.
Following your discussion, you may also glue other objects to the printable trash truck craft template.
Put paper scraps, candy wrappers, and anything else you can find on the garbage truck craft to serve as waste.
This way, children will understand what a trash truck collects.
3. Community Helpers
This printable trash truck craft template provides a number of learning opportunities for children.
Kids can learn about community helpers, their responsibilities, and their significance in the community while making this craft.
They can also learn new vocabulary and how to communicate and interact with our community volunteers.
Since we're working with the trash truck craft, we can focus on the responsibilities and importance of a waste collector.
They play a significant part in the community by collecting waste, recycling it, and taking it to landfills.
By helping us manage our waste and maintaining a clean environment, waste collectors ease and make our lives simpler.
If you have ever interacted with a waste collector, please be kind and respectful to them as their job is not as simple as it may seem.
Another fun activity you may include in your preschool activities is a community helper day at school.
Invite a waste collector over so that the kids may interact with them.
Waste collectors are more knowledgeable about their work process and have a better understanding of how a trash truck operates.
Allow the children to dress up as community helpers as well!
4. Shape Recognition
Are you wondering how to teach shapes to children in a way that will keep them interested for a long time?
Kids enjoy playing games, so we'll include one that teaches them about shapes.
You can use this printable trash truck craft template idea into your home or classroom math lessons.
This game is suitable for both groups and individuals.
When the children have finished their trash truck crafts, why not have them try building their own trash truck out of cardboard cutouts?
Before we start, get your paint, scissors, and cardboard ready.
Start by cutting various shapes out of a piece of cardboard.
Make sure a trash truck can be constructed out of the shapes.
Cut out different forms, including rectangles, circles, squares, and ovals.
Apply vibrant paint colors to the cardboard cutouts.
Allow the children to explore and play with the shapes when they have dried.
You may begin your shape lesson by asking them whether they know what shape they are holding or playing with.
Using the cardboard cutouts, let kids create a variety of figures.
Then, challenge them to construct a garbage truck using the cutouts.
You can either instruct them or use the printable trash truck craft template as a guide.
May all of these printable trash truck craft template ideas help you have a great time learning this weekend!
We always enjoy sharing concepts that make it easier and more manageable for parents to organize and plan their children's activities.
These ideas are sure to pique the children's interest in transportation crafts.
Watch out for more of these vehicle crafts in our collection so you may reintroduce them into your routines!


Trash Truck Craft Instructions
If you can't wait to get started on this printable trash truck craft, gather your materials and follow these simple steps!
Allow your children to develop their cutting skills while they work on the colored trash truck craft template.
Children can use their creativity to decorate and color their basic trash truck craft templates.
Begin by connecting the cab and the container by placing the rectangle shape platform shown in the image below.
Place one wheel on the left side, followed by two on the right, to complete the set of wheels below.
Look how wonderful you accomplished in creating a trash truck craft that resembles the ones we see in our community!
More Options to Choose:
You can print the blank version and trace the cut outs on card stock paper for a sturdier trash truck craft,
Print the trash truck template in color for a simple and easy rainy day craft or,
Print the blank trash truck template and use it as a fun coloring sheet activity and then glue the pieces of the trash truck craft together.
Printable Trash Truck Craft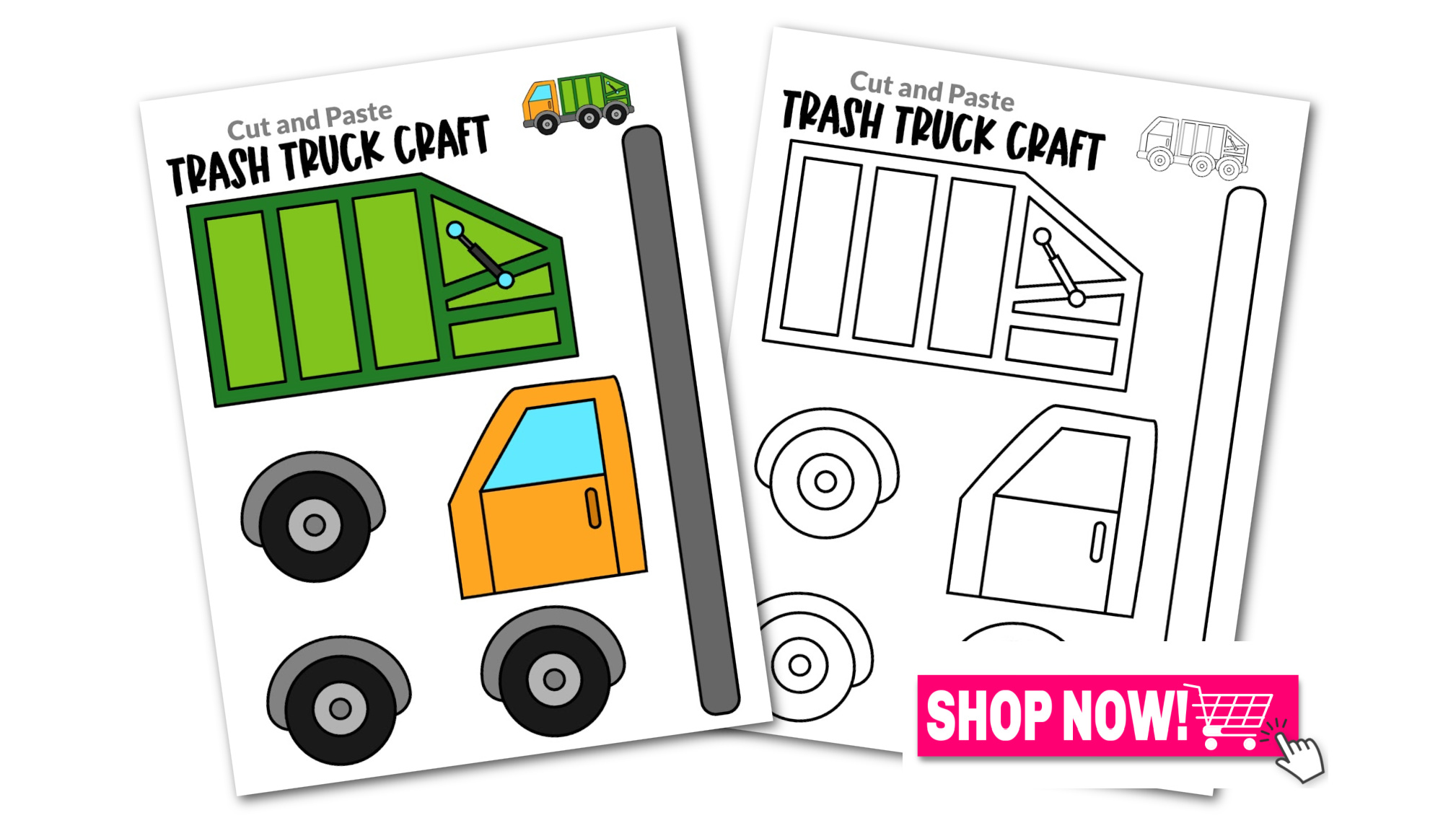 This printable trash truck craft template makes it easier than ever to learn about trash trucks!
Children can learn about various trash truck parts by completing and organizing the trash truck pieces.
They will also love how colorful the colored trash truck template is.
The plain black and white template will entice the kids to use all of their coloring tools to customize their trash trucks!
Don't worry about how to finish your trash truck crafts because we will be sharing step-by-step instructions.
Kids will have a great time making their crafts while also developing their fine motor skills.
Include this printable trash truck craft template in your kids' activities if you want them to have a fantastic time learning about these vehicles!
Need more transportation craft fun? Check out our packed list of vehicle crafts for simple craft fun with your little ones.  
When you have finished, be sure to share your creation on Simple Mom Project's Facebook Page and follow me on Pinterest!

Kaitlen D
More Printable Transportation Craft Templates