When you incorporate our collection of transportation crafts into your routines this week, you know you're in for a lot of fun.
For all the kids out there who love construction trucks, we made this printable cement truck craft pattern!
These spectacular and enormous vehicles must be included in our list!
We know that children are always amazed by how they work and appear.
This printable cement truck craft template is perfect for a construction theme week at school or a construction theme party!
All children can enjoy this simple cut-and-paste activity as part of their daily learning routines at home and at school.
Your children will be able to learn more than simply arts and crafts if you include this in your plans.
They will learn more about these construction trucks, collect unique truck items, and more!

*By the way, this post may contain affiliate links which means I may receive a small commission at no additional cost to you if an item is purchase through that link. For more information, click here.*
Printable Cement Truck Craft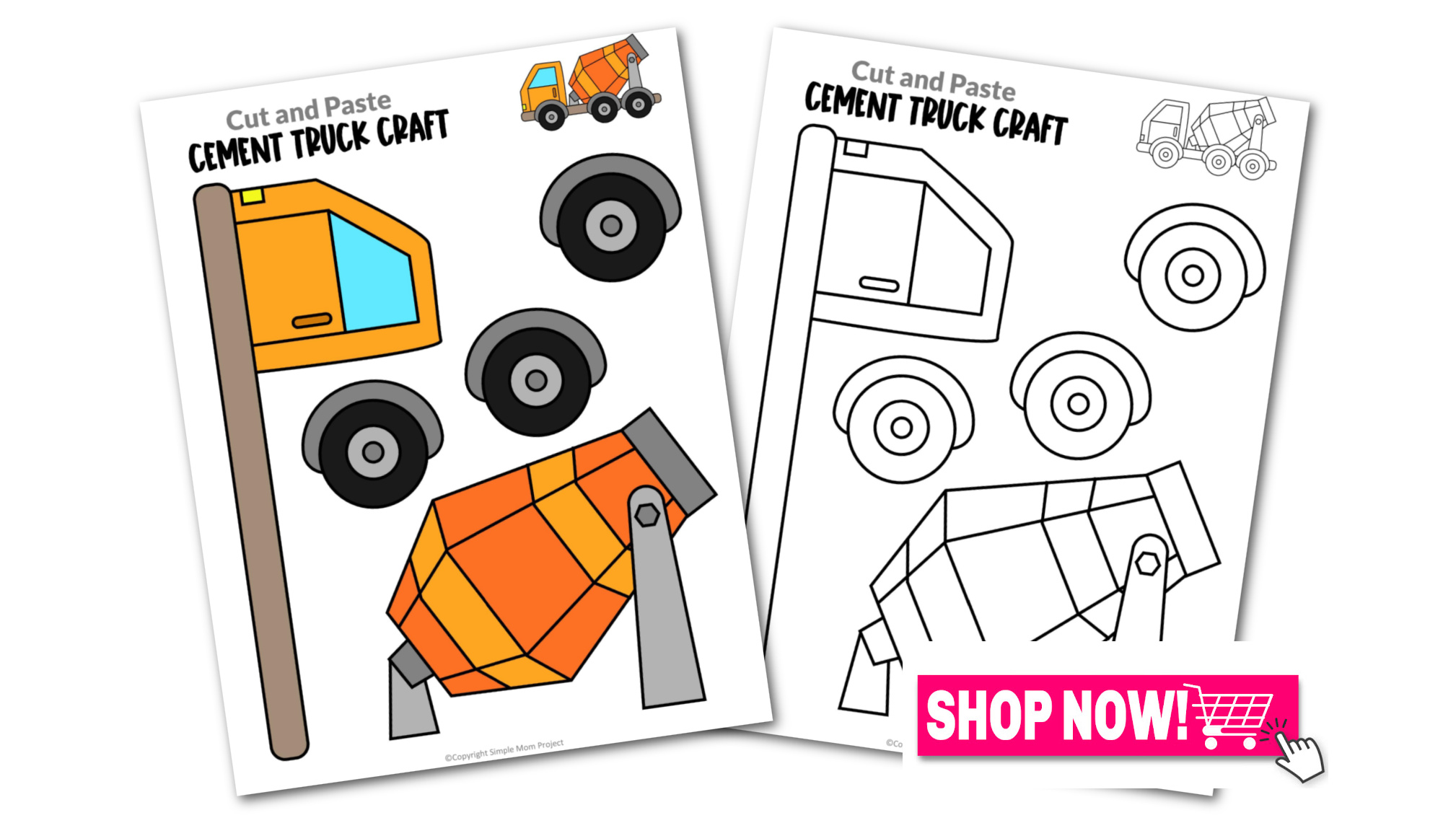 Cement Truck Craft Supplies Needed
Need more crafty vehicle fun ideas? Check out our Dump Truck and Car Craft.
 T
hey are perfect for those days when staying indoors is the only thing your family can do!
Ideas for Easy Preschool Paper Cement Truck Craft
We would love to share all of these amazing ideas for using the printable cement truck craft template in your plans!
They are simple, easy, and age-appropriate for all preschoolers, so you don't need to worry about them.
Don't miss out on these ideas to round up your construction learning week!
1. Cement Truck Collectibles
Do your kids adore construction trucks? Have they actually seen a cement truck?
Because of their brilliance, these trucks are sure to be among children's favorite transportation vehicles.
They are huge, strong, and useful for constructing many different things!
We have also prepared these kid-friendly collectibles for youngsters because we know they'll be unable to get enough of these cement trucks.
They get to collect these wonderful cement truck items in addition to working with the printable cement truck craft template.
Encourage their appreciation for cement trucks by reading them interesting books about the trucks before bed or during reading time.
Sit down with them in your free time and play with cement truck toys that kids will surely enjoy.
They are easy to find on Amazon, so collect them all together!
We will be sharing them below!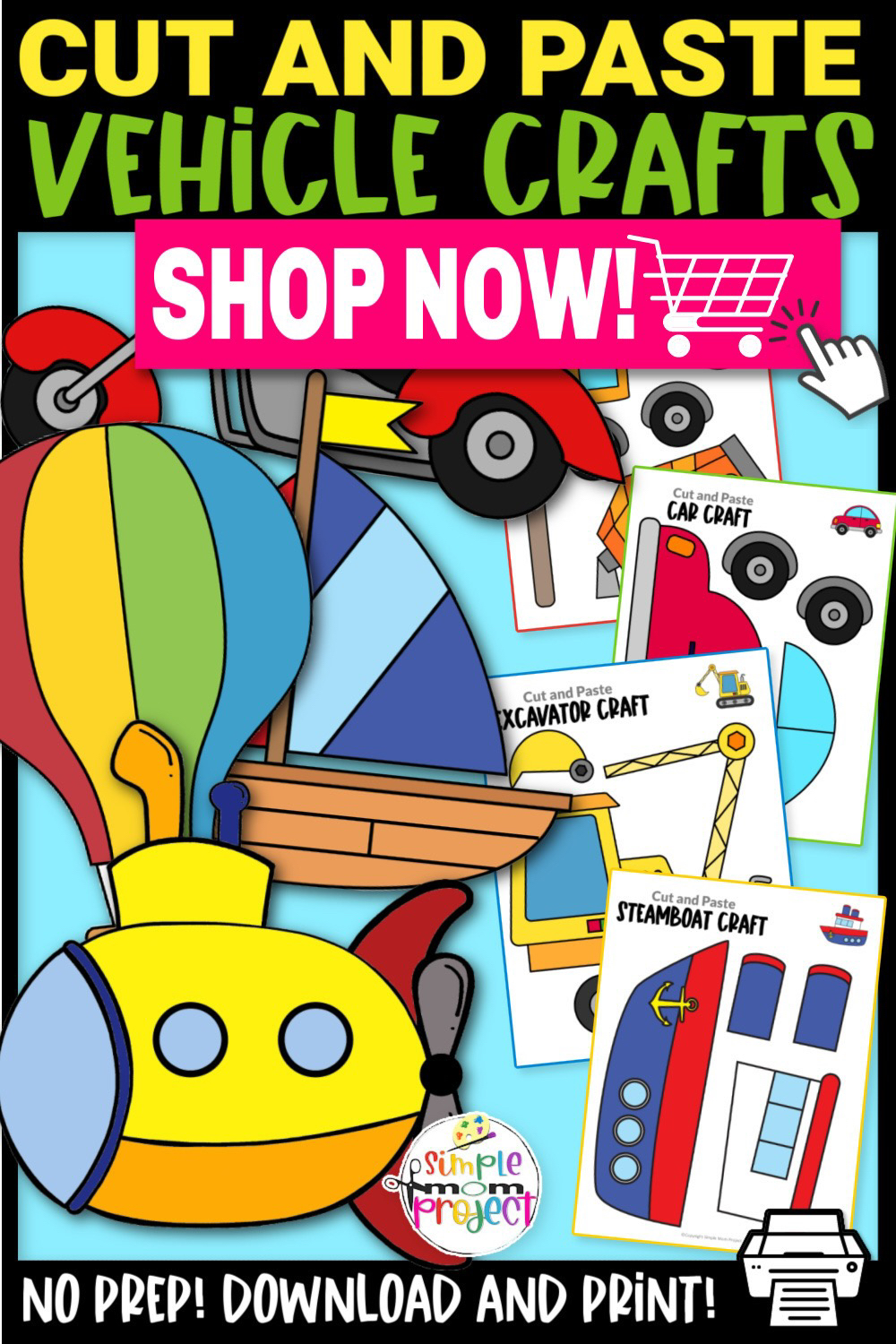 2. Cement Truck Cardboard Craft
Do your kids want a cement truck toy after completing the printable cement truck craft template?
You don't have to leave the house or spend a lot of money to get their cement truck toy!
This printable cement truck craft template idea teaches children not just an arts and crafts activity, but also about recycling and saving reusable objects around the house.
Kids will like playing with their cement truck cardboard craft because it is handcrafted and personalized by them!
Bring out your various-sized cardboard boxes, a huge bottle, a paintbrush, some paint, scissors, and hot glue.
We'll start with the cement truck parts.
Grab a rectangular cardboard box, or if you don't have one, make one.
Using hot glue, place a smaller cardboard box on top of one side to function as the cement truck's chassis.
For the cement truck wheels, cut four circles from cardboard. Place two circles on each of the rectangle's sides.
Cut the large size bottle in half to make the mixer.
The mixer will be the portion of the bottle that has the cap on top.
Draw and cut a rectangle form, then place it on the end of the cardboard that will serve as the filling system in order to attach it to the cardboard craft.
After that, mount the bottle on the craft by attaching the cap to the cardboard rectangle.
If the bottle doesn't fit nicely in the middle, you can fill it by stuffing it with scrap paper.
Once everything has been attached, you can paint it in the colors your children want.
3. Construction Vehicles
The children will have the chance to learn about other construction trucks while making crafts with this printable cement truck craft template.
With the help of this cement truck template, you can introduce more of these construction vehicles to your students during a STEM lesson.
Learning about these vehicles will teach children how they work and help in construction.
This printable cement truck craft template idea is perfect for your school's construction theme week.
You can assemble a printed copy of the printable cement truck craft template on a piece of cardboard to use as a visual guide.
With the printable cement truck craft template, you can easily create a bulletin board with a construction truck theme.
After the kids have completed their cement truck crafts, gather them all together and hang them on the bulletin board.
4. Construction Theme Party
Did you know you can also use this printable cement truck craft template for your next party?
This cement truck craft can come in handy if you're hosting a construction-themed party soon.
You'd be surprised at how many different creations you can do using this printable cement truck template!
This cement truck craft can be used as inspiration for a truck cake, cupcake topper, and other activities.
You can use the cement truck crafts to produce a party banner, a cement truck invitation, a loot bag design, and table décor.
A fun activity at the party could also include arts and crafts, with children creating the printable cement truck craft template.
They could play a game where they have to put the cement truck crafts together.
The person who puts their pieces together first will win.
We hope that these ideas were helpful to you as you plan your week's activities.
These activities are prepared to be added to your list of preschool activities for both home and school.
We are always excited to share these concepts with you and help your child develop in a variety of ways.
Keep an eye out for more transportation crafts in our collection because there will be more!

Cement Truck Craft Instructions
Prep your materials, then follow these simple and easy steps to finish your cement truck crafts.
Cutting the colored cement truck pattern is a fantastic fine motor practice for children.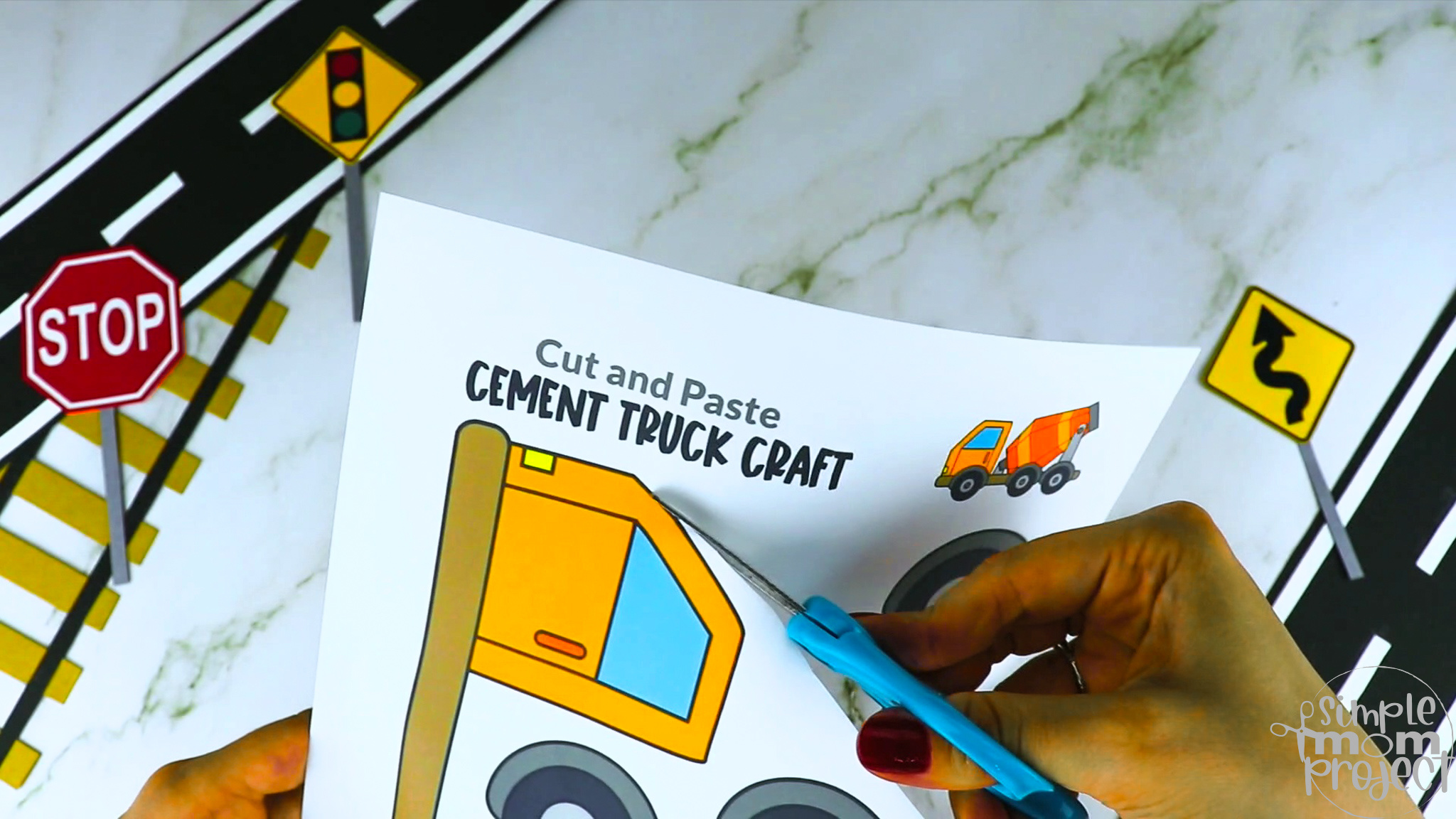 Allow your children to express their creativity by having them use all the creative supplies they have to color the black and white template.
Start by using glue to attach the mixer to the truck.
Place a wheel on the cement truck craft's left side.
Then set the second one as shown in the image on the opposite side below the mixer.
Put the last wheel on the lower right side to complete it.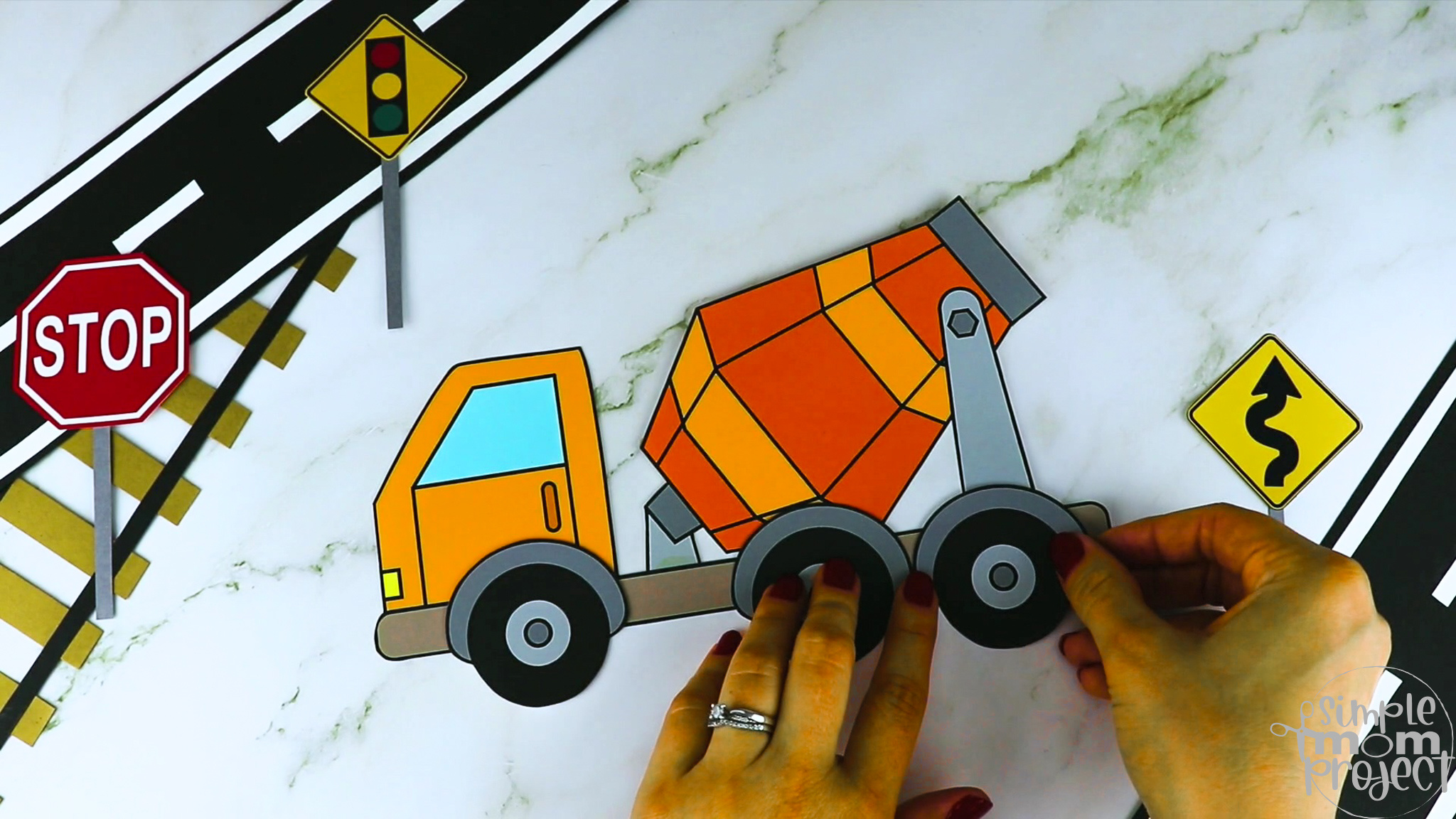 Your finished cement truck craft is now ready to help on the construction site!
More Options to Choose:
You can print the blank version and trace the cut outs on card stock paper for a sturdier cement truck craft,
Print the cement truck template in color for a simple and easy rainy day craft or,
Print the blank cement truck template and use it as a fun coloring sheet activity and then glue the pieces of the cement truck craft together.
Printable Cement Truck Craft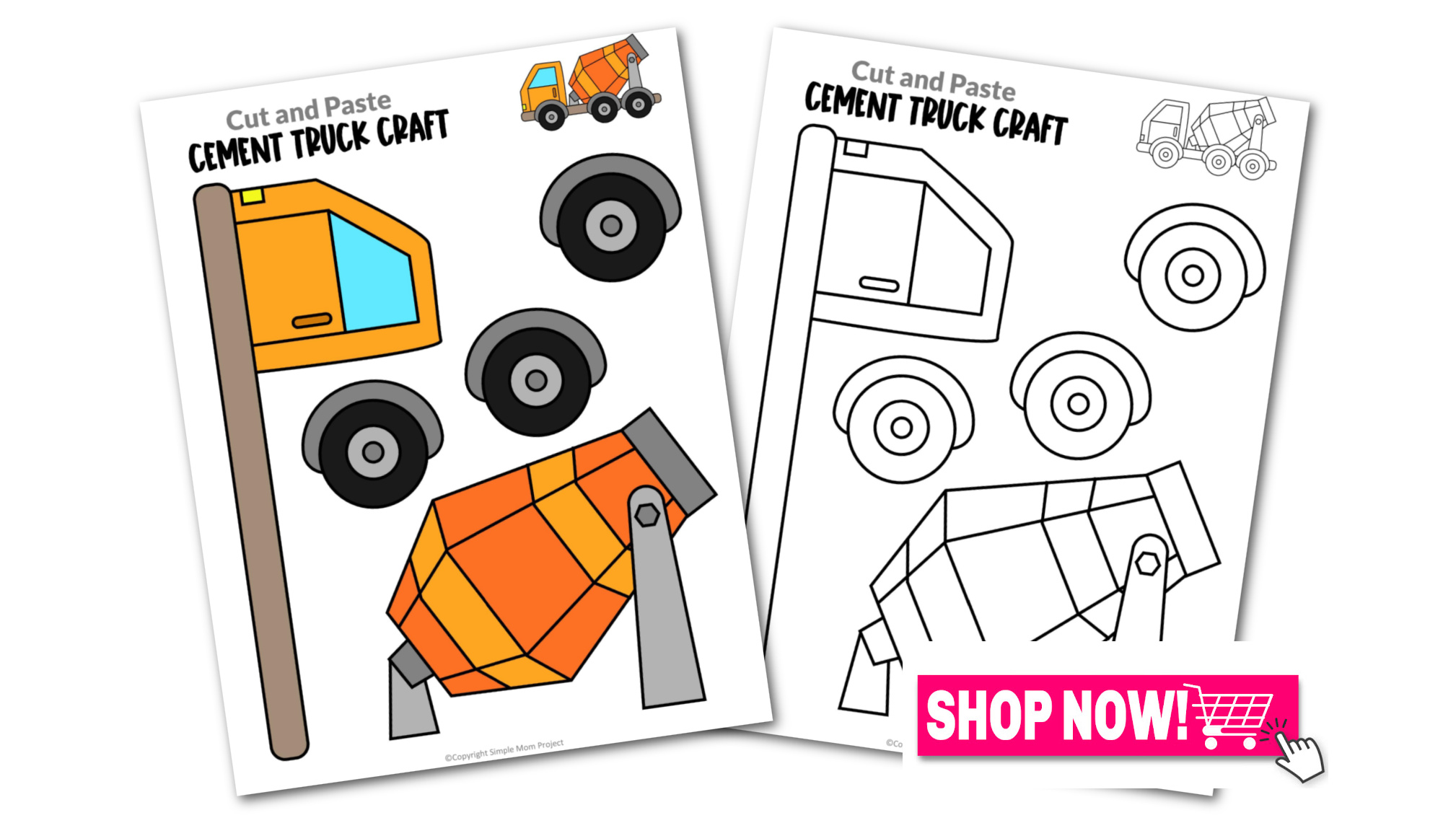 Looking for more craft ideas to do with your kids this weekend? Do your kids love to play with and watch construction toys?
Then this printable cement truck craft template is perfect for them!
Kids can complete this cement truck craft independently because we will provide easy and simple steps.
This is an excellent opportunity for children to hone their following skills, patience, and independence.
Cutting the cement truck parts will also help the kids strengthen their fine motor skills.
While organizing the cement truck pieces, they will improve their hand-eye coordination.
All of these developments can be achieved by your children if they work on this printable cement truck craft template.
And there's more!
Two incredible cement truck templates will be shared so your kids can choose and select as they wish.
Use your coloring supplies to color the black and white template or work with the colorful cement truck template right away.
Spend a wonderful week with your kids making construction truck crafts using this printable cement truck craft template!
Need more transportation craft fun? Check out our packed list of transportation crafts for simple craft fun with your little ones.  
When you have finished, be sure to share your creation on Simple Mom Project's Facebook Page and follow me on Pinterest!

Kaitlen D
More Printable Transportation Craft Templates