We have been sharing some incredible transportation crafts with you, and we can't wait to share more of them.
Our collection of transportation crafts would be incomplete without a dump truck craft.
This printable dump truck craft template is a terrific addition to your toddler crafts and preschool activities at home and school.
We all know how much kids love and enjoy these huge construction trucks!
Along with arts and crafts, children can improve their hand-eye coordination, creativity, and fine motor abilities.
We'll give you some ideas for how to include this in your daily routines.
You'd be surprised at how many different subject areas you can use this dump truck craft in.
Add this to your learning plans if you want to have a wonderful time learning about construction vehicles and more!

*By the way, this post may contain affiliate links which means I may receive a small commission at no additional cost to you if an item is purchase through that link. For more information, click here.*
Printable Dump Truck Craft

Dump Truck Craft Supplies Needed
Need more crafty transportation fun ideas? Check out our Fire Truck, Cement Truck and Trash Truck Craft.
 T
hey are perfect for those days when staying indoors is the only thing your family can do!
Ideas for Easy Preschool Paper Dump Truck Craft
If you're wondering how to use this printable dump truck craft template, we've got you covered!
We'd be happy to share these creative suggestions for using this dump truck template to the fullest in your daily activities.
All of these ideas will make it exciting for kids to learn more about dump trucks!
1. Best Dump Truck Collection for Kids
Are you organizing a construction-themed week for your preschoolers at school?
This printable dump truck craft pattern can help you with your activities.
Aside from building this dump truck template, we will also include some learning materials that you can use to arrange your plans.
It is better if we have more resources available for the kids because they will certainly ask for more dump trucks.
You may already develop a complete learning plan for the day using these tools.
Let the children enjoy playing with a toy dump truck that they can play with their friends.
The book about the dump truck is wonderful for reading aloud to the children in the reading nook or during circle time.
If you're going to include this into your daily routines at home, gather everyone together and play a jumbo puzzle of a construction site.
Learning will become enjoyable and not boring with the help of this best dump truck collection. See them all below!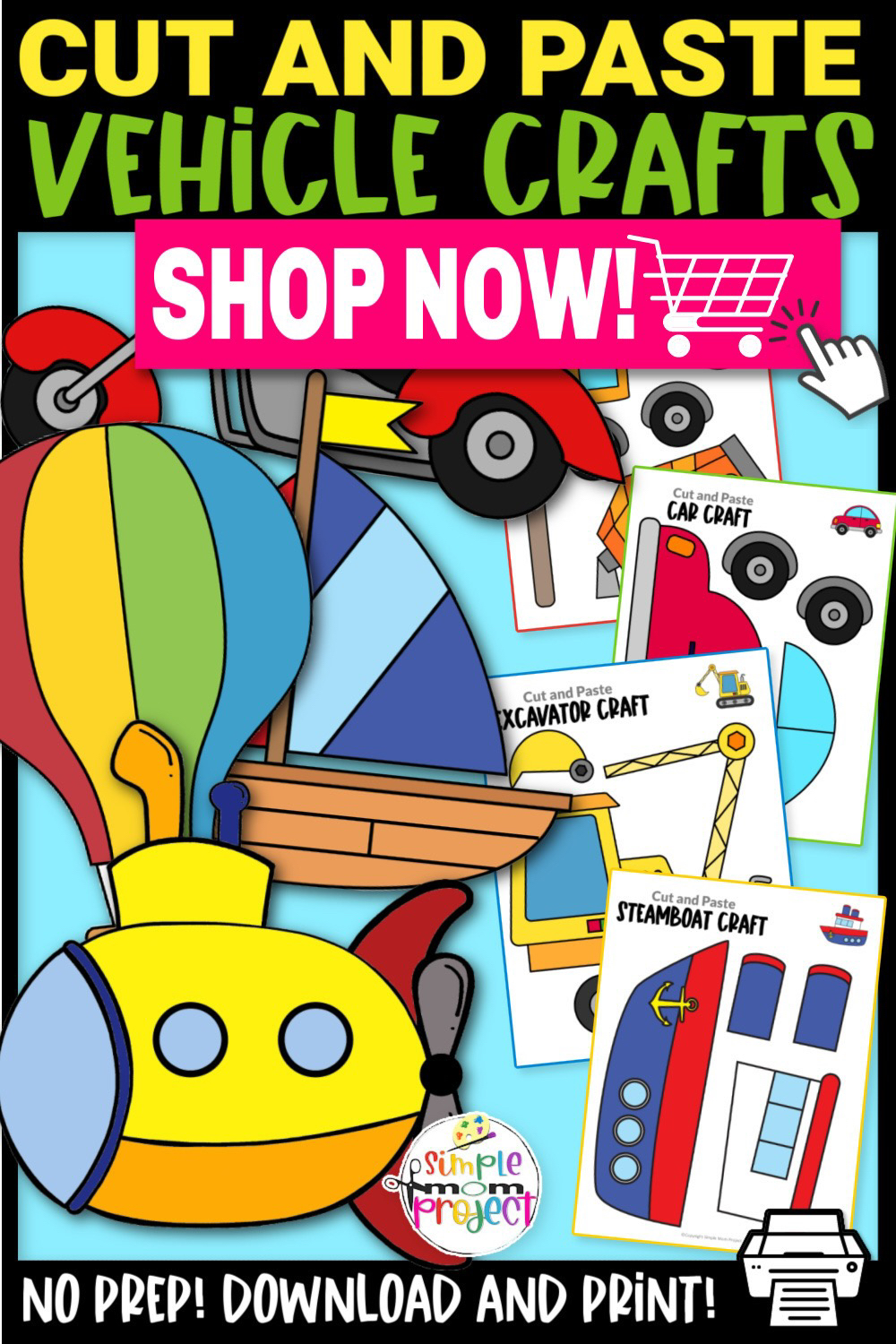 2. DIY Milk Carton Dump Truck Craft
If your kids finished the printable dump truck craft template quickly, keep them busy with another simple DIY craft.
Children will learn how to reuse an item they frequently find around the house with the help of this printable dump truck craft template idea.
This will teach children the value of recycling and saving.
They will also have the chance to show their creativity in creating their own handmade dump truck crafts.
For this activity, gather your empty milk carton boxes, paint, a paintbrush, bottle caps, scissors, and hot glue.
The milk container will be cut first.
Draw the lines on each side of the milk carton 2 inches from the top and 1 inch from the bottom.
Cut along the lines you drew on both sides of the milk carton box to separate the cab from the bed part of the truck.
The two dump truck parts can now be painted with any color you have available.
Cut out a window and windshield form on the cab part once they have dried.
For the dump truck wheels, attach two bottle caps to each side of the milk carton box.
Put the dump truck's bed in a tipping position behind the carton.
Children now have handcrafted dump trucks!
When they are playing with their DIY milk carton box dump vehicle crafts, they may add bricks or pebbles to the dump truck!
3. Dump Truck Math Activity
Did you know that combining math with these dump trucks will make your construction theme week much more exciting?
When children are toddlers, we know that they prefer to play with their toys, therefore we should encourage play-based learning.
Kids won't even realize they're learning math while playing with their favorite toys in this printable dump truck craft template idea!
This may also be used in school activities or math area exercises for preschoolers and kindergarteners.
The children are probably loading items into the dump bed as they play with their dump truck toys.
This is our chance to teach them counting, shapes, and colors.
Play with them side by side first to interact with them.
If your child has two or more dump truck toys, you can use one of them while filling the bed with whatever you can find.
Encourage your children by letting them place any toys in the dump bed on their own once you have their attention.
You can start counting while they place it one by one, then encourage them to count with you.
After counting, you can identify the shapes and colors of the objects.
4. Construction Sensory Bin
Sensory bins are one of our favorite activities to do at home, besides arts and crafts.
My kids are constantly occupied and engaged in any sensory bin I arrange for them.
Children have the chance to learn through tactile play by using sensory bins.
I made sure to add a fun sensory bin activity while learning about dump trucks because it also helps with concentration, fine motor skills, problem solving, and creativity.
If you want to keep your kids occupied while you do your everyday tasks, this construction sensory bin is the answer!
Let's start building our construction sensory bins!
Gather a medium-sized bin, some sand or rice, rocks, pebbles, and construction toys.
Fill the bin with a liberal amount of sand or rice.
Make it appear like a construction site by placing the rocks and stones on the sides.
Around the bin, put the construction toys together.
You may also give your kids a shovel, a bucket, and some cups for the activity.
Allow your children to dig some sand with the excavator toys and fill the dump truck toys with rocks and stones.
After kids have finished using their printable dump truck project template, they may play in this construction sensory bin!
Did you enjoy writing down these ideas to incorporate into your lesson plans?
We are always happy to share the best transportation craft ideas with you.
With these ideas, this printable dump truck craft template is sure to make your construction-themed learning week a blast.
We are confident that your children will learn everything there is to know about construction trucks!

Dump Truck Craft Instructions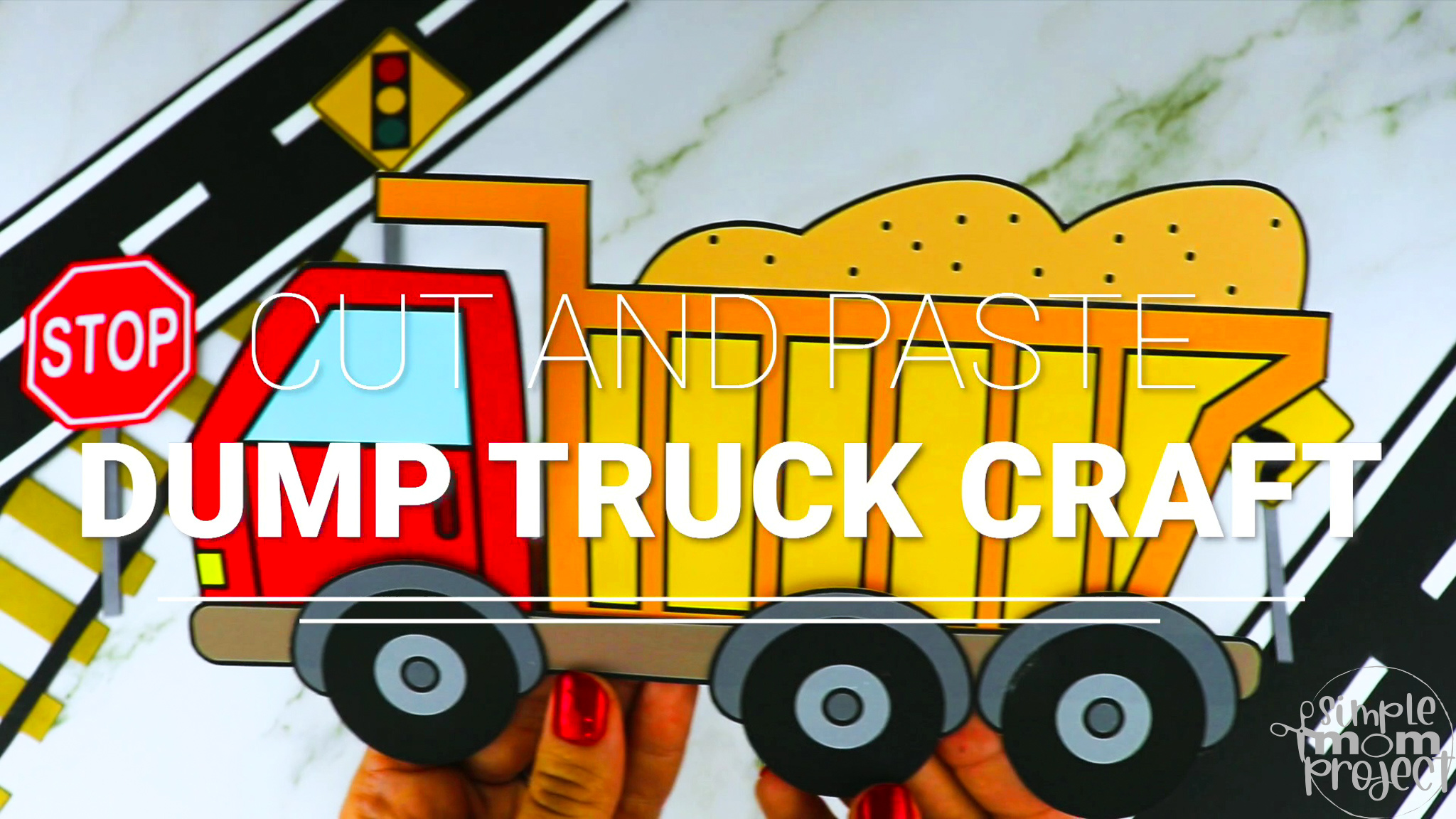 Check out these simple instructions on how to complete your dump truck crafts once all of your materials are ready.
Kids who are just learning to cut can practice their fine motor skills by cutting the colored dump truck template.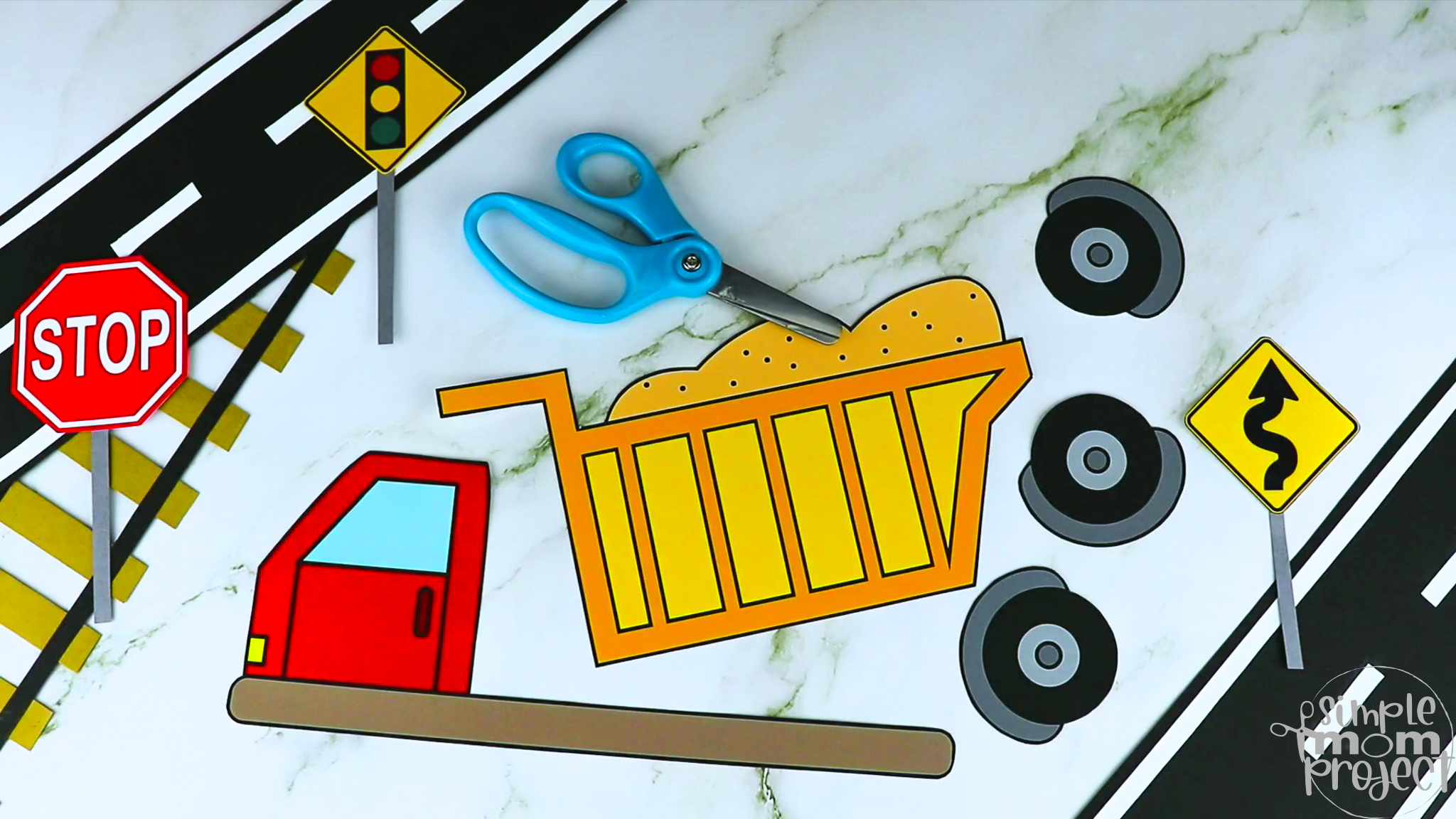 Using your glue, begin by attaching the dump bed to the truck.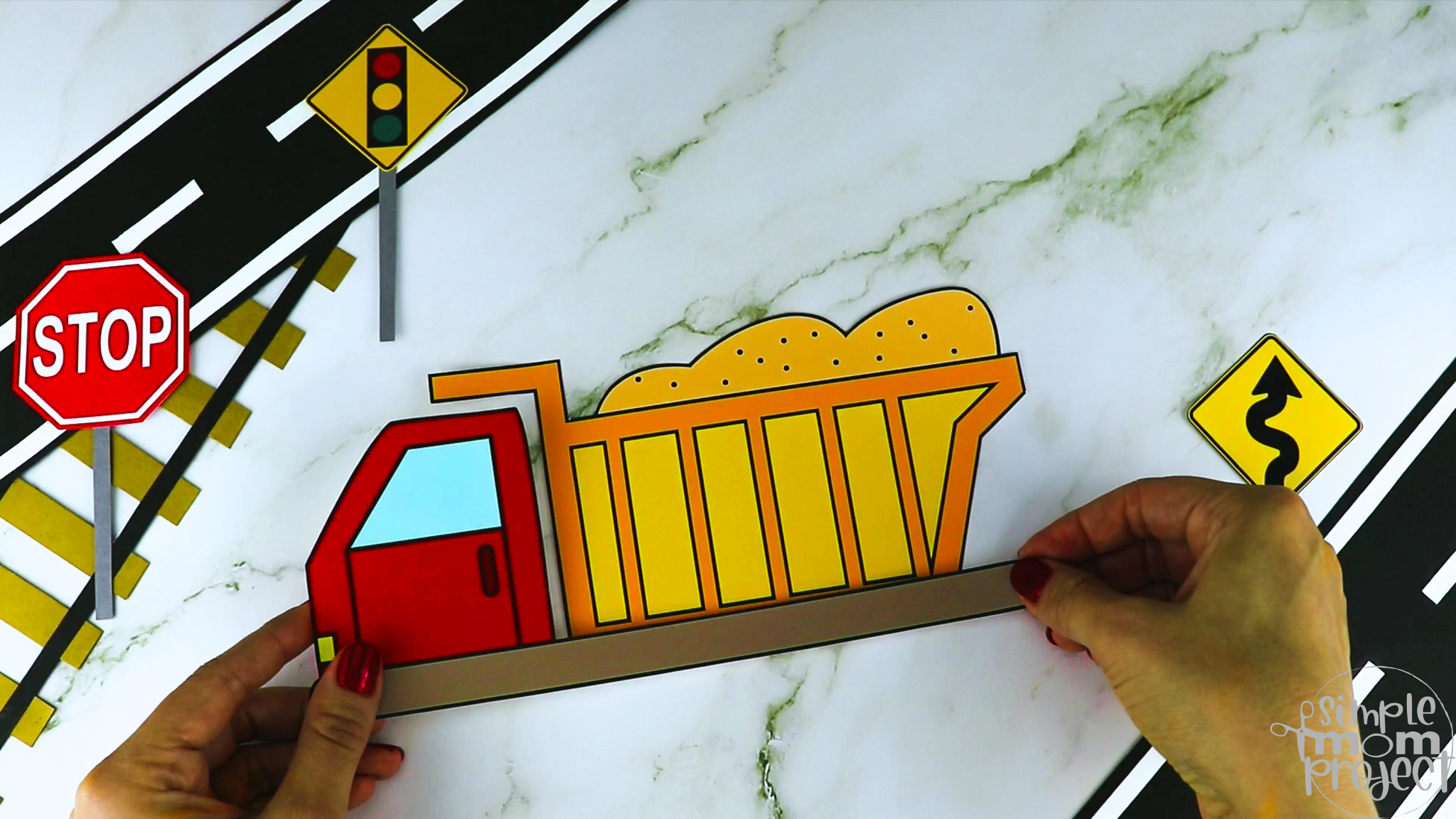 Attach one wheel to the lower left side of the truck, underneath the cab.
Then, on the bottom right side, place the two remaining wheels under the dump bed.
You've finished building your dump truck, and it's now prepared for loading at the construction site!
More Options to Choose:
You can print the blank version and trace the cut outs on card stock paper for a sturdier dump truck craft,
Print the dump truck template in color for a simple and easy rainy day craft or,
Print the blank dump truck template and use it as a fun coloring sheet activity and then glue the pieces of the dump truck craft together.
Printable Dump Truck Craft
Love these incredible construction crafts so much? Get started right away with this printable dump truck craft!
Kids can easily do this simple dump truck craft in their free time or while participating in school activities.
Because of our clear directions with actual pictures, they will be able to complete this activity with ease.
If you're looking for something to include in your preschool crafts, this dump truck craft is a terrific addition.
Children can choose their own templates to work on because we'll be sharing two amazing dump truck templates.
Your kids' fine motor, focus, and creative skills will grow as they work on this printable dump truck craft template.
Need more transportation craft fun? Check out our packed list of transportation crafts for simple craft fun with your little ones.  
When you have finished, be sure to share your creation on Simple Mom Project's Facebook Page and follow me on Pinterest!

Kaitlen D
More Printable Transportation Craft Templates