Looking for a fun and easy spring and fall craft activity for your children?
This cute free printable mushroom craft template is so easy to make even preschoolers and kindergartners can do it on their own!
Your child will not only enjoy the process of making this simple cut and paste mushroom craft but they can also play with it, hang it on their wall or display it in their classroom.
So, let's grab all those materials needed because we're going to make different DIY beautiful mushroom crafts today!


Need more crafty fun? Check out our Frog Craft, Dragon Craft and Royal Horse Craft.
 T
hey are perfect for those days when staying indoors is the only thing your family can do!
*By the way, this post may contain affiliate links which means I may receive a small commission at no additional cost to you if an item is purchase through that link. For more information, click here.*
Free Printable Cut and Paste Mushroom Craft
Ideas for Easy Preschool Paper Mushroom Craft
These little mushrooms are so adorable, we came with a few bright ideas on how to include a printable mushroom craft template in our daily life.
1. Marvelous Mushroom Facts
Mushrooms also known as toadstools are not vegetables or fruits.
They are a type of fungi that usually looks like an umbrella-shaped.
Did you know that mushrooms don't need sunlight to make energy for themselves?
Imagine living and growing in the dark all the time!
Did you know that there's a mushroom called "Chicken of the woods?"
It's very tasteful and resembles chicken meat when cooked properly.
Did it ever cross your mind what we call people who collect mushrooms to eat?
It's called "mycophagist," meaning mushroom eater. Cool facts, right?
There are a lot of amazing facts about mushrooms that you would find interesting to share with your children.
You can give some brief information about mushrooms using this free printable cut and paste mushroom craft template that is perfect for kids at all ages!
2. Children's Books About Mushrooms
My kids are fascinated with these giant red mushrooms that serve a lot of purposes in playing the Super Mario game!
Can't get enough of these umbrella-shaped mushrooms that can be found growing in places like forests, fields or at your gardens? 
Take a look at some of our favorite educational mushroom books for children of all ages.


3. Make a DIY Mushroom Crafts
Who doesn't love making easy DIY crafts during the weekend?
My children scrolled through Pinterest, searching for great ideas on how to maximize the use of this preschool cut and paste mushroom craft template.
With just a few inexpensive craft supplies and some recycled materials, we end up creating adorable paper plate mushrooms and cute egg carton mushrooms!
We simply glue together the paper plate as the cap and toilet paper tube as the stalk.
The result looks like a giant mushroom!
For the egg carton mushroom, help your kids in cutting the egg carton sections and let them paint it with red and some white dots or whichever color they want to use.
Glue it together and it will look like some miniature mushroom house! It's so easy to do!
4. Summer Break Bonding
This free printable mushroom craft template can be part of your family bonding during summer break.
Download and print as many mushroom templates as you want for each member of your family.
You can also look for many easy DIY crafts like folding an origami mushroom papercraft, recycled mushroom plastic cup or a clay mushroom that is perfect to display on your little one's study table.
Whichever you want to use this cute mushroom craft template, we guarantee that it will strengthen the bond you have with your kids.


Mushroom Craft Supplies Needed
Printable Mushroom Template (FOUND AT THE BOTTOM)
Keep scrolling to get your very own mushroom craft today and start with your little ones and their royal character craft buddies today!
Mushroom Craft Instructions
Simply, download and print the free mushroom craft template your child has chosen.
Guide your little one in cutting each piece of this adorable printable red mushroom template.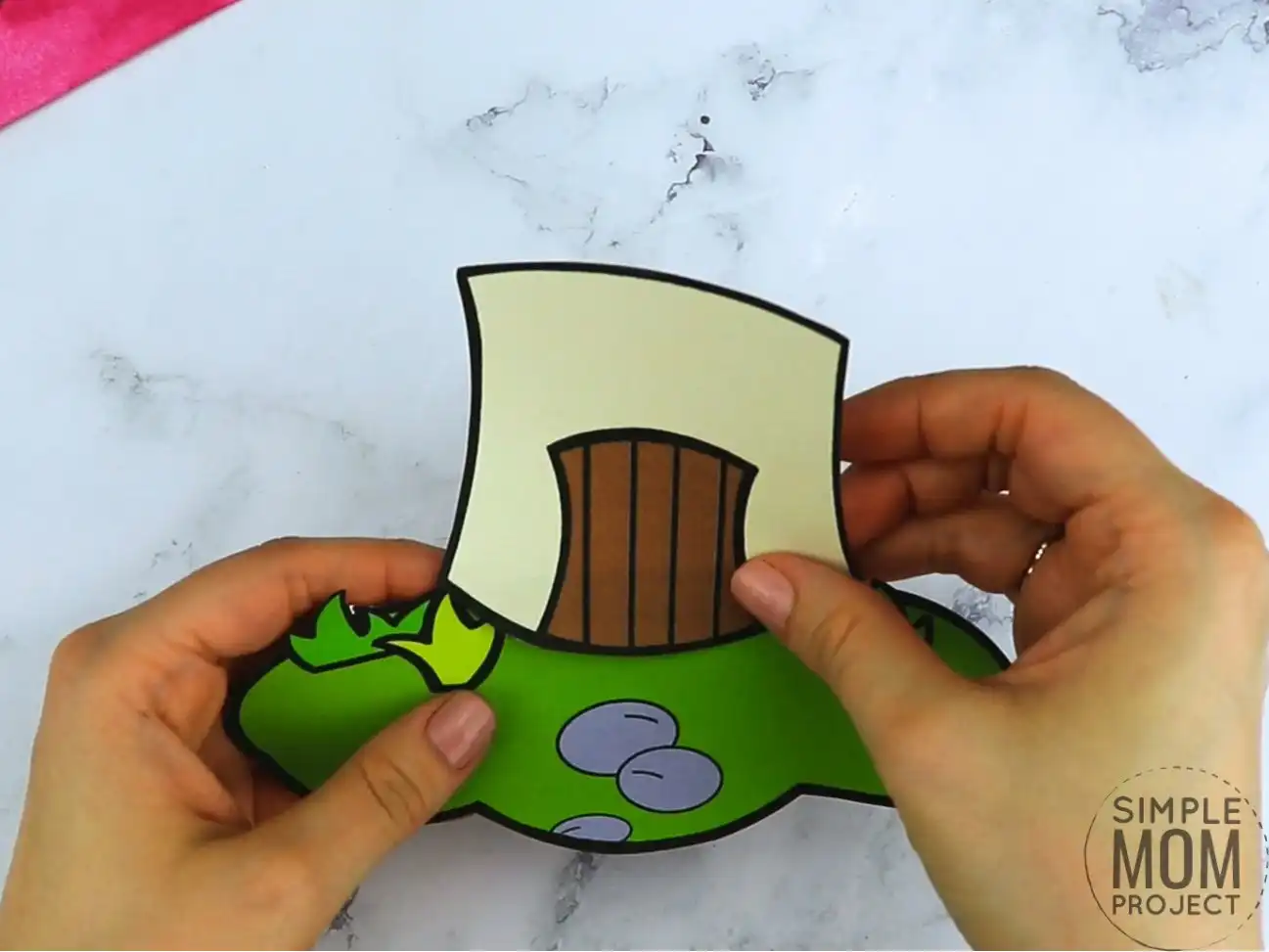 Start gluing the stalk on the ground grass. Glue the cap on top of the stalk, then add the cute little mushroom on the side.
That's all you need to do to make this free printable red mushroom craft that also looks like a mini miniature mushroom house.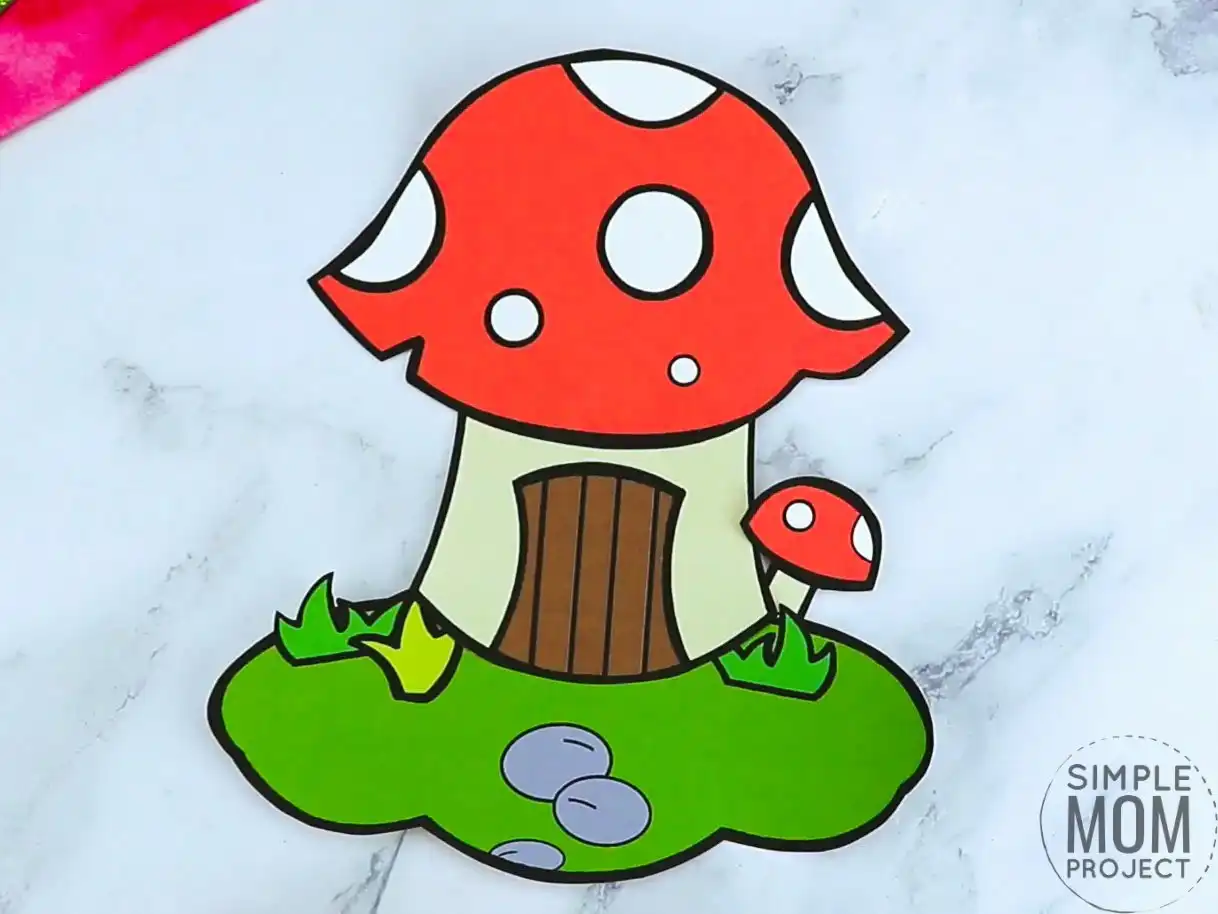 It's really simple, right? Most importantly, your children will be benefited from it by improving their fine motor skills.
More Options to Choose:
You can print the blank version and trace the cut outs on card stock paper for a sturdier mushroom craft,
Print the mushroom template in color for a simple and easy rainy day craft or,
Print the blank mushroom template and use it as a fun coloring sheet activity and then glue the pieces of the mushroom craft together.
Free Printable Mushroom Craft Template
This little printable mushroom craft template is so adorable it came with two versions!
We have the black and white template where your little one can color it first and your child can also choose the colored mushroom template where they can directly cut it out.
Don't forget to share your learning plans in the comments.
Need more storybook character fun? Check out our packed list of storybook characters for simple craft fun with your little ones.  
When you have finished, be sure to share your creation on Simple Mom Project's Facebook Page and follow me on Pinterest!

Kaitlen D.
More Storybook Character Crafts