Have you ever passed by a field and saw a scarecrow?
Ever wonder why scarecrows are placed in open fields?
These scarecrows are covered in clothing to prevent birds from damaging and eating the growing crops.
If you're looking for quick and easy fall activities, this printable scarecrow paper bag puppet template is perfect.
Make a scarecrow hand puppet out of your lunch bags!
You may do this simple fall craft with your kids using supplies you already have around the house.
These scarecrow puppets would be fun for kids to make and would help them develop their hand-eye coordination, creativity, and fine motor skills.
Print your copies now and use them to plan a fall-themed puppet show performance this weekend!

*By the way, this post may contain affiliate links which means I may receive a small commission at no additional cost to you if an item is purchase through that link. For more information, click here.*
Printable Scarecrow Paper Bag Puppet Craft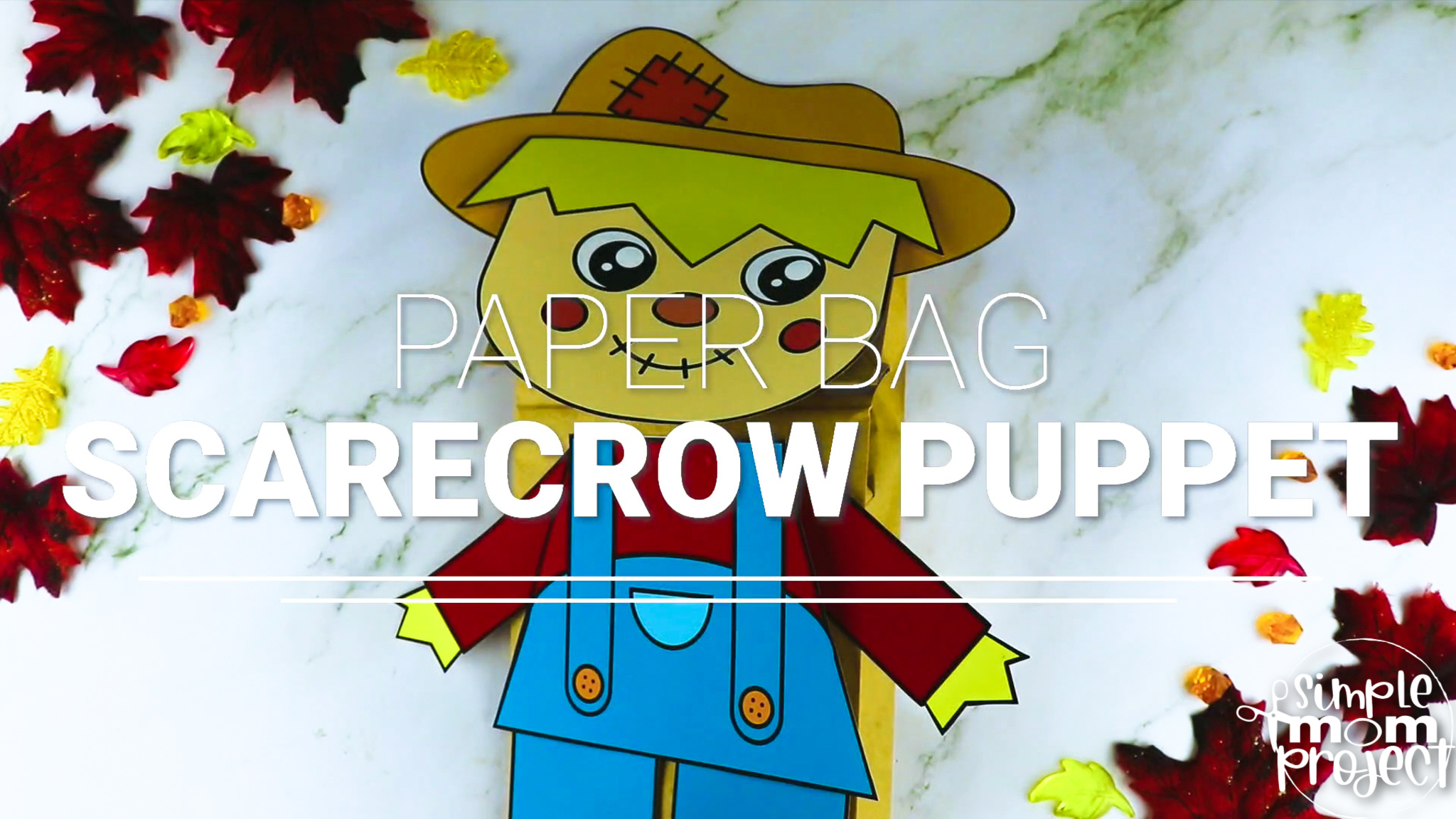 Scarecrow Craft Supplies Needed
Ideas for Easy Preschool Paper Scarecrow Craft
We have some fantastic ideas for using this printable scarecrow paper bag puppet in your home and school routines.
These ideas are sure to make your preschool activities more fun and engaging!
Please feel free to incorporate any of these ideas into your fall-themed learning plans!
1. Scarecrow Themed Learning Materials for Preschool
Prepare for a fall theme lesson plan with these easy-to-find learning materials we've compiled for your kids.
The printable scarecrow paper bag puppet template is best introduced using these materials.
It would be a good idea to let the children explore with these learning resources if you plan to work on the scarecrow paper bag.
Before making their scarecrow hand puppets, let the kids read books about scarecrows and play with a scarecrow clothespin craft kit.
2. Scarecrow Costume
Dressing up like a scarecrow for a fall themed party could be a lot of fun for kids.
It's fun to mix and match various clothing styles to look like a scarecrow in a field.
If children could dress up and play dress-up as scarecrows themselves, they would definitely enjoy the printable scarecrow paper bag puppet template.
The scarecrow puppet template can also serve as inspiration for dressing up your children as one.
This weekend, have a fall-themed party and encourage your kids to come as scarecrows!
You may also have them work on the printable scarecrow paper bag puppet template throughout the event.

3. Preschool Fall Crafts
The printable scarecrow paper bag puppet should be on your list of fun fall activities if you have a toddler, preschooler, or kindergartener.
This puppet craft would keep kids occupied all day as they cut, assembled, and glued all of the parts together.
They would be more productive by working on their paper bag puppet scarecrows than by playing with gadgets.
If you want to include this in your classroom activities this fall, have your preschoolers construct scarecrow puppets.
You may also create a fall-themed art wall where children can display their creations.
This printable scarecrow paper bag puppet would also look great in your classroom as a fall decoration!
4. Easy DIY Scarecrow Crafts
This printable scarecrow paper bag puppet template will surely inspire children to create more scarecrow crafts.
You may make a scarecrow out of any common objects by using your imagination and some household items.
To make a scarecrow craft, collect some scrap paper, construction paper in various colors, and any other kind of paper you have.
The printable scarecrow paper bag puppet template can be used as a guide when creating your own scarecrow crafts.
Allow your children to use their imagination and creativity to make their own handcrafted scarecrow crafts.
This would also be a great activity for your preschool children to share their ideas on how to make their scarecrows.
We are very excited to see how much fun you and your children have using all of these ideas!
These ideas are sure to make your fall season memorable.
Keep an eye out for more of our seasonal paper bag puppets coming soon!
Scarecrow Paper Bag Puppet Instructions
Check out these simple and easy to follow instructions for creating a scarecrow paper bag puppet once all of your materials are ready.
Your children can begin working on the colored scarecrow template by cutting the parts one by one.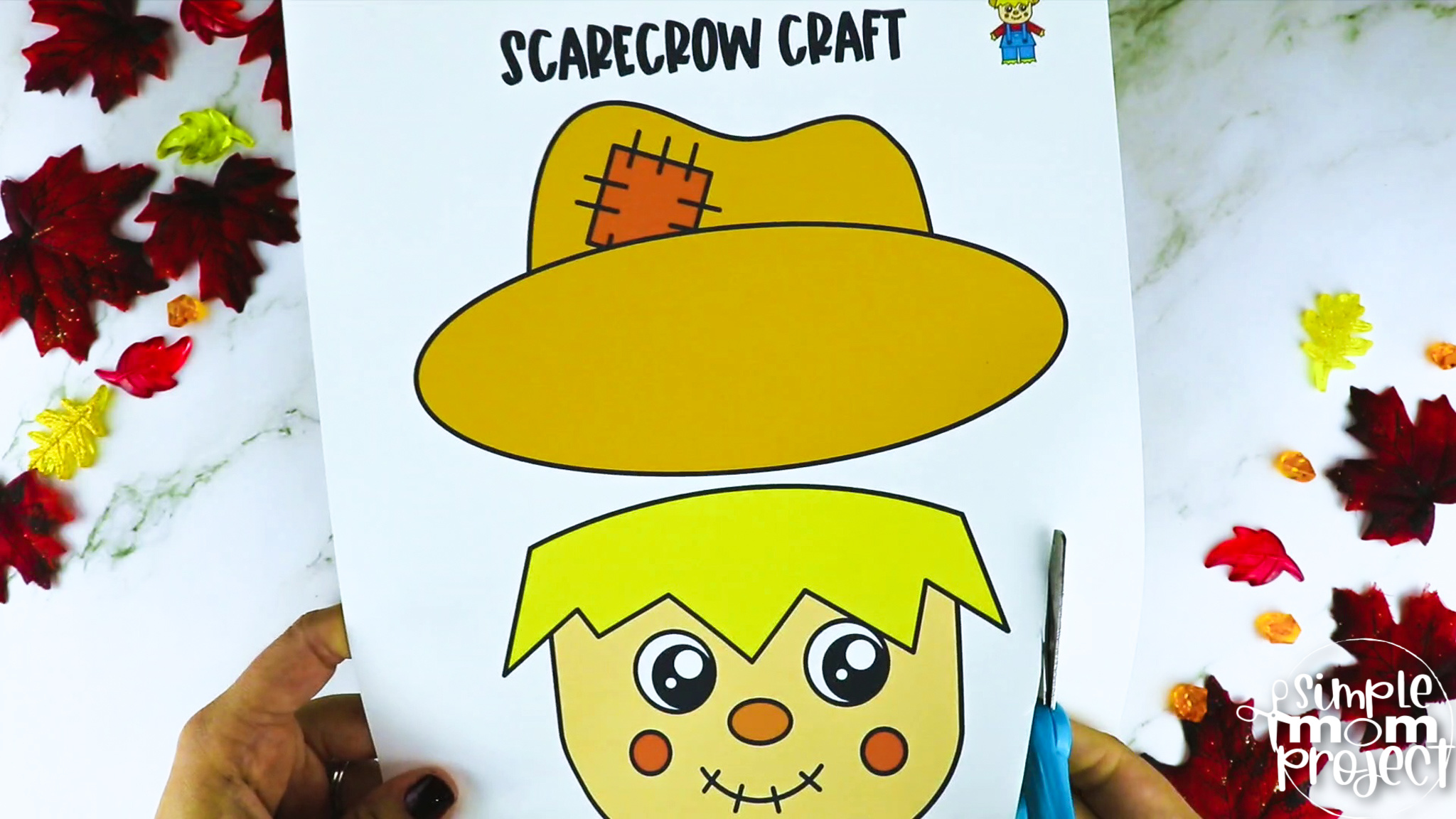 Give your children the freedom to add any decorations they choose to their blank black and white templates.
Start by gluing the scarecrow's hat to the brown paper bag's folded edge.
Attach the upper body of the scarecrow.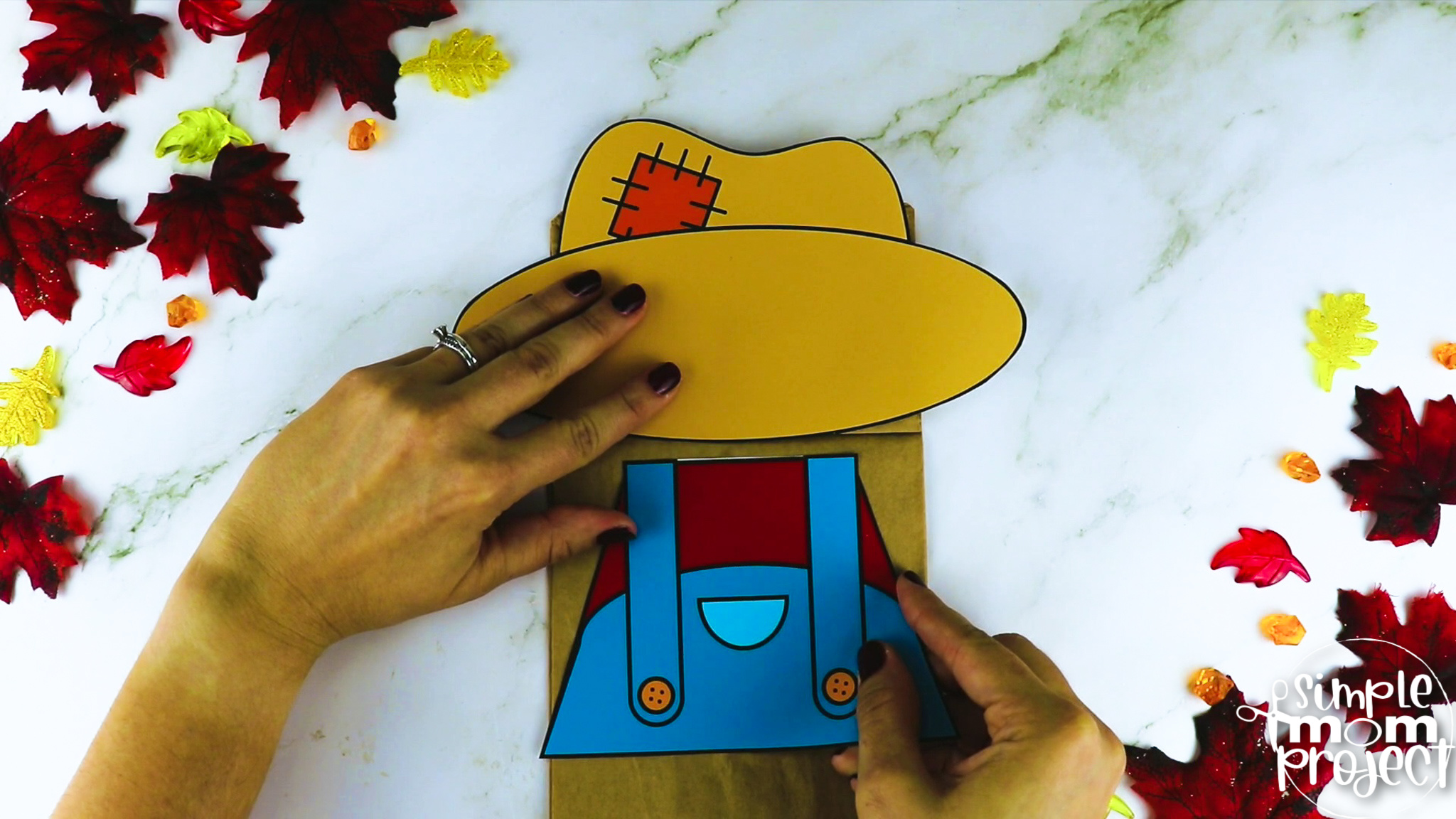 Place the scarecrow's legs beneath the upper body.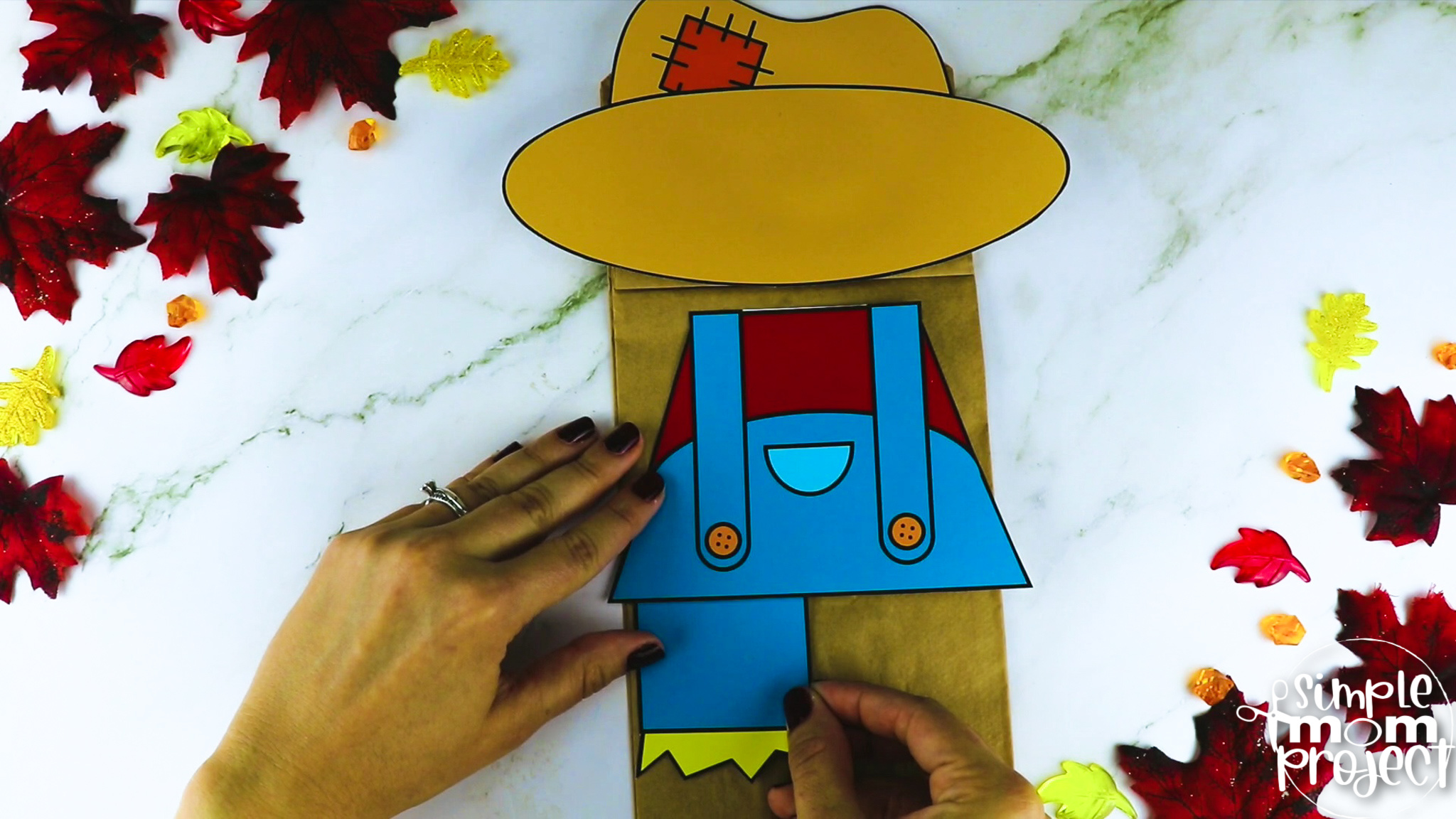 Put both arms on each side of the scarecrow's body.
Place the scarecrow's head on top of your paper bag puppet as shown in the illustration below to complete it.
The scarecrow paper bag puppet will definitely keep the birds off of the field!
More Options to Choose:
You can print the blank version and trace the cut outs on card stock paper for a sturdier scarecrow paper bag puppet craft,
Print the scarecrow template in color for a simple and easy rainy day craft or,
Print the blank scarecrow template and use it as a fun coloring sheet activity and then glue the pieces of the scarecrow craft together.
Printable Scarecrow Paper Bag Puppet Template
You'll have a lot of fun this fall if you make your own scarecrow paper bag puppets!
Print a copy right away because we know how much kids are looking forward to making their own hand puppets!
Use this paper bag puppet scarecrow and other crafts to create a fun and productive fall activity with your kids.
Additionally, using the scarecrow puppet is an excellent way to work on fine motor skills, hand-eye coordination, and attention to instructions.
We've created easy-to-follow instructions for kids to construct this scarecrow paper bag puppet.
We provided them with a blank and colored scarecrow puppet template so they would have a choice in what template to use to start.
Enjoy the autumn season with your kids by using this scarecrow hand puppet!
Need more fun seasonal paper bag puppet? Check out our packed list of paper bag puppets for simple craft fun with your little ones.  
When you have finished, be sure to share your creation on Simple Mom Project's Facebook Page and follow me on Pinterest!

Kaitlen D.
More Fun Printable Craft Templates