Do you want to ramp up your alphabet lessons this week?
Or are you interested in learning more about uppercase letters?
Start with this printable uppercase letter T template!
This free black and white alphabet stencil is ideal for incorporating into a variety of enjoyable activities at home and in the classroom.
You can begin learning with any uppercase letter, which is why this bubble letter T is the best place to start!
Engage your kids in activities like coloring, tracing, writing, making, and reading that feature the phonic sound /T/ and words that start with it.
Your kids will learn a lot from all the activities you can do with this printable uppercase letter T template.
They would be able to develop their fine motor skills and coordination, become familiar with letter formation and recognition, and explore and develop their creativity.
As you work through the uppercase letters this week, don't forget to include this letter stencil in your to-do list.
Please feel free to print your copies immediately!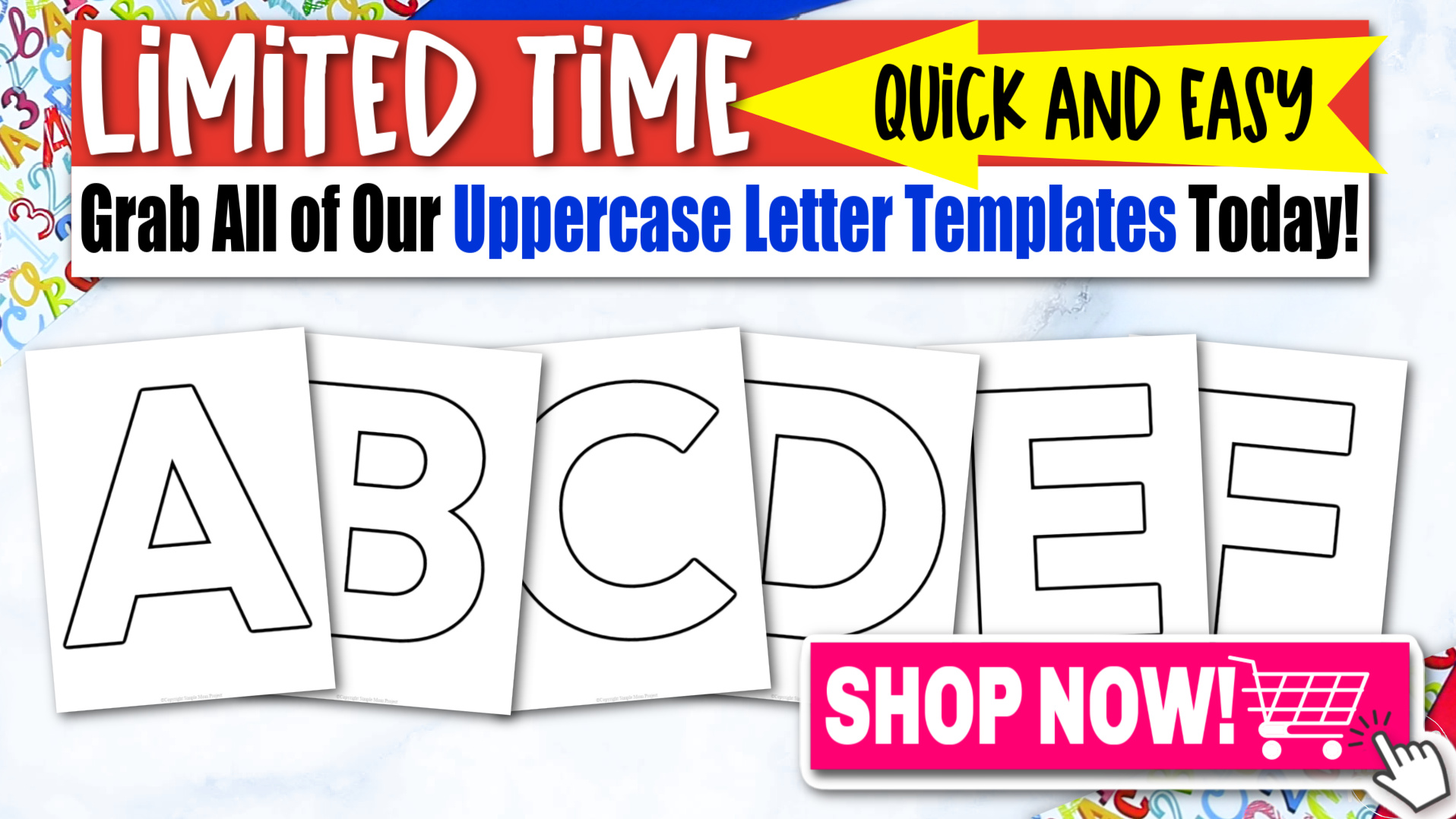 *By the way, this post may contain affiliate links which means I may receive a small commission at no additional cost to you if an item is purchase through that link. For more information, click here.*
Printable Uppercase Letter T Template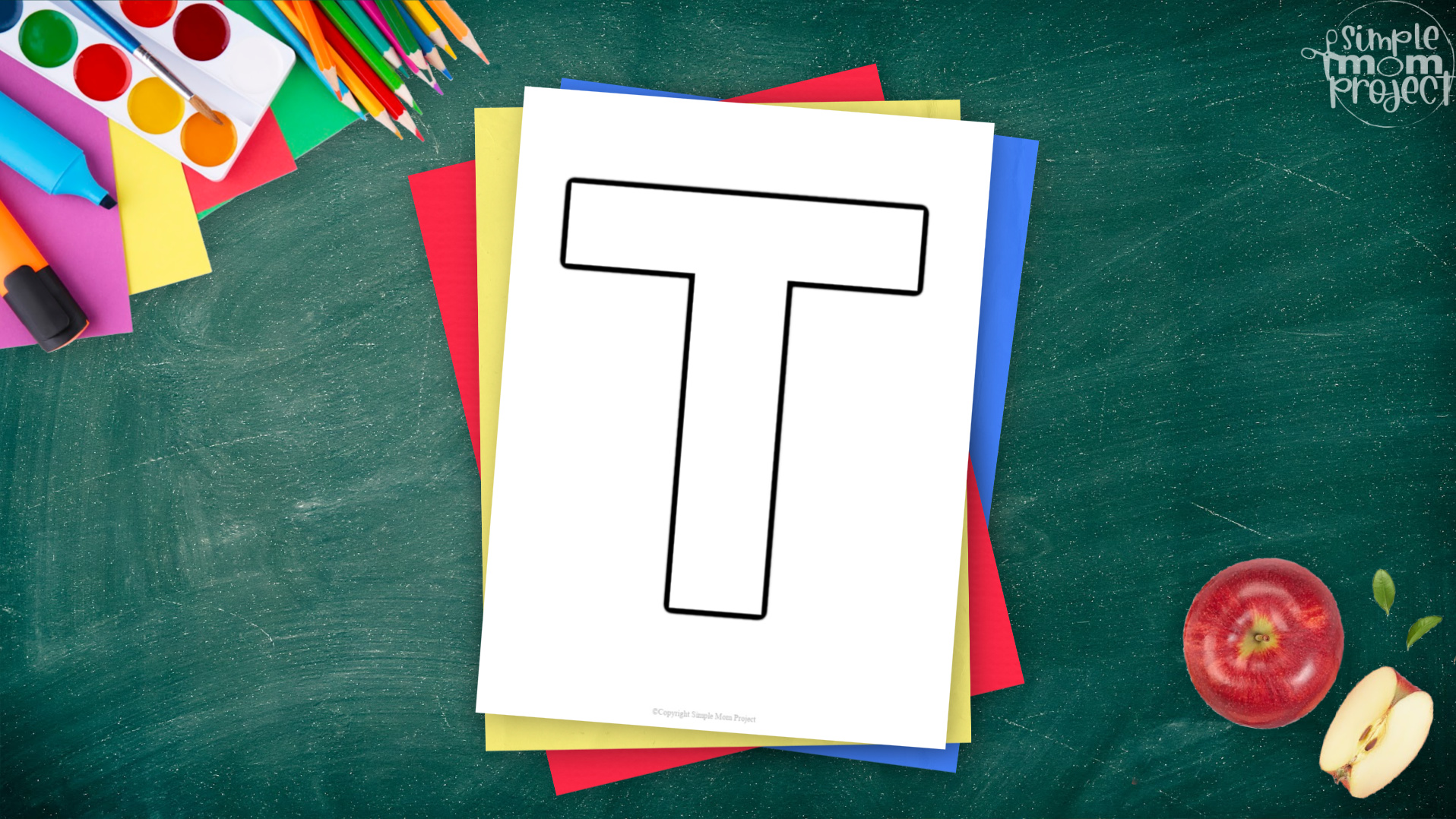 Printable Uppercase Letter T Template Materials Needed:
Printable Uppercase Letter T Template (FOUND AT THE BOTTOM)
Make your child's finished letter coloring page a forever memory by laminating it! We use this laminator and cannot express how much we love it! It is not only inexpensive, it is SO easy to use!
Your kids will love seeing how much you adore their art work when you laminate and display it for years to come!
Looking for more amazing uppercase alphabet fun ideas? Check out our Letter S, F and M Templates.
Ideas for Uppercase Letter T Template
Check out these ideas we have for you on how to incorporate the printable uppercase letter T template into your daily activities.
These ideas are appropriate for children of all ages and are very easy to accomplish.
You are free to incorporate these ideas into any plans you may have.
Enjoy reading them as you scroll down!
1. Tremendous Letter T
Are you wondering where to begin teaching the capital letter T?
You can use these resources to introduce the printable uppercase letter T template that we have prepared for you.
It would be much simpler to start with your activities if you have learning resources handy before organizing your lesson plans.
These resources are incredibly helpful in setting the right atmosphere for learning.
Include these two books about the little tree and a tiger's life while we are exploring the world of the letter T in the alphabet.
Both book characters begin with the letter T, making them the perfect choice for books that aim to promote literacy.
We've also included a really cute plush baby turtle for your kids to cuddle with after they've finished working on the printable uppercase letter T template.
Or let them finish the day's activities by playing with a scoop tractor toy!
Check out all of these by clicking on the links below!
2. Letter T Crafts
There are many fascinating things that begin with the letter T.
If we could use them to create our own homemade crafts, that would make them even more beautiful!
Use this printable uppercase letter T template to help the kids create a craft using one thing they are familiar with that starts with the letter T.
It might be a tree, turtle, tiger, turkey, or teddy bear!
After printing out copies of the capital letter T, provide the children with a variety of decorations so they can use them to create their crafts.
The finest crafting supplies are ones like crayons, paint, markers, construction paper, beads, sequins, glue, and scissors.
Let the kids use their artistic side to explore and make decisions about what to do with their projects.
This idea not only helps the youngsters learn words that start with T, but it also fosters their creativity and independence when it comes to finishing a work.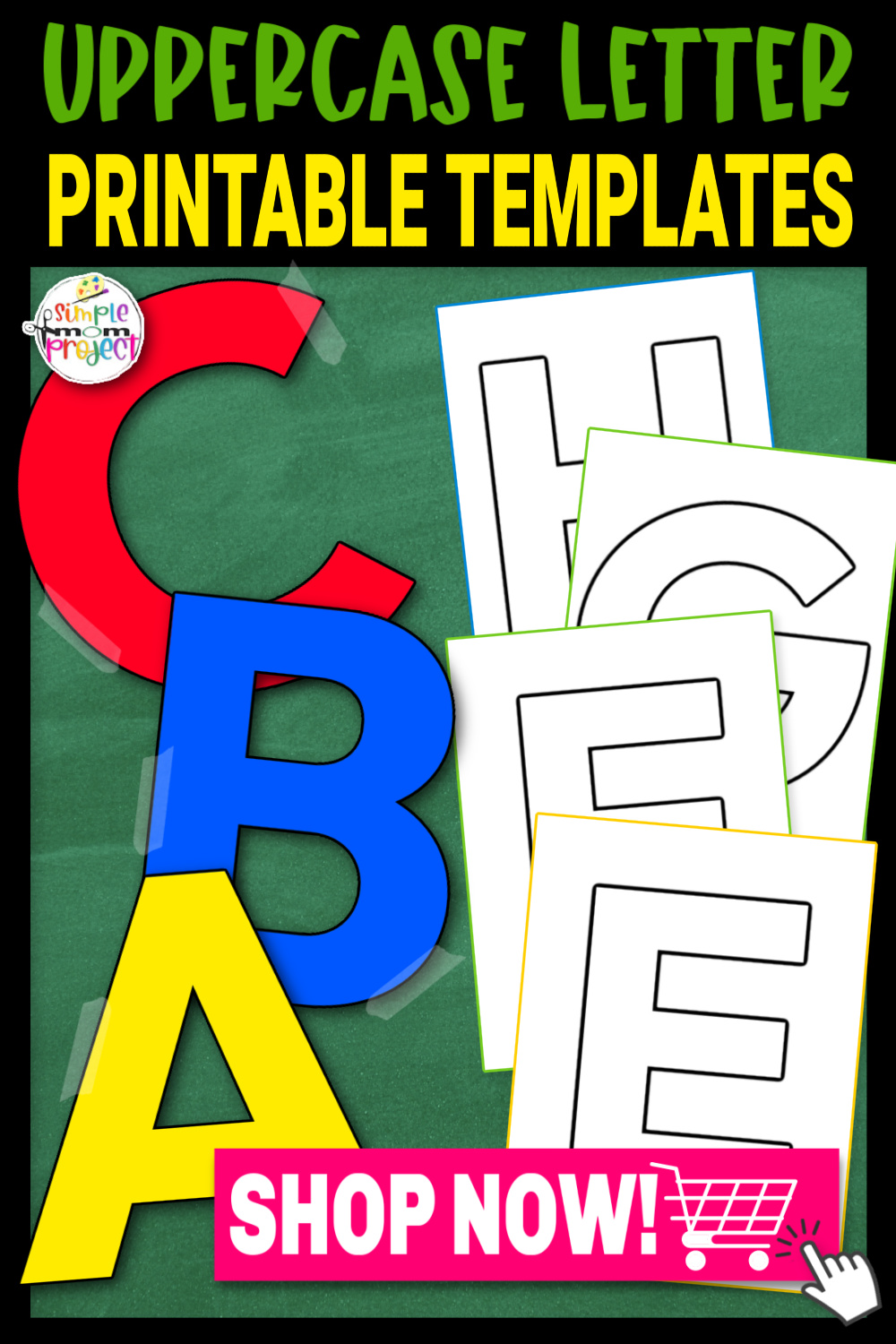 3. Alphabet Worksheets
Giving our children worksheets where they can focus on the activity is one method to keep them occupied.
Use this printable uppercase letter T template to create an alphabet worksheet that will be most helpful to your children.
It can be used for coloring, tracing, or writing practice.
You may easily use this for any letter worksheet exercises you have in mind because it is made in black and white.
Use crayons with colors that begin with the letter T if you're going to use it as a coloring page.
Teal or taupe are good coloring choices.
Draw dotted or broken lines inside the letter stencil so that the kids can trace them for tracing and writing activities.
Letter T is one of the simplest letters in the alphabet to write, so start practicing with this template right away!
4. Uppercase and Lowercase Recognition
Uppercase and lowercase letter learning go hand in hand.
Using this printable template, you may teach both the uppercase and lowercase letters T at the same time.
Use this printable uppercase letter T template to make a visual aid or flashcard that will help kids distinguish between the capital and small letters.
This idea will greatly help in their recognition of uppercase and lowercase letters.
When learning about letters, one of the easiest to recognize is the letter T, both in uppercase and lowercase forms.
You can always start by describing the uppercase as the big letter and the lowercase as the small letter if you have kids to teach, such as toddlers or early preschoolers.
We can use simpler phrases to teach these case letters.
Enjoy using this template for the uppercase letter T in your alphabet lessons as a visual aid or reference.
Aren't these ideas really fantastic?
Add these to your activities this week to make it even better!
We hope that these ideas will help you in organizing your lesson plans on uppercase letters in the future.
We are confident that your children will enjoy all of these ideas and look forward to learning more!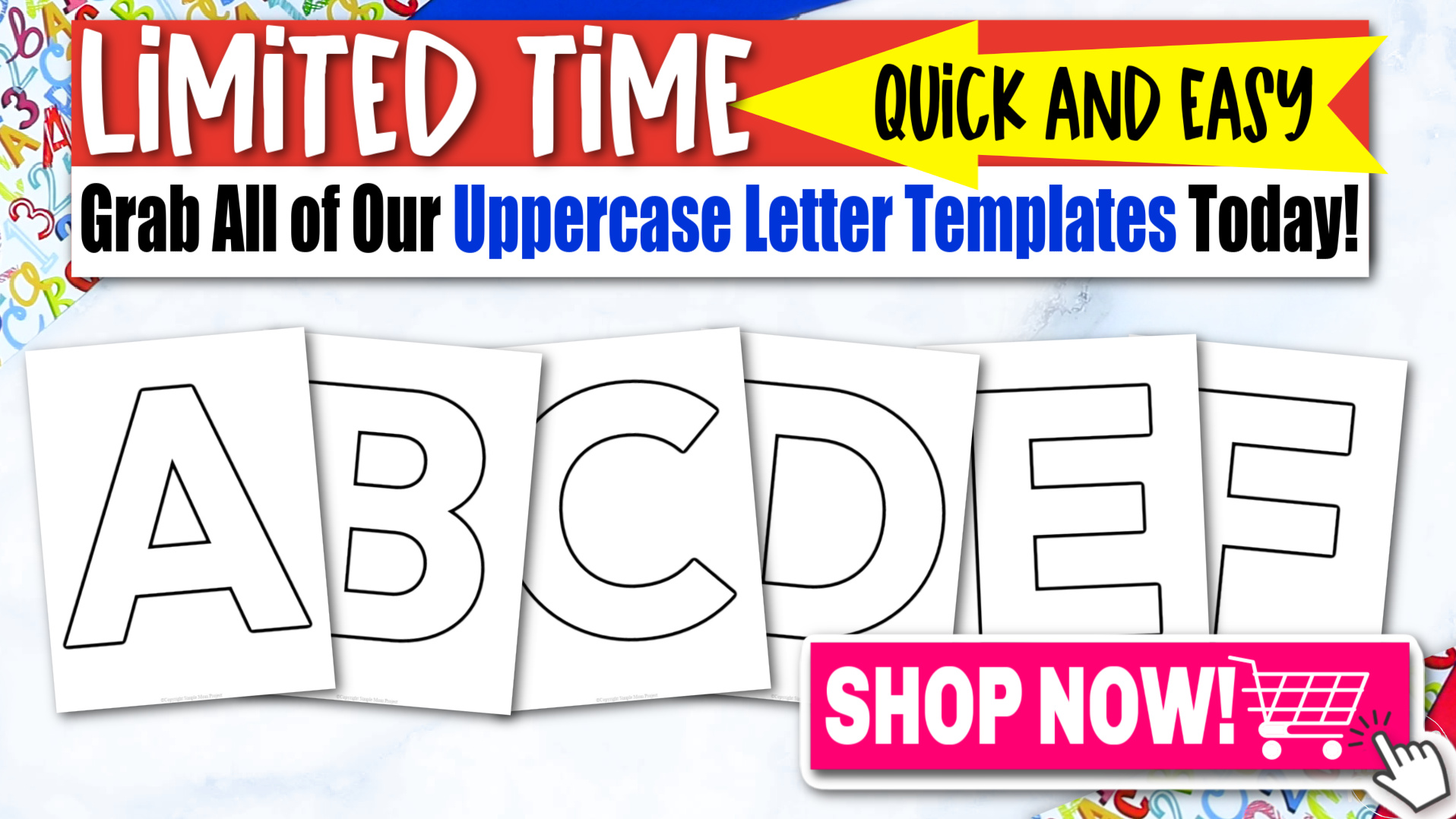 Printable Uppercase Letter T Template:
Want to give those little ones a printable uppercase letter T template right away?
So, grab your copy now!
This free bubble letter is offered in black and white and is perfect for kids of all ages.
We made certain to create a font that is simple but can also be utilized in a range of entertaining activities.
This is simple, but it will surely make your activities at home and at school more engaging and enjoyable!
You are welcome to use this alphabet outline as a coloring page, writing worksheet, or even in crafting.
This letter T template would be perfect for a tree project or any craft that starts with the letter T.
Give your kids the freedom to express themselves in writing, crafting, and identifying words that start with T.
This printable uppercase letter T template is the perfect tool for enhancing fine motor skills, letter recognition and formation, creativity, and a variety of other abilities.
Get your copy today to use in your lesson plans and enjoy all of its features!
Don't forget to leave a message in the comment section.
When you have finished, be sure to share your creation on Simple Mom Project's Facebook Page and follow me on Pinterest!

Kaitlen D.
More Fun Uppercase Templates