Did you know that there are about 90 to 100 species of lilies found all over the world?
Did you know that they are also pollinators?
They attract insects with their big, beautiful flowers and sweet nectar.
Lilies have large, colorful petals that can be white, yellow, orange, red, purple, or pink.
This printable lily template is a great introduction to learning how plants grow as well as the different parts of a flower.
Your little ones will enjoy all these fun activities we have prepared.
From discovering different kinds of lilies, doing lily arts and crafts to learning about nature around them.


*By the way, this post may contain affiliate links which means I may receive a small commission at no additional cost to you if an item is purchase through that link. For more information, click here.*
Printable Lily Template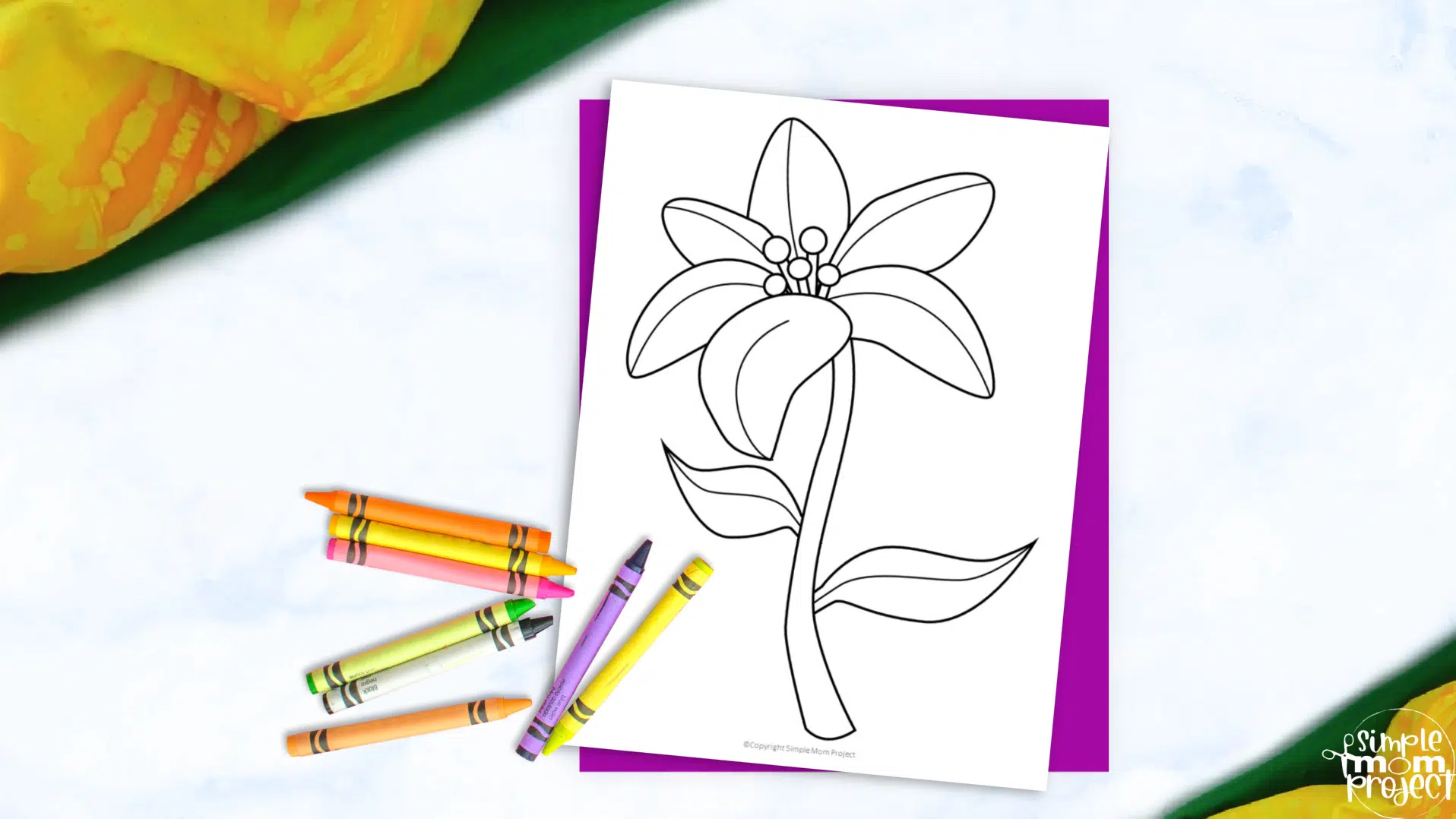 Printable Lily Template Materials Needed:
Printable Lily Template (FOUND AT THE BOTTOM)
Make your child's finished printable lily template a forever memory by laminating it! We use this laminator and cannot express how much we love it! It is not only inexpensive, it is SO easy to use!
Your kids will love seeing how much you adore their art work when you laminate and display it for years to come!
Looking for more beautiful flower crafts? Check out our Frog, and Lily Cut and Paste Craft.
Ideas for Printable Lily Template
This printable lily template includes simple and easy-to-do ideas on math, science, and art.
Have fun incorporating them into your plans and routines.
1. Books to Explore about Flowers
Children can combine the fun of reading and the fascination of learning about plants and flowers with these books.
These are simple storytelling and picture books that introduce nature.
2. Calla Lily Flower Craft
Did you know that you can grow calla lilies both indoors and outdoors?
They are tropical plants that are perfect as houseplants because they are easy to grow.
They are also one of the most popular flowers that are frequently given as a gift.
If your little one is finished with the printable lily template, make this lovely calla lily flower craft as a gift for someone special or as a design for a houseplant in your home.
The materials we are going to need are white and yellow instruction paper, green paper straw, scissors, and glue.
Start with cutting a medium-sized circle of white construction paper for the calla lily petal.
Fold both sides of the circle inward, so that one side overlaps the other.
This should only be done at the bottom of the circle, leaving the top open.
Glue the straw at the bottom of the flower petal.
Use the yellow paper and cut a thin and long rectangle shape for the spadix.
Make as many calla lilies you want and share them with everyone special to you.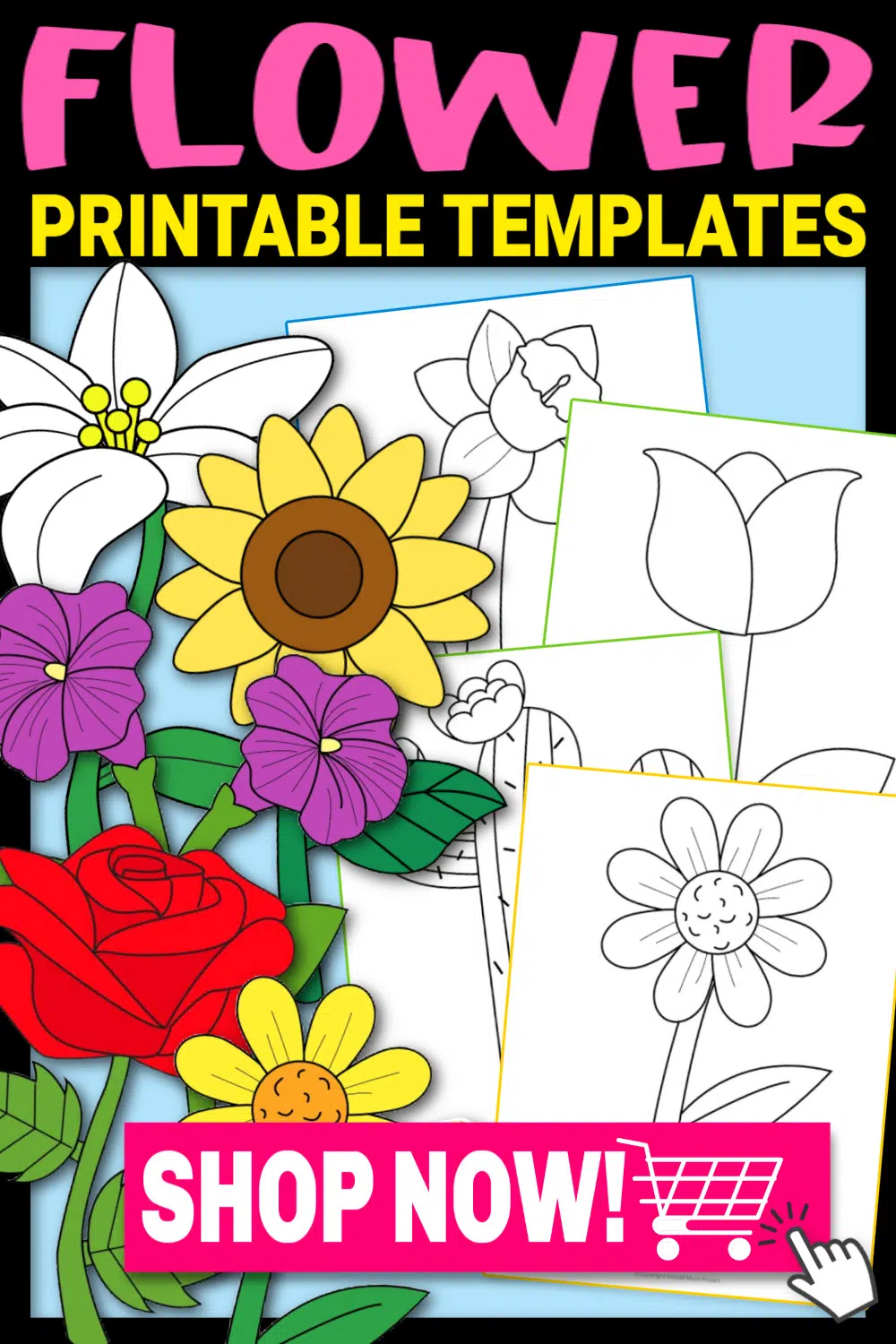 3. Frog and Lily Pad Number Matching
This printable lily template has fun activities incorporating math and science.
This frog and lily pad number matching is perfect for little ones who are starting to learn about animals and numbers.
Cut a lily pad shape out of green paper for the number of lily pads.
If you need help in making a frog shape, you can use this frog template.
Print as many frog templates so your kids can match more numbers.
Write numbers on each frog and lily pad.
You can include an interactive game such as "Frog number one needs to go to lily pad number one."
This is a great start for enhancing your child's number recognition.
4. Lily Plant Activity
Children see plants, flowers, and trees every day.
In this printable lily template, they will learn about parts of the flower and how they function.
Head outside and explore all of the flowers you can find that will be used in this activity.
Let's start with identifying the parts of a flower using the printable lily template.
Guide your kids in labeling the parts.
Use simple parts like pistils, petals, stems, and leaves.
Explain the function of each part like petals attract insects for pollination, leaves make food for the plant, and the stem conducts water and minerals.
After labeling the flower template, choose some flowers from your garden.
Allow your children to identify the parts one at a time.
We love to share more nature and science fun!
These are the best suggestions we have for incorporating this printable lily template into your routines and classroom activities.


Printable Lily Template: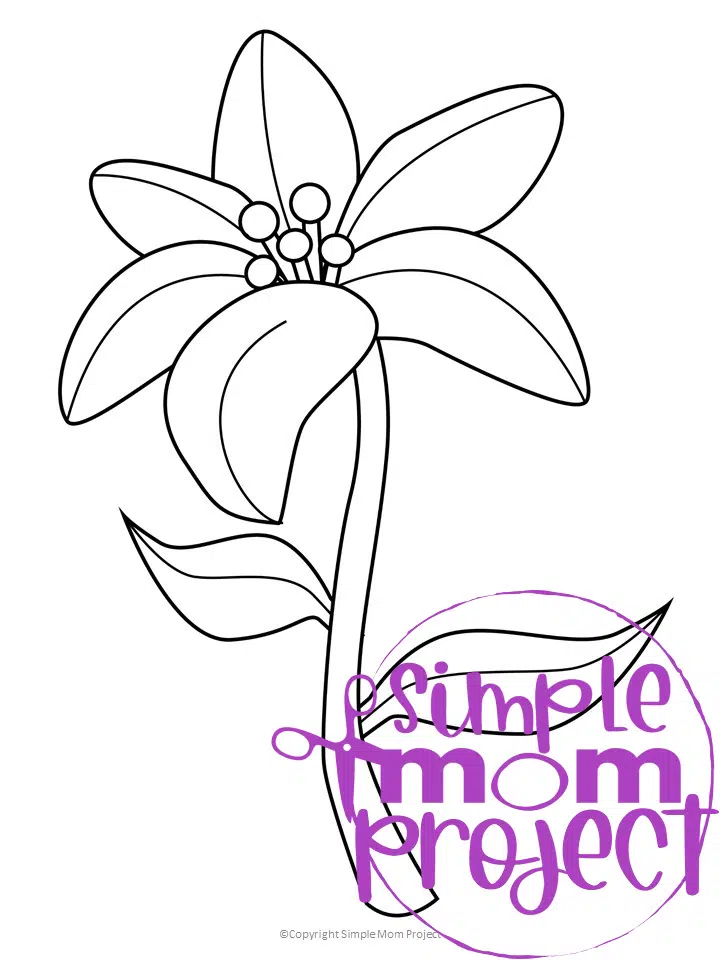 Are your little ones excited to work on this printable lily template?
Create a beautiful lily using all the materials you can find at home.
Use all the brightest colors you know.
Show your creativity and enjoy decorating!
The finished piece can be hung on the wall or framed.
Share it with your family and friends who loves plant and flowers!
Feel free to share your experiences and learning plans in the comment section.
Show all your wonderful creations on Simple Mom Project's Facebook Page and follow me on Pinterest!

Kaitlen D.
More Fun Flower Templates