Finally, the weekend is here! It's time to bring out the crafting supplies and create some simple paper heart animals.
This printable heart frog craft template will help you make the most of your weekend with your kids.
The kids may learn about shapes, colors, arts & crafts, and more while making this heart frog craft.
Don't you just love having a productive and memorial weekend with your kids?
We made sure this heart-shaped craft could be used in a number of learning activities!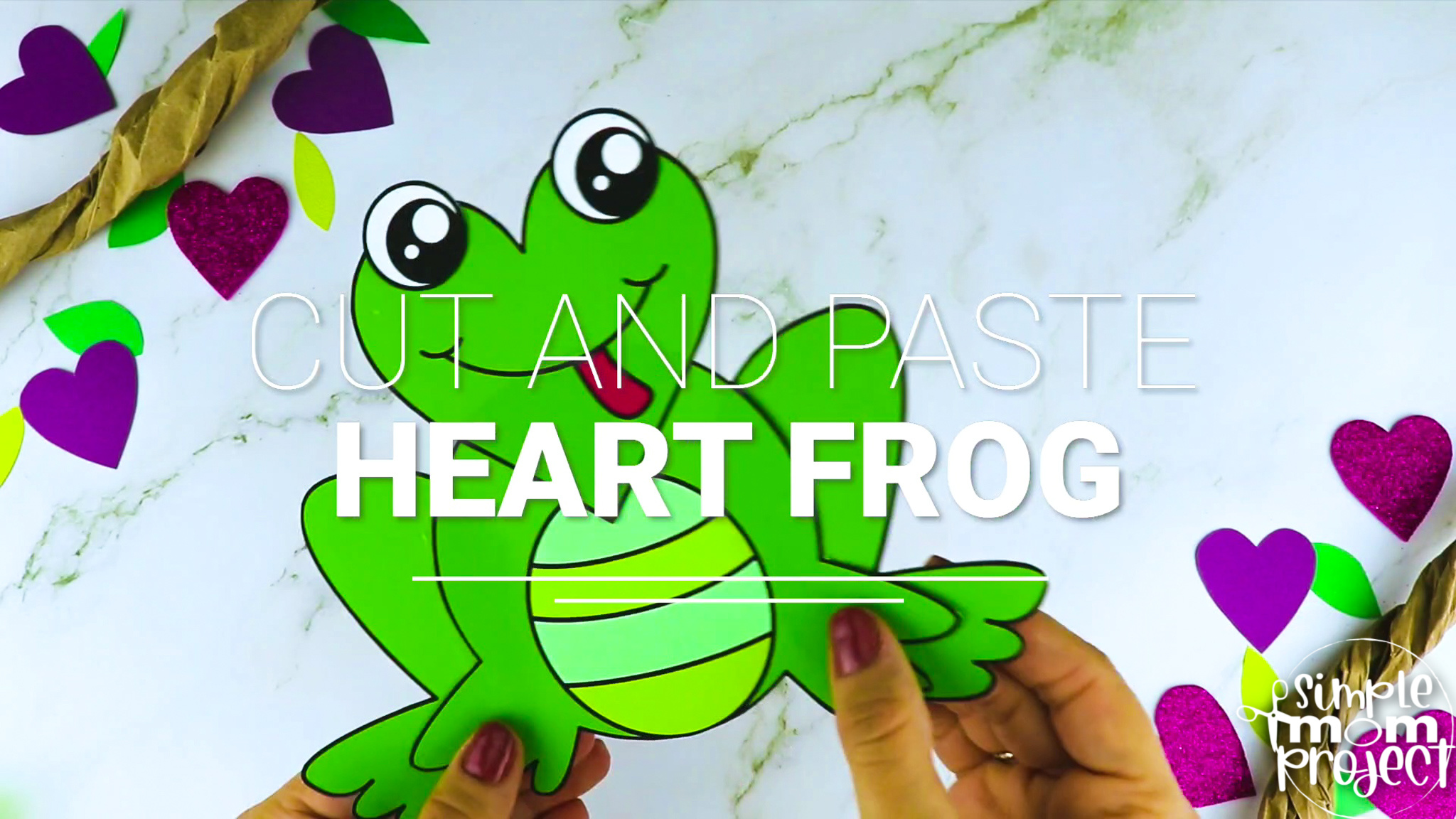 Aside from arts and crafts, children will be introduced to literacy through book reading and science as they learn about the frog's life cycle.
And as a mom myself of two beautiful little kids, I love when they can learn while having fun at the same time!
*By the way, this post may contain affiliate links which means I may receive a small commission at no additional cost to you if an item is purchase through that link. For more information, click here.*
Printable Heart Frog Craft

Heart Frog Craft Supplies Needed
Need more crafty animal ideas? Check out our Heart Raccoon Craft, and Heart Dog Craft.
 T
hey are perfect for those days when staying indoors is the only thing your family can do!
Ideas for Easy Preschool Paper Heart Frog Craft
Check out these ideas for incorporating the printable heart frog craft template before you start organizing your weekend learning activities.
These fun activities will definitely become children's favorites.
Feel free to incorporate these ideas into your routines this weekend!
1. Fantastic Frog Collection
This heart-shaped frog craft template will be a delight with kids.
And if they want more of these adorable frogs, check out this fantastic frog collection.
These learning materials will be useful in teaching children about these frogs.
These materials can also be used to present the printable heart frog craft template.
Use these frog collectibles to organize your weekend activities!
Spend a quiet weekend day reading a book, playing an interactive game over a picnic, and cuddling with a plush frog at the end of the day.
2. Heart Shaped Frog Puppet
If you plan to incorporate this printable heart frog craft template into your school activities, it is a fantastic choice for your preschool crafts!
Did you know that you could create a puppet with this frog template?
There are so many fun learning exercises that you can do with puppets.
You can use them for creative reading, role-playing, matching activities, and more.

Make a puppet out of this printable heart frog craft template using simple supplies like popsicle sticks, scissors, glue, and a copy of the frog template!
When your frog template is ready, cut the frog into its pieces and glue them together.
Attach a popsicle stick into the heart frog craft.
Use your heart-shaped frog puppets to role-play the Princess and the Frog or the Frog Prince in a delightful way.
3. Color Recognition
This printable heart frog craft template is designed just like a green frog.
This frog template can also be used to practice color recognition.
Frogs come in every vivid color you could possibly imagine.
We will use these cute frogs to teach about colors in this printable heart frog craft template idea.
Prepare several colored construction papers and print the simple black and white frog template on each one.
You can use this idea in both your home and classroom math classes!
After printing the frog templates, cut them out and put them together.
You can either hang them on the board or attach them to a piece of cardboard.
Ask the kids to name each frog's color one at a time.
Begin with a warm-up question like "What is your favorite color?" to give the children a concept of the lesson.
Allow them to point to the frog with their favorite color on it!
4. Life Cycle of a Frog
If you've been enjoying making frog crafts, you'll love this printable heart frog craft idea even more.
We designed this heart frog craft template to be versatile, so you can use it in a variety of kid-friendly learning activities!
Since we are studying frogs this weekend, it would be a good idea to learn about and explore the frog life cycle so that kids may learn about these amazing amphibians.
Use this printable heart frog craft template in teaching the life cycle of a frog to your preschoolers and kindergarteners!
This printable heart frog craft template idea is great for STEM activities at home and school!
You could also explain to them the specifics of how the cycle works.
These go well with a visual aid, such as a flashcard or a picture of a cycle.
Introduce the concept of a life cycle first.
A life cycle is the series of stages or changes that an animal goes through while alive.
After that, tell them the following:
Frogs start off as fertilized eggs.
The tadpole looks like a fish when it first hatches because it has gills that allow it to breathe.
Tadpole's tail now gets shorter and they develop two front legs.
The adult frog represents the last cycle.
The frog's tail will disappear within 2 to 4 years of reaching adulthood.
Enjoy including these ideas in the family activities you have this weekend!
We are sure that using this printable heart frog craft template will make learning fun for everyone!
If you want your children to have a memorable learning experience this weekend, include these creative ideas in your plans.
Heart Frog Craft Instructions
When all the materials are ready, keep in mind to follow these simple steps so you may enjoy making your frog crafts!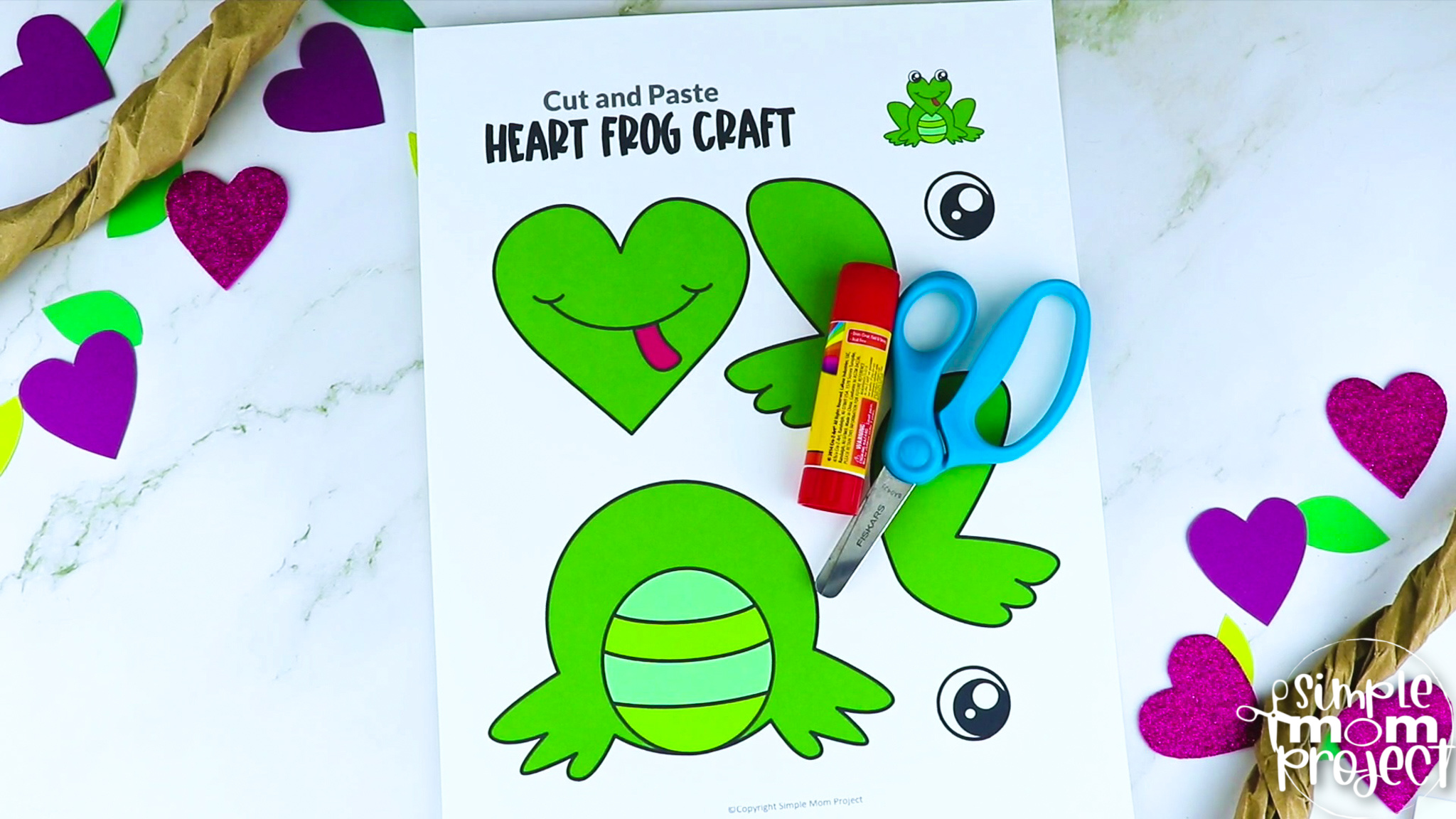 Help children cut out each part of the frog one at a time if they choose to use the colorful frog template.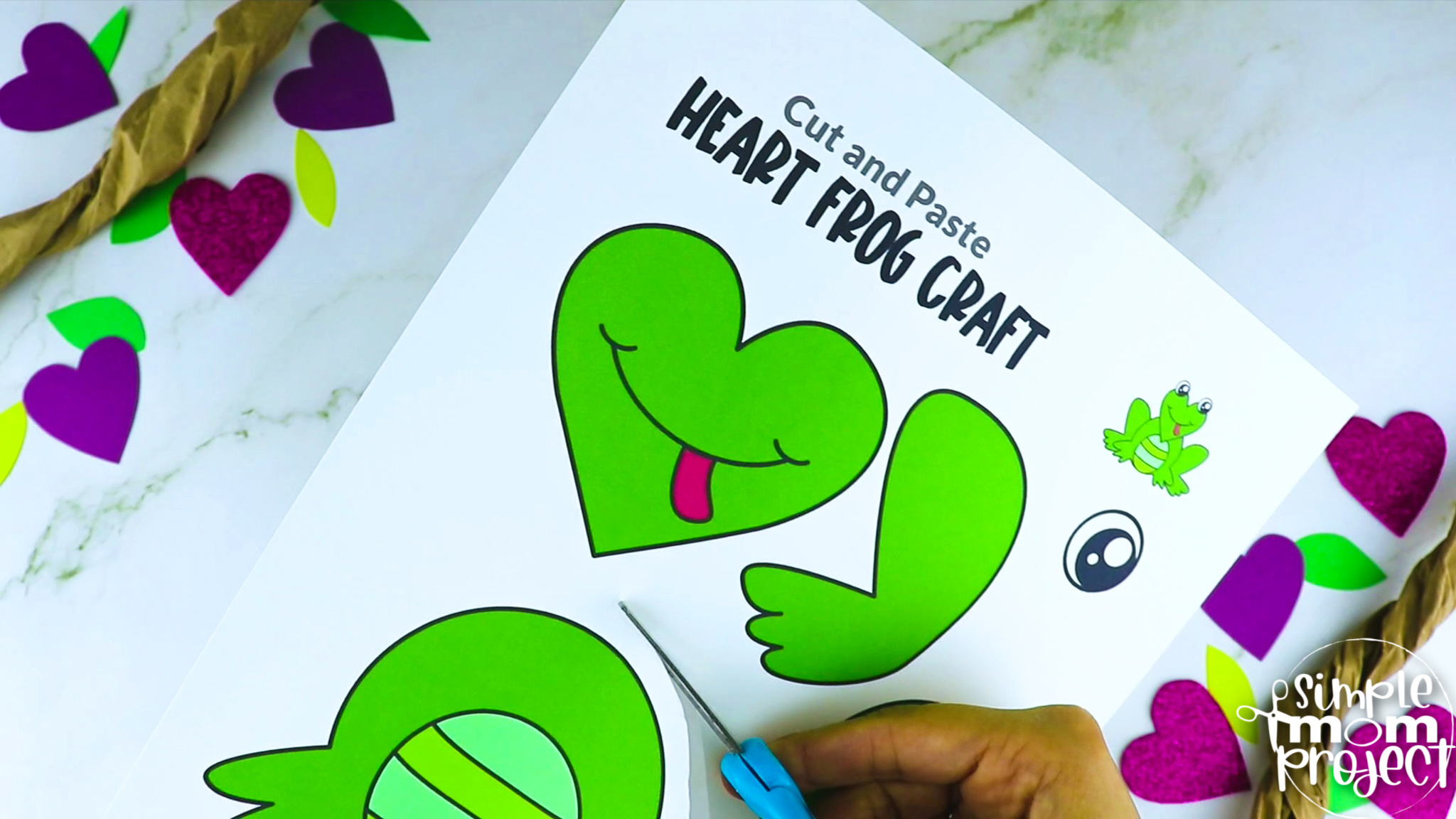 Allow them to color and personalize the plain frog template if they chose it, using any and all coloring supplies they may have.
Start by connecting the frog's body and head together.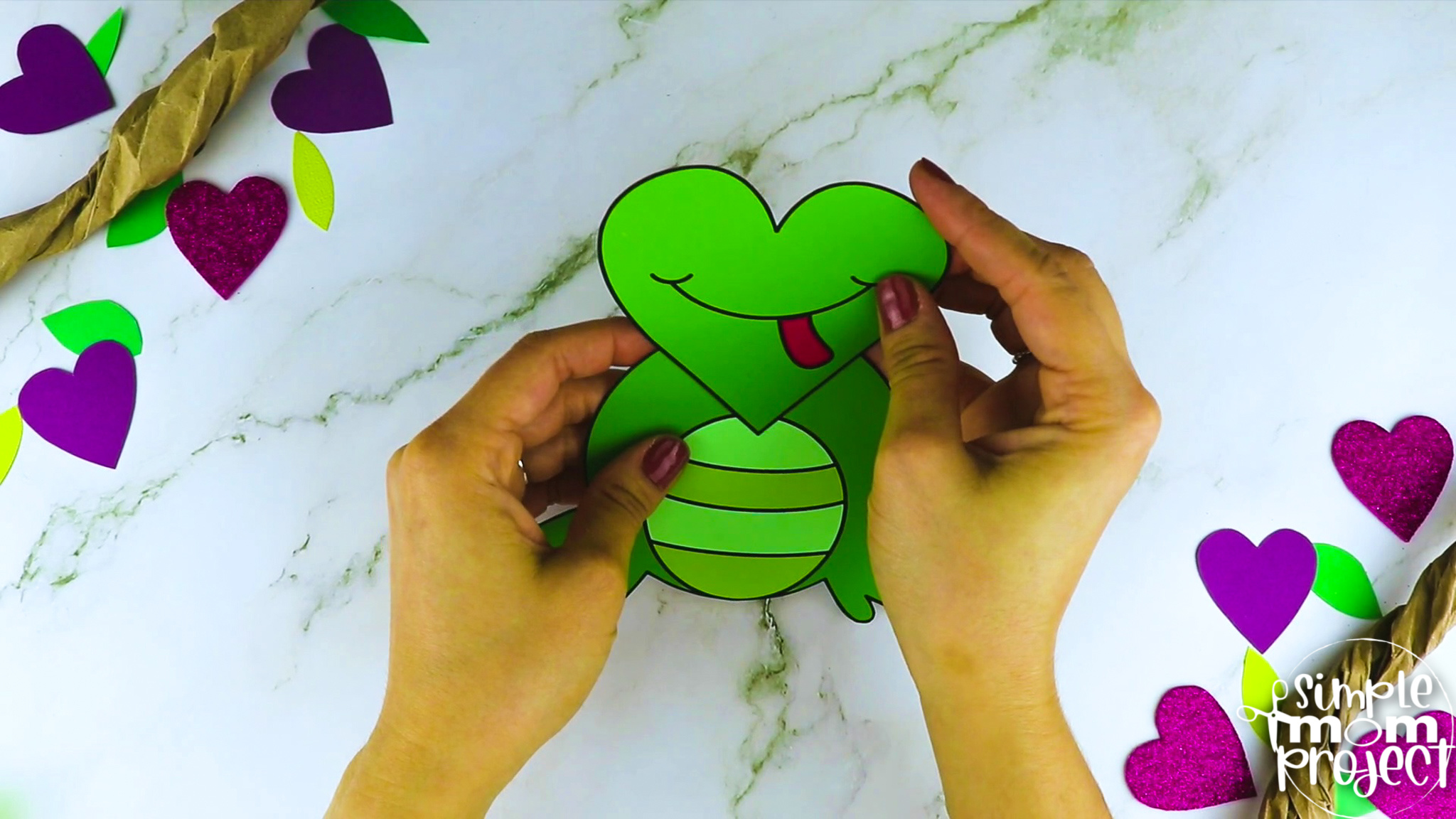 Add the two legs to its back now.
Put the frog's eyes on top of its head to complete the design, as seen in the picture below.
This heart frog craft looks fantastic and ready to leap in the pond in no time!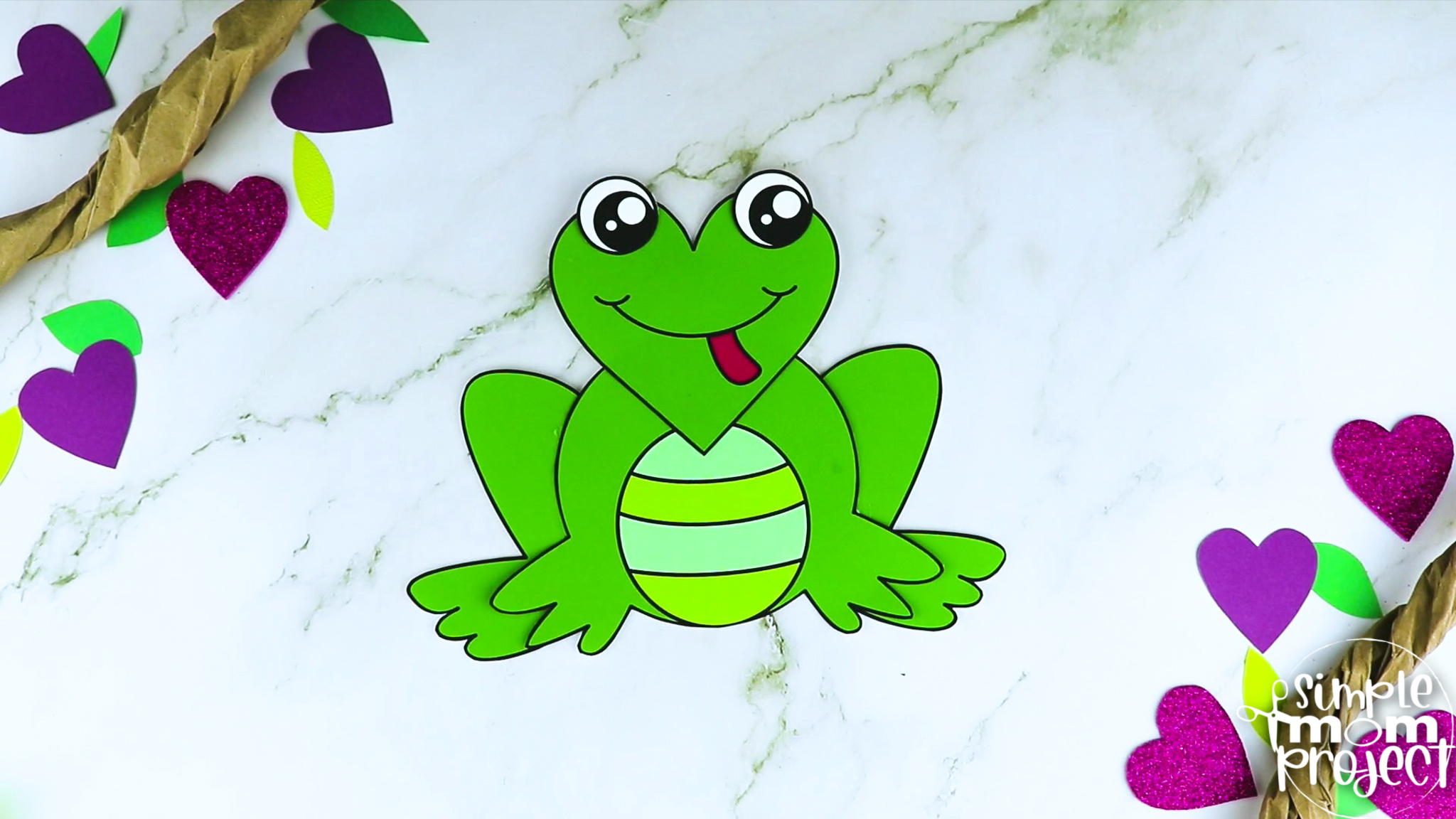 More Options to Choose:
You can print the blank version and trace the cut outs on card stock paper for a sturdier heart frog craft,
Print the heart frog template in color for a simple and easy rainy day craft or,
Print the blank heart frog template and use it as a fun coloring sheet activity and then glue the pieces of the heart frog craft together.
Printable Heart Frog Craft

Our heart-shaped animal crafts will surely win you over!
Especially this printable heart frog craft template, which is as simple as cut and paste!
Kids may make anything they want out of this heart-shaped frog template, making it an activity that is fun for them.
They can make them into greeting cards, frog paper bag puppets, paper heart animal puppets, and more!
Children will have a great time working on this printable frog since they will be able to follow simple steps that include actual photos.
Did we mention we designed two heart frog templates?
Yes!
We made two frog templates so that kids could work on whatever they wanted.
Use this printable heart frog craft template for a weekend jam-packed with fun best ways to learn!
Need more adorable animal craft fun? Check out our packed list of heart animal crafts for simple craft fun with your little ones.  
When you have finished, be sure to share your creation on Simple Mom Project's Facebook Page and follow me on Pinterest!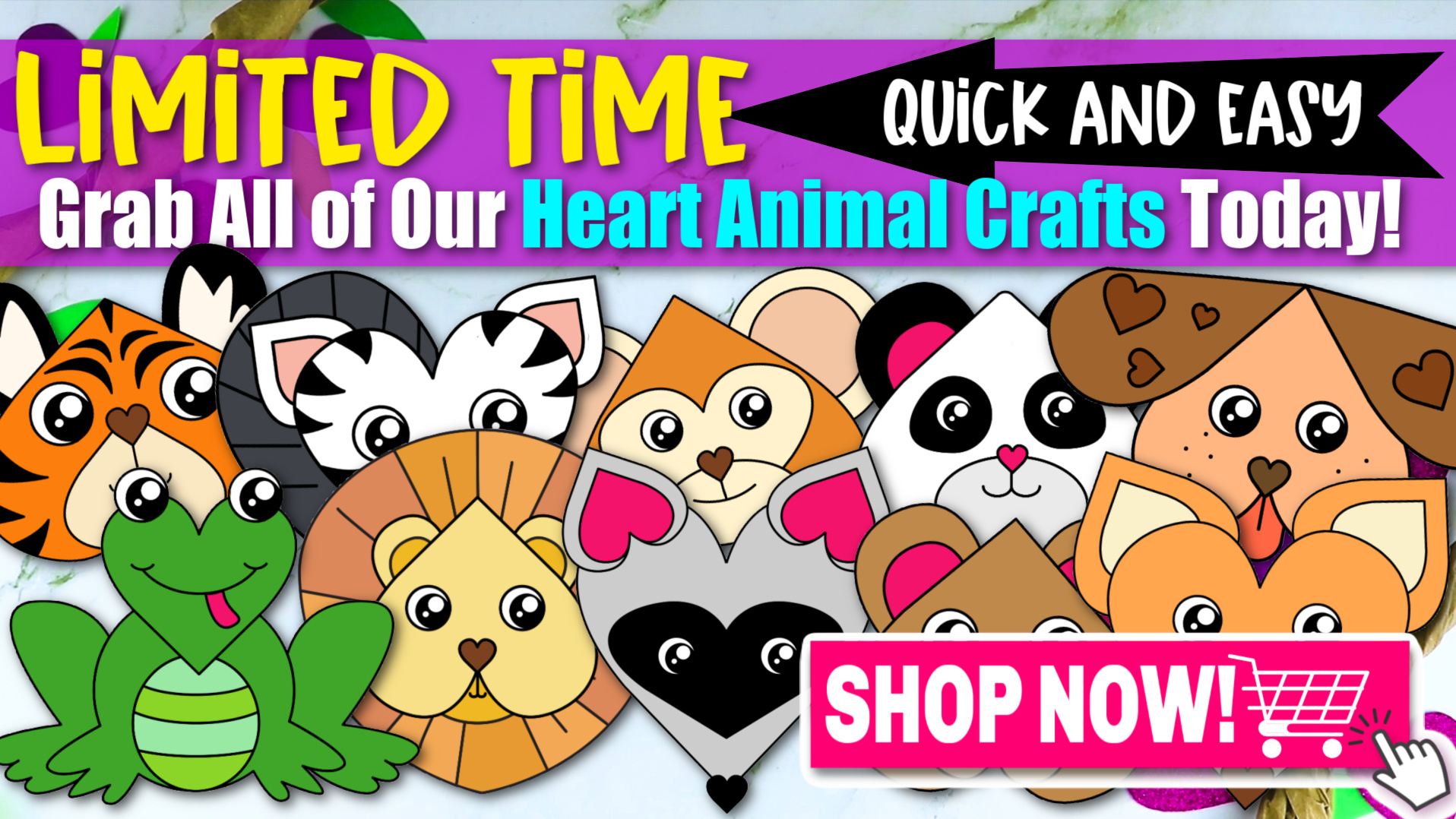 Kaitlen D
More Printable Heart Craft Templates