Have you ever thought about the great connection your children and your family pet share?
We certainly did!
Our adorable cat buddy had become the heart of our household, piqued our interest in how to express our affection for cats in a more artistic approach.
Here's our 'tail' – a journey that blends the joy of having a pet cat with the discovery of the loveliest cat crafts for toddlers and preschoolers.
How did we pull it off?
We added a dash of gullibility and a secret weapon – a free printable cat template.
The outcome?
Let's just say there were some very gorgeous kitten crafts, bright artworks, and joyful little smiles involved!
Do you want to know how to turn a creative déjà vu into a never-ending masterpiece of fun and learning?
When your children fall in love with a craft, they seem to want to do it over and over again.
So, how can we keep it interesting and new?
Join us on this colorful adventure filled with adorable crafts and activities!
*By the way, this post may contain affiliate links which means I may receive a small commission at no additional cost to you if an item is purchase through that link. For more information, click here.*
Cat Lovers
What happens when you have a cat-loving family and kids and a lot of free time at home?
It's like having a furry fan club!
Let me tell you about life with my kids, who happen to be cat lovers.
It's the purr-fect blend of chaos and cuddles.
My children are a creative bunch, all scruff and fur.
They can build a cat castle out of a cardboard box quicker than you can say "meow."
Their favorite game is cat-astrophic hide and seek, in which they crouch behind curtains and couches and rush out, saying, "Surprise, I'm a cat!"
So, if you have cat-loving kids and want to keep them occupied at home, we've got some purr-fect tricks under our sleeves.
In our "Paws and Crafts" session, we make cat crafts out of supplies we already have at home.
We have a ton of cat adventure books in our collection of books. One of our go-to books is "If You Give a Cat a Cupcake".
Toys? We've got plenty of those.
We have cat plushies, cat toy figures, and cat puzzle boards for the curious little minds. Cat-themed and activities abound on Amazon.
Shop Amazon for some fun, imagination-inspiring items!
Sharing some of the goods we have from there that you may become hooked to!
1. If you give a cat a cupcake is a literary roller coaster book for kids, with only chuckles as seat belts! The story begins innocently enough: you give a cupcake to a cat, and bang! It's a full-on adventure.
2. The book, All About Cats, makes learning about cats so much fun that you'll be surprised at how much your children learn. With interesting rhymes, kids won't know they're learning about the anatomy and behaviors of these furballs.
3. This cat figures playset toy helps toddlers develop DIY skills while also instilling a love of cats. Imaginative play, hand-eye coordination, and caring for these fluffy companions will all benefit from this.
4. We loved playing with this mini puzzle because it has a strawberry scent. This will greatly help our kids problem-solving skills as well as hand-eye coordination.
5. This plush kitty will allow your children to experience caring for, feeding, and playing with a pet cat in the same way as they would with a real-life cat.

50+ Easy Cat Crafts Ideas for Kids of All Ages
What can we make today that is both artsy and cat-tastic?
You're in for a treat since we have 55 simple projects for everyone who loves cats!
You don't have to be a crafting whiz to join in on the fun, because these great ideas are appropriate for children of all ages.
Grab your materials and get ready to inspire your kids' creativity while having a meowzing time together!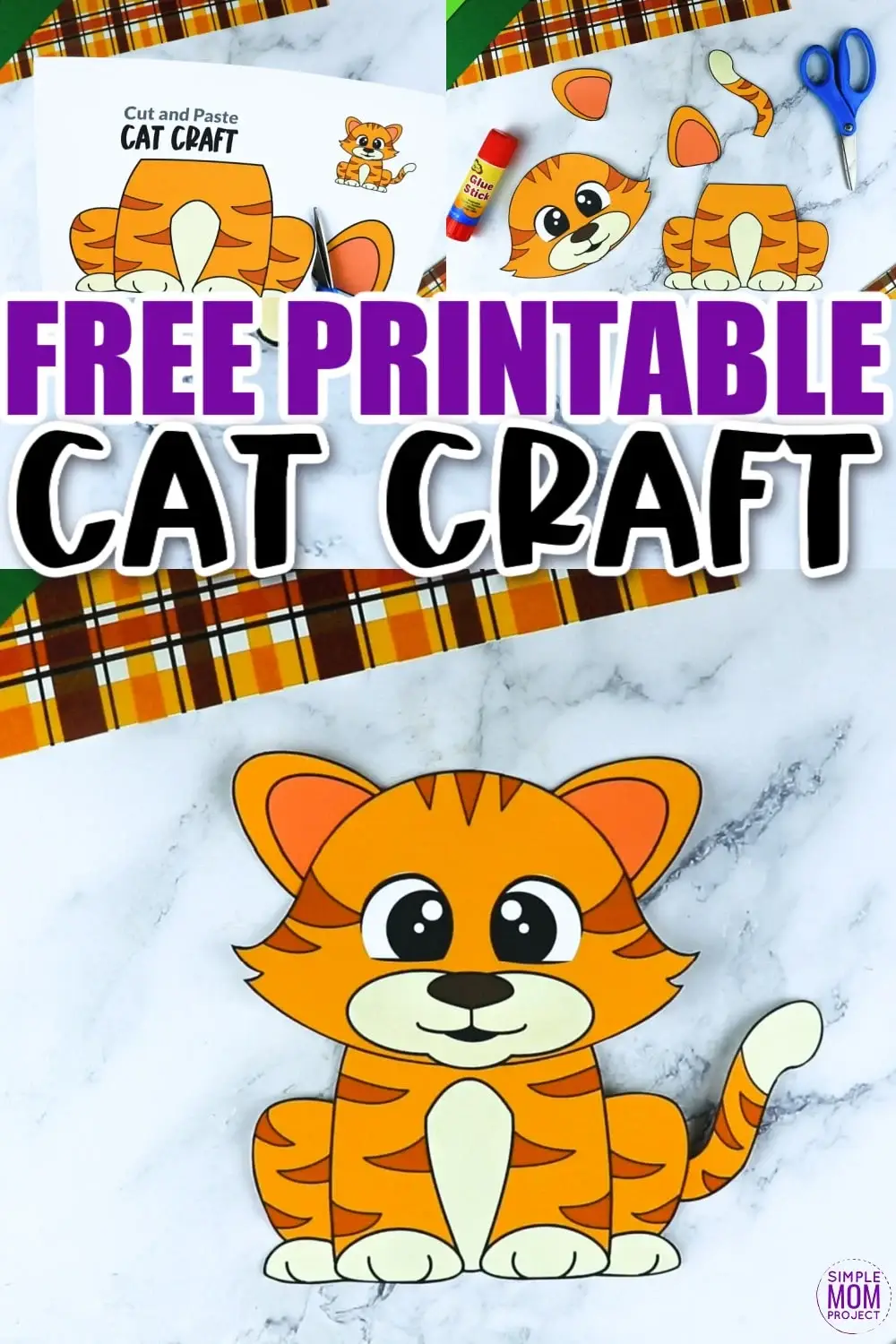 1. Free Printable Cat Craft Template
Are you ready for some hassle-free crafty cat fun?
Check out this free printable cat craft template!
Keep your kids occupied with this easy and fun project.
Print, cut, and let your imagination run wild for hours!
2. Printable Cat Paper Bag Puppet
Who wouldn't want to transform a plain paper bag into a magnificent puppet masterpiece?
This printable cat paper bag puppet will fulfill all of your crafty dreams!
Cutting and gluing all the parts together will be a lot of fun.
3. Free Printable Cat Template
Trying to find a quick approach to inspire creativity?
Look no further than this printable cat template!
With no artistic talent needed, this will make crafting simple and allow you to produce countless cat-themed crafts.
Looking for a great craft of a cat that you can make out of an ordinary paper plate?
This paper plate cat craft can come in handy!
All you need is some paint, some googly eyes, and a dash of creativity.
In little time at all, you have a cute cat paper plate craft!
5. How to Draw a Cat
Feeling like you lack the artistic touch but itching to learn how to draw a cat?
We've got the answer: watch this How to Draw a Cat Easy YouTube video tutorial.
It's your go-to tool for turning that piece of blank paper into a charming cat artwork!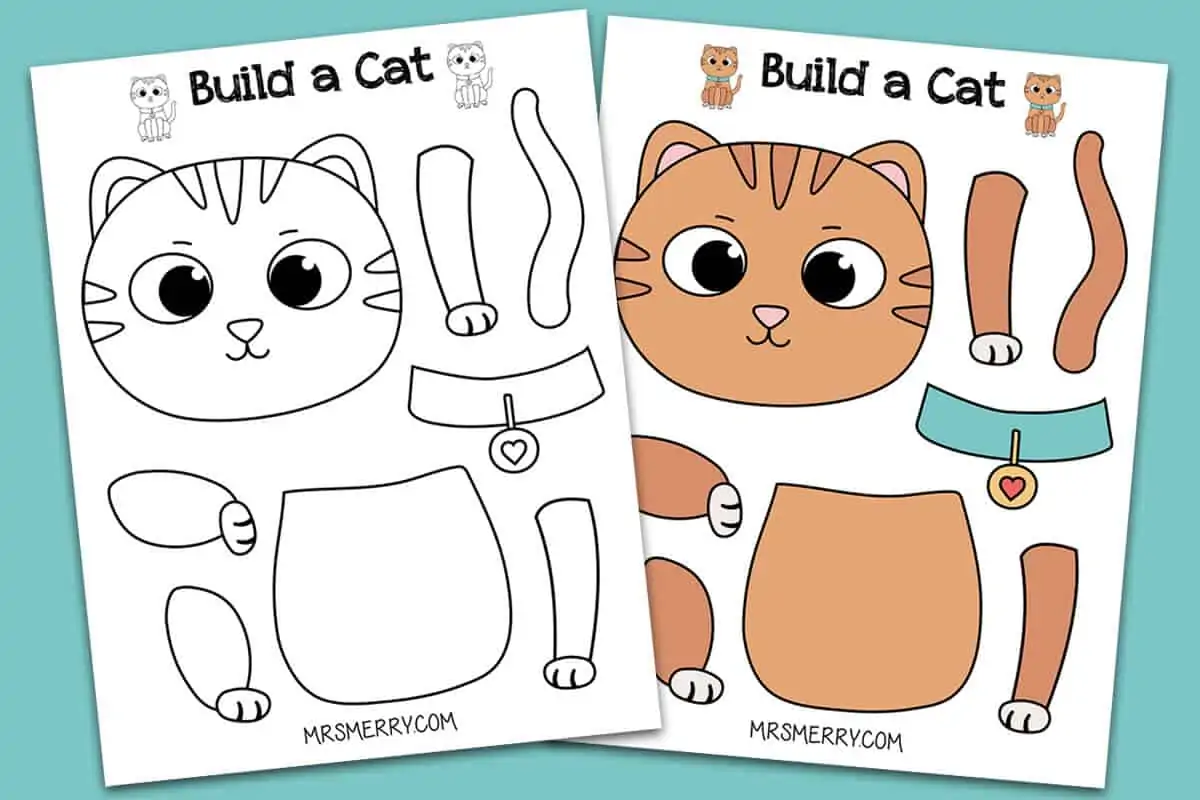 6. Free Printable Build a Cat Craft for Kids
Do you want to know how to seamlessly incorporate learning and creativity?
This free printable build-a-cat craft for kids is a fun and educational hobby for children of all ages.
Kids may build their own cat while honing their fine motor skills and having fun!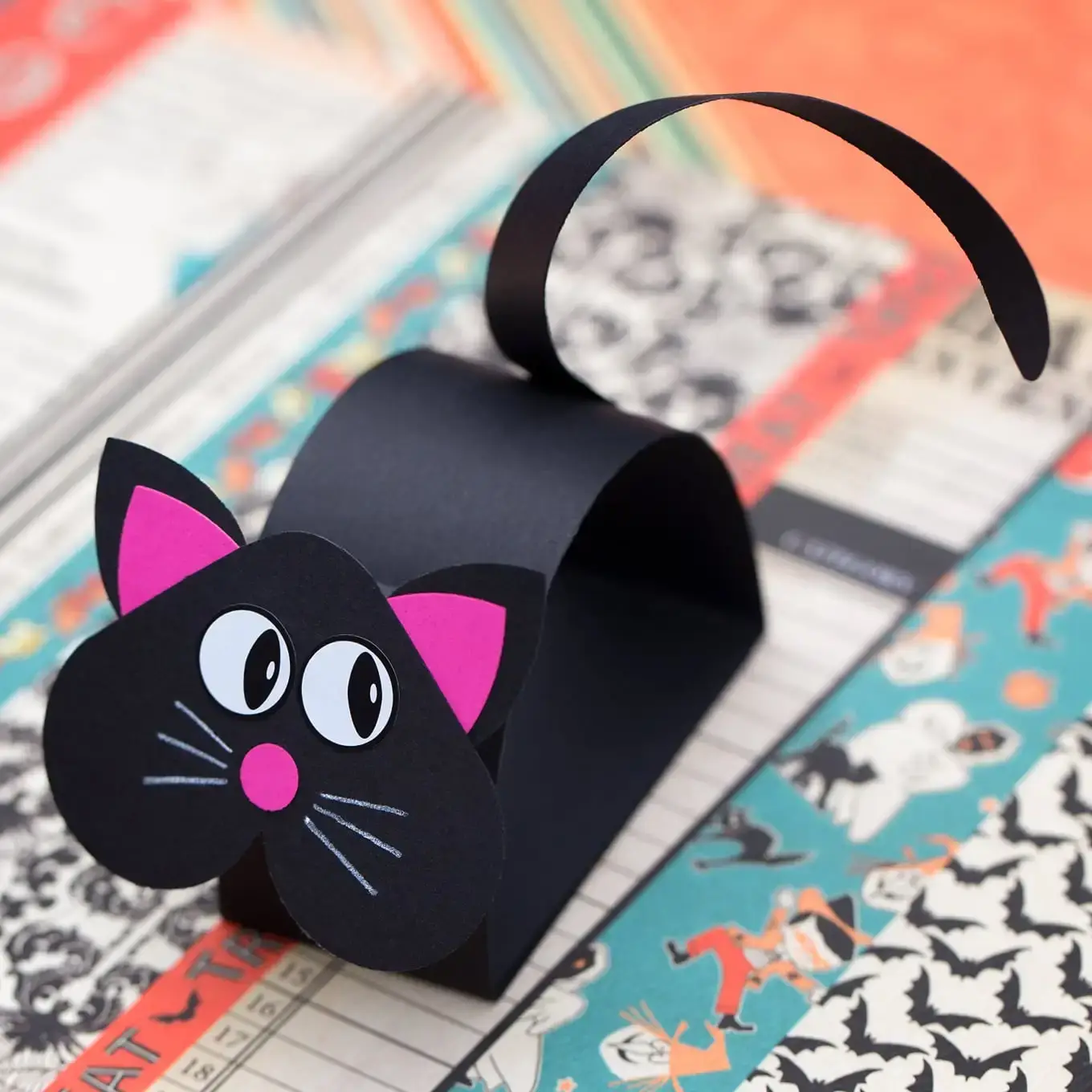 7. How to Make a Fun Black Cat Craft for Halloween
Are you planning to give your Halloween crafts decorations a dash of eerie fun?
With this black cat craft, you can make an amazing and creepy black cat craft!
Add a touch of Halloween vibes to your home, transforming it into a purrfectly scary scene for all the festivities!

8. Cat Craft with Paper Strips
Do you want to learn a craft that will not only be fun but also put your patience and skills to the test?
Ever create something with construction paper strips?
Check out this paper-strip cat project!
You'll have a whiskey-twitchingly amazing work of art to display before you know it!
9. Scrap Wood Projects – DIY Wooden Cats
Want to improve your DIY skills and get your hands on some wooden cats?
Say hello to these DIY wooden cats that were built from leftover wood scraps!
This crafts idea is a wonderful way to express creativity while also repurposing resources sustainably and making adorable wooden objects!
Interested in learning how to create wonderful cat-themed projects out of your stack of paper plates?
This paper plate cat craft is perfect!
Give your kids the opportunity to create a sophisticated work of art while having a lot of fun.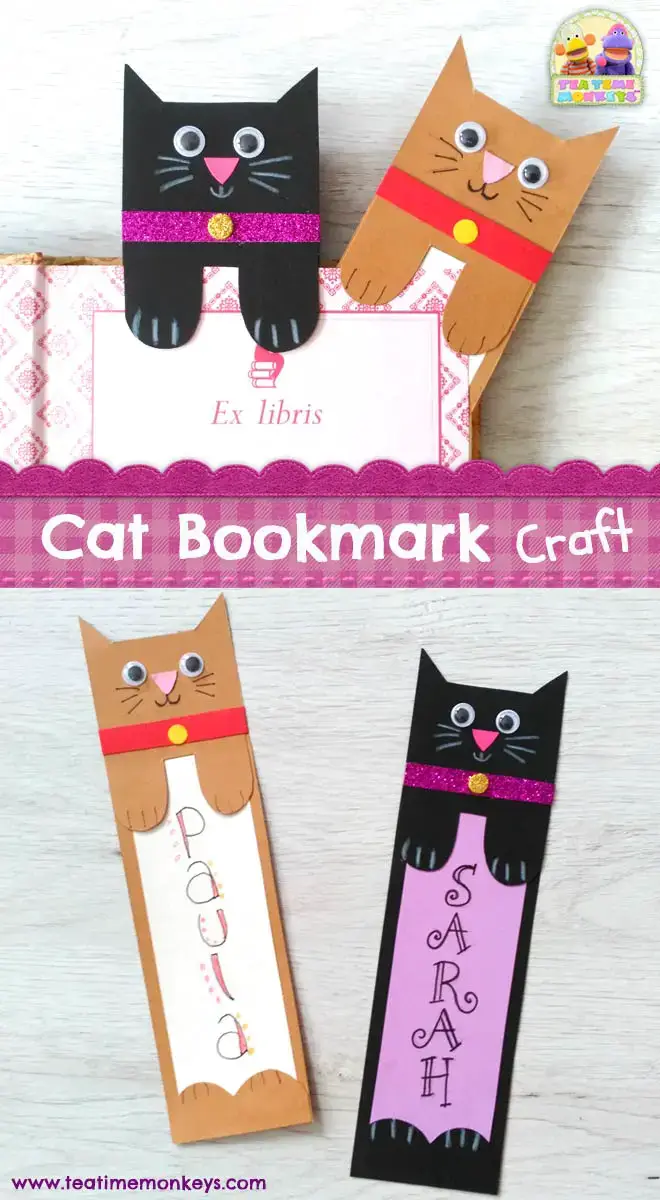 Are you looking for a creative activity for your children's education that will encourage a love of reading?
This cat bookmark craft can make your kids' reading time more enjoyable!
Your tiny bookworms may make their own lovely bookmarks, making reading even more fun!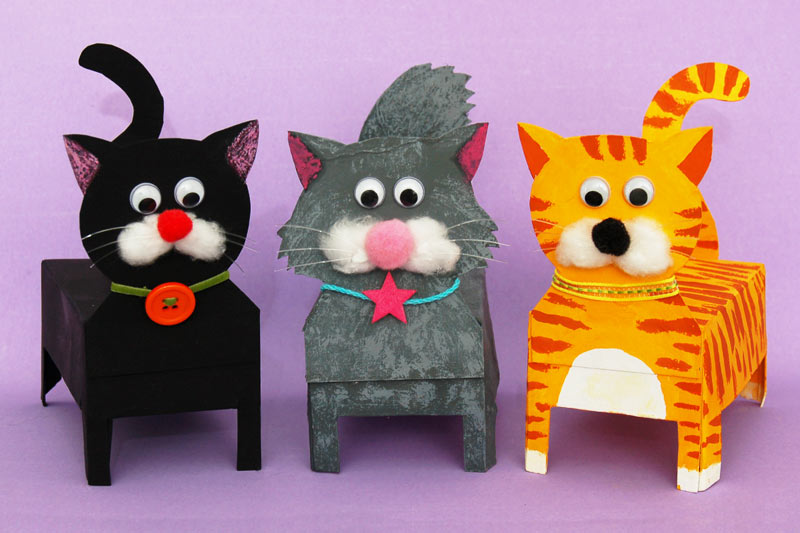 Have some old boxes lying around that you're not sure what to do with?
How about making them into a DIY adventure?
Say hello to this box cat craft built from recyclable boxes!
Make something useful out of junk and let your kids play with their box cats!
13. Paper Bag Cat Craft for Kids (Free Template)
Looking for a creative project that is both fun and affordable for you?
This paper bag cat craft, which includes a free template, is here to save the day!
Create a charming cat project out of a basic paper bag without spending a fortune.

Want to make adorable paper crafts in a fun and hassle-free way?
Look at this paper cat craft template!
Kids will have a blast using this black cat template to quickly transform a sheet of paper into a cuddly pet cat.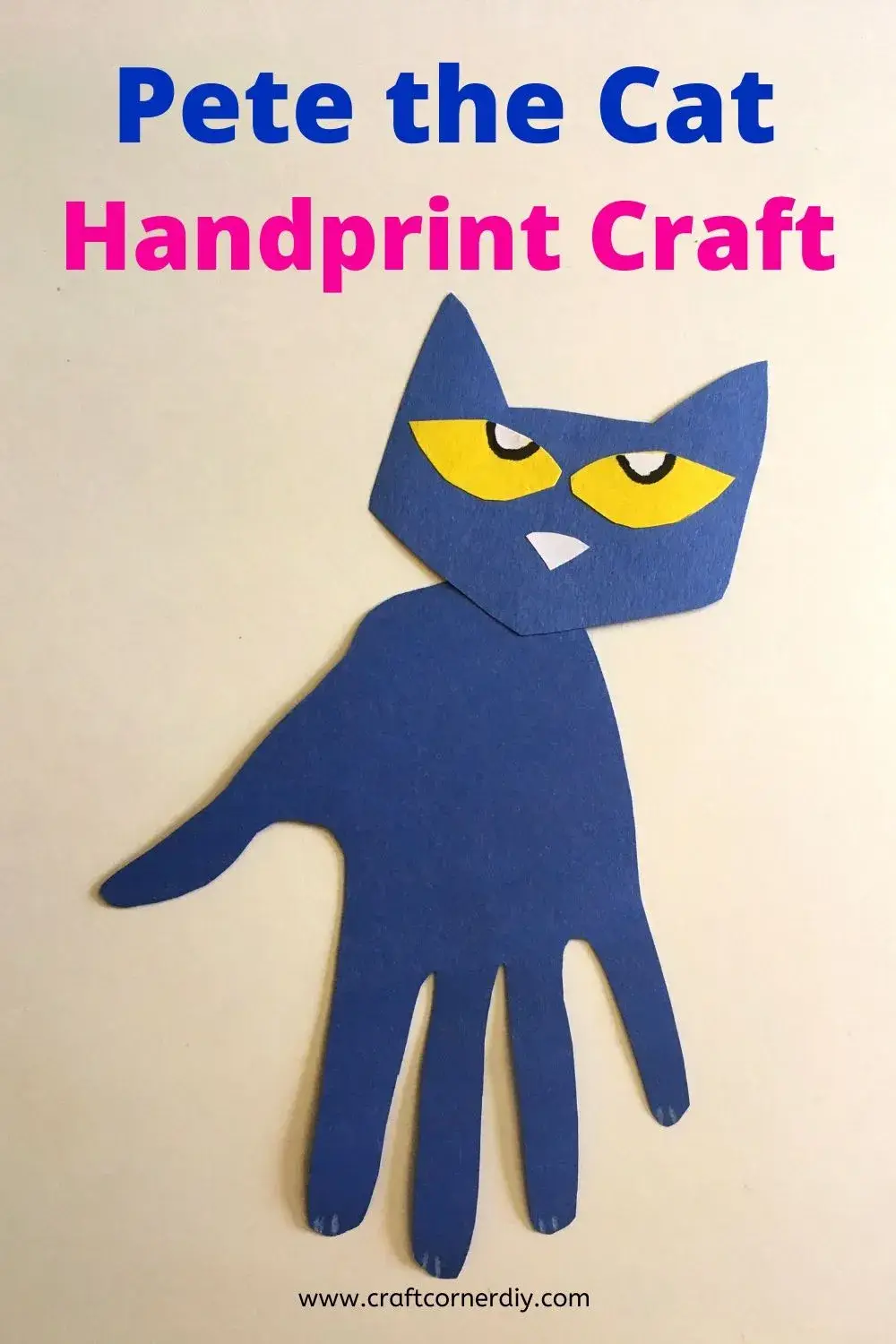 15. Easy Pete the Cat Handprint Craft for Kids
Have you read any Pete the Cat books?
Your favorite cat from the book will come to life in this simple Pete the Cat handprint craft.
This certainly will mix creativity and a touch of nostalgia for children!
Ready to make learning the letter C fun for your children?
Create this letter C cat craft!
This is the perfect way to teach your children about letters while also having fun making their own furry friends.
Do you want to know how to take your kids' dress-up activities and parties to the next level?
This top cat mask craft is the answer!
Allow your children to make their own cat masks and watch their imaginations run wild!
18. Toilet Paper Roll Cat Craft
Have a bunch of toilet paper rolls lying around?
Do you want to make eco-friendly crafts with your kids?
This toilet paper roll will transform ordinary household items into unique art!
Make your own cat toilet paper roll crafts that are too cute to resist!
19. Tissue Paper Black Cat Craft
How can you make a cute yet creepy black cat craft?
Why don't we use black paint and tissue?
This tissue paper black cat craft will show you how.
Get creative and add a little spookiness to your art projects!
20. Make a Macaroni Cat Necklace
Do your kids enjoy doing one-of-a-kind art projects?
They'll also love this macaroni kitty necklace!
This smoothly blends creativity and fine motor skills.
Allow your children to design their own trendy and stylish accessories in a fun and engaging way.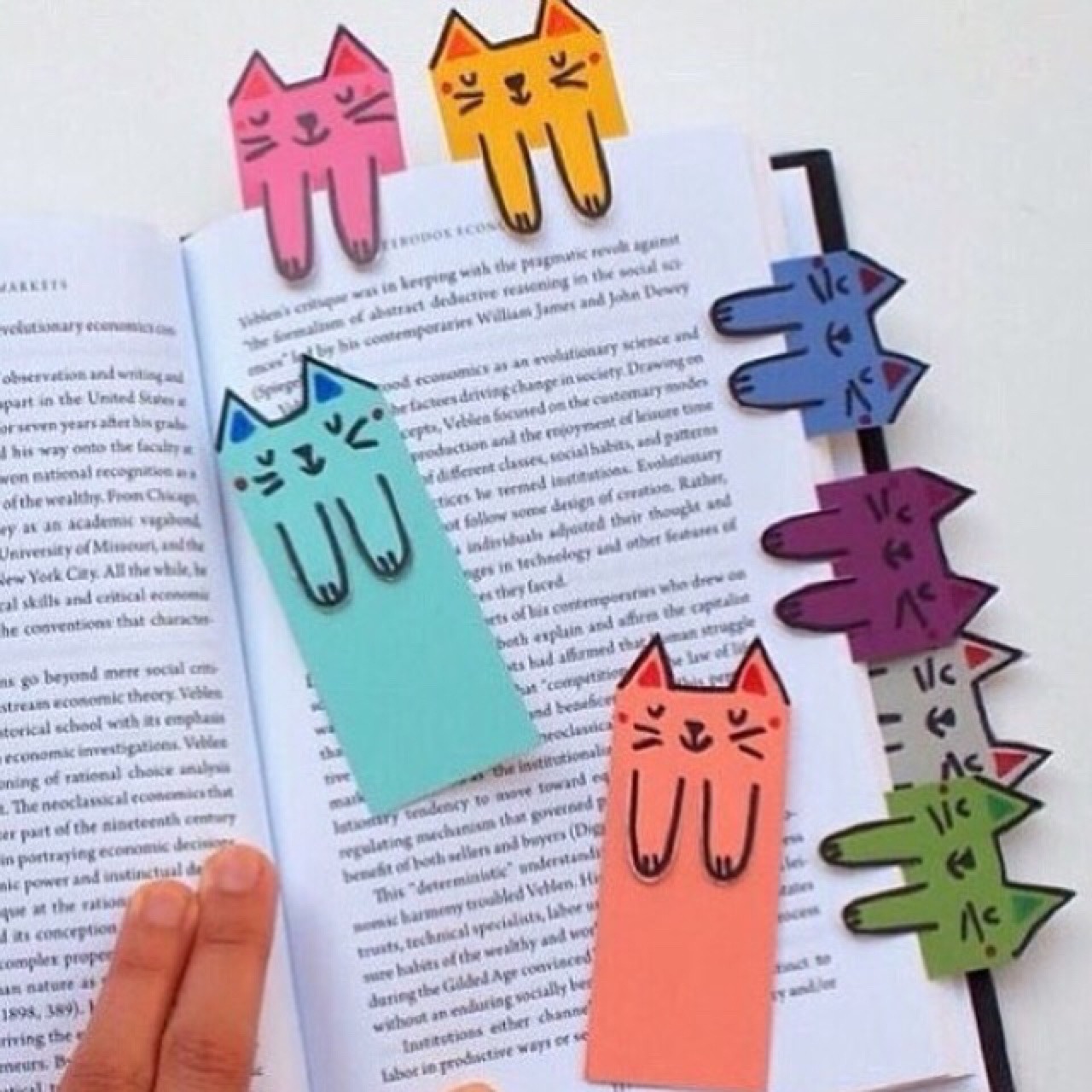 Ever thought about how you could make reading time with your children more engaging and interactive?
This DIY paper cat bookmark will inspire your children to pick up a book and become immersed in the world of words!
It's a creative and fun approach to make story time a purrfect adventure.
22. Toilet Paper Roll Cat Craft for Kids
What could you do with a bunch of empty toilet paper rolls?
Make this toilet paper roll cat craft out of those cardboards!
It's a great way to recycle, promote creativity, and keep the kids excited all at the same time.
23. Cat Headband Craft for Kids (Free Template)
Want to add something adorable yet inexpensive to your kids' dress-up activities?
Make this cat headband craft, which includes a free template!
Allow kids to express their inner kitty while making their own headbands!
24. Cat in the Hat Puppet Craft Activity
Looking for an imaginative approach to bring Dr. Seuss's world to life?
We had a perfect time making these cat in the hat puppets, and you will too!
Storytime becomes much more engaging and enjoyable as a result of this.
At the same time, little kids may play out their favorite Dr. Seuss stories!
Do you want to make a craft that is adorable and useful as a keepsake?
This handprint black cat project will help you capture your child's handprint!
It allows you to make a gorgeous black cat while also preserving your child's handprint as a priceless memento.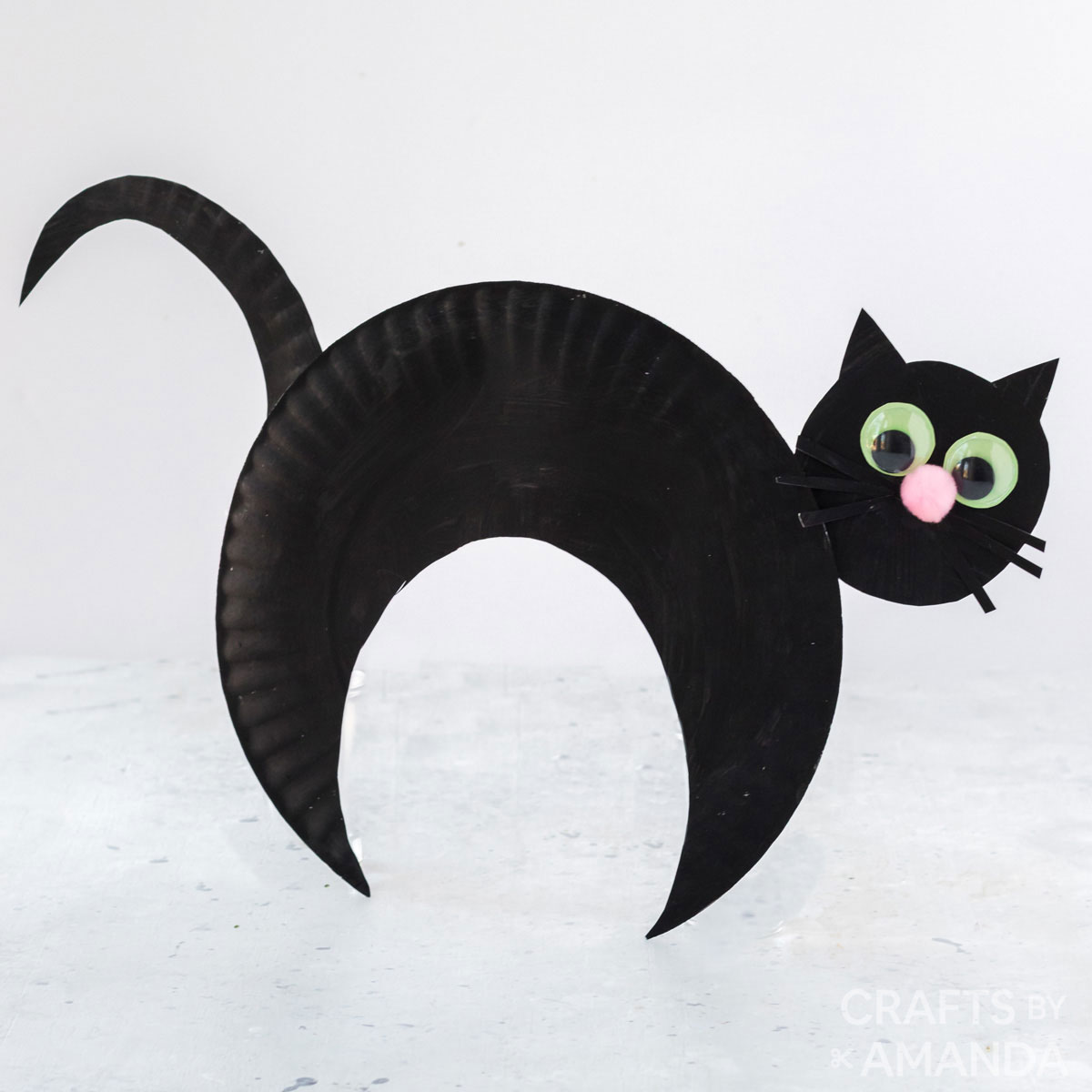 Looking for a way to add a little fun Halloween craft spookiness to your kids' art time?
This black cat paper plate craft is the solution!
This is the perfect DIY for making your decorations extra special and spooky!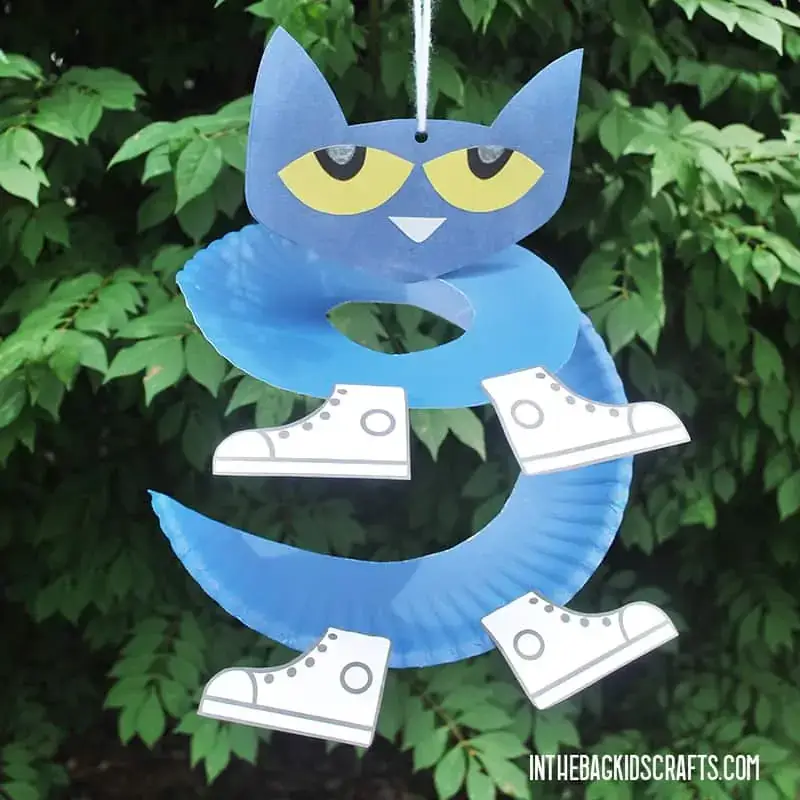 Want to make a cool Pete the Cat craft with your kids out of a plain paper plate?
This Pete the Cat paper plate craft is a creative and entertaining activity that is perfect for imaginative play and storytelling.
Bring this amazing cat to life while encouraging storytelling adventures with your children.

Do you want to learn how to make a fun and easy charming and quirky cat craft?
This paper ball black cat is made from simple materials!
Cutely fold some paper, get your glues out, and get ready to create your way to plenty of cat fun crafts!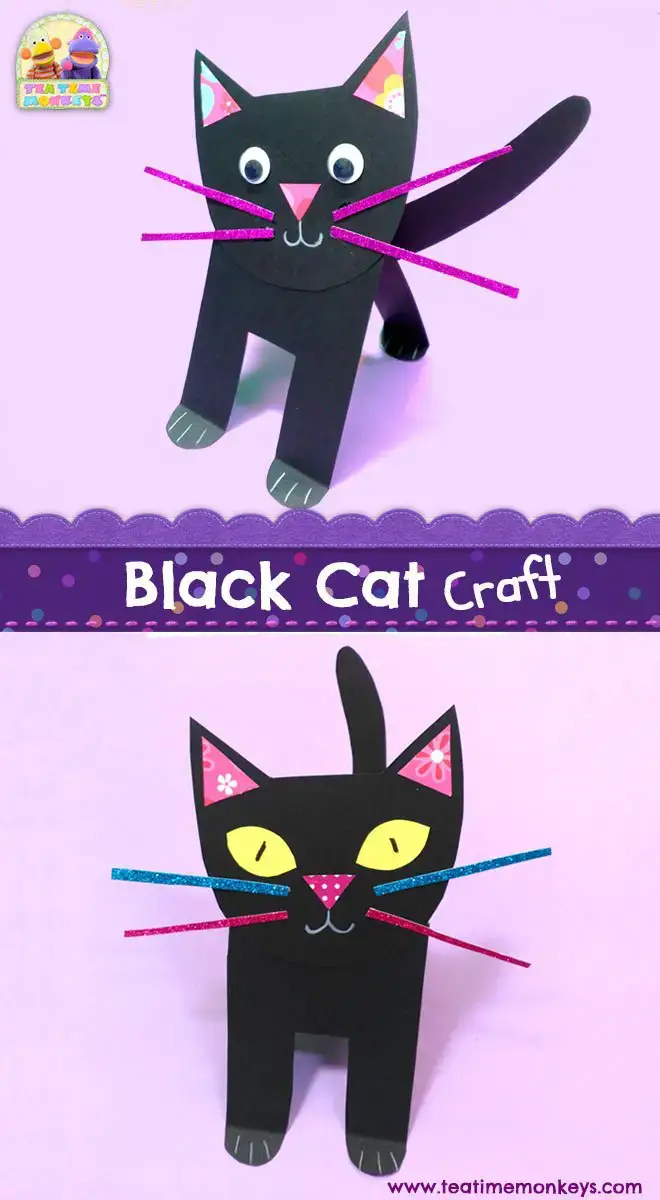 What is it about black cat crafts that makes them so appealing?
Find out why in this black cat craft for kids!
Allow your children to make a spooky yet charming black kitty!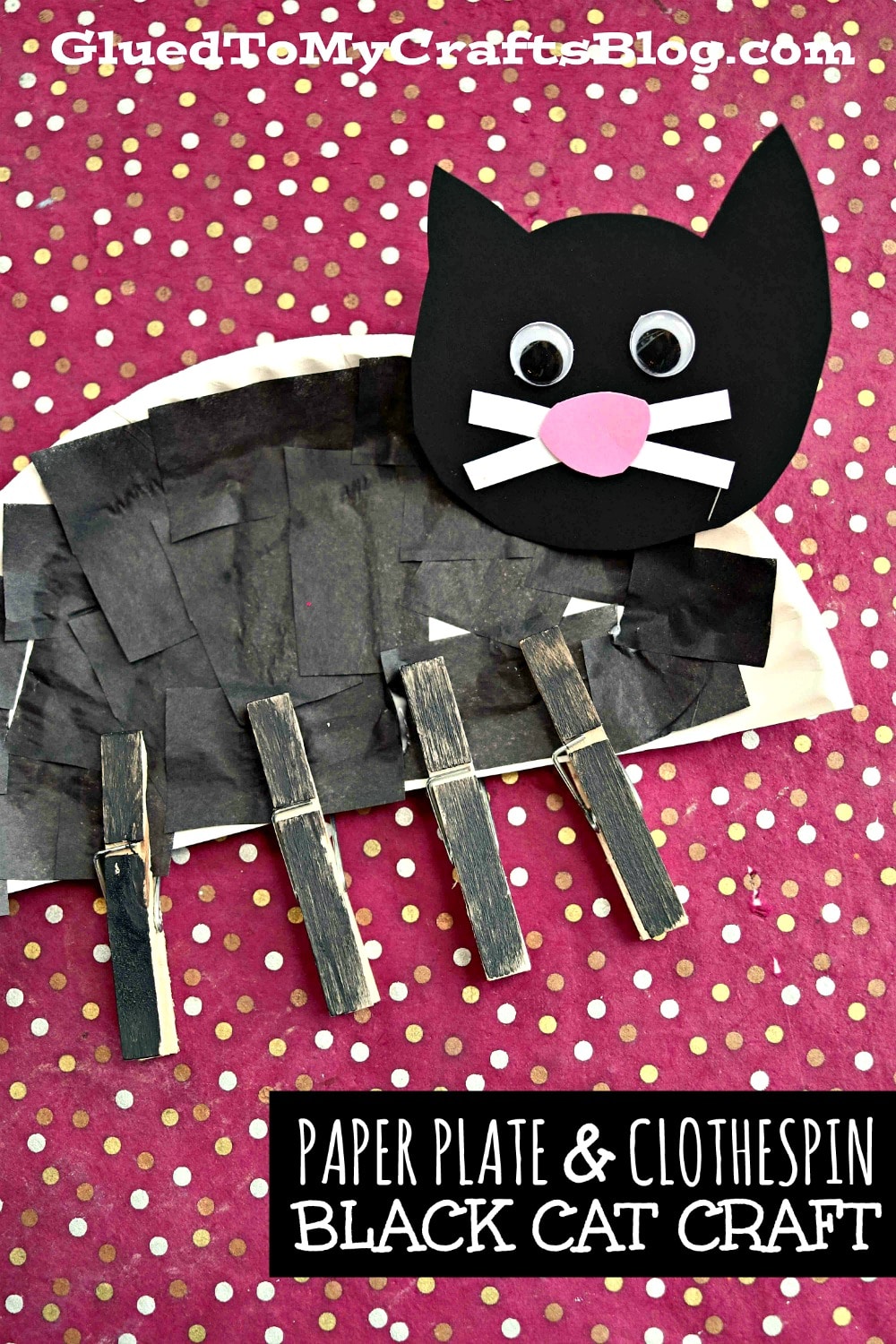 30. Paper Plate & Clothespin Black Cat Craft
What happens when you combine paper plates, clothespins, and a splash of creativity?
This paper plate and clothespin black cat craft is an excellent way to combine creativity in a fun crafting adventure.
Today, make a fun project using simple items!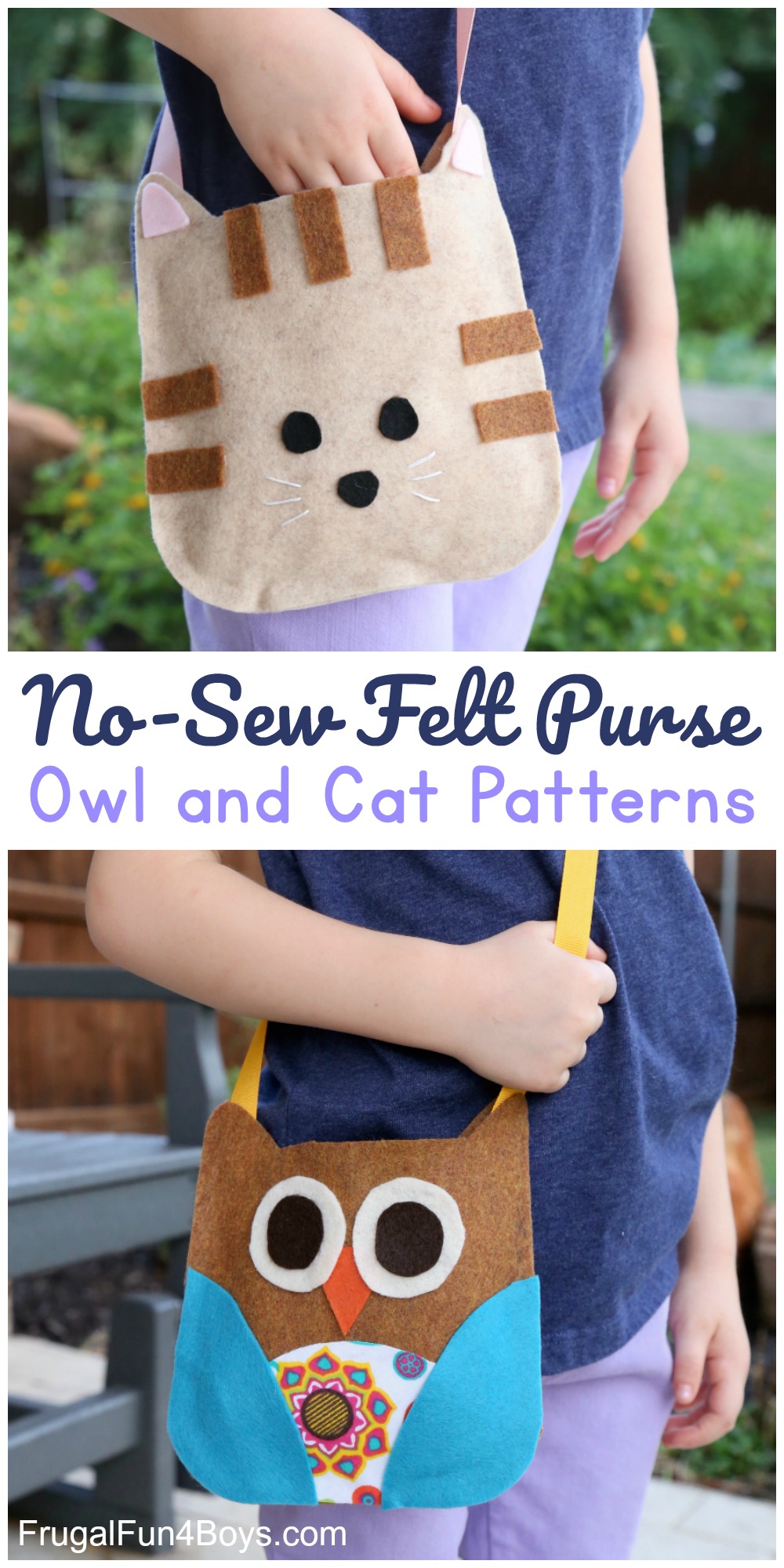 31. Felt Craft Patterns for an Adorable No-Sew Purse
Are you considering involving your kids in a useful craft project?
Make this no-sew felted kitty purse!
Check it out to learn how to teach your children how to make a purse without the use of a needle and thread.

32. Super Simple Black Cat Paper Craft
Are you looking for an easy-to-do project that your kids will enjoy?
With this super simple black cat paper craft, you can transform ordinary materials into a lovely cat!
Introduce young children to the world of crafting while keeping things smart, simple, and full of feline fun.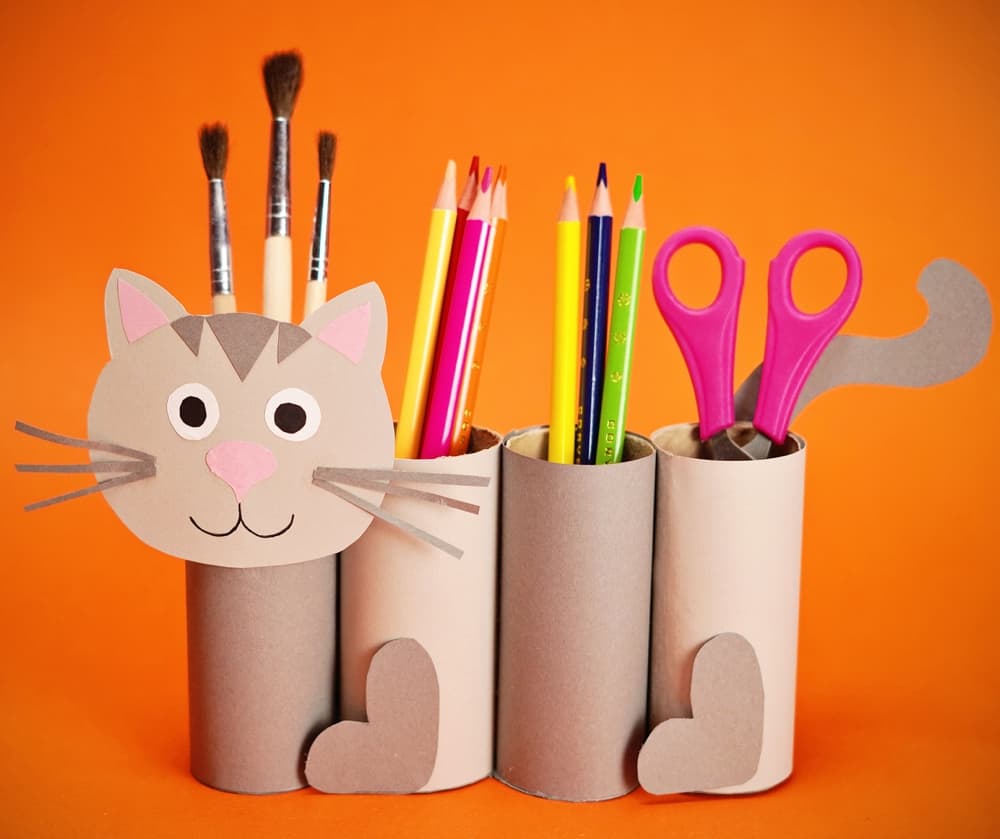 Do you want to know how to make the most of simple materials to build something cute?
Check out this paper roll cat craft!
It encourages creativity while also transforming common materials into cute cat crafts for the kids.
What is a clever way to use a cork?
Make a cork cat out of them!
Teach kids how to repurpose everyday things into lovely crafts like this one.
In a fun way, it's also educating children about sustainability and art.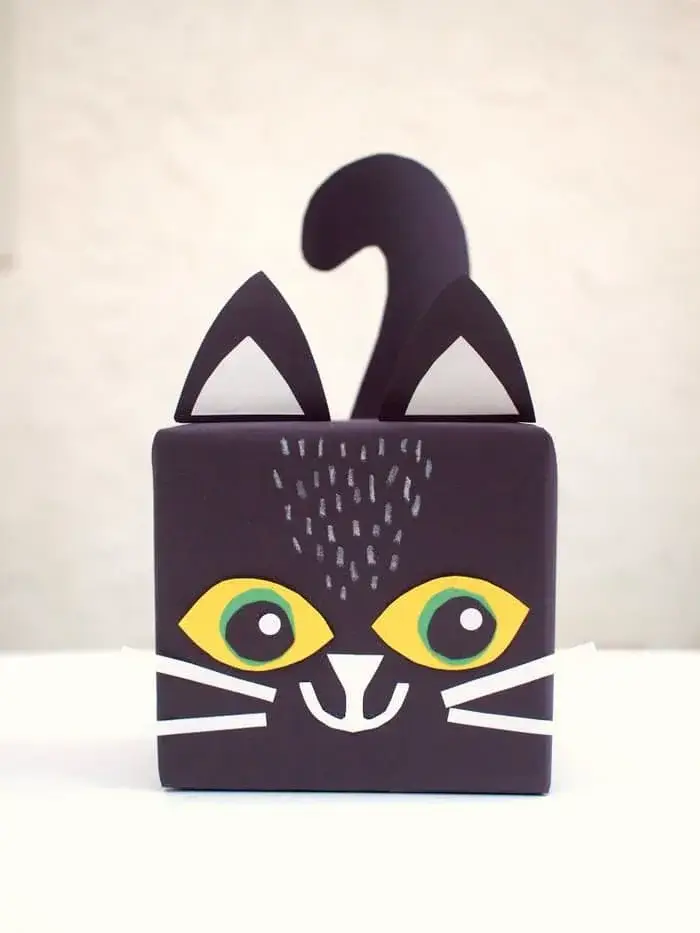 35. Cute Kitty Themed Paper Gift Box for Kids
Trying to come up with a unique idea to make giving gifts to your kids more memorable?
Surprise your loved ones with this cute kitty-themed paper gift box that children may create.
It adds a refined yet playful touch to any gift.
36. Super Cute Paper Bowl Cat Craft for Kids (Printable Template)
What other uses are there for a paper bowl?
Find out what to do with them by making this super cute paper bowl cat craft for kids, which includes a printable template.
It is a fun and interesting approach to mix art and fine motor skills!
Looking for a quick and easy way to make beautiful paper cats?
This cute paper cat craft YouTube video tutorial is the answer!
It gives step-by-step directions for making your own cute kitties, making it a fun and easy way for kids to learn.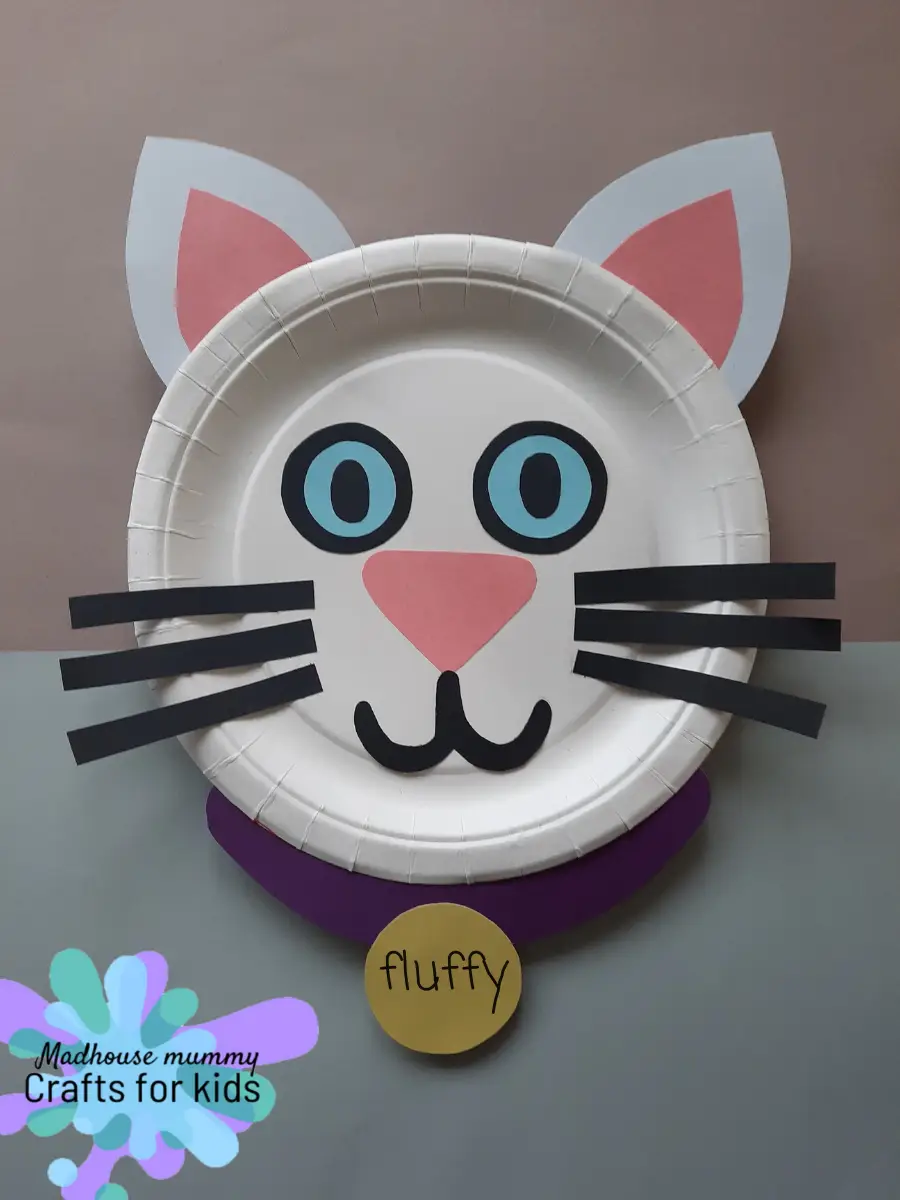 Why settle for a boring paper plate when you can transform it into a magnificent cat craft?
This paper plate cat craft is simple to do with a little imagination and a few affordable materials.
Who would have thought that a paper plate could be transformed into a piece of art?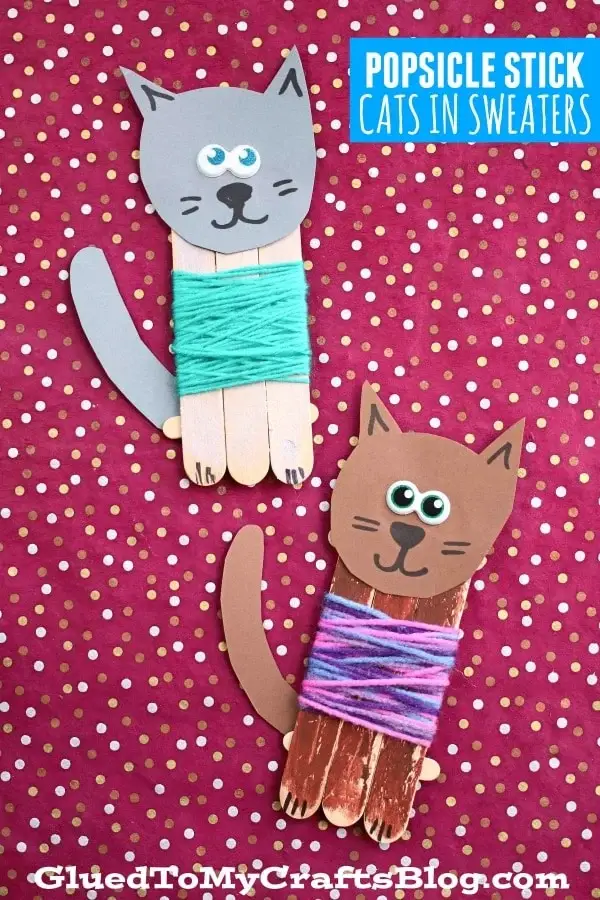 39. Popsicle Stick Cats in Sweaters Craft
What is a creative craft that also promotes fine motor skill development in children?
Cats in sweaters on popsicle sticks!
Who knew that cats and popsicle sticks could pair well together?
40. Paper Roll Black Cat Craft
Who would have guessed that your ordinary, empty toilet paper rolls could double as a secret tool for creating a little cat craft?
Why buy decorations when you can make this paper roll black cat craft yourself?
These recycled masterpieces are the best when they are given a little creativity and imagination!
41. Easy Paper Cat Origami Cup
Can a piece of paper be folded into an origami cup?
Absolutely!
Check out this easy paper cat origami cup.
This will have you wondering if you've discovered a wonderful yet simple craft secret!
42. Fork Painted Black Cat Craft for Kids
Could something as simple as plastic forks be the key to opening up a world of creative wonder for our children?
Yes, with this painted fork black cat craft!
Children may create captivating black cat works of art with just a few paintbrush strokes and a fork.
43. Paper Plate Moving Eyes Cat Craft
Who needs a real cat when you can have a feline pal made out of paper plates?
This paper plate moving eyes cat craft demonstrates how an ordinary item can be transformed into a crafty playmate for kids by adding a pair of dynamic eyes and a dash of quirkiness.
Make one today!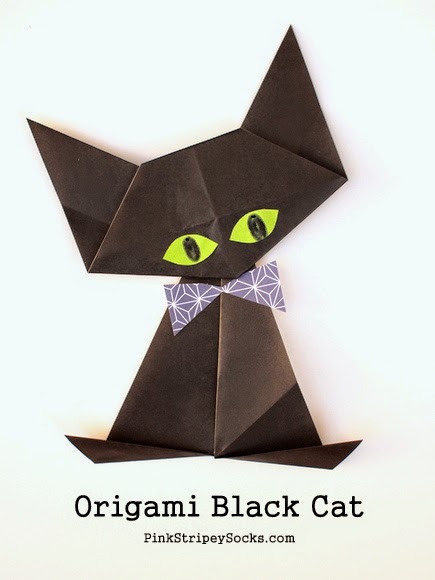 Is it possible to create the enticing qualities of a black cat with nothing more than a sheet of paper and some precise folds?
This easy origami cat will show you!
Even a flat piece of paper may be brought to life with the appropriate folds and techniques.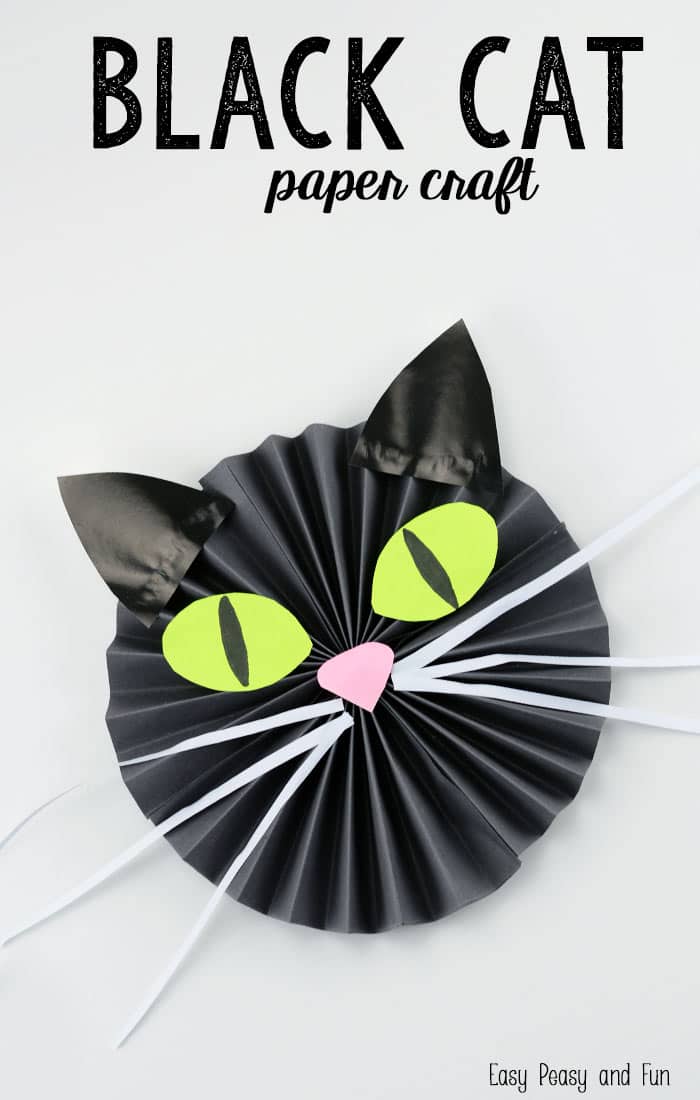 Looking for a quick and easy craft activity for a day of creative play?
This black cat paper craft is awesome!
Dive into this artistic adventure today and create your own mesmerizing black cat!
Thinking about how to incorporate shape recognition into your act activities?
Make this shape black cat craft!
It's as adorable as it is helpful for your kids!
It's a fun and interactive technique for kids to learn about shapes while making their favorite black cats.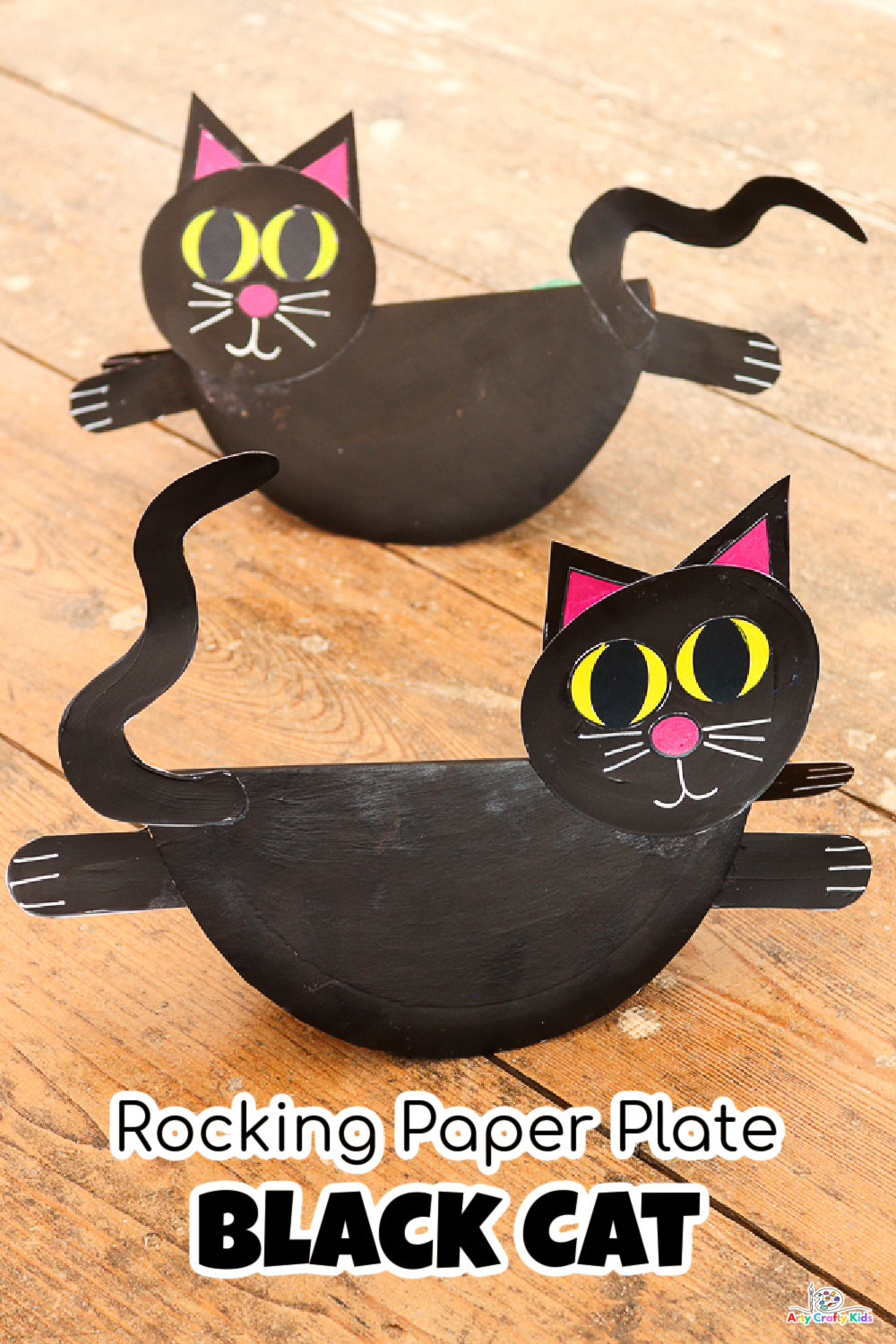 47. Rocking Paper Plate Black Cat
Do you want to create a craft that is both charming and playful?
Make this rocking black cat out of paper plates right now!
It's a terrific craft to keep kids busy while they make their own rocking cats.
Grab a paper plate and get ready to have some fun!
48. Printable Letter C Crafts: C is for Cat
Are you on your way to your letter of the week themes?
With this free printable letter C craft: C is for cat, you can make learning the alphabet exciting for kids of all ages.
It's a clever and unique method for kids to learn about the letter C while making their own fluffy cats.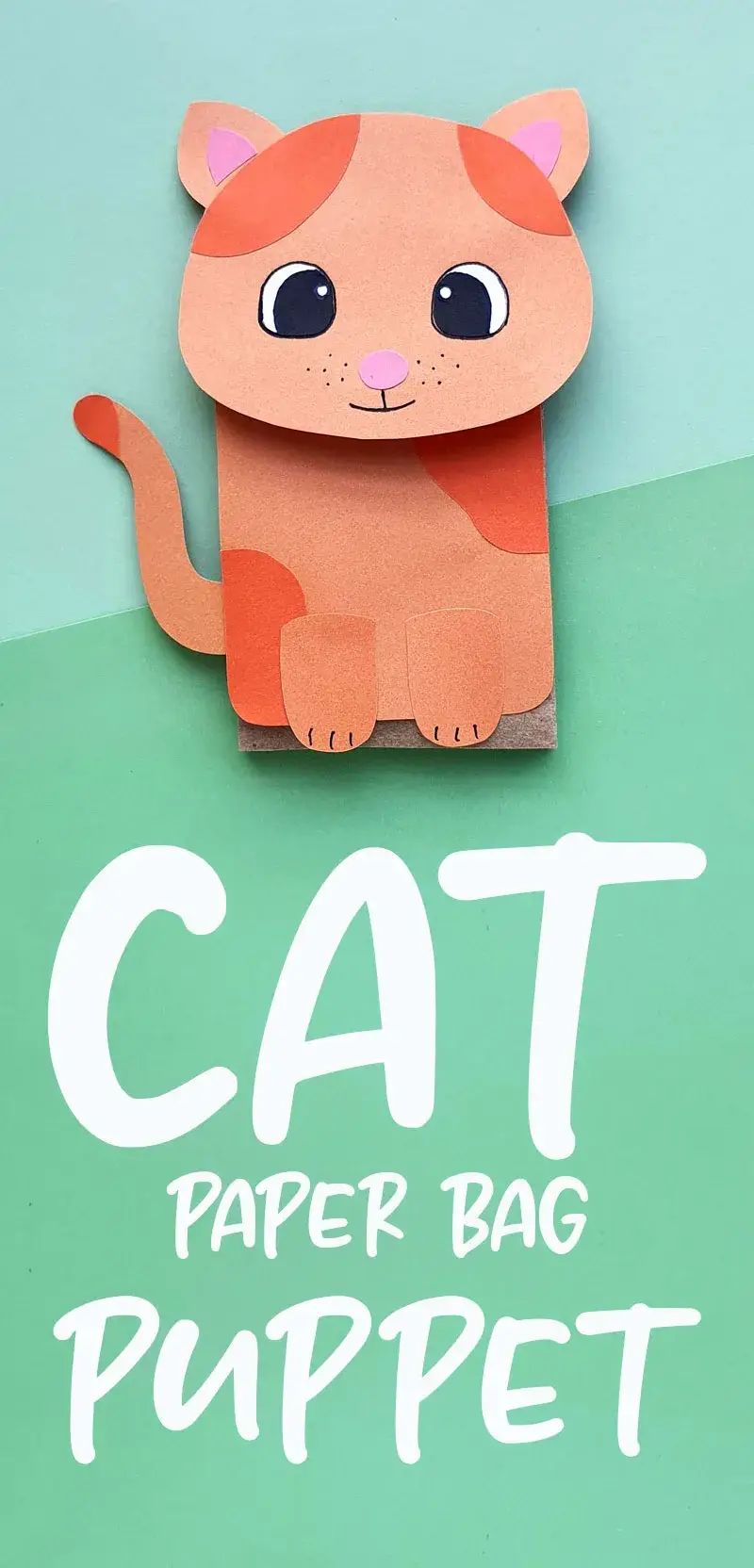 49. Cat Paper Bag Puppet with a Free Template
Wish you knew how to make a fun puppet out of a paper bag?
The remedy is this cat paper bag puppet, which includes a free printable template.
Start creating your own cat puppets right away by grabbing a paper bag!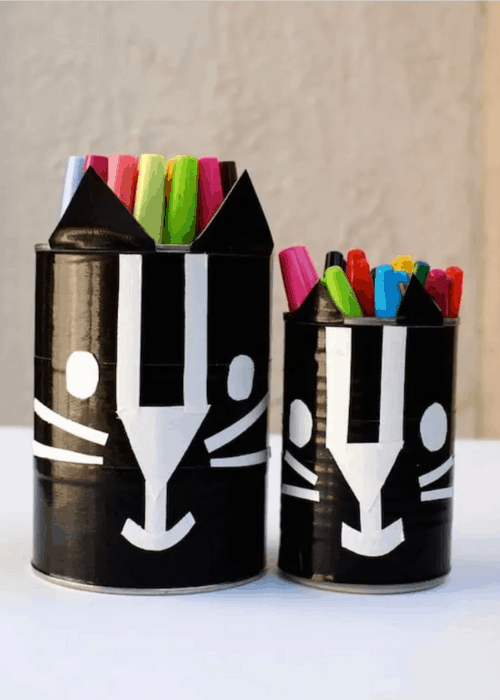 Who would have thought that the secret to creating a cute black cat might be duct tape?
You're in for a fun crafting journey with a roll of this versatile tape and a splash of imagination!
Grab some duct tape and let's get started!
51. Cool Cat Newspaper Art Project for Kids
Is there a more creative method for kids to express themselves than creating funk kitty art out of old newspapers?
Kids can bring their favorite furry friends to life with this adorable cat newspaper art project, which just requires a little imagination and a touch of compassion for the environment.
And, of course, it's just as fun as it is eco-friendly!
52. Easy Craft for Kids: Cat Bookmarks
Do you want a simple craft that encourages reading?
Why not make these cat bookmarks?
Unleash your children's imagination and make sure that no page goes unmarked in style!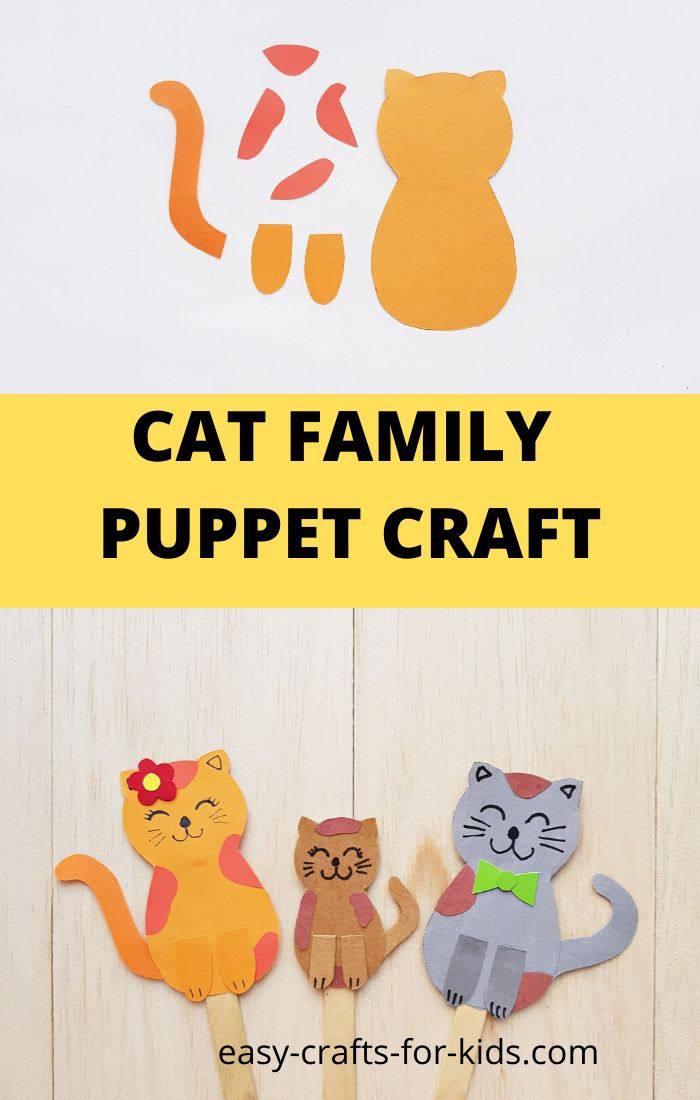 53. How to make Cat Puppet Craft – Cutest Cat Crafts for Kids
Who can resist the charm of a cat puppet?
Kids may make these simple and adorable cut puppet crafts, and they'll make you wonder whether your hand has become the cutest kitten performer ever.
You'll have the perfect recipe for hours of playtime fun with just a few supplies!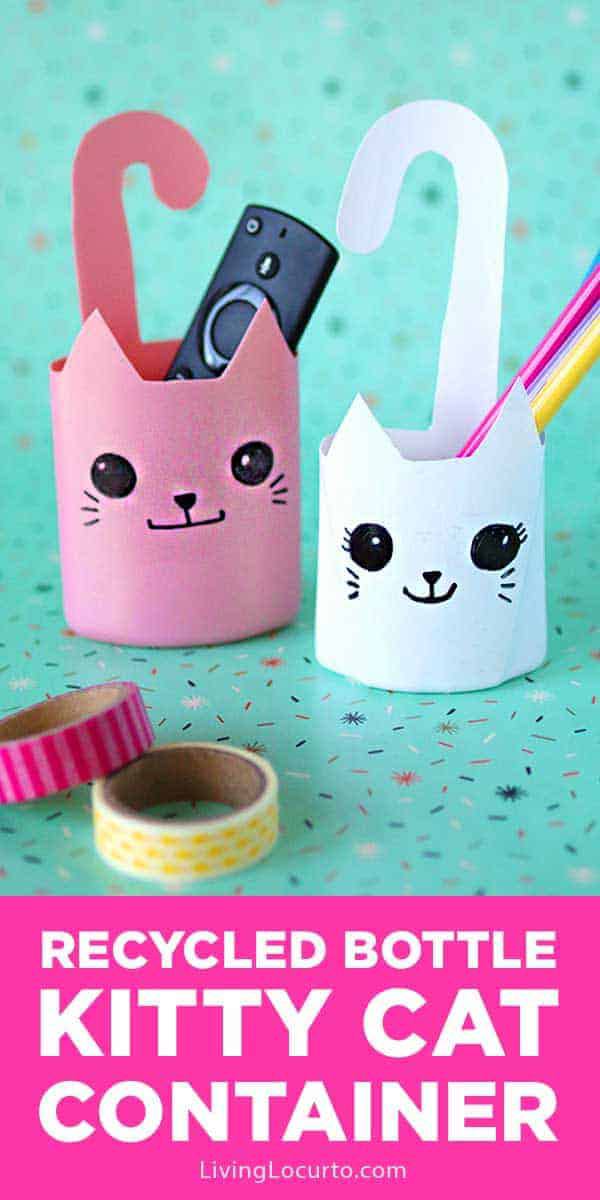 54. Recycled Bottle Cat Container
Have you ever pondered what happens when your trash becomes a creative treasure?
There's just one place to look—the recycled bottle cat container!
It's a creative technique to breathe new life into old bottles as useful storage.
You will question why you ever tossed them away in the first place after seeing this!
55. Paper Plate Cat Craft (Get the FREE Template)
Who wants a dull, blank paper plate when you can make a fun paper plate cat craft using a free template?
A simple plate could serve as a canvas for such a lovely project.
Now take a paper plate and let's make one.
You might be wondering, "Can crafting with cats get any cuter?"
Let me assure you that it most certainly can!
These cutest, fun cat craft ideas, complete with a free printable cat template, are the cat's meow when it comes to creative fun.
These ideas are sure to be a hit whether you're an expert crafter or just as gullible as a kitten with a laser pointer.
But, hey, don't keep all the kitty cuteness to yourself!
Want to share your adorable cat creations with the world?
Take a snapshot of your little artist's creation and send it to us – we'd love to see those whiskerific works of art!
Plus, who knows, you might just inspire other crafty parents to join the purr-ty!
Let's get the word out about cat crafts today!
When you have finished, be sure to share your creation on Simple Mom Project's Facebook Page and follow me on Pinterest!

Kaitlen D.