Are you getting your preschoolers and kindergarteners ready for the first day of school?
We know exactly what to give them to make them at ease as they board the school bus for the first time.
They will enjoy working on this printable school bus template!
Discuss how wonderful it is to ride the bus to school while they use their creativity to work on their templates.
You may fully enjoy this free, simple-to-print black-and-white school bus by downloading it today.
Feel free to add it to any other routines you may already have at home or at school.
It can serve as a coloring page, a guide for making crafts, a drawing, and more.
Enjoy this week getting your kids ready for school with the help of this printable school bus template!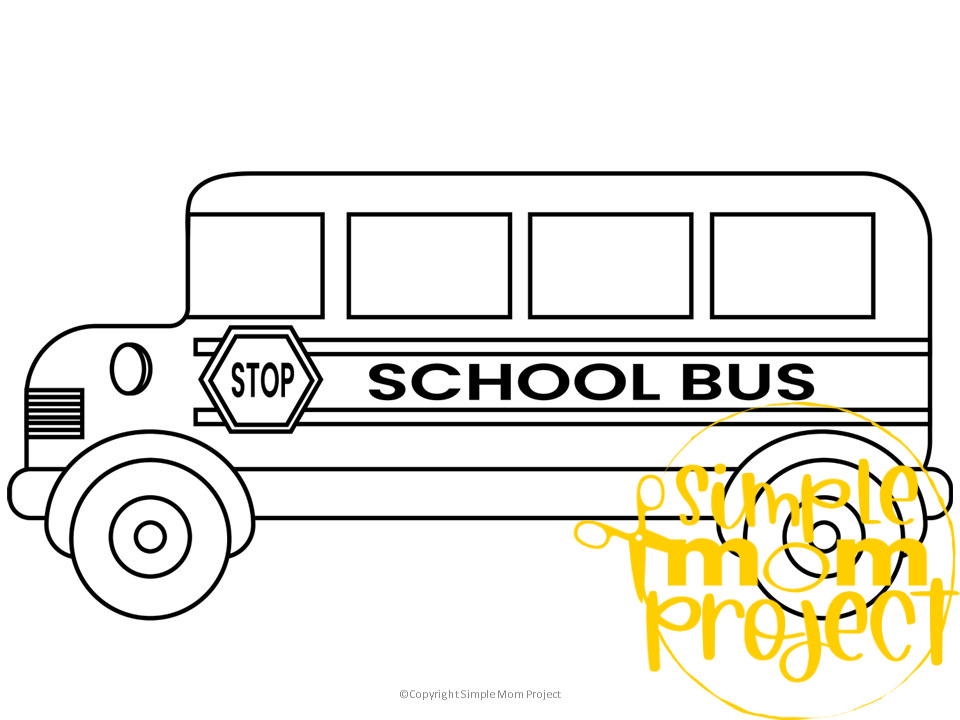 *By the way, this post may contain affiliate links which means I may receive a small commission at no additional cost to you if an item is purchase through that link. For more information, click here.*
Printable School Bus Template
School Bus Template Supplies Needed:
Printable School Bus Template (FOUND AT THE BOTTOM)
Ideas for School Bus Template
This week, there are a ton of fun ways you can use the printable school bus template.
Take note of all these simple, enjoyable, and easy to implement activities for children of all ages by grabbing a pen and paper.
These ideas won't require you to go out of your way or purchase pricey supplies, so no worries!
Simple household items and the printable school bus template are all you need.
Please keep reading to learn more because we'd love to share them all!
1. Super School Bus Collection
If you're looking for materials to go with the printable school bus template, we've got you covered!
We designed the printable school bus template to be versatile so that it may be matched with various learning resources for use in your lessons.
We'd like to share this fantastic school bus collection with you, which you may use in your plans as well.
This collection's learning materials are certain to keep children engaged, learning, and productive.
They would definitely love what we have in this collection for them!
We included informative books on school buses, a pop-up school bus play tent that could be displayed in their corners, and a school bus toy.
We constantly strive to make learning enjoyable and engaging!
Check out these reasonably priced school bus items by clicking on the links below!
2. Preparation for Preschool and Kindergarten
Preparing our little ones for school by using this printable school bus template is also a wonderful idea.
If your children take the bus to school, this is a great idea for them.
Some children may find the first day of school to be an exciting occasion, but others may find it to be overwhelming.
It is important that we practice and convey to them that they are safe and that everything is fine, especially if they will be going to school on their own.
They would have the opportunity to make new friends while riding the school bus!
Allowing children to customize the free school bus template will help them settle.
Explain how school buses work and how important they are in the community.
You can print the school bus, cut it out, and use it to create flashcards.
Give children a better understanding of how wonderful school bus rides are to make them eagerly anticipate their first day of preschool or kindergarten.
3. School Bus Craft
Are your kids having fun with this printable school bus template?
They would certainly love creating more school bus-themed crafts as well.
Start a simple school bus craft by gathering an empty milk carton box, bottle lids, yellow and black paint, and hot glue.
First, apply yellow paint to the milk carton.
Use the black paint to add the windows and doors as well.
Once everything has dried, use hot glue to affix the bottle lids to the carton box.
Attach two lids to each side.
On the window boxes, you can also put images of your children and their friends.
You can take off the top portion of the milk carton box and use it as a pen or crayon holder to reuse their school bus crafts.
Make more of these quick and easy school bus crafts to recycle them into classroom-friendly projects.
4. Simple Coloring Pages
Keep the kids occupied with resources to keep them busy and productive while you work on your tasks.
You may use this free, printable school bus template to create coloring pages for your kids.
Print as many copies as you'd like so they can color more while you finish anything.
Give children access to a variety of coloring tools, including crayons, markers, colored pencils, and even paint if they so desire.
Allow kids to be creative while keeping them occupied with simple coloring pages.
You may also collect these coloring pages into a transportation coloring book for your preschoolers and kindergarteners if your week is focused around transportation!
Coloring will surely keep kids involved and continually expressive through the arts.
Coloring is also a fantastic method to practice fine motor skills and good pen grip!
Print your copies and enjoy coloring this printable school bus template right now!
We're excited to see how you and your kids incorporate these ideas into your daily routines!
These creative ideas will surely make learning and doing activities more fun and engaging.
Use all of these ideas to spend time with your children this weekend.
Visit the rest of our collection if they want any more of these free vehicle templates!
Printable School Bus Template: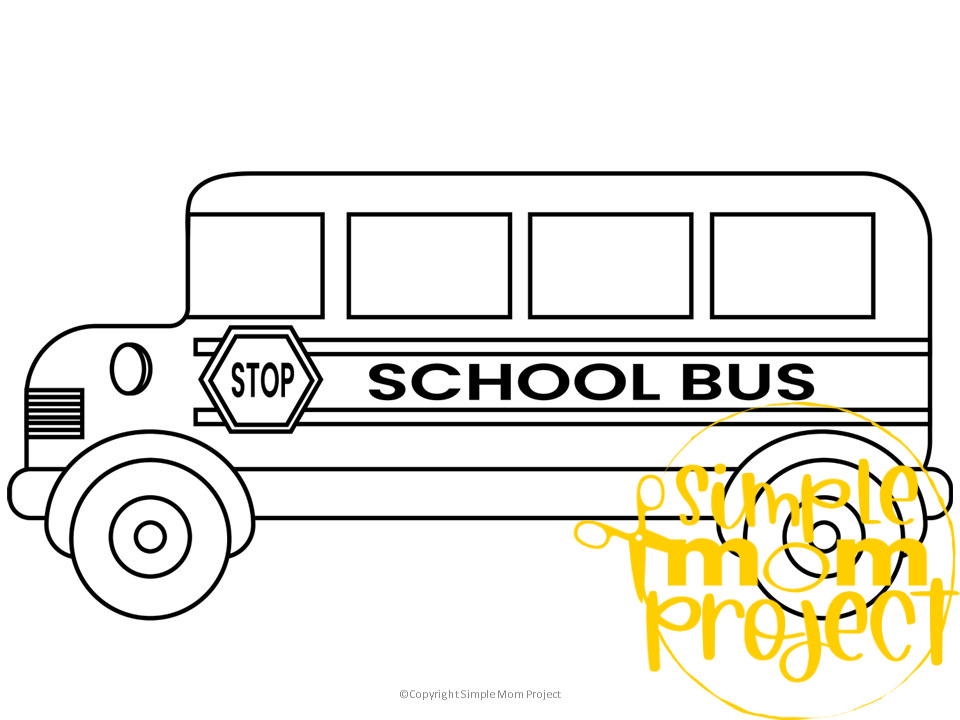 Print this cute and simple school bus template for your kids today!
Enjoy using this basic, black-and-white template into your everyday routine at home and at school.
Use it anyway you choose for your crafts, coloring, and drawing projects.
It can also be used as a cut-out visual aid for transportation-themed preschool and kindergarten lessons.
Whatever way you decide to include it into your regular routine, it will greatly help your children in developing a wide range of abilities.
Their fine motor, creative, sensory, and transportation skills will all be at the best of their abilities.
Make the most of it during your transportation and first day of school-themed weeks by printing this for free!
Share this with anybody you know who enjoys riding the school bus!
Don't forget to leave a message in the comment section.
When you have finished, be sure to share your creation on Simple Mom Project's Facebook Page and follow me on Pinterest!

Kaitlen D.
More Free Printable Vehicle Templates