It is always a fantastic time to spend an afternoon in the backyard with your children.
My kids and I love watching the birds fly over the sky while having a picnic in our backyard.
I let them explore and wonder at the different types of birds they encounter.
That's when we came up with the idea of making these printable bird templates for parents and their kids to do over the weekend.
If you're looking for fun outdoor activities to do at home or at school, this printable blue jay template has plenty of references.
These activities are ideal for science and arts & crafts lessons.
Learn about blue jays with simple and easy-to-do activities and craft items.


*By the way, this post may contain affiliate links which means I may receive a small commission at no additional cost to you if an item is purchase through that link. For more information, click here.*
Printable Blue Jay Template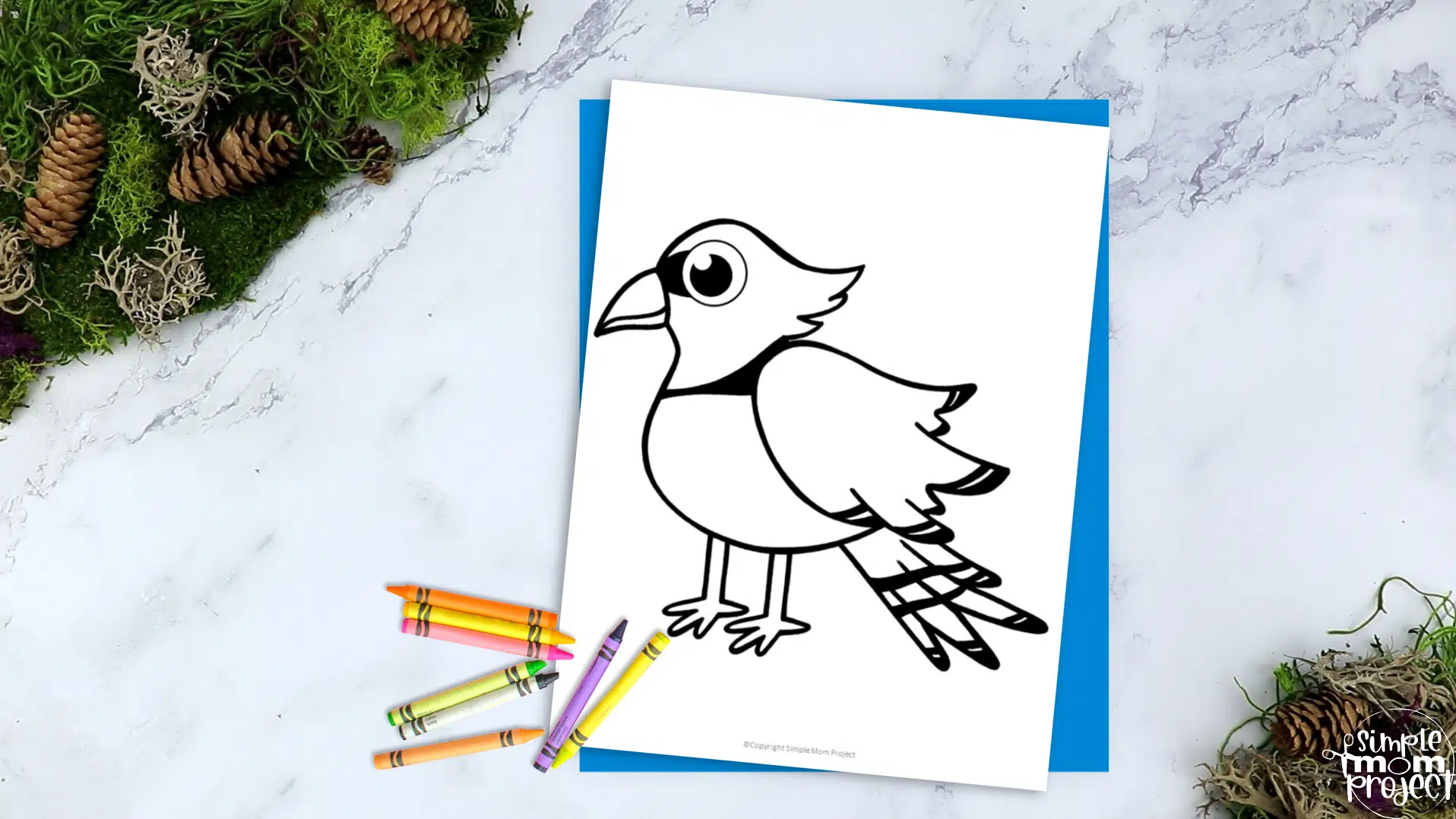 Printable Blue Jay Template Materials Needed:
Printable Blue Jay Template (FOUND AT THE BOTTOM)
Make your child's finished blue jay template a forever memory by laminating it! We use this laminator and cannot express how much we love it! It is not only inexpensive, it is SO easy to use!
Your kids will love seeing how much you adore their art work when you laminate and display it for years to come!
Looking for more amazing bird crafts ideas? Check out our Blue Jay Craft, and Eagle template.
Ideas for Printable Blue Jay Template
We've put up some ideas for incorporating this printable blue jay template into your learning plans for your toddlers and preschoolers.
1. Brilliant Books About Blue Jays
While watching the birds fly in your backyard, spend an afternoon reading these interesting books about blue jays.
2. Handprint Blue Jay Craft
This printable blue jay template idea is perfect to keep those little hands busy.
This handprint blue jay craft can also help your little ones improve their fine motor development.
This is an exciting sensory activity for all ages, too.
Blue paint, papers, and a pen are the materials we'll need.
Begin by using blue paint to color your children's hands.
Use a paintbrush or simply have them dip their hand into the paint.
Encourage them to stamp their hand on the paper softly.
Allow them to draw the blue jay's face once the handprint has dried.
They can use the blue jay template as a guide.


3. Blue Jay Paper Plate Craft
Your kids will be wanting more blue jay activities to keep them entertained all day.
We make every effort to provide printable blue jay template ideas that are easy to follow and need only a few craft supplies.
You can also do this activity over a picnic with your family.
This blue jay craft requires paper plates, blue construction papers, glue, and markers.
Begin by drawing the face of the blue jay on the paper plate.
Cut paper strips for the feathers using the blue construction paper then glue them into place.
The finished blue jay craft can be used as a winter ornament or as a decoration for a blue jay-themed party.
4. Fly Like a Blue Jay
Our printable blue jay template ideas would be incomplete without a fun game that your kids will want to play all the time.
You can also use it as an icebreaker or an exercise before beginning the lesson.
This is a great gross motor activity for them to develop their body control and coordination.
This fly like a blue jay game can be played both indoors and outdoors.
My kids and I prefer to play this game outside because we can move around freely.
In our backyard, there are also birds flying around, so we get to play and fly like them.
This game has simple instructions that include spreading your arms, flapping your arms, and pretending to fly like a blue jay.
You can fly up and fly low, fly fast and fly slow.
You can play this game with the whole family, too!
These printable blue jay template ideas are perfect for your learning plans for kids of all ages.
Your children will be so engaged in these activities that they will have no time for gadgets.
We hope you had a great time organizing your plans with these ideas.
We are confident that your little ones will want more of these bird templates activities every day.


Printable Blue Jay Template: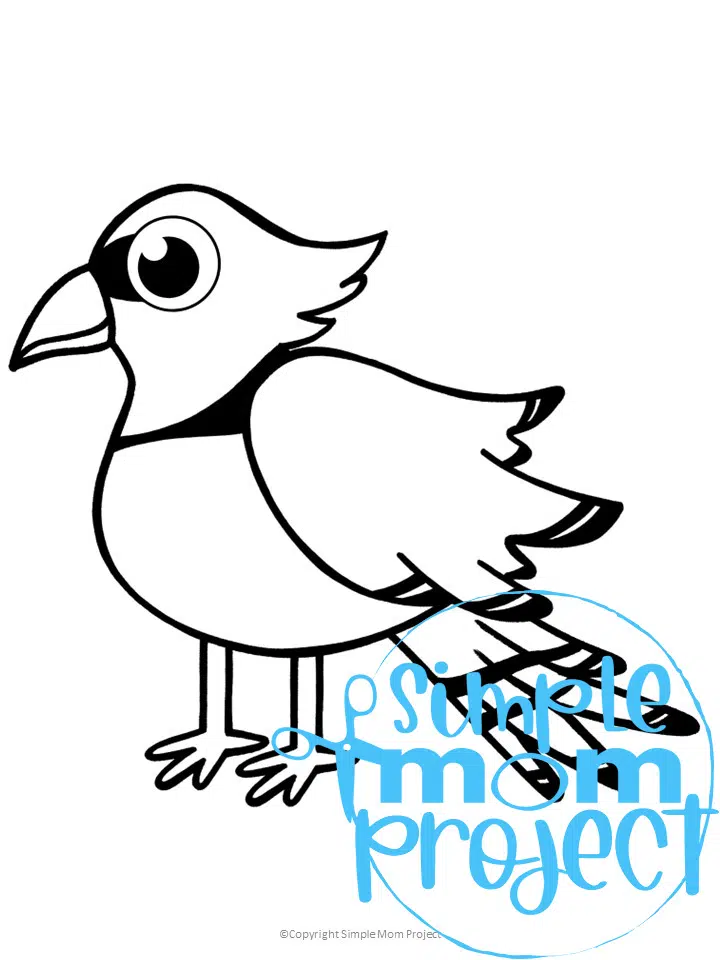 Participating in art activities with your children benefits them in a variety of ways.
They get to learn about basic colors, and shapes and practice their fine motor skills.
This printable blue jay template will be a good start for color and shape recognition.
Your kids can use whatever blue art materials they have to decorate this simple blue jay bird drawing.
They can color, paste blue sequins, embellish with blue glitters, and more.
You can cut out the finished piece and add it to your bird craft or coloring book collection.
Did you enjoy spending time with your children doing these activities as much as I did?
What was their favorite idea?
We want to hear more about your experiences in this blue jay template.
Don't hesitate to leave a message in the comment section.
When you have finished, be sure to share your creation on Simple Mom Project's Facebook Page and follow me on Pinterest!

Kaitlen D.
More Fun Bird Templates