This free and cute blue jay craft printable will give your family hours of fun with art and craft time!
Whether you want to make a bird puppet, foam crafts, bird crafts, or paper plate projects with preschoolers, I'm confident that this easy cut and paste bird craft will help keep those little hands busy.
Making blue jay crafts during the winter season can be a fun part of your homeschool bird watching curriculum, as well as a clever way to get crafty on a cold winter day.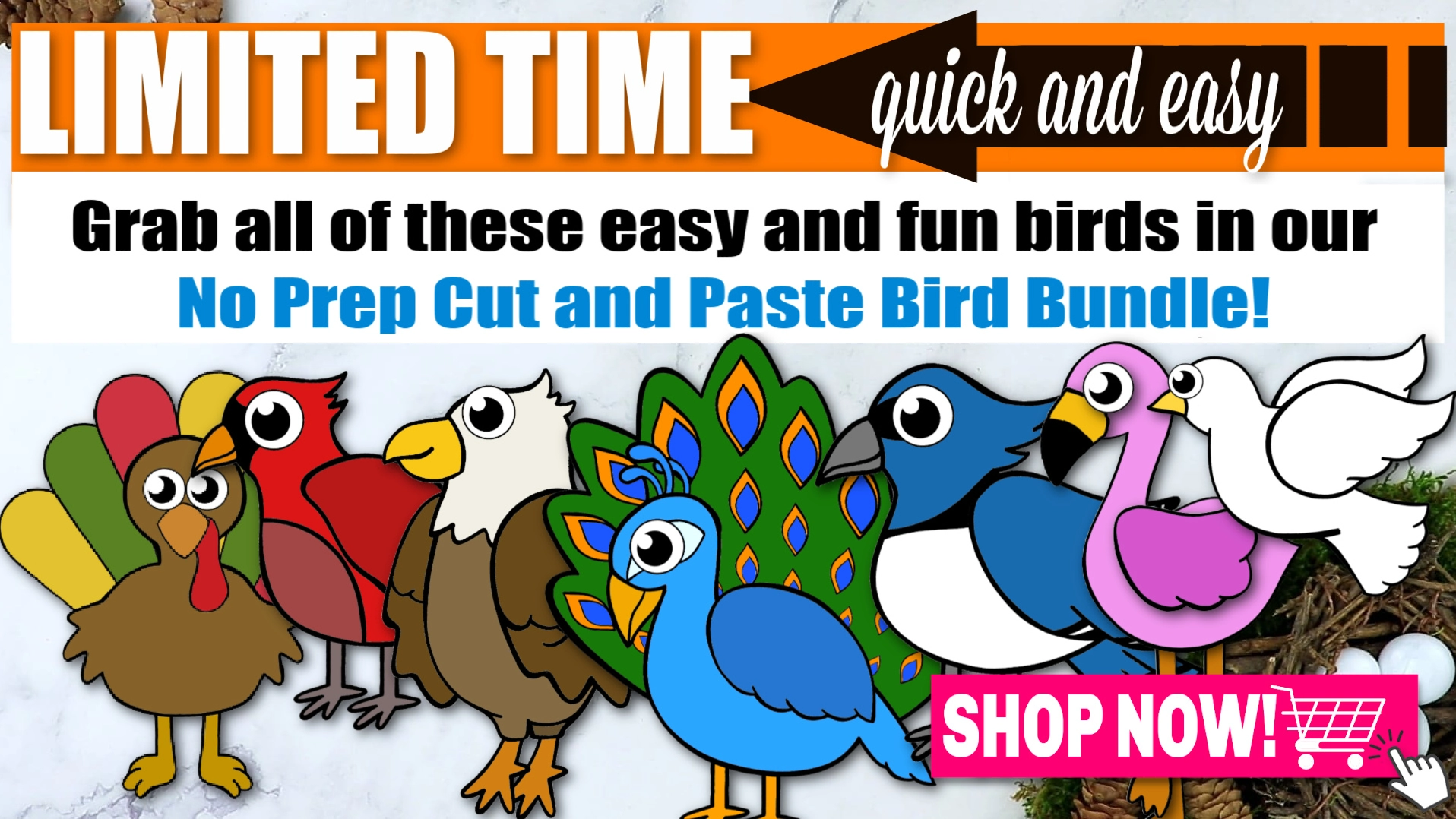 Be sure to check out my dove craft to my northern cardinal craft, and every other birds of prey templates, you'll find something fun to do and educate your toddlers with today.
I wanted to share a few ideas to get your creative mind flowing for ways to incorporate this bird's nest blue jay craft into your daily life.
*By the way, this post may contain affiliate links which means I may receive a small commission at no additional cost to you if an item is purchase through that link. For more information, click here.*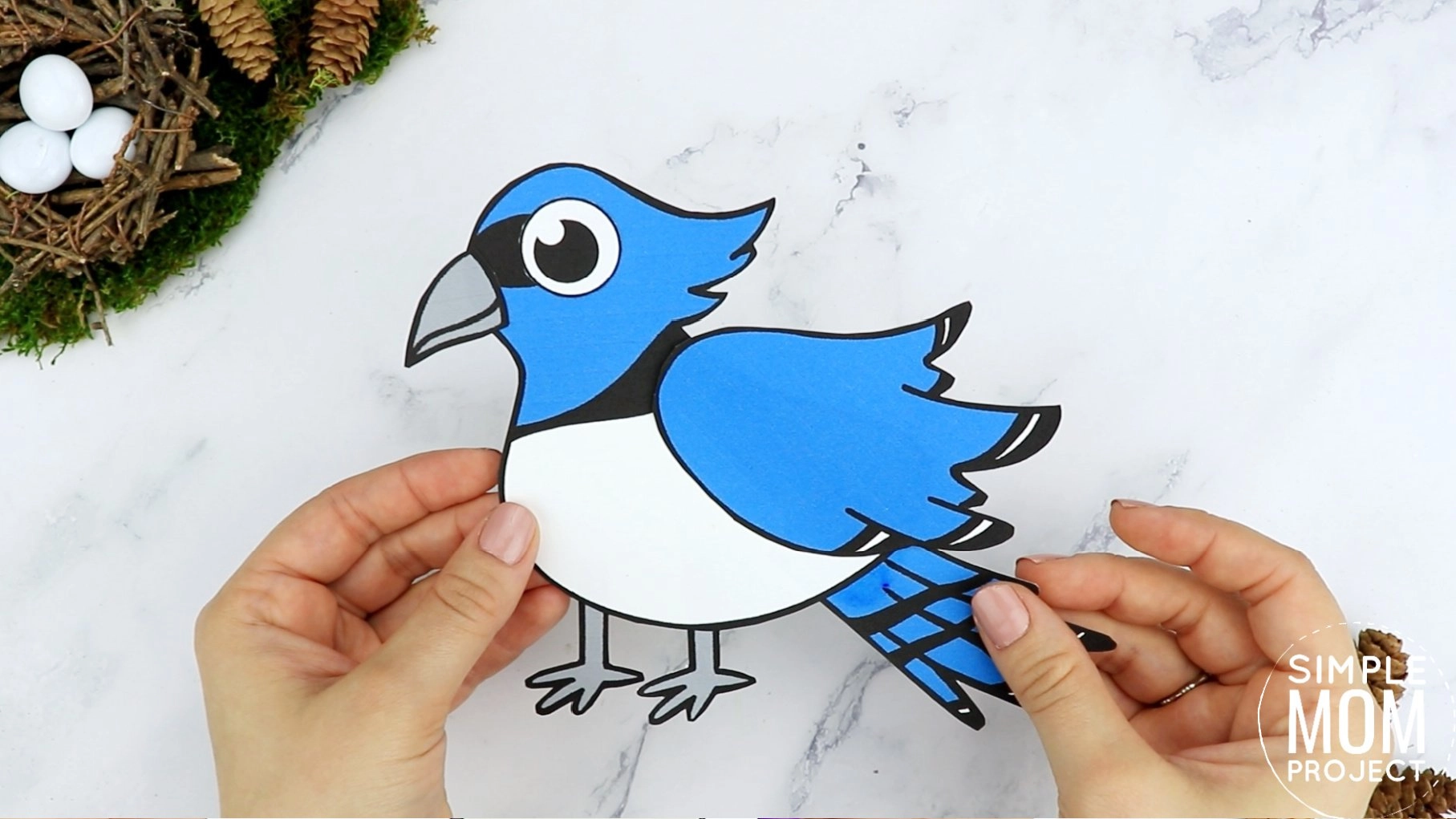 Free Printable Cut and Paste Blue Jay Craft
Ideas for Blue Jay Craft
Below you'll find a list of creative ideas for using this blue jay craft in your daily life with preschoolers.
Bird Watching Crafts
As a homeschool parent, you can easily use my blue jay craft as part of your bird watching lesson plan.
Gather the list of supplies, and place a craft table beside a window in your home.
Have your preschoolers complete their paper plate blue jay nest craft ideas as they tell you each time they see a big blue jay fly around the yard.
Blue Jay Puppet
Puppets are a fun way to get toddlers interested in learning more about the life cycle of birds, and the world around them.
Use my blue jay craft template and glue it to a paper bag.
This will help your kids develop their imaginations by putting on their own birds of prey finger puppet show!
You can glue your preschooler's completed blue jay craft to a popsicle stick or paper bag to give them hours of fun pretending to be birds.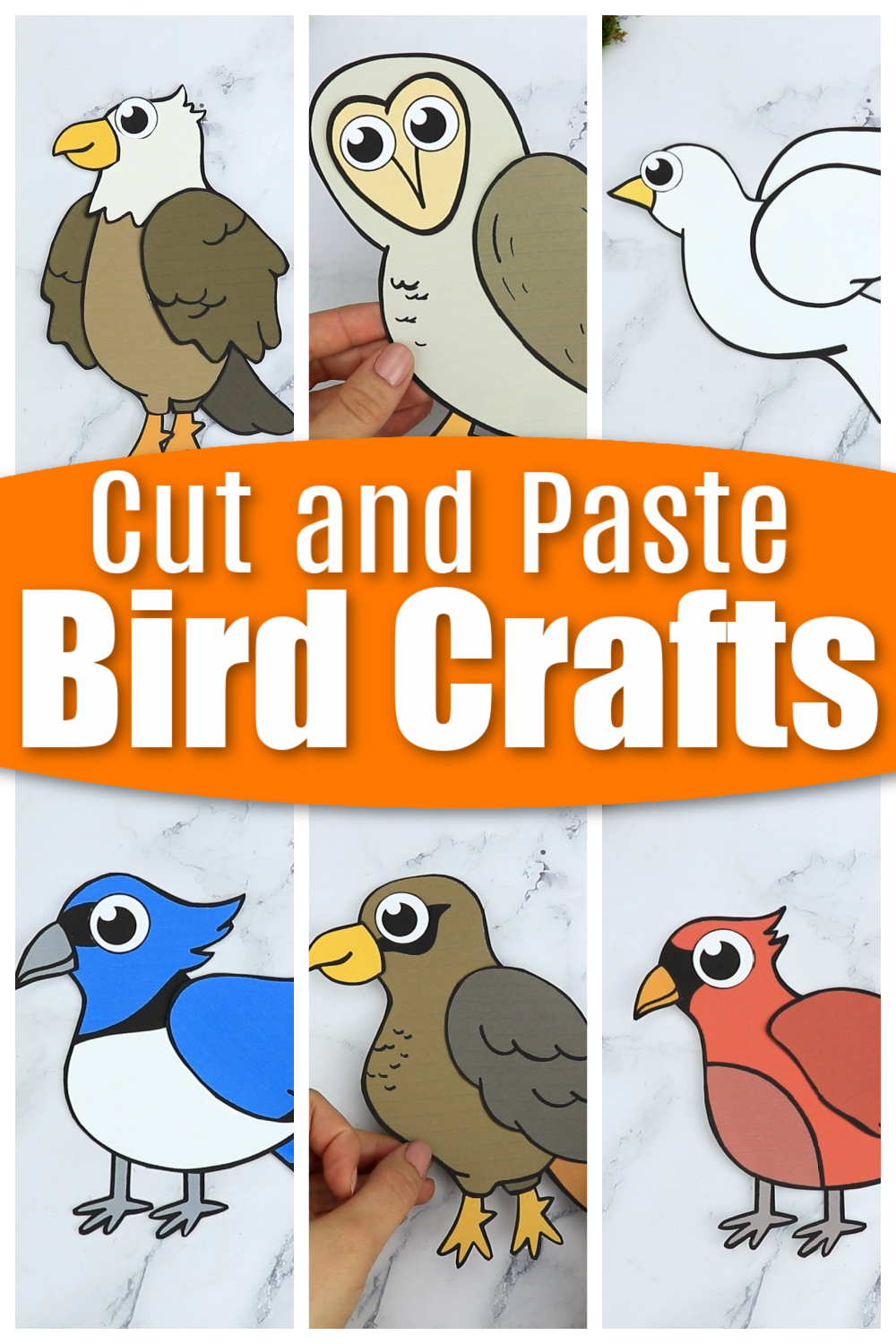 Paper Bird Crafts
Whether you opt to use a paper bag, paper plate, or construction paper craft using my blue bird pattern is completely up to you.
All I'm saying is that using this bird pattern for your paper bird crafts with toddlers is a fun way to pass the time. Your toddlers will enjoy using my easy cut and paste Blue Bird pattern to create their unique bird crafts regardless of the material provided.
Blue Jay Craft Supplies Needed:
Printable Blue Jay Template (found at the bottom of the page)
These are just a few ways you can incorporate my origami blue jay craft into your paper bag and bird art craft session with toddlers.
I hope that my list has inspired you to craft up a day full of bluebird art to enjoy together with your children.
How to Make a Paper Blue Jay Craft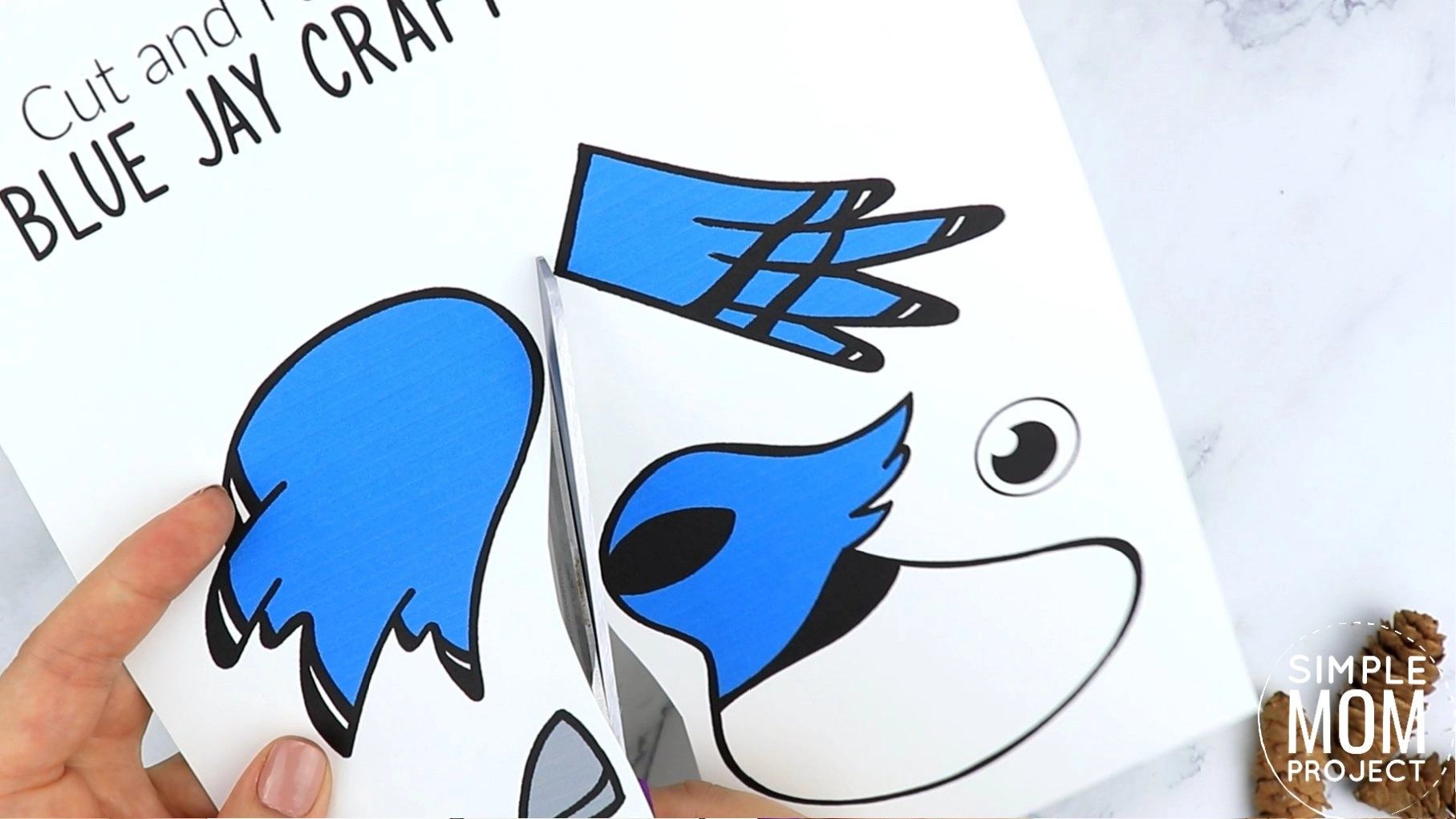 After you've printed your blue jay bird template , go ahead and cut out the body parts.
Another fun way to enjoy this bird craft friend is to print the blue jay template on white paper and color him first.
Then cut and glue him together.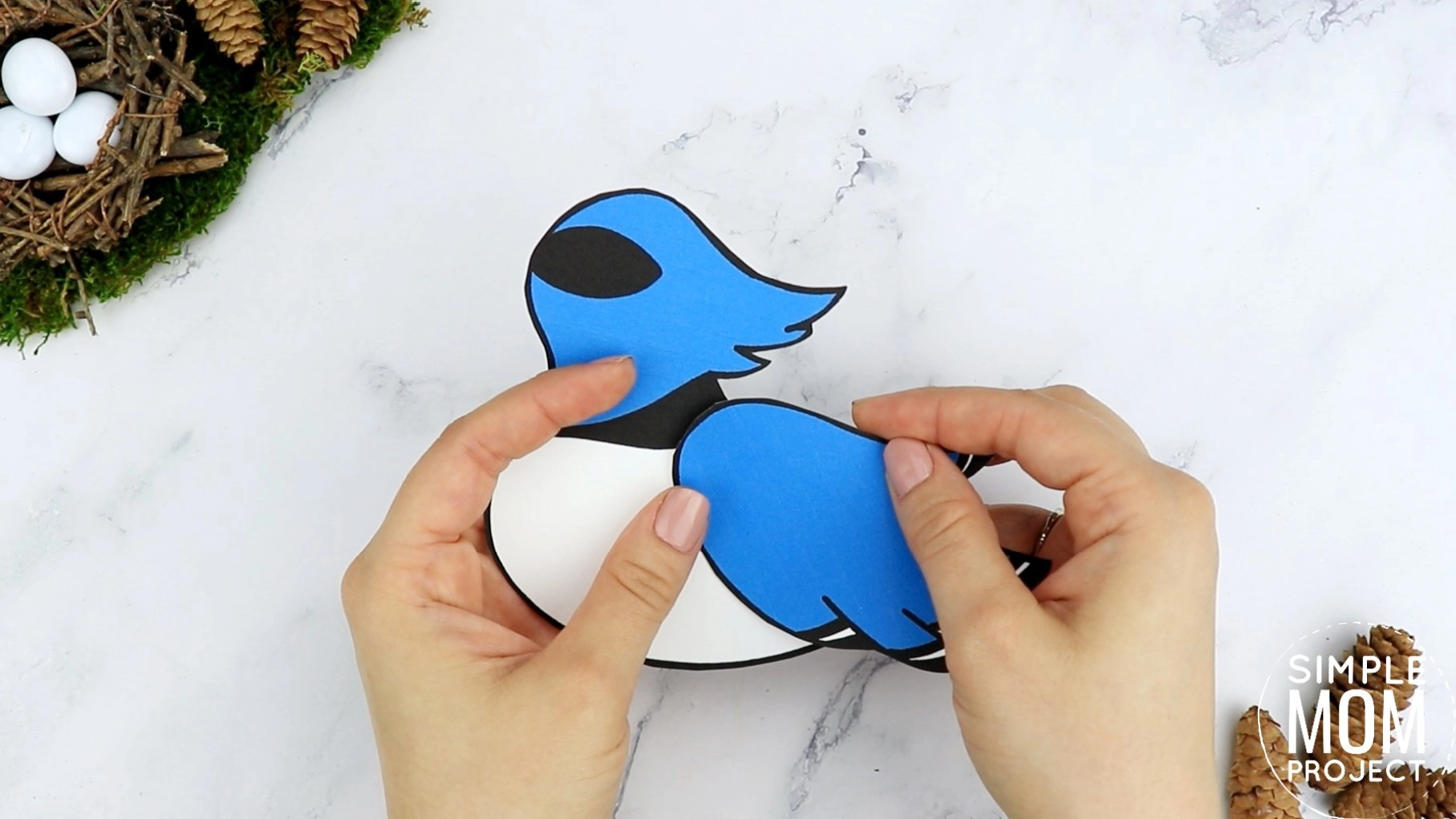 Next, glue on his wing.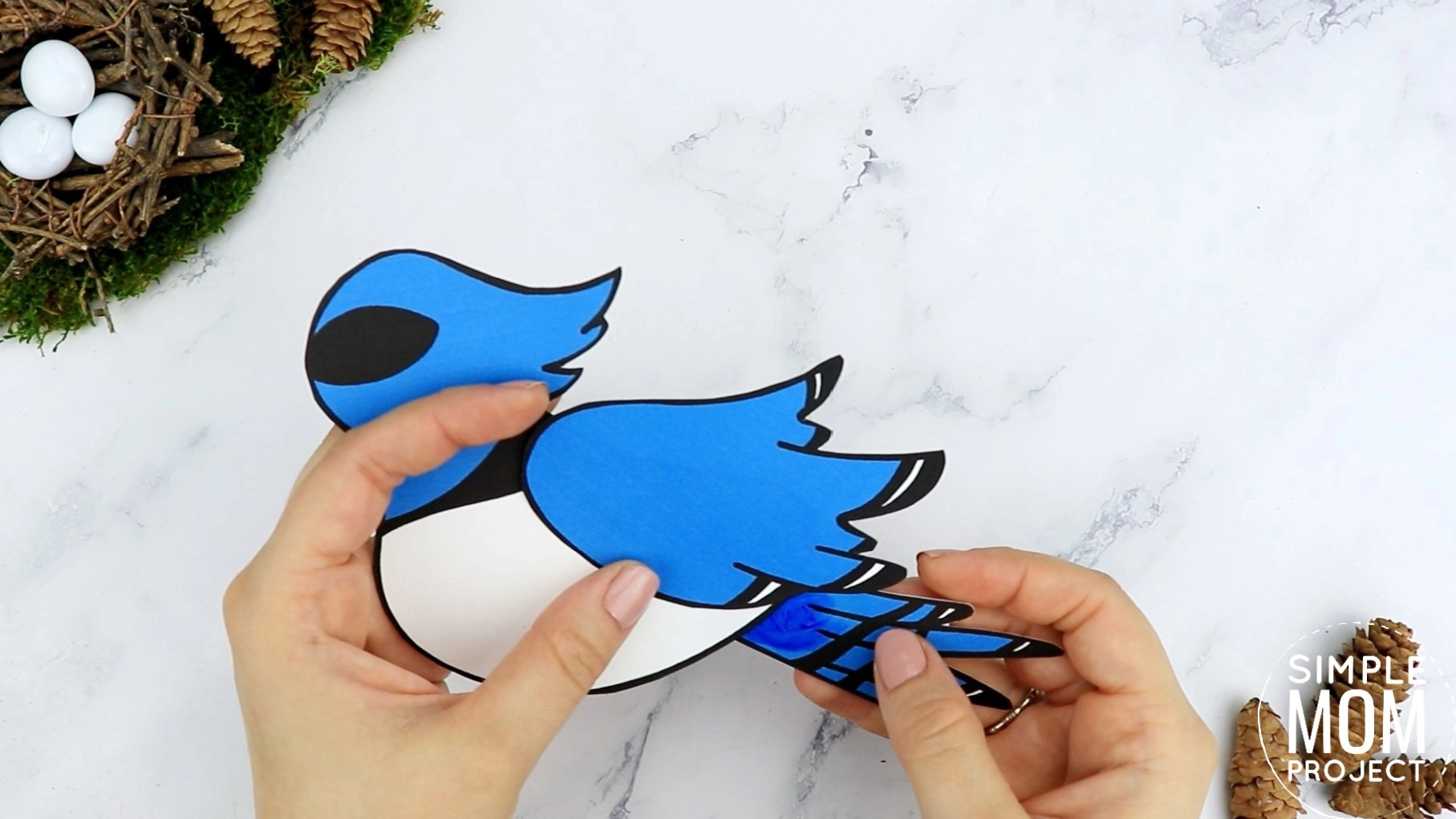 Then his tail feathers.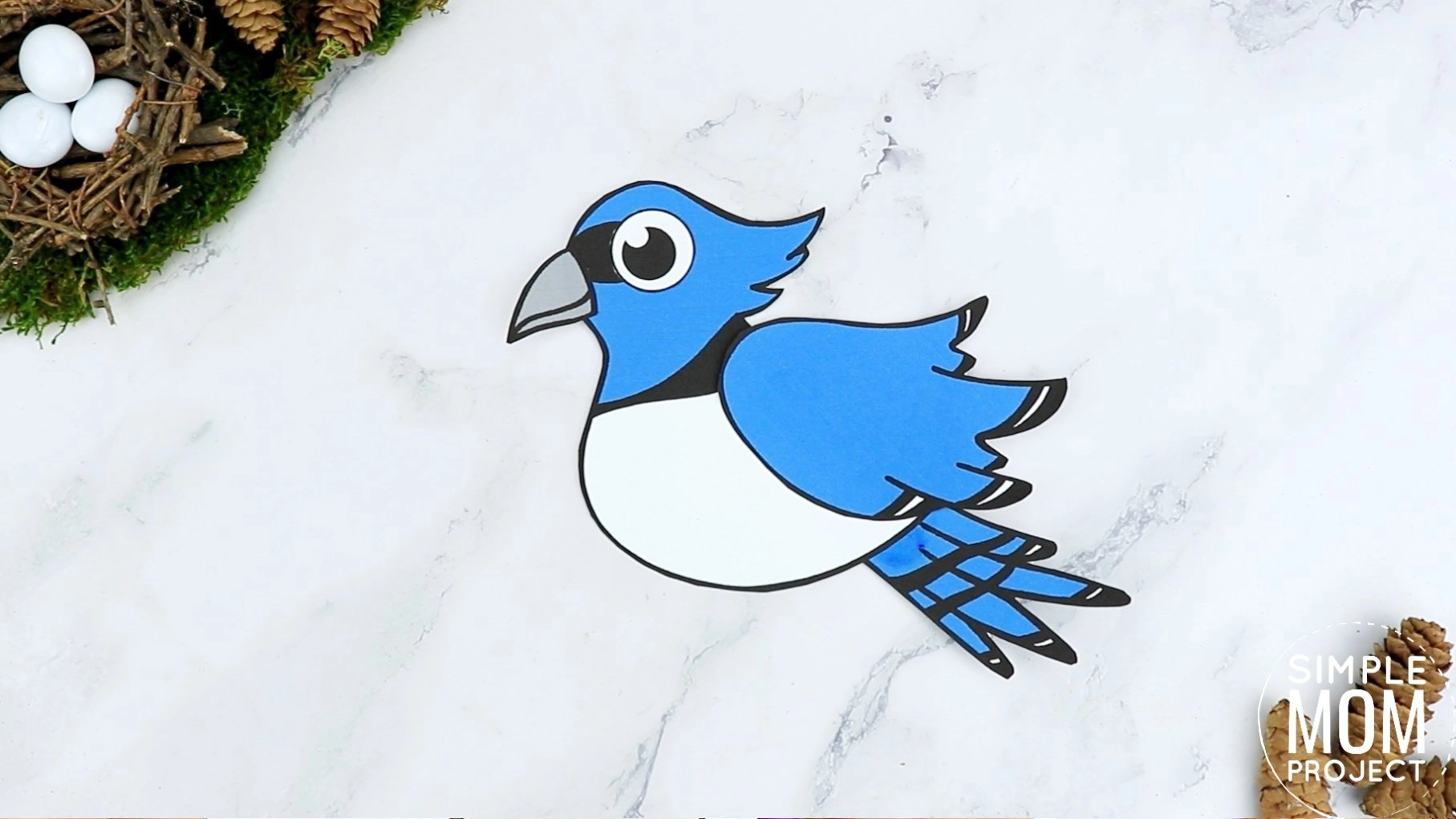 After that, glue on an eye. If you want to spruce him up a bit, use fun googly eyes instead.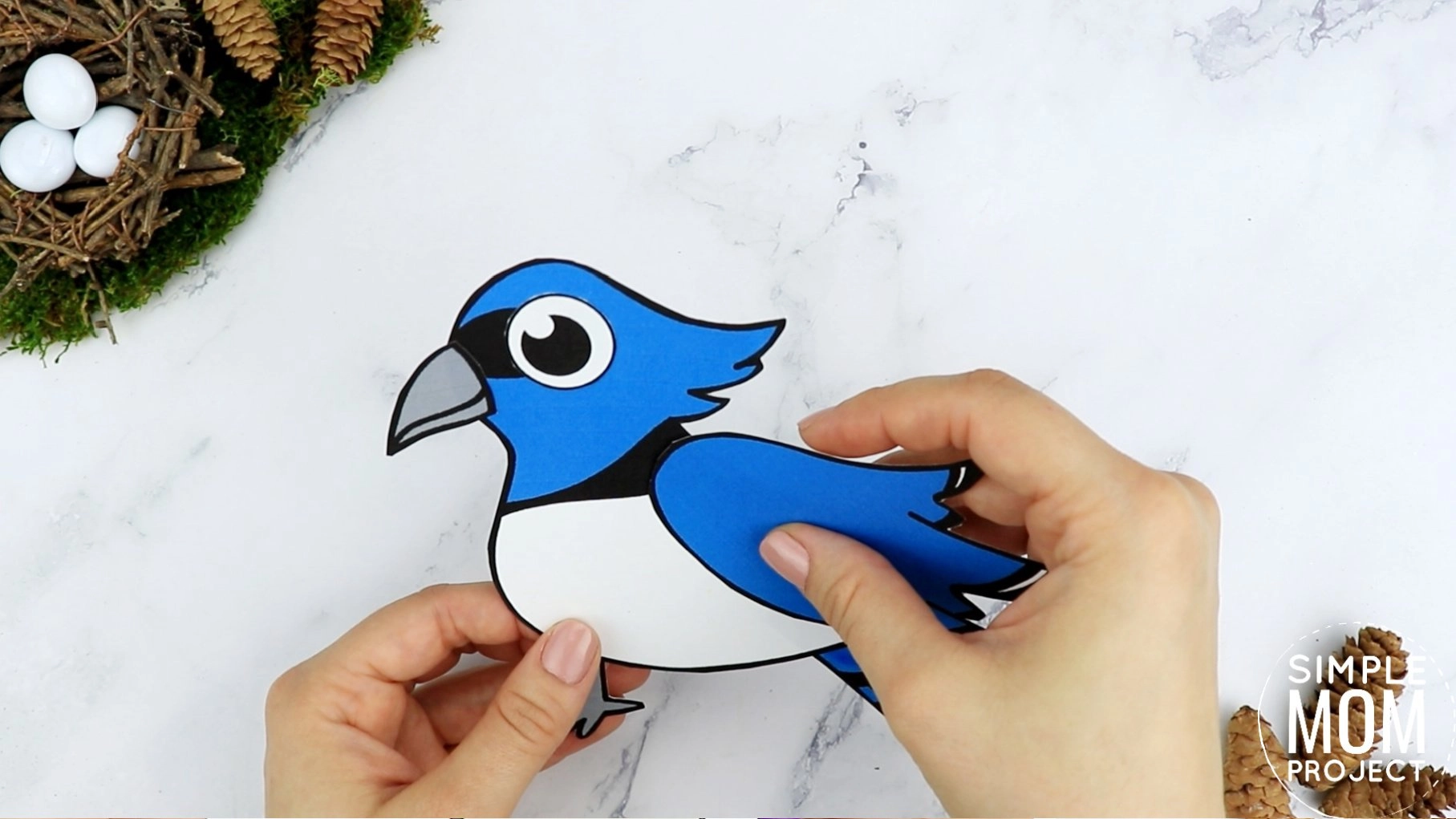 Finally, finish him off by gluing on his claws.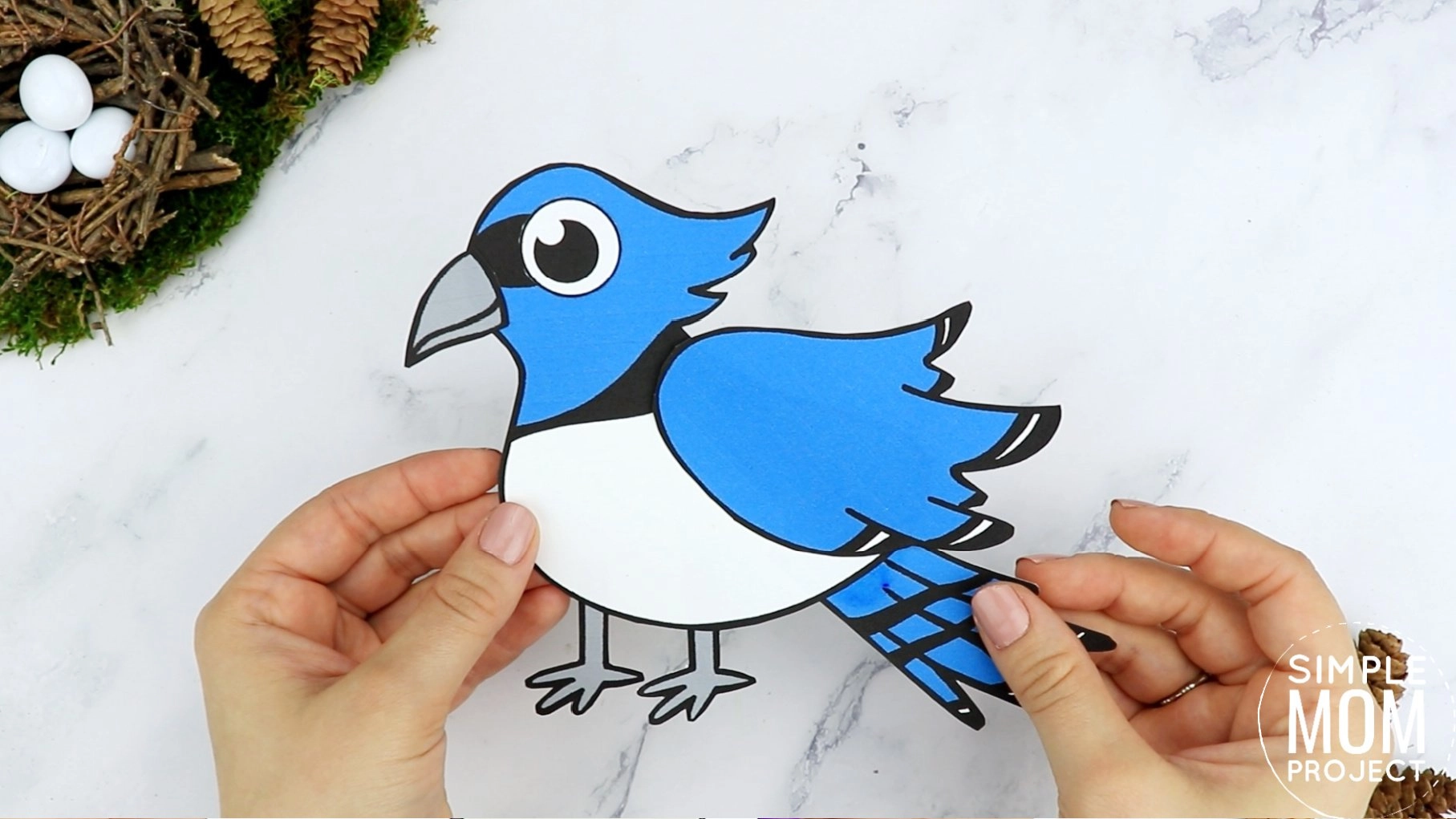 Your blue jay craft friend is all complete. Be sure to tell us in the comments what you will be using your new eagle buddy for.
You can glue him to construction paper, frame him, or write a fun message on the back and gift it to a special friend. The options are endless!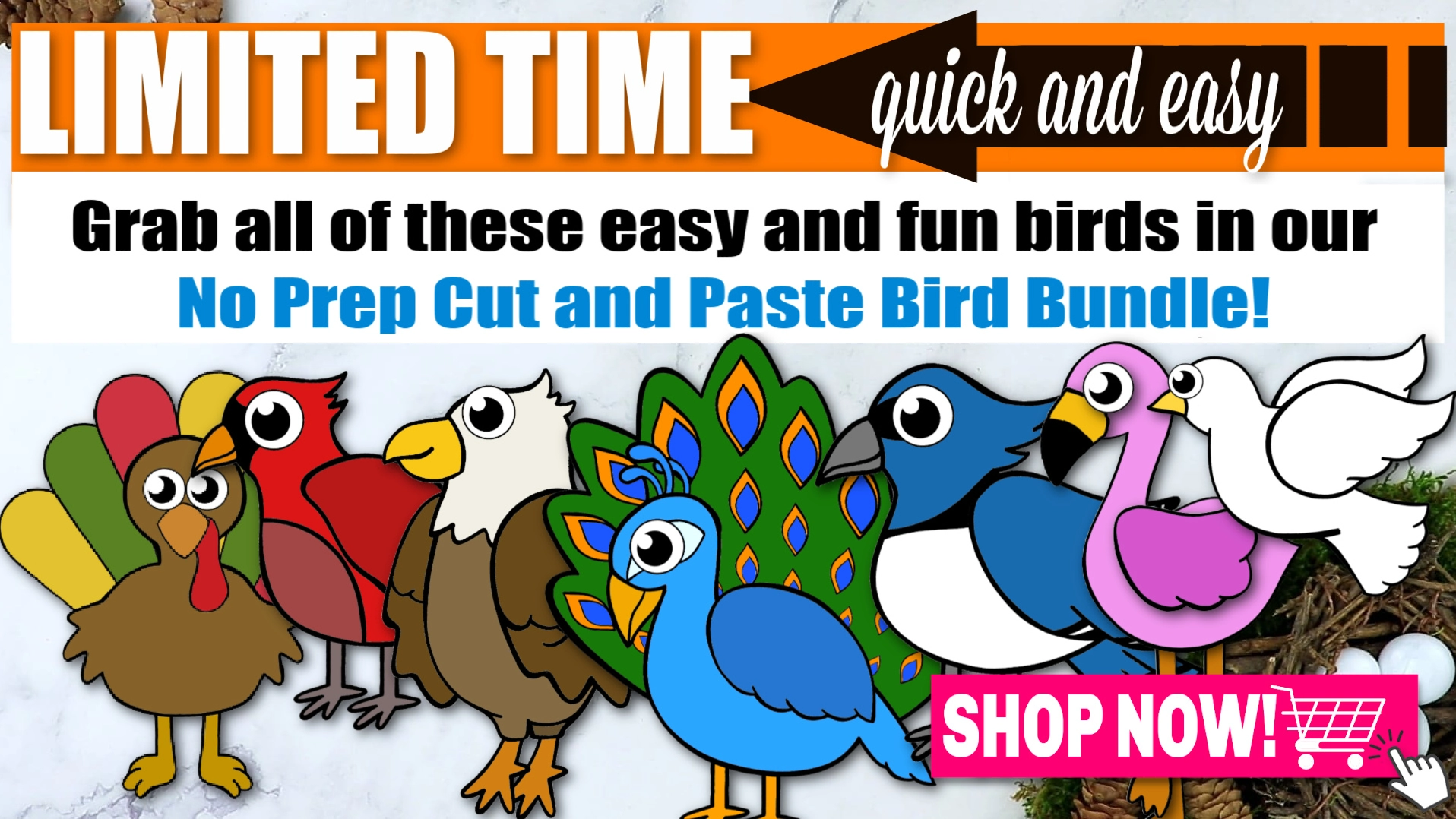 More Options to Choose:
You can print the blank version and trace the cut outs on card stock paper for a sturdier bird,
Print the color version for a simple and easy rainy day craft or,
Print the blank version and use it as a fun coloring sheet activity and then glue the pieces together.
Blue Jay Template
When you have finished, be sure to share your creation on Simple Mom Project's Facebook Page and follow me on Pinterest!

Kaitlen D.
More Fun Bird Crafts for Kids: