Have you watched the Jurassic World movie?
You've probably met Blue, the character's oldest trained velociraptor.
For a dinosaur, the female velociraptor boasts incredible strength, speed, endurance, and intellect.
Velociraptors are extremely powerful.
They lived around 70 million years ago and were among the most intelligent dinosaurs of the Cretaceous period.
We created this printable velociraptor template for your kids to work on!
Working on these printable velociraptor template ideas will help your children improve their creativity, literacy, vocabulary, and knowledge of these dinosaurs.
If you're looking for a fun way to spend time with your family, keep scrolling to discover more of our ideas!
CONVERTKIT FORM (USE THIS FOR FREE TEMPLATE)
*By the way, this post may contain affiliate links which means I may receive a small commission at no additional cost to you if an item is purchase through that link. For more information, click here.*
Printable Velociraptor Template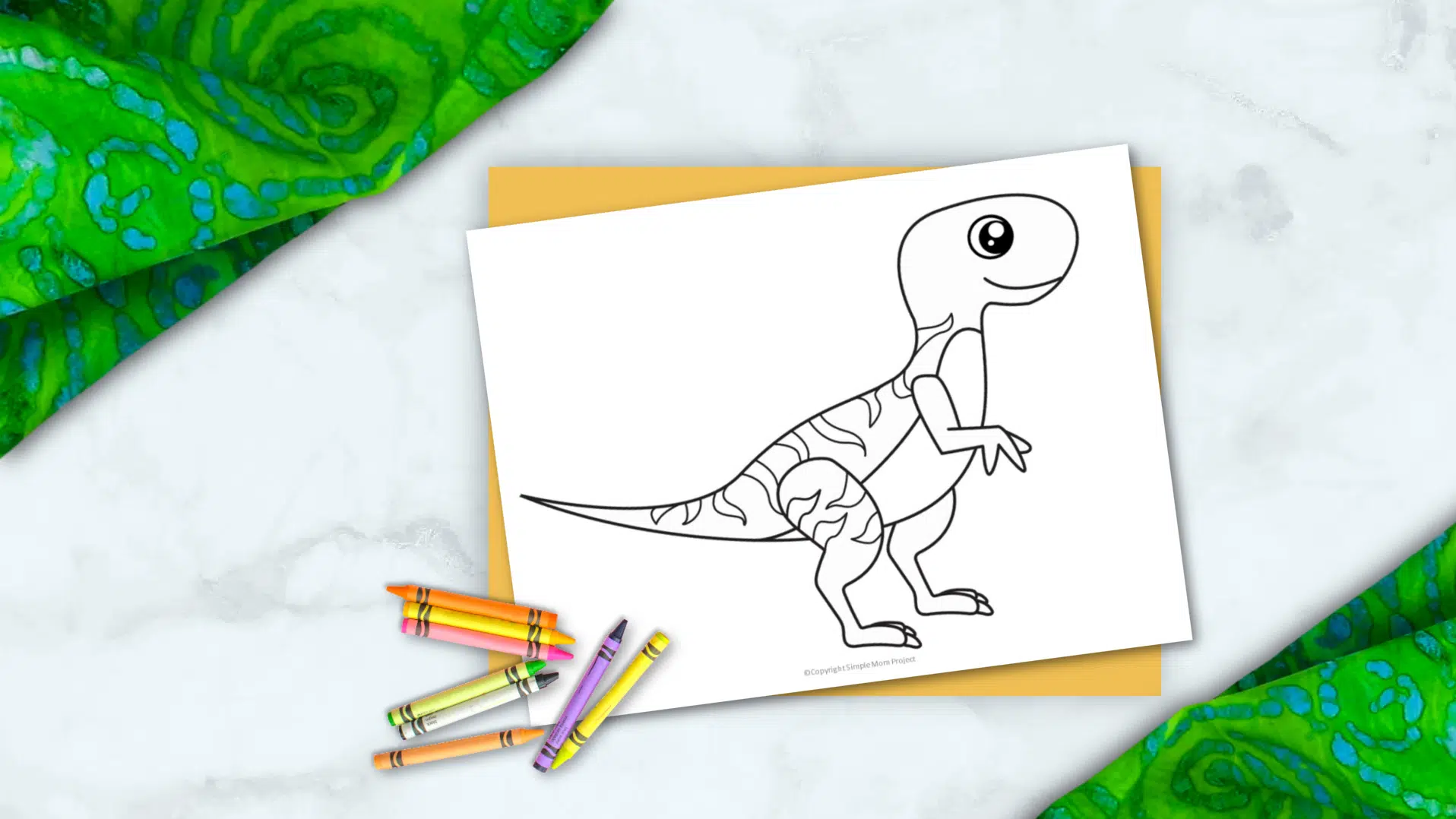 Printable Velociraptor Template Materials Needed:
Printable Velociraptor Template (FOUND AT THE BOTTOM)
Make your child's finished velociraptor template a forever memory by laminating it! We use this laminator and cannot express how much we love it! It is not only inexpensive, it is SO easy to use!
Your kids will love seeing how much you adore their art work when you laminate and display it for years to come!
Ideas for Printable Velociraptor Template
We'll go over some of the best ideas for using this printable velociraptor template in your homeschooling or learning activities.
Keep these brilliant ideas in mind!
1. Velociraptor Collectibles for Kids
You can already plan a whole lesson or routine for your children by using these printable velociraptor template ideas.
These velociraptor collectibles are perfect for reading and circle time activities.
To carry off our discussion, I used these interesting velociraptor items.
These velociraptor books are excellent for learning more about dinosaurs.
Kids can with velociraptor toy figures and stuffed animal plushies after reading.
They will enjoy collecting these velociraptor items in the future.

2. V is for Velociraptor
If you're teaching or introducing your children to the alphabet, this printable velociraptor template can get them enthusiastic about learning about letters in no time.
Learn the letter V and the velociraptor in this activity.
For this letter recognition idea, you can use various learning materials like flashcards, foam letters, and letter cutouts.
Have your kids say velociraptor out loud, emphasizing the first letter's sound.
They will be able to recognize the phonic sound of the letter V in this way.
3. Blue Velociraptor
Blue from Jurassic World is one of the most well-known dinosaurs that have appeared in a film.
Make a velociraptor like Blue with the printable velociraptor template.
You can incorporate this idea into your arts and crafts activities.
This velociraptor drawing can be colored or painted, in any way your kids want.

4. Weekend Movie Night
Looking forward to spending the weekend with your family after a busy week?
Enjoy a weekend movie night with your family!
Now is the perfect time to sit down with your kids and watch Jurassic World: Fallen Kingdom.
Spend time with your kids watching their favorite dinosaurs.
With these printable velociraptor template ideas, we hope we were able to help you with your learning plans.
We are certain that these ideas will have your children interested in learning and exploring dinosaurs in no time.
Printable Velociraptor Template:
CONVERTKIT FORM (USE THIS FOR FREE TEMPLATE)
Your kids can use this printable velociraptor template to create a velociraptor that looks exactly like the ones they see in movies.
Provide them with a variety of decorative materials and let them explore with mixing and matching colors.
You'll be blown away by how well they recreated a Jurassic velociraptor!
Don't be shy about sharing your thoughts and experiences by incorporating these ideas into your daily routine.
Don't forget to leave us a message in the comment section.
When you have finished, be sure to share your creation on Simple Mom Project's Facebook Page and follow me on Pinterest!

Kaitlen D.
More Fun Dinosaur Crafts And Templates