Learn an uppercase letter by engaging in more fun and interesting activities!
We have something ready to share with you that would be ideal to incorporate in your activities.
This printable uppercase letter P template is a black and white bubble letter that has a wide range of applications.
You may freely use it for your arts and crafts projects, writing and tracing exercises, and classroom displays.
Since it is produced in black and white, you are free to alter it however and for whatever purpose you see fit.
It will certainly aid in the development of children no matter how you decide to incorporate it.
This printable uppercase letter P template promotes letter recognition, creativity, focus, and fine motor skills.
The template can be used as a visual guide to help you learn more words that start with the letter P.
Don't wait it off any longer; get your copies right away!
Use this printable uppercase letter P template to plan your uppercase letter ahead for this week!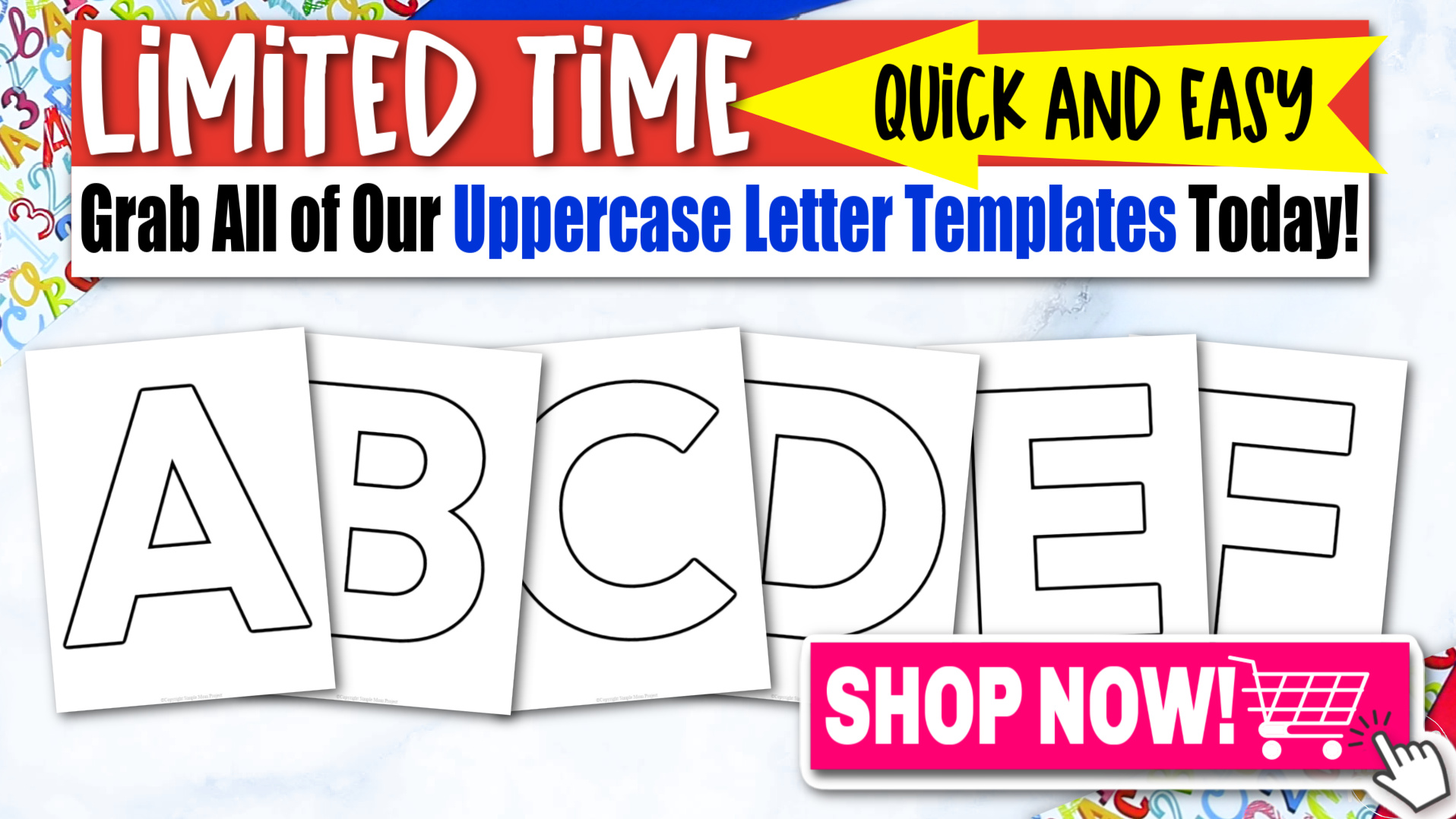 *By the way, this post may contain affiliate links which means I may receive a small commission at no additional cost to you if an item is purchase through that link. For more information, click here.*
Printable Uppercase Letter P Template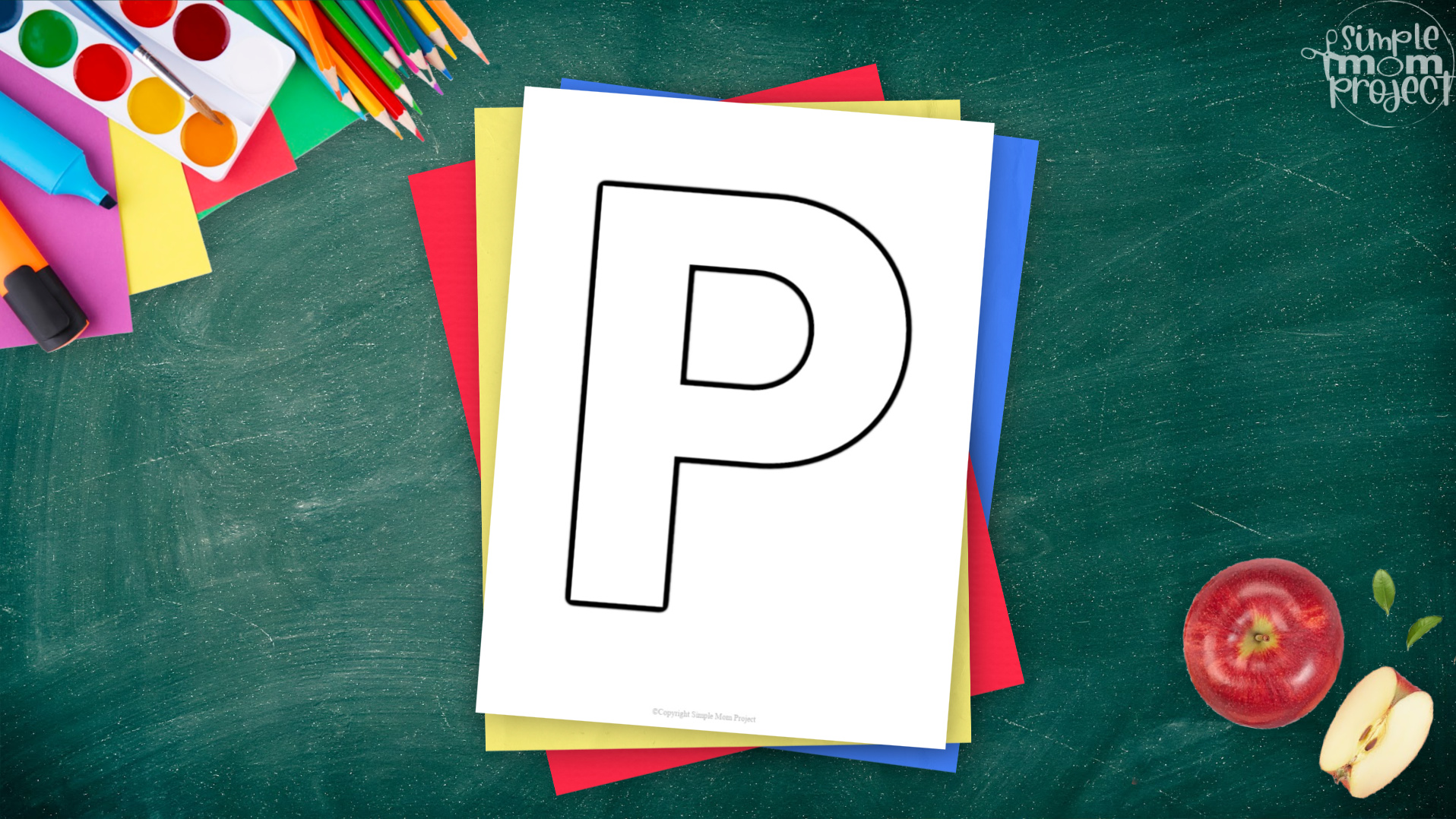 Printable Uppercase Letter P Template Materials Needed:
Printable Uppercase Letter P Template (FOUND AT THE BOTTOM)
Make your child's finished letter coloring page a forever memory by laminating it! We use this laminator and cannot express how much we love it! It is not only inexpensive, it is SO easy to use!
Your kids will love seeing how much you adore their art work when you laminate and display it for years to come!
Looking for more amazing uppercase alphabet fun ideas? Check out our Letter O, A and T Templates.
Ideas for Uppercase Letter P Template
Look at all of these simple and efficient ways to use the printable uppercase letter P template!
You are welcome to use these ideas in your routines at home and at school.
Each of these is certain to be easy to implement and just requires basic supplies.
Enjoy writing these ideas down!
1. Phenomenal Learning Materials for Letter P
It can take some time to start a lesson plan and list the materials that will be used.
We've put together a collection of learning resources that pair well with the printable uppercase letter P template.
These materials can be used to help you prepare for this week's uppercase letter learning activities.
These can assist you in getting organized and determining where and how to begin teaching the letter P.
Create an engaging setting by reading a book about a panda and a pig during circle time.
These are animals that begin with the letter P, making them excellent resources.
Use rainbow-colored pencils to complete the printable uppercase letter P template to make tracing and writing more enjoyable.
Don't forget to end the day with your kids by cuddling up to a cute panda plush toy.
Check out the links below to enjoy all of these materials!
2. Alphabet Tracing Activities
Getting ready for preschool and kindergarten with your little ones?
If so, now would be a great time to practice their writing and tracing abilities!
This printable uppercase letter P template is so adaptable that you can use it to make worksheets that are excellent for tracing and writing.
To make it easier for kids to trace, print a copy of it and then draw dotted or broken lines inside the letter stencil.
Tracing exercises aid children in developing their pre-writing abilities, hand coordination, and the foundation for writing words and letters.
Working on this capital letter P template as a worksheet will surely boost children's writing skills.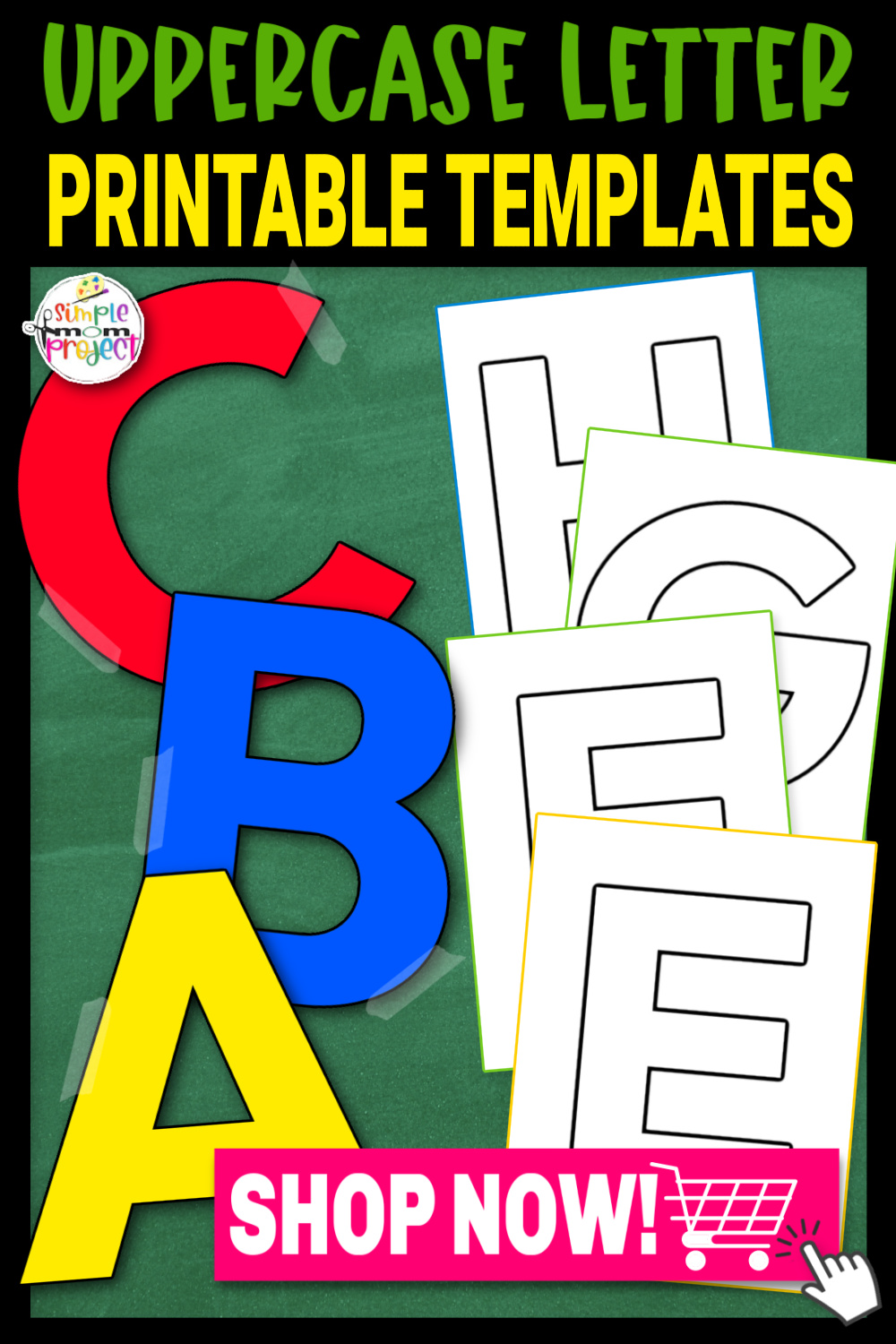 3. P Crafts
Do you have creative kids that enjoy experimenting with materials to produce crafts?
That's wonderful!
Because if that's the case, they'll love using this printable uppercase letter P template to make their own unique crafts!
Allow children to select a word they wish to make after learning about the words that start with the letter P.
It may be a pineapple, pig, panda, penguin, or even a pizza!
Make a variety of craft materials available to children, including construction paper, crayons, paint, scissors, glue, beads, and sequins.
Allowing children to work independently will give them the opportunity to express their creative side.
This idea will greatly contribute to the growth of their independence and creativity.
4. Vocabulary Enrichment
This printable uppercase letter P template is also useful for vocabulary development.
This is a fantastic approach to introduce new words to kids and help them add new language to their word banks.
Create a visual aid for the board or flashcards using this template.
The kids can use the template to write down words they know that begin with the letter P as part of a fun vocabulary-enrichment activity.
If they are still unable to write, you may write the words down, read them to them, and ask them to repeat it.
Using this template, you can make a flashcard containing words that start with the letter P to assist your children to understand new words.
To promote the use of these words, you can also encourage the children to use the letter P word in a sentence.
You could also show the children an object that starts with the letter P and ask them to describe it.
Describing their environment greatly aids vocabulary enrichment as kids get to tie each of the words together.
May these ideas become a part of your uppercase letter lessons in the future.
We had a great time brainstorming all of these wonderful ideas that your kids are sure to love.
Each of these is guaranteed to be age-appropriate for children of all ages and easy but enjoyable to carry out!
We're also confident that by practicing these ideas with the uppercase letter P printable template, your kids will be ahead of things in academic performances.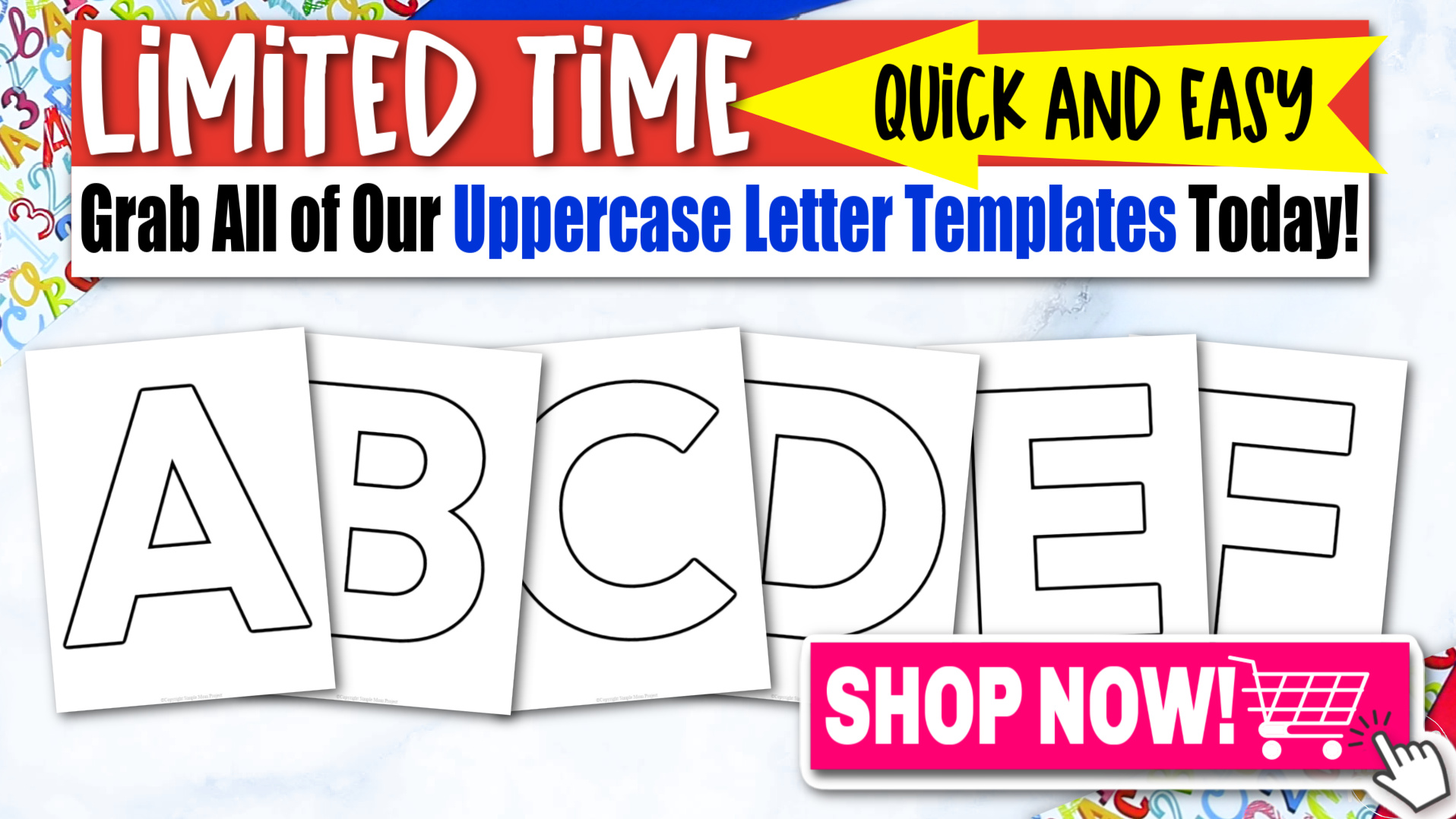 Printable Uppercase Letter P Template:
Are you ready to get started with this fantastic uppercase letter template?
We know you are!
Who wouldn't want to work on this simple bubble letter in black and white that is great for any alphabet activities?
You are welcome to use them as worksheets, coloring pages, crafts, and visual guides by downloading and printing your copies.
You can print out this simple outline design and use it to make classroom decorations and displays.
Use this uppercase letter P printable template to create an alphabet wall, an uppercase letter bulletin board, or a letter P word wall.
This will certainly assist in enhancing our kids' creativity, helping them develop new vocabulary, and enhancing their fine motor and coordination skills.
Get your copy of this printable template right now; you wouldn't want to miss out on all the fun things you can do with it!
Share it with everyone you know who is learning the letter P or uppercase letters!
Don't forget to leave a message in the comment section.
When you have finished, be sure to share your creation on Simple Mom Project's Facebook Page and follow me on Pinterest!

Kaitlen D.
More Fun Uppercase Templates