We are very excited to welcome the sunny realm of summer fun!
We have fun sun crafts ideas for you, whether you're out on a sunny day at the beach, having a picnic in the park, or just taking in the warmth of the outdoors!
Wouldn't it be fantastic to spend your summer days having fun, being creative, and experiencing new things?
There is no better moment to engage our children in a world of exploration than when the sun is shining brightly outside.
Let us embrace this warm summer with creative crafts and activities for our children that will make their summer an unforgettable adventure.
Put on your sunscreen and adventure hats, and get ready to make all of these fun summer crafts and activities for kids!
Sun Template
The summer days have us giddier than ever!
Summer means more time for my kids to have fun and play.
That's why I make sure to arrange ahead of time all of the exciting activities they'll be doing on their vacation.
A sun template will always be at the top of my list because templates can be used for so many different things!
Our printable sun template is the perfect companion for our kids to express their creativity and build wonderful projects this summer.
Let's share summer-related topics that kids could think of and like to put in their sun template.
Sparking their imagination would sure bring the sun template to life with rays and vibrant hues.
If you're a mom like me who wants to save as much money as possible on a daily basis, you know how expensive templates can be these days.
You can easily download this printable sun template at any time at home, saving you a ton of money while providing you with a ton of more DIY ideas!
So, grab your art supplies and let the warmth of the sun inspire you to be creative with this printable sun template!
Summer Camp
Many kids look forward to summer camp every year because it's a cherished tradition filled with thrilling experiences, new friendships, and priceless memories.
But what if you could bring all the excitement and marvels of summer camp into your own house?
Yes, that is doable! Discover the world of a "Summer Camp at Home" experience, where our kids can take part in all the fun of camp without ever leaving the house.
I made this possible one summer with my daughters by transforming our area into an adventure zone.
There are countless opportunities for creating thrilling activities, like as an obstacle course, water games, treasure hunts, science experiments, fun sun crafts, and sensory bins.
I also turned our living room into a nice camping site complete with mattress tents and s'mores and sung campfire sing-alongs.
And the best part about this summer camp at home is that you can tailor the activities to meet your resources and space.
Imagine the delight on your children's faces as they wake up on a summer morning knowing that a day of adventure awaits them in the comfort of their own home!
And, of course, I'd love to share some of the simple supplies that helped me plan our home summer camp.
All of them are available on Amazon with a single click, making it quicker and more convenient to prepare for an exciting sunny summer camp at home!
Sunny Day Activities
Outdoor activities could occasionally be impossible due to the summer heat.
No need to be worried because a world of fun awaits you indoors!
My girls prefer to stay at home on hot, sunny days, so I plan activities so they can still enjoy the summer.
We've done so many fun activities on sunny days, and I can't wait to think of more!
Embark on an outdoor adventure with our kids this summer while remaining cozy indoors.
Whatever the activity, a sunny day can be perfectly recreated indoors with a little imagination, making the most of those bright, sunny memories.
Take a look at all of these simple materials to get you started on your indoor adventures for a summer of creativity and fun!
Our entire family enjoyed playing this matching memory game for hours on end.
Board games and puzzles are also excellent ways to encourage healthy competition and help our kids learn how to think strategically.
Use the kinetic sand to create sandcastles or the fun molds to engage in pretend play.
My girls enjoy pretending to be at the beach, making different shapes in the sand.
This is a fun way to enjoy the summer indoors with the kids.
Set out beach towels and beach balls for an indoor beach party with your children.
I created a tiny beach in our living room and played some tropical music to get us in the mood for the beach!
You could also include this in your preschool lesson plans where you set up a summer corner in your preschool classroom.
Sophie The Sun-Safe Surfer: A Children's Book About Sun Safety
This book can take our kids on brand-new experiences whenever they need a quiet break from all the excitement.
My daughters loved this book because they wanted to learn how to surf and about sun safety.
Bring your kids to an indoor picnic!
The kids can enjoy and play with this picnic toy set as you spread out a blanket, make some tasty meals, and relax.
Spend time with your kids as you enjoy the rays of sunshine from indoors.
50 Sun Crafts Ideas for Kids
You'll need a pen and paper to jot down these creative sun craft ideas, so grab them now!
We made sure that we gathered the best craft activities for your kids to do this summer.
You don't need to search the internet for these activities because we made it easier for you with only one click!
(This post contains affiliate links. Click here for the full disclosure statement)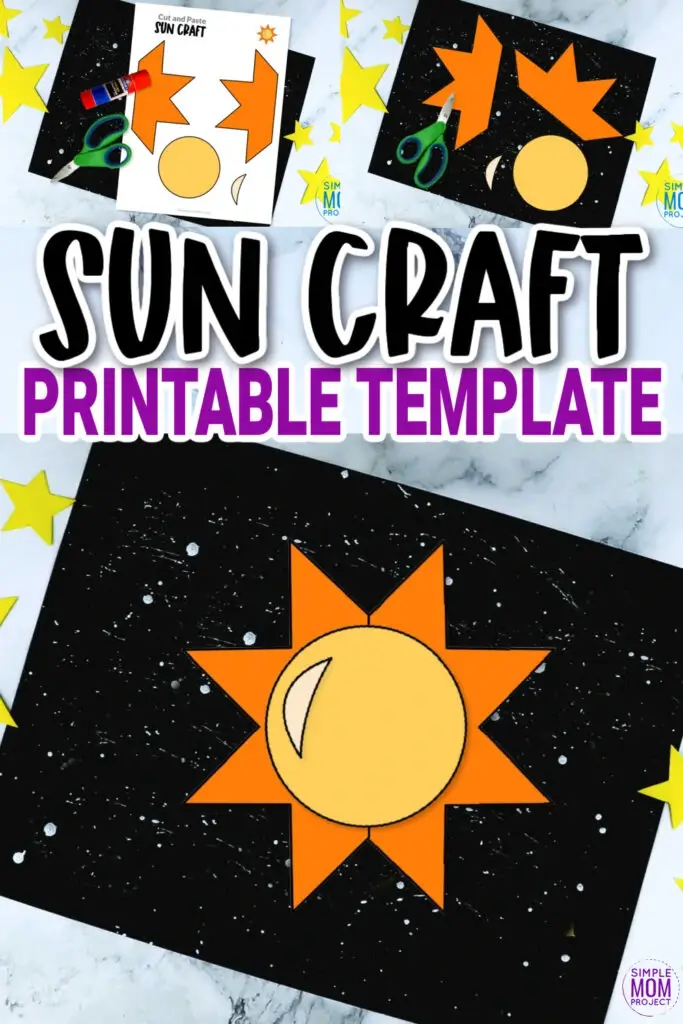 1. Sun Craft Printable Template
Decorate your classrooms and children's rooms with this sun craft printable template.
This sun craft is perfect for a summer, solar system or space theme.
It can be used to embellish bulletin boards, school doors, and more.
Visit the website right away to learn more about how to use it for your preschool lesson ideas!
2. Free Printable Sun Template
I have so many plans for the summer, and finding this free printable sun template came in handy!
I created a summer-themed wall in my daughters' study room using this sun template, and I also used it to create coloring pages for their crafts.
It's easy to print and completely free, so we can print as many as we need!
Go ahead and read on to get your free printable sun template!
3. Sun Suncatcher Craft for Kids
Summer is a great time to work on stained glass projects!
Make this beautiful suncatcher craft with your kids if you want to decorate your home's windows or glass doors this summer.
Making and looking at them adds to the excitement of the summer season.
And don't worry, you won't have to spend a lot of money because this simply requires basic ingredients.
Browse the website to build sun suncatcher crafts with your kids this summer!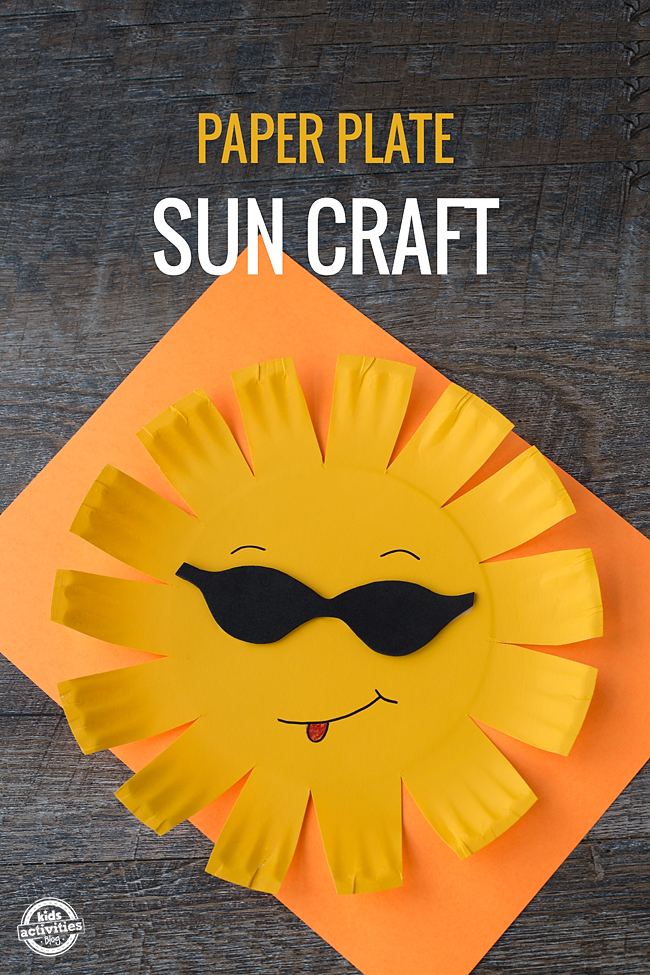 Make this paper plate sun craft to ring in the summer!
Crafts made from paper plates are so much fun to make, and they are very simple to reproduce.
To prepare for this activity, gather your paper plates, yellow paint, black craft foam, white school glue, black permanent marker, red colored pencil, and scissors.
Visit their website to get the full instructions on how to do it right now!
5. Fine Motor Sun Craft for Toddlers
This summer, get your kids involved in fine motor exercises with this fine motor sun project for toddlers!
This craft will provide your children with hours of fun while also boosting their fine motor abilities.
And did I mention that you only need three materials for this activity?
Isn't that incredible?
If you can't wait to get started, go ahead and read the complete article for the quick and easy instructions!
6. Counting Sun Rays – Preschool Activity
How cool would it be if our children could learn math while also doing crafts?
Yes, it is possible!
This preschool counting sun rays activity is a great addition to your summer math activities.
Kids can count up to 10 rays, or however many you want your child to practice counting.
Start counting and crafting with your kids today!
7. Paper Plate Sun and Rainbow Craft
You may already create two projects using just one paper plate!
This paper plate sun and rainbow craft is a wonderful classroom activity that allows kids to think about the brilliant sun and colorful rainbows outside.
This craft is perfect to work on if you also want to teach children about colors.
Check out the steps and the supplies you need right away!
8. Cute Doily Sun Crafts for Kids
Summer is for all the prettiest and brightest things!
Spend a sunny day with your children making this cute doily sun craft.
This is a must-have on your list of arts and crafts activities if you're studying about the weather or seasons.
This is adorable to display in your summer-themed classrooms and living rooms, so build one with your kids now!
9. Cupcake Liner Sun Craft for Kids
This cupcake liner sun craft is a fun sun craft that your kids can use to make cards for someone special in their lives!
Kids can make this cupcake liner sun craft and give it as a gift to someone at any time to make their day!
Create one with your children today and send it to your friends and family as a summer greeting.
For a complete list of instructions and required supplies, visit the website now!
Making a sun project out of handprints and paper plates is cute.
This paper plate sun is one of our favorite sun paper plate crafts, and we had a lot of fun making it!
My daughters enjoyed tracing their hands on colored paper and painting the yellow paper plate.
These kinds of crafts are beautiful keepsakes of the tiny hands of my kids, which is why I love keeping them.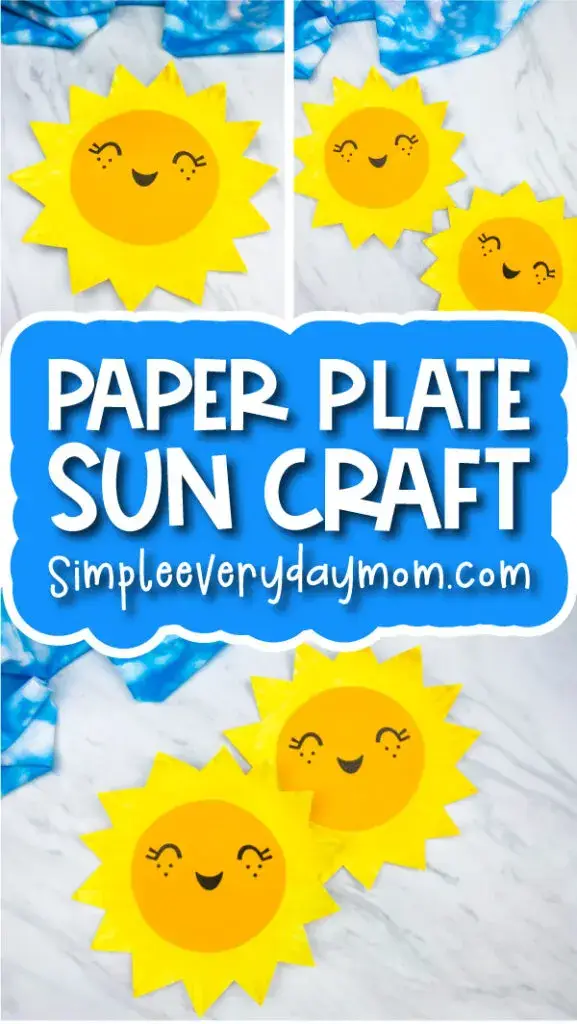 11. Paper Plate Sun Craft for Kids
Give your kids a list of exciting hands-on activities to do this summer to keep them engaged.
Add this paper plate craft for a sun to your list; it comes with a free template you can download!
We made a ton of these paper plate sun crafts and used them to decorate our front porch and backyard as we welcomed summer!
12. Recycled Collage Sun Craft
Recycling is something I like teaching my children.
We boost children's imagination and creativity by teaching them about many types of recycling.
This recycled collage sun craft is an excellent opportunity for teaching children about the need of conserving our natural resources.
Get a variety of yellow items for your collage, then read the complete article to find out how to do it!
Kids are ecstatic about summer!
As their school year comes to end, why not make a sun DIY paper card to gift to their classmates and teachers?
This is a fantastic way to wish them a happy and fulfilling summer!
Visit the website to look at the materials and instructions, then make one today.
14. Sunshine Sun Catcher Easy Solstice Craft
Create this sunshine sun catcher craft with your kids to celebrate the summer solstice.
It's an excellent sun activity for developing fine motor skills because kids must cut and tear pieces with their fingers or scissors.
This suncatcher added a splash of color to our windows over the summer.
If you want to make yours colorful as well, check out this article right away!
15. How to Make Easy Paper Sun Crown for Kids
Celebrate a pleasant, sunny summer by wearing this paper sun crown with your kids!
Wear it to beach vacations, park picnics, or simply relaxing summer afternoons in your backyard.
This is a video tutorial that I find incredibly useful as mom.
To learn how to make these lovely paper sun crowns, watch the complete tutorial now!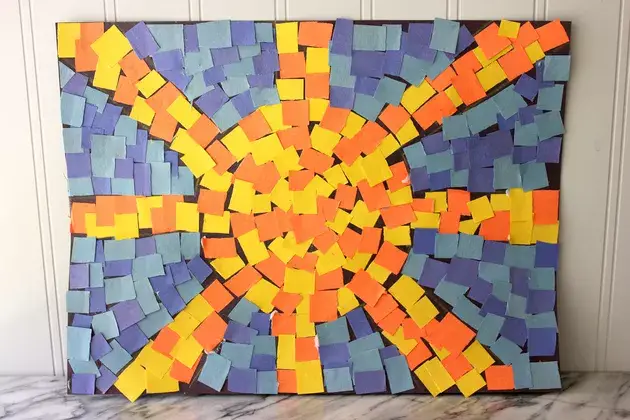 16. How to Make Roman Mosaics for Kids
It's time to unleash your summertime creativity!
Create your own Roman mosaic with your children today.
To get your kids excited about creating these mosaics, you could also tell them a little tale about Roman myths.
My daughters' roman mosaics are all displayed in our frames since they are so beautiful and vibrant.
You should read the whole post to learn the processes and resources because I know you'd like your own!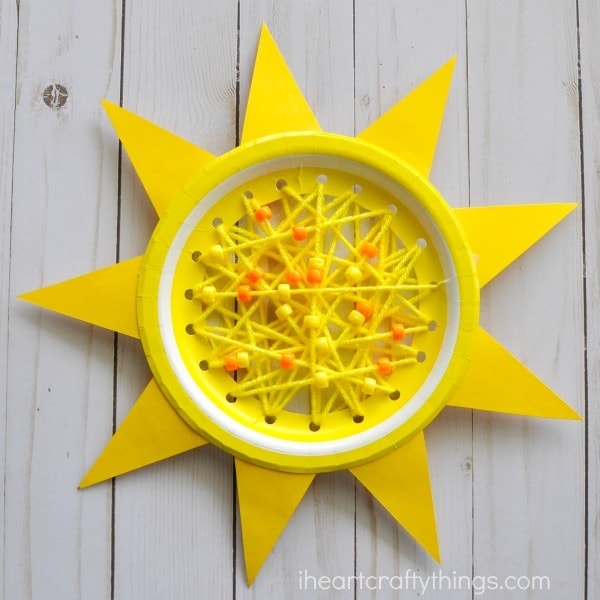 17. Paper Plate Sun Summer Sewing Craft
The summer is a great time to learn a lot of new things!
I wanted my kids to practice sewing to strengthen their fine motor skills, so I came across this paper plate sun summer sewing craft.
It's a perfect summertime fine motor activity for kids.
They enjoyed creating a sun-themed craft by threading the yarn through the paper plate's holes.
Why not make one with your kids today?
It is absolutely fun to make!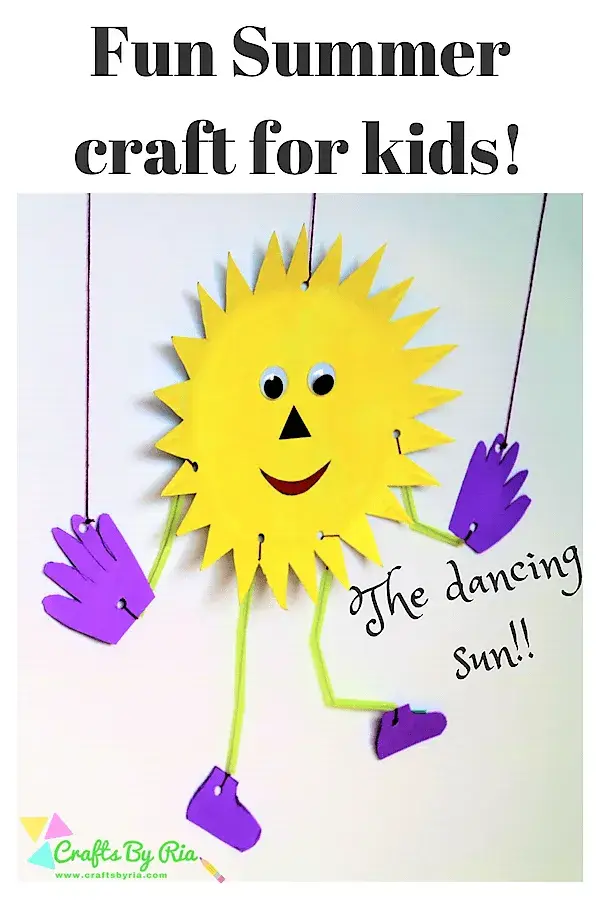 18. Fun Summer Craft for Kids – Paper Plate Sun Marionette
This summer, incorporate this paper plate sun marionette into your puppet shows!
This paper plate sun marionette would be a hit with kids of all ages and even adults.
This is a great summer camp activity to do with your kids because they can use it in another activity later.
You can opt to read the full article or watch the directions for this craft because it also includes a video tutorial.
19. Simple Paper Plate Sun Craft
Are you planning your summer preschool sun activities ahead of time?
Make sure to include this easy paper plate sun craft to your list!
It's simple to create and requires few resources, making it appropriate for kids to do over their school break.
It also looks great as a display piece anywhere you wish.
Get your paper plates and start making these sun crafts with your kids now!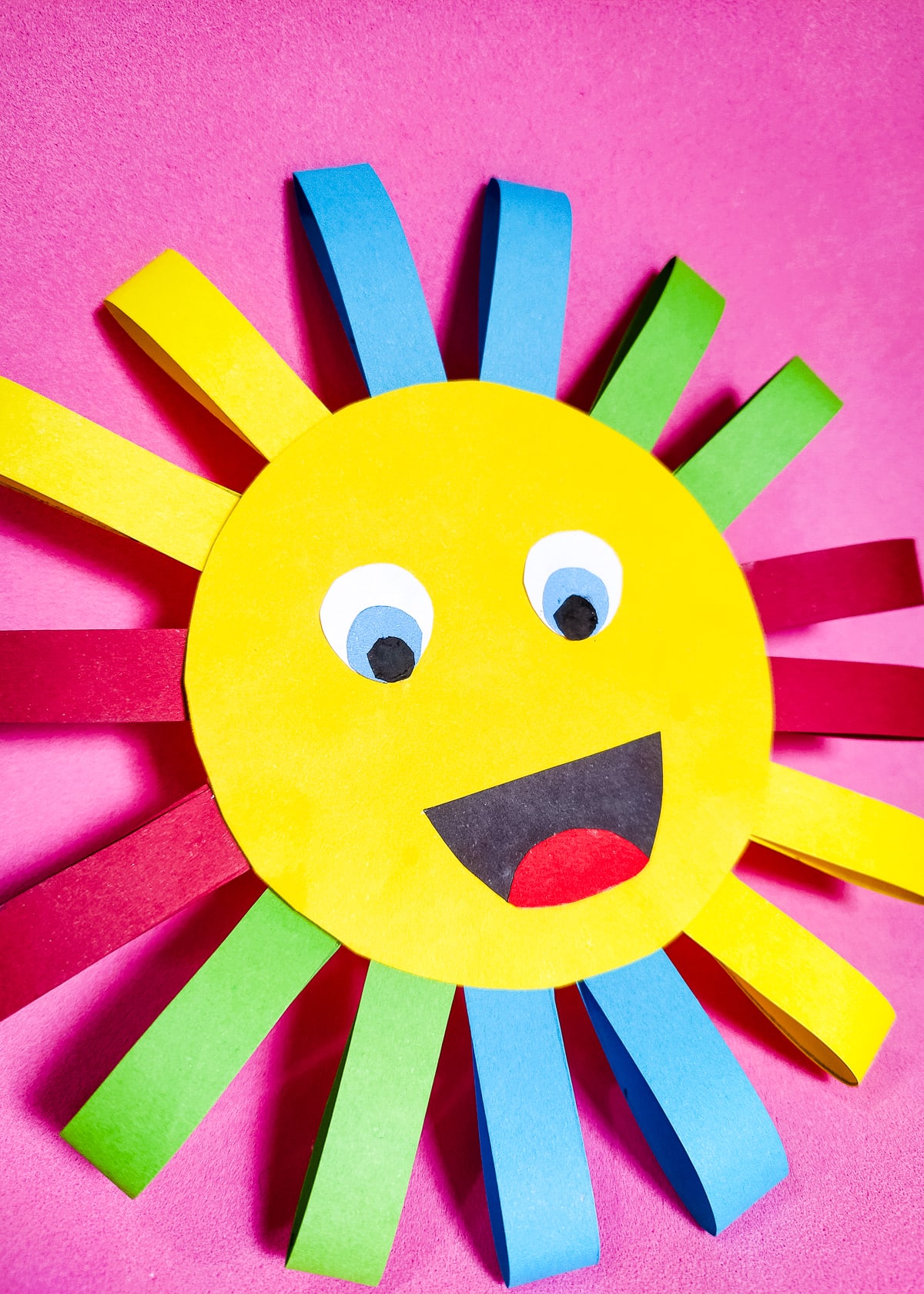 If you love easy and colorful crafts like I do, you'll enjoy doing this rainbow sun craft as well!
You can make a vibrant rainbow sun craft with your children using basic supplies like construction paper, glue, scissors, and a marker.
Allow your children to choose the colors of their rainbows to make it more special.
Learn how to build one today by reading the rainbow sun craft article.
21. Popsicle Stick Smiley Sun Craft for Kids
Smile and make crafts to welcome the summer!
My girls had a smile on their faces the entire time they were building this smiley sun craft using popsicle sticks.
Make a sun out of popsicle sticks and use a marker to make the loveliest smiling face on your crafts.
This summer, display your finished smiley sun crafts all around your home! Check out the website to make one with your children, and I'm sure you'll have a good time doing it!
22. Super Cute, Puffy Paint Sun Arts and Crafts
Make your sun crafts livelier by using puffy paint.
This puffy paint sun arts and crafts is a great summer project for toddlers to third grade!
Your sun crafts will surely be as colorful as ever using glitter and puffy paint.
We had a great time doing it and would love to do it once more this summer.
You would, too, so click over to their website to learn more about this cute sun craft!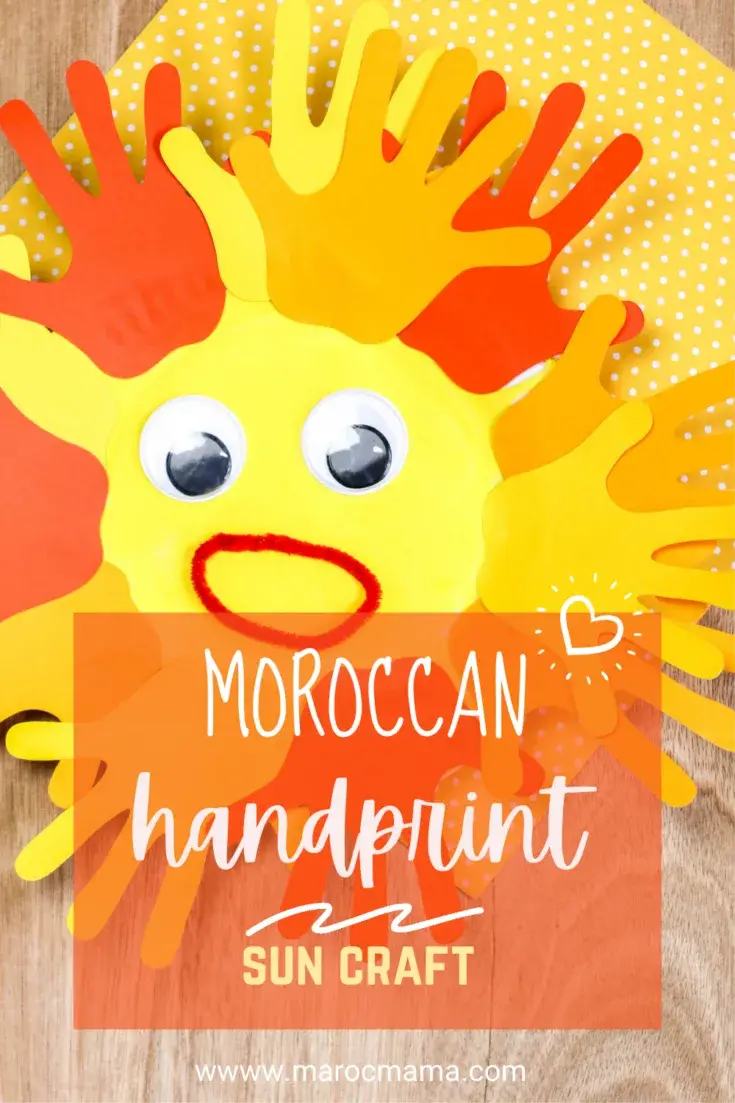 23. Quick and Easy Handprint Moroccan Sun Craft
Morocco has some of the best sunny days, so this quick and easy handprint Moroccan sun craft is terrific for this summer!
This activity requires a paper plate, construction paper, googly eyes, pipe cleaners, and glue.
Read the article on the website to find out how easy it is to make!
24. Printable Summer Sun Hat Crafts for Preschoolers
When you've got your summer hats on, you know you're in for a good time.
If you don't have one yet, this printable summer sun hat craft will come in useful.
The kids would have so much fun this summer if they got to make their own summer hats.
Go to their website right now to get your instructions and printable templates!
25. Colorful and Bright Paper Plate Suncatcher Craft
Children's imagination and creativity will grow more as the suncatcher becomes brighter and more colorful.
This paper plate suncatcher activity is one of my favorite suncatchers crafts for my daughters since it's so cute, easy, and requires little help.
Each of my girls was able to create two of these sun catchers.
I'm sure your kids would enjoy it as well, so build your colorful suncatchers today after reading the complete article on the website!
26. DIY Handmade Paper Sun Crown Craft for Kids
This summer, kids will enjoy wearing their own handmade paper sun crowns.
If you're wondering how to make one, this website gives an easy step-by-step tutorial.
As part of their summer preparations, my girls and their cousins made their own paper sun crowns.
Of course, you would want one for yourself!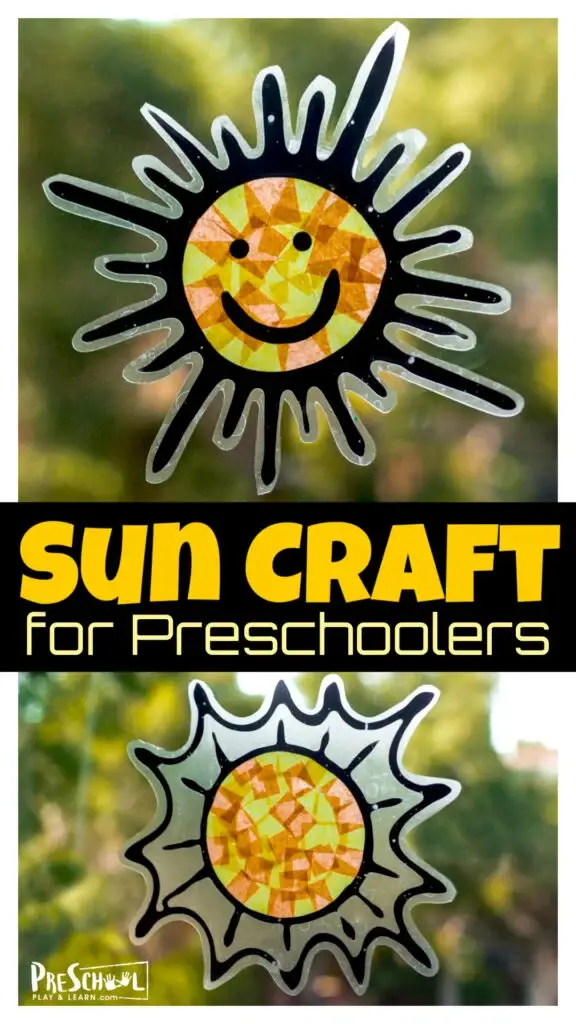 27. Cute Suncatcher Sun Craft for Preschoolers
What home decorations are you considering for the summer?
If you don't know what to do yet, we suggest creating this cute suncatcher craft.
This would add color to your windows and glass doors.
Kids would definitely feel and enjoy their summer.
Check it out so you can start making plans for the summer immediately!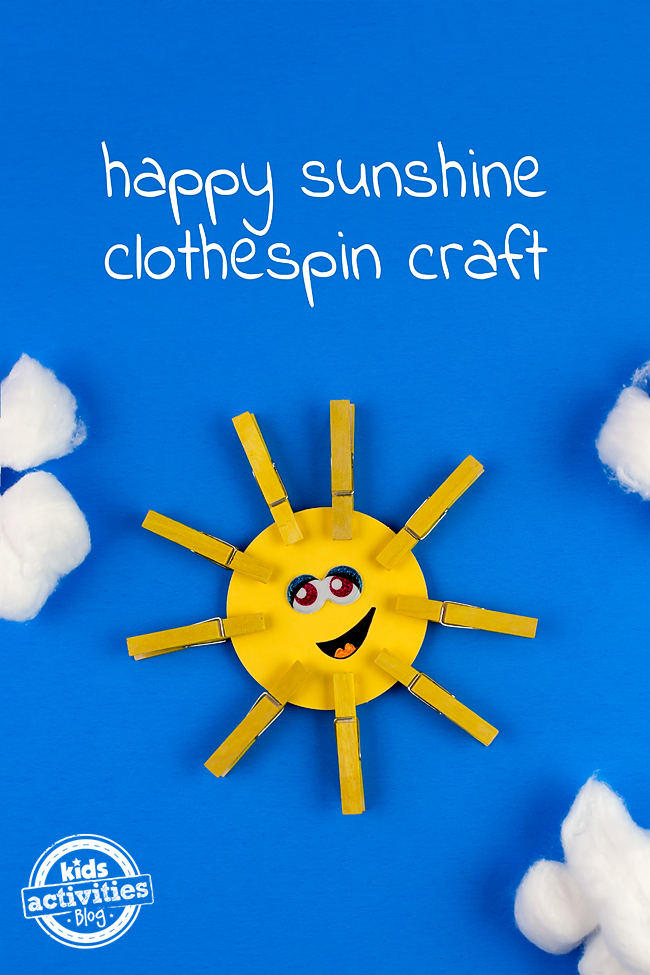 28. Very Easy and Happy Sunshine Clothespin Craft for Kids
This happy sunshine clothespin craft will help your kids practice their fine motor skills.
This is ideal for toddlers who are starting to exercise their little fingers.
Children in preschool and older children would also benefit from working on this to hone their attention span.
Learn how to make one by reading the post on their website!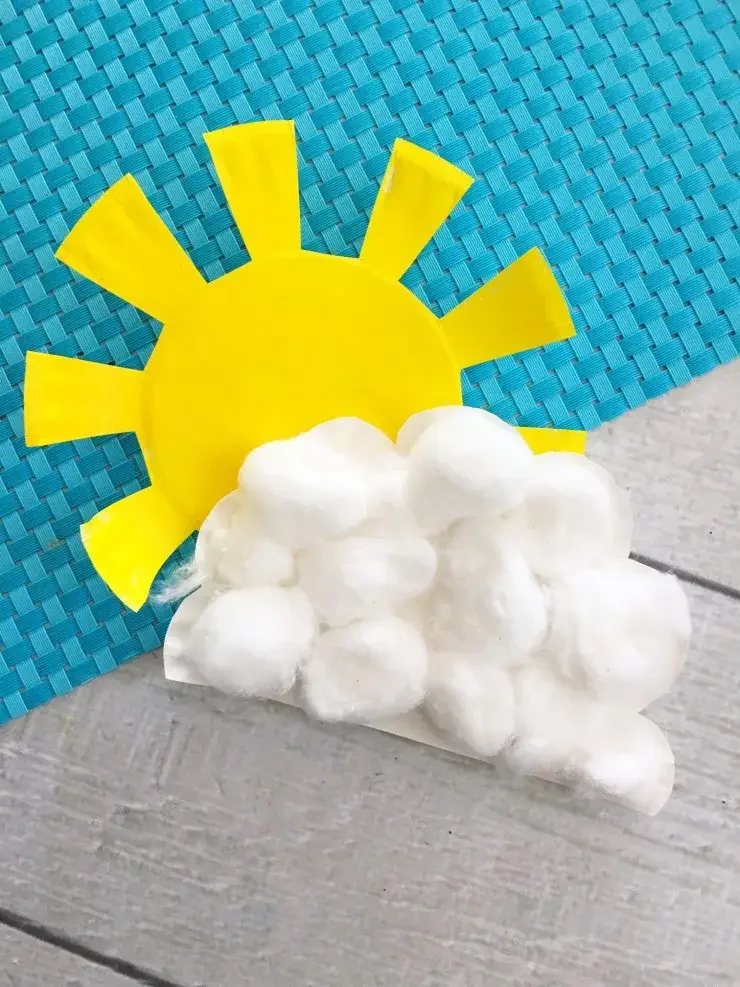 29. Sunshine and Cloud Paper Plate Craft
Improve your paper plate crafts by making them more realistic!
Use cotton balls to create a realistic-looking cloud, and paint the paper plate with the brightest yellow paint you can find.
This could be included in your summer decorations and even on your school weather boards.
Check out their website to see all the instructions and materials!
30. Cutest Paper Plate Sun Craft + Free Printable Template
Paper plate crafts are becoming sweeter and cuter!
I couldn't resist making this paper plate sun craft with my kids because it looks so cute on their summer board.
It also comes with a free printable template, so kids may make as many as they like.
Put this craft on your list right away because it's perfect for the summer!
Pinwheels make a cute outdoor decoration, and they'd be much nicer if they had a sun design!
My kids have always enjoyed seeing pinwheels go round and round wherever we see them, so I sought for a pinwheel activity that we could do throughout the summer.
I found this pinwheel sun and fell in love with it!
It comes with a printable template that you can download, making it really easy to complete!
One of the things I have planned for the summer is sensory activities.
I got some ideas for what to make and include in the sun sensory bins for my girls from this summer-themed sensory bin.
Kids can improve counting, fine motor skills, and other things by doing this throughout the summer break.
Check out the website to read the entire article, then include this on your list of summer activities!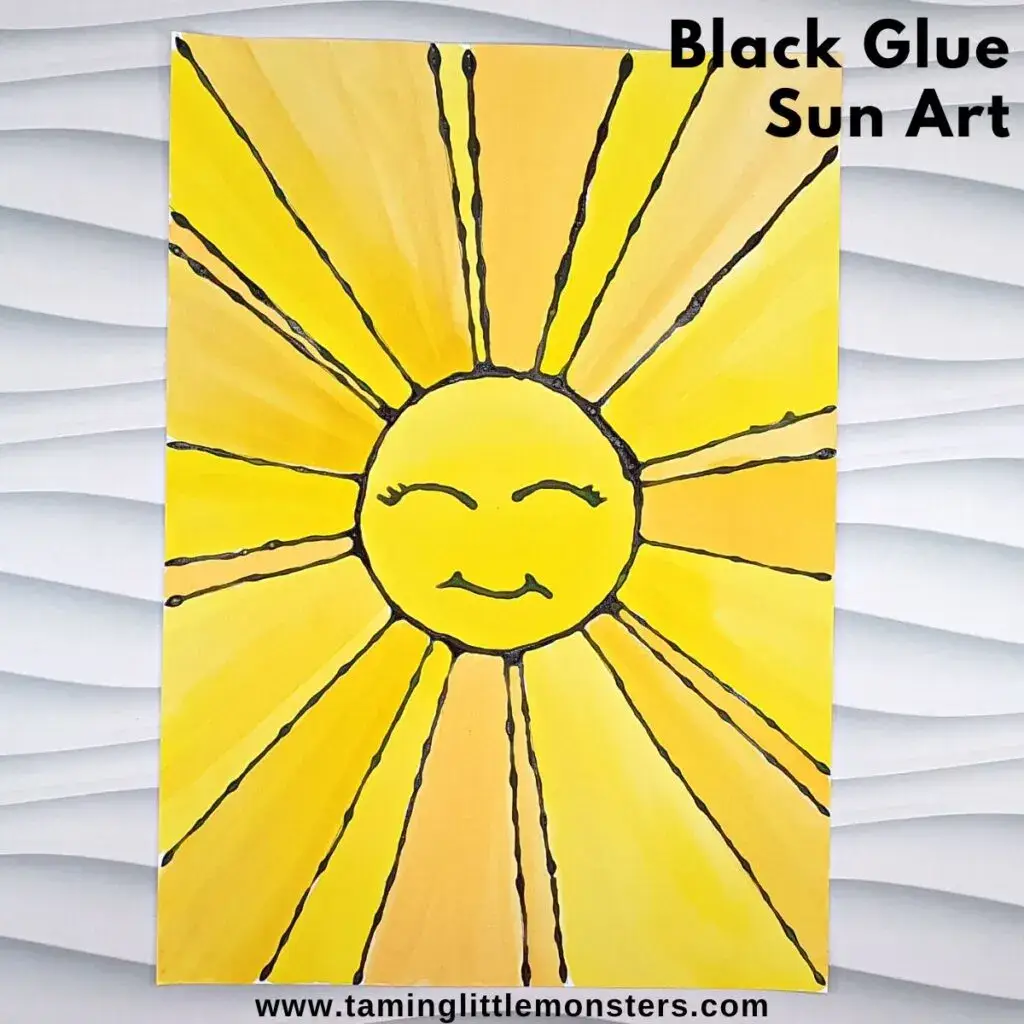 33. Easy Black Glue Sun Art for Kids
Have you ever used black glue in arts and crafts projects?
If not, you would be amazed at how it works in this craft using black glue to create a sun!
Children would be able to produce their own black glue and use it to outline their sun drawings.
Visit the website to learn how to make one today!
34. Easy Paper Sun Art for Toddlers and Preschoolers
I always make an effort to provide non-stimulating artworks for my daughters.
Particularly if they are doing it during their quiet time together.
This paper sun art is easy to make and appears to be simple, yet it is the perfect sun art activity for toddlers and preschoolers.
It is a wonderful idea to create sun art that is not overly stimulating for them.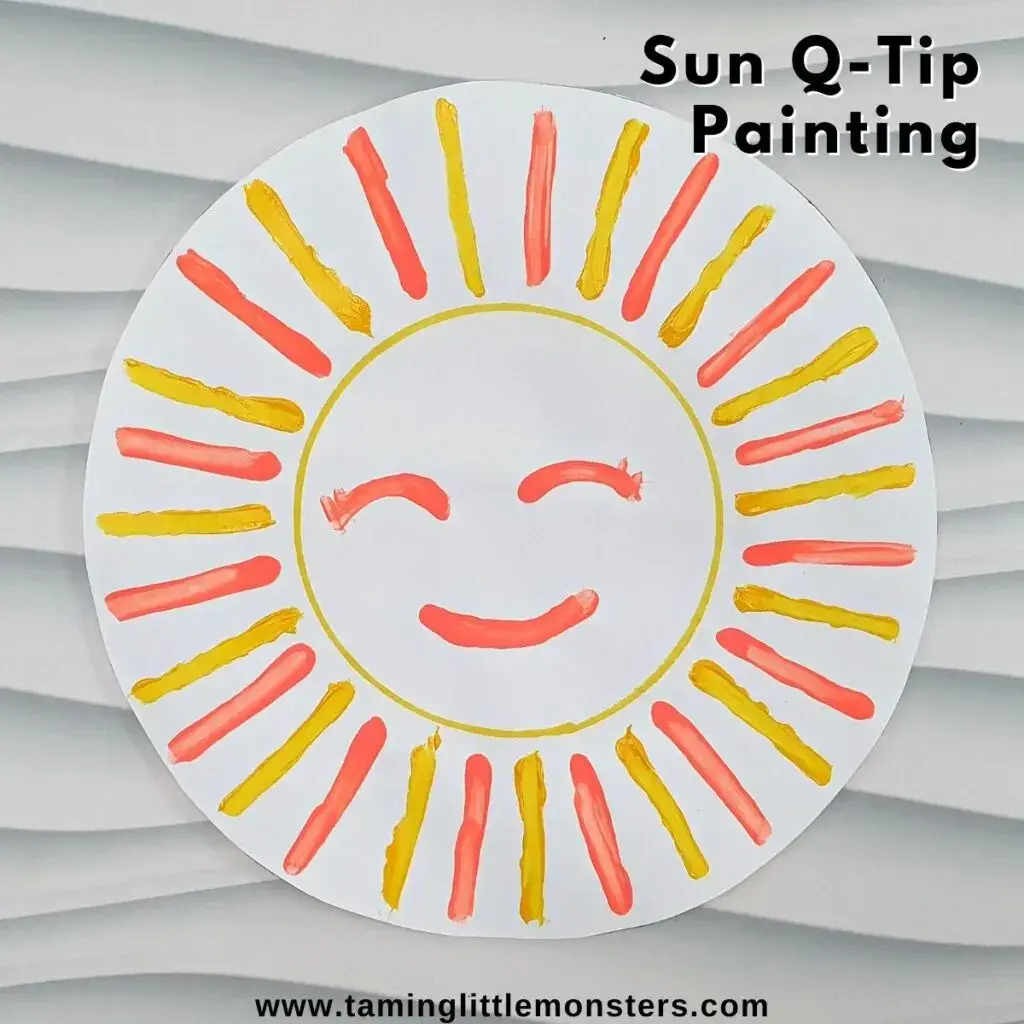 35. Fun Sun Q-Tip Painting for Kids
Q-tips are one of my kids' favorite painting tools.
They always have something to paint with since we always have them in the house.
This sun q-tip painting project is one of our painting activities for the summer.
I love how it also improves the fine motor abilities of my children at the same time!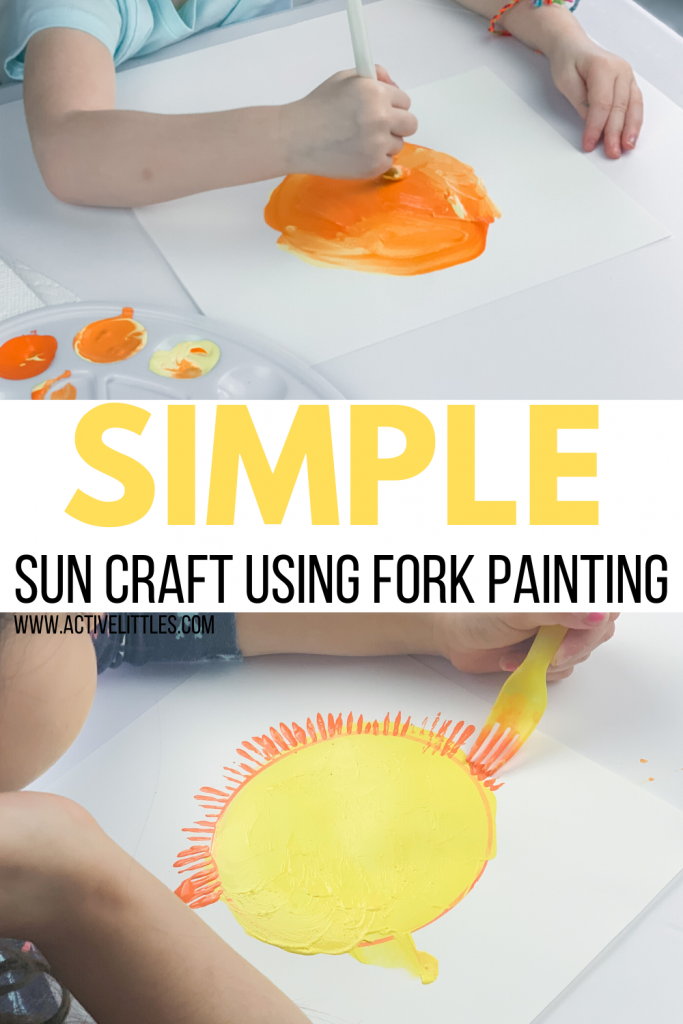 36. Simple Sun Craft using Fork Painting
Did you know forks can be used as a painting tool?
We use nearly anything for my daughters' crafts because they love painting so much.
Use a fork to paint a simple sun craft this summer.
This is certain to keep the kids busy painting throughout their break.
Get your forks and the paint you'll be using ready!
I don't know anyone who doesn't like bubble wrap.
I love them a lot and finding out that we could use it in this activity was a lot of fun for me and my children.
Yes, I built a bubble wrap sun for me as well!
Bubble wraps can be used for more than just popping; they can also be used for painting.
Read the whole article to find out for yourself!
Don't toss out old pasta because you'll need it for this activity!
Pasta looks so lovely when combined with your art creations.
It may also create sun rays, which would give your solar crafts a 3D appearance.
On our sun craft, we used some pasta with macaroni spirals.
For more inspiration on using pasta in crafts, read the article!
Put a spin on your art projects by combining popsicle sticks, beads, and yarn!
This simple sun craft improves our children's fine motor skills.
This will give kids practice putting beads in and making knots by themselves.
My daughters found it quite helpful to use this to untie knots and tie their shoelaces.
Head over to their website to learn how incredibly beneficial it is for us.
Do you miss someone who is away for the summer?
Send them a card with a sun handprint!
Just before their school year ended, my girls created these lovely cards for their friends.
Their handprint sun craft card looked amazing, and their own messages added a personal touch.
This summer, hand out your own sun handprint cards!
41. Playdough Sun Fine Motor Activity for Toddlers
Playdough is always a good choice.
They keep our kids occupied for hours and help in the development of fine motor skills and creative play!
This summer, include this playdough fine motor activity for your kids.
Enjoy watching them roll and squish their playdough to create a sun!
42. Fizzy Sun Sensory Bin: Summer Steam
This summer, involve your kids in sensory play!
There are many activities you can carry out with sensory bins; if you're stuck for inspiration, try this fizzy sun sensory bin activity.
Making this with my kids in our backyard was so much fun.
I believe that this should be on everyone's list of summer activities for their children.
It's fun and beneficial to a child's cognitive development.
43. Printable Craft: Mexican Folk Art Sun
As you learn more about Mexican culture, you'll want to create some of their bright art.
This Mexican folk art sun is patterned and vibrant, making it appealing to children.
You can download a template for the sun and let your children paint it anyway they choose.
For instructions, see the entire article!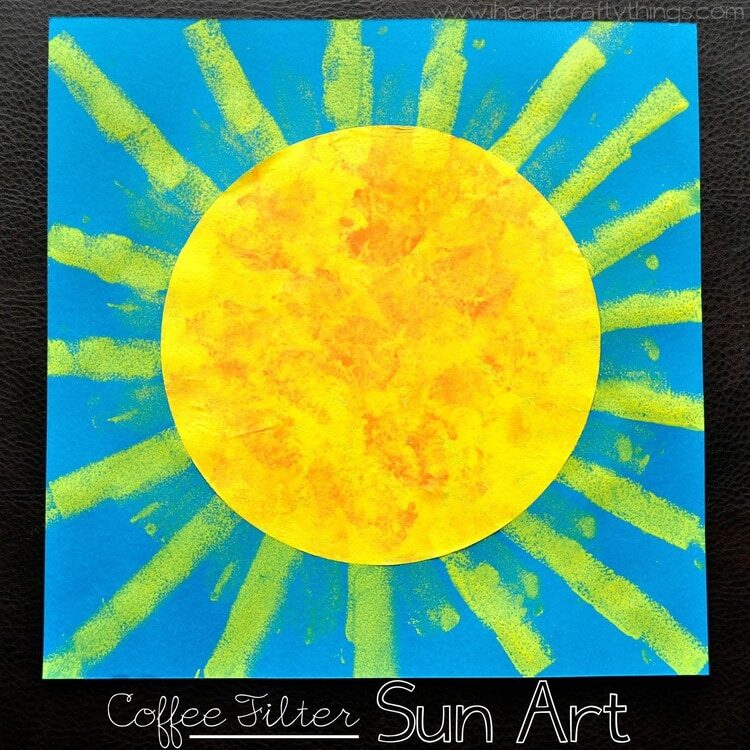 How cool would it be if we could turn a coffee filter into a sun art?
It was made possible through this activity!
I had my daughters create this coffee filter sun project because I have coffee filters in the kitchen.
This is a painting exercise that will keep your children occupied for several hours.
Continue reading to view the materials and instructions.
45. Paper Plate Sun Craft for Preschoolers
Looking for a sun craft that also improves numeracy and fine motor skills?
This paper plate sun project is not your average sun craft!
In this activity, the paper plate is punched with holes, pipe cleaners and straws are cut into bits, and the straw pieces are then slipped onto the pipe cleaner.
Kids will enjoy this activity so much without realizing that it is helping them develop their fine motor skills!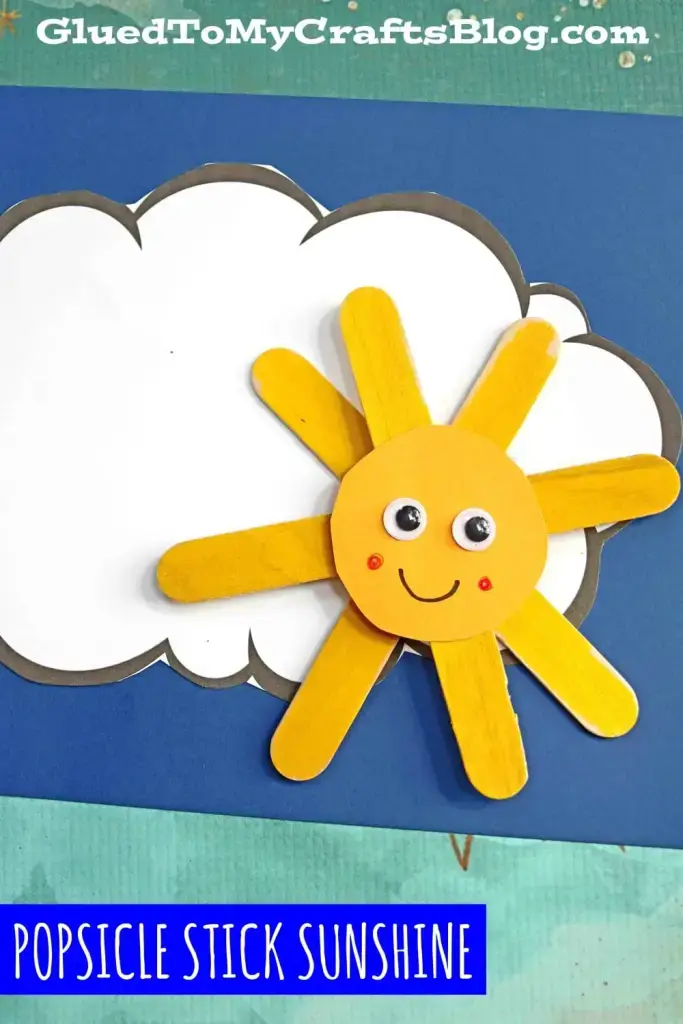 46. Paper & Popsicle Stick Sunshine Craft
Some days, my daughters and I would rather stay inside and admire the sun's rays from the comfort of homes.
I looked for a craft using popsicles that would teach us to enjoy the beauty of the sun.
This paper and popsicle stick sun craft is perfect for those days when you just want to stay indoors and enjoy the beautiful summer days.
47. Fork Painted Sunshine Craft
Fork painting is a lot of fun, so we have more fork painting activities for you.
Let the kids paint a sun with their forks while being messy and having fun.
This fork-painted sunshine craft may be made all year long, not just in the summer!
Make a 3D sun with a free printable now!
This sun craft would look great on your weather board or in your summer bulletin.
Check out the website to learn how to grab your free sun printable and start making your own sun craft right away!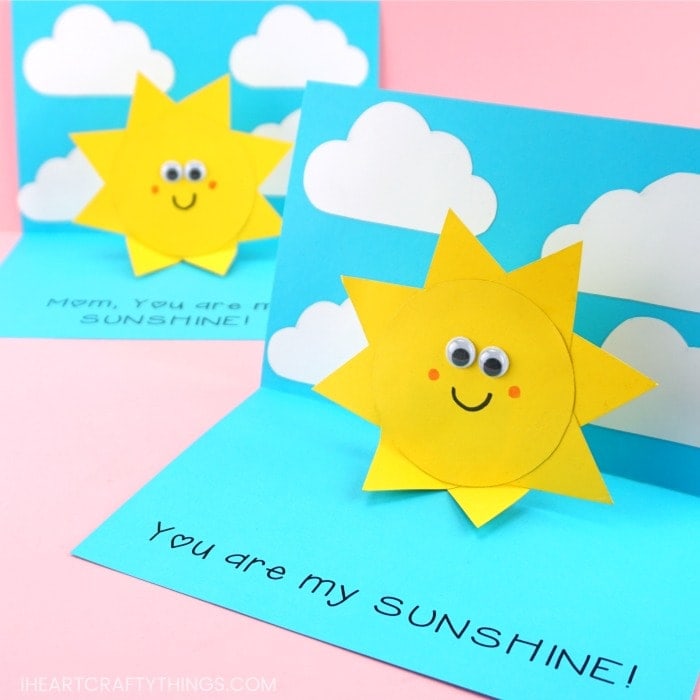 49. You are my Sunshine Card – Easy Pop Up Sun Card Template
Looking for a way to brighten someone's day on a hot, bright summer day?
This pop-up sun card will do just well.
This card is perfect to customize if you want to make someone smile on a special occasion.
This card would be perfect for any event throughout the year, making it an excellent gift for anyone!
50. Paper Bowl Sun Craft for Preschool
Finding a sun craft that would perfectly complement the clouds I had added to the summer wall in my daughters' room was my goal.
This bowl sun craft caught my eye, and I thought it would make a nice sun for our summer wall.
My daughters enjoyed making it as well, especially since it was the first time they used a paper bowl to make a craft!
Summer sun crafts are a great way to make the most of the warm weather.
These sun projects are sure to keep your kids entertained and brighten up your summer days.
Bring your loved ones together, grab some crafting materials, and let the sunshine spark your imagination!
Prepare to have a sun-tastic time and create special memories with these fun summer sun crafts!
When you have finished, be sure to share your creation on Simple Mom Project's Facebook Page and follow me on Pinterest!

Kaitlen D.