This preschool spider craft is a fabulous way to teach kids about the number 8, enjoy arts and crafts, or simply have fun on a rainy day. Whether you want to use this easy fine motor activity as part of your classroom activities, family bonding fun, or simple arts and craft sessions, I'm confident that your elementary school kids will love this spider craft. 
All you need is a few supplies and my simple step by step instructions below to create this pipe cleaner preschool spider craft.
*By the way, this post may contain affiliate links which means I may receive a small commission at no additional cost to you if an item is purchase through that link. For more information, click here.*
Easy Hanging Spider Pom Pom Craft for Kids
Ideas for Preschool Spider Craft 
Below you'll find a list of creative ways you can incorporate this toddler spider craft into your spider web activities with preschoolers. 
1. Simple Spider Web Arts and Crafts
It's so much fun to get clever with traditional spider crafts. You can use this simple fine motor art activity to create an adorable spider web scene using a pipe cleaner spider craft.
Your elementary school students can follow my step by step guide to create a spider craft and draw a spider web on construction paper. Glue the spider craft onto the construction paper spider web and use this as a fun fall décor option for the classroom or home.
2. Easy Number 8 Education
Since most of you know that spiders have 8 legs, this spider craft can be used as part of your number 8 lesson plans. Have your pre K students use recycled paper to make their spider artwork for fall décor all the while counting the legs on their spider craft.
Using this simple fine motor activity to encourage your preschool students to count to 8 will help alleviate the stress that comes with learning how to count with toddlers.
3. Elementary School Simple Art
Use this spider craft as part of your elementary school simple art projects. Having creative art projects that use pom poms and simple supplies, is a fabulous way to save money in the art department at your school all the while encouraging your students to enjoy simple pipe cleaner or pom pom spider crafts during art class.
4. Fine Motor Artwork
Lastly, you can use this preschool spider craft as part of your simple fine motor artwork activities in elementary school.
Using the step by step instructions you'll have your preschoolers set up and ready to enjoy some fine motor activities doing something that they love, arts, and crafts.
This easy paper printable is a fantastic way to get your kids to enhance their fine motor skills for later use in life. 
Spider Craft Materials Needed:
Spider Craft Tutorial
First off, cut strips of your yarn or thread in various lengths.
Then, wrap and tie your yarn or black thread around your pom poms.
The start of your spider friends should look something like this.
Next, measure and cut equal length pipe cleaners. We chose orange, but purple, red, white, green, blue, well any color would look great!
Then glue them on to the bottom of your pom poms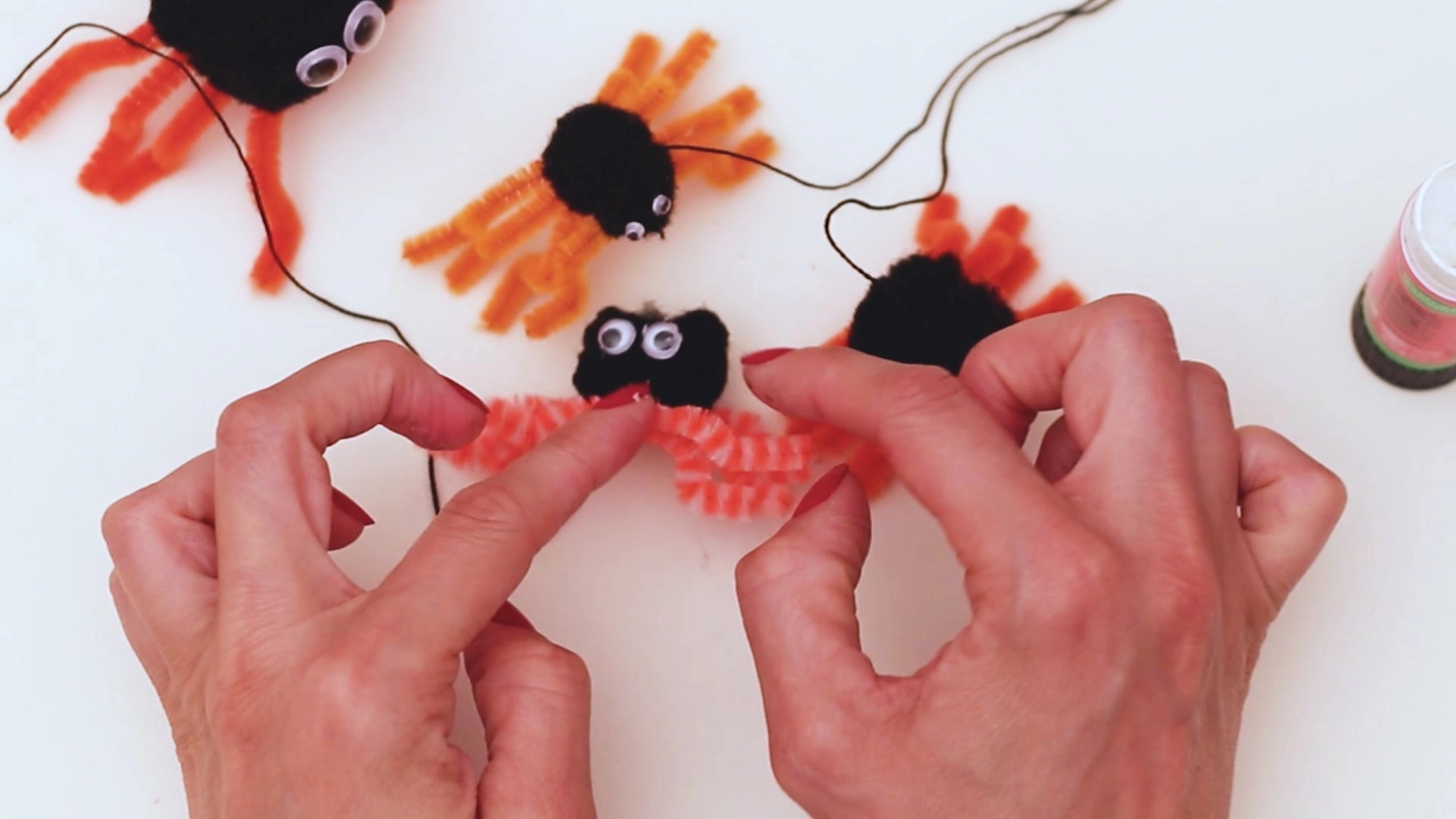 After that, glue one some cute googly eyes.
Finally, tie your fun new spider craft friends on to either a hanger or branch you found in the yard!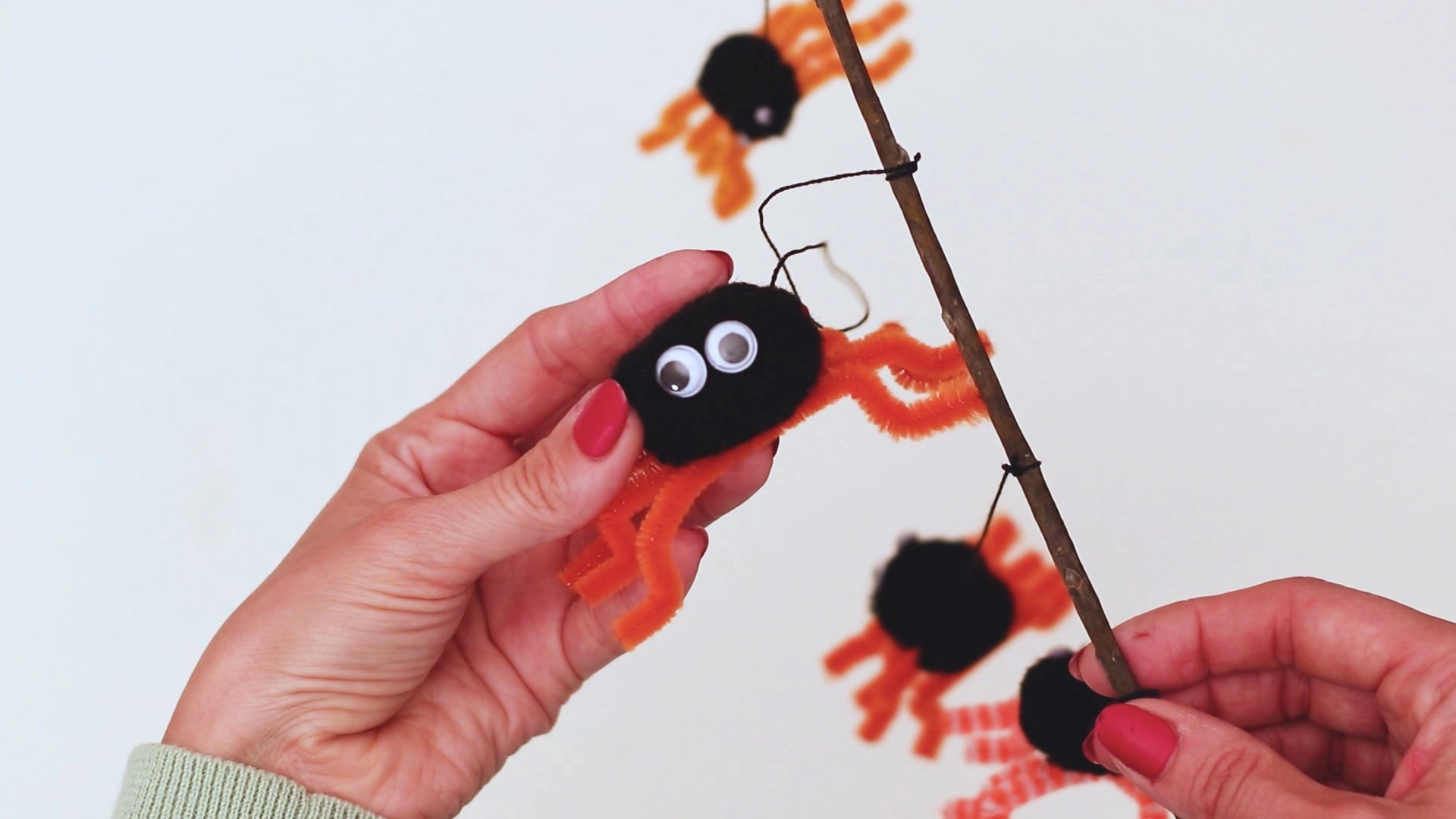 This is what your spider friends should look like when they are done. What color legs did you and your little ones choose?
When you have finished, be sure to share your creation on Simple Mom Project's Facebook Page and follow me on Pinterest!

Kaitlen D.
More Fun Fall Crafts: