A sun-filled day at the beach is the best kind of summer day and a great way to spend their family vacation.
Make this free printable sandcastle template stand out while you and your kids are counting down the days until the sun's rays warm your face and feel the sand between your toes.
This basic printable sandcastle template is a plain black and white line drawing with free transparent background clipart image to encourage your kids to express their creativity and imagination.
Making this free printable cartoon looking sandcastle template will help your children to focus on sand castle outline while being comfortable at home.
Download and print out this simple printable sandcastle template if you want to have a stress free but fun day before going to the beach this summer with your family.
*By the way, this post may contain affiliate links which means I may receive a small commission at no additional cost to you if an item is purchase through that link. For more information, click here.*
Free Printable Sandcastle Template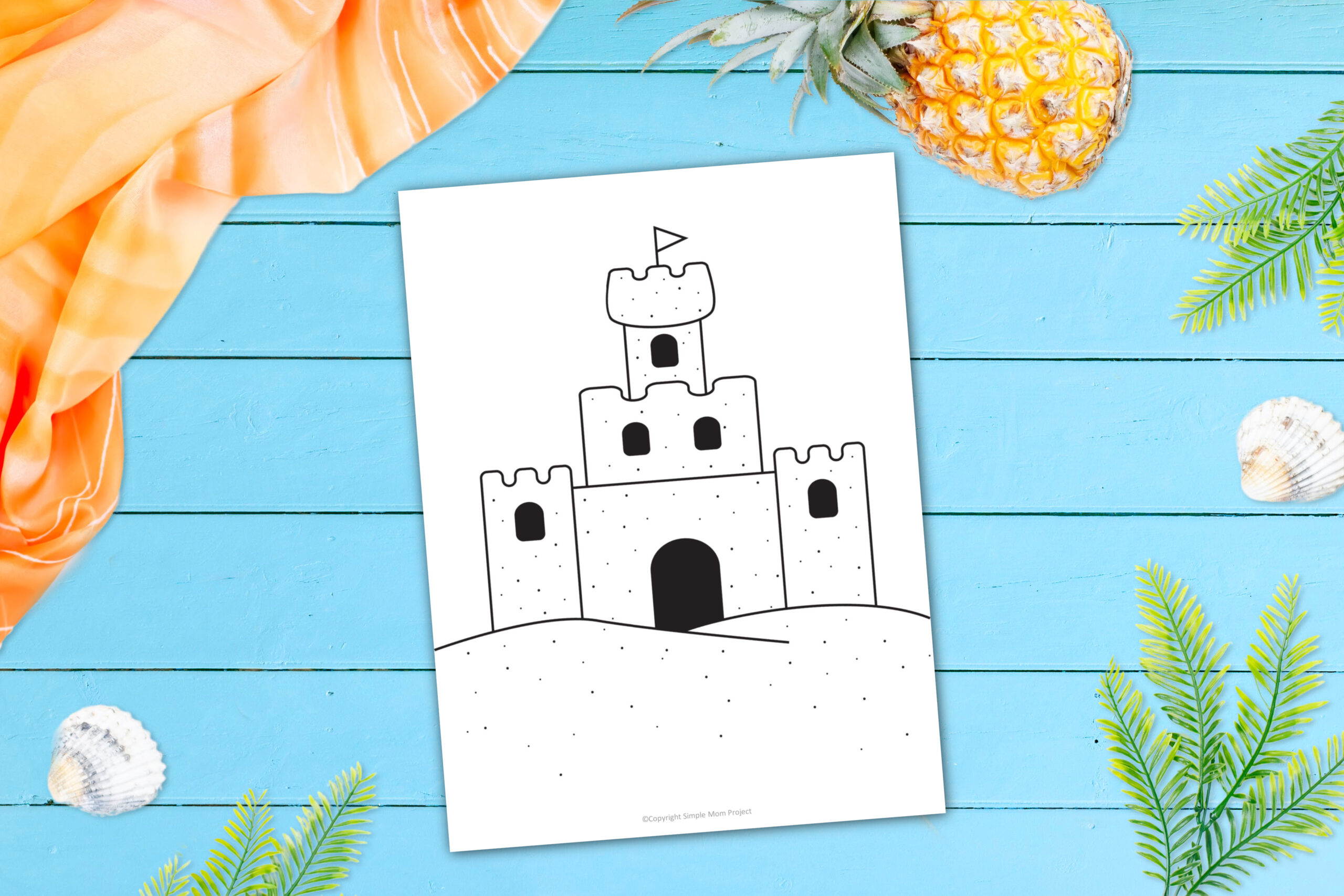 Sandcastle Template Materials Needed:
Printable Sandcastle Template (FOUND AT THE BOTTOM)
Make your child's finished sandcastle template a forever memory by laminating it!
We use this laminator and cannot express how much we love it! It is not only inexpensive, it is SO easy to use!
Your kids will love seeing how much you adore their art work when you laminate and display it for years to come!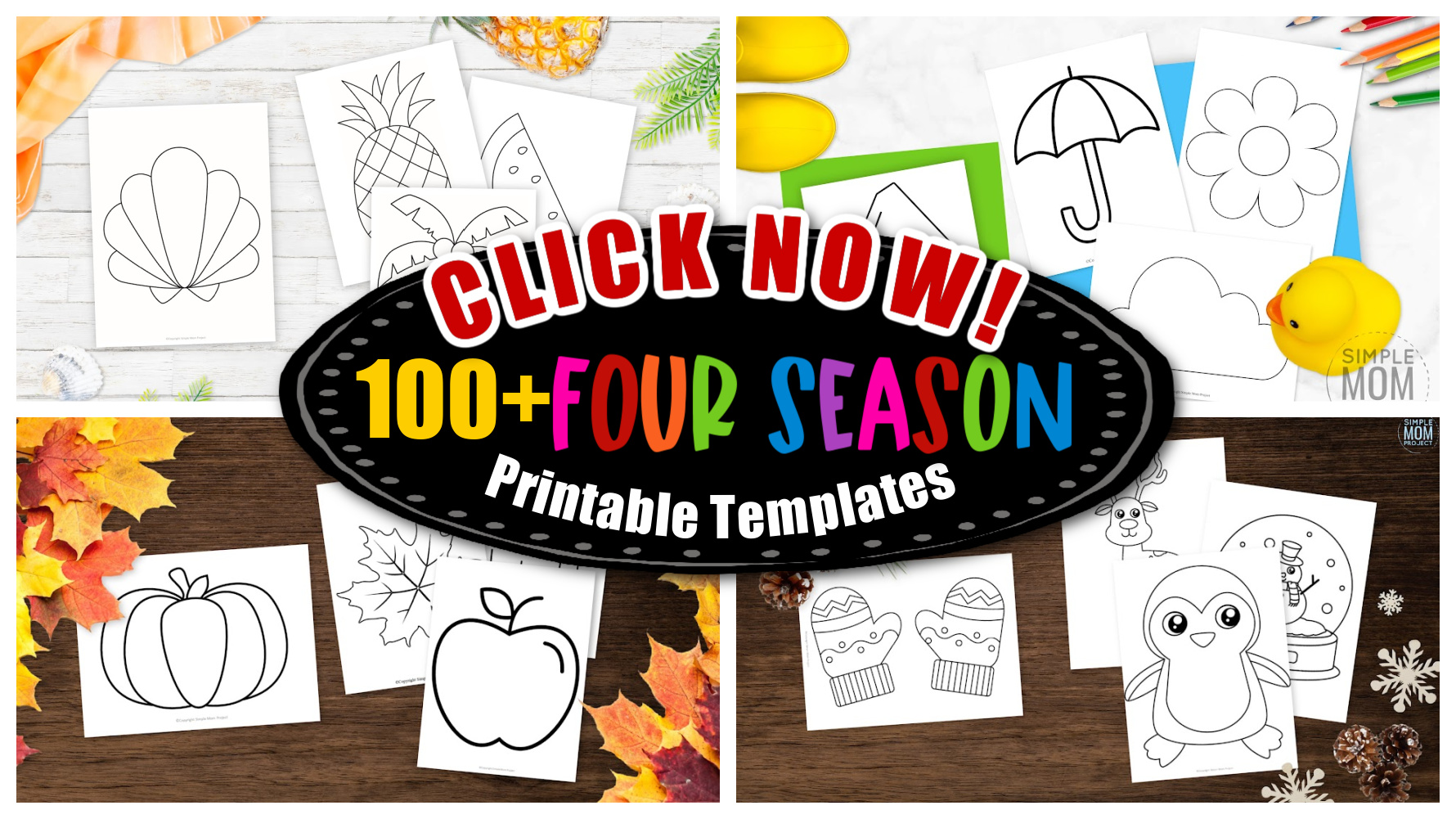 Ideas for Sandcastle Template
We've put together a list of the incredible ideas on how to include this free printable sandcastle template in your daily life with kids.
1. Amazing Sandcastle Stories for Kids
Reading aloud is one of the most important things parents can do with their children to develop their learning skills.
If you are trying to find quality books for your little learners to read, here are a few lists of my children's favorite books about sand castles.
2. Family Beach Day
Many families have been planning an unforgettable family outing to the beach ever since the summer holidays started.
Making this free printable sandcastle template can add excitement to your children's day!
Make sure all your basic beach essentials are all packed up!
Give your kids the shovel and pail as they head to the shore to make sand castles while the rest of the family relaxes under the beach umbrellas.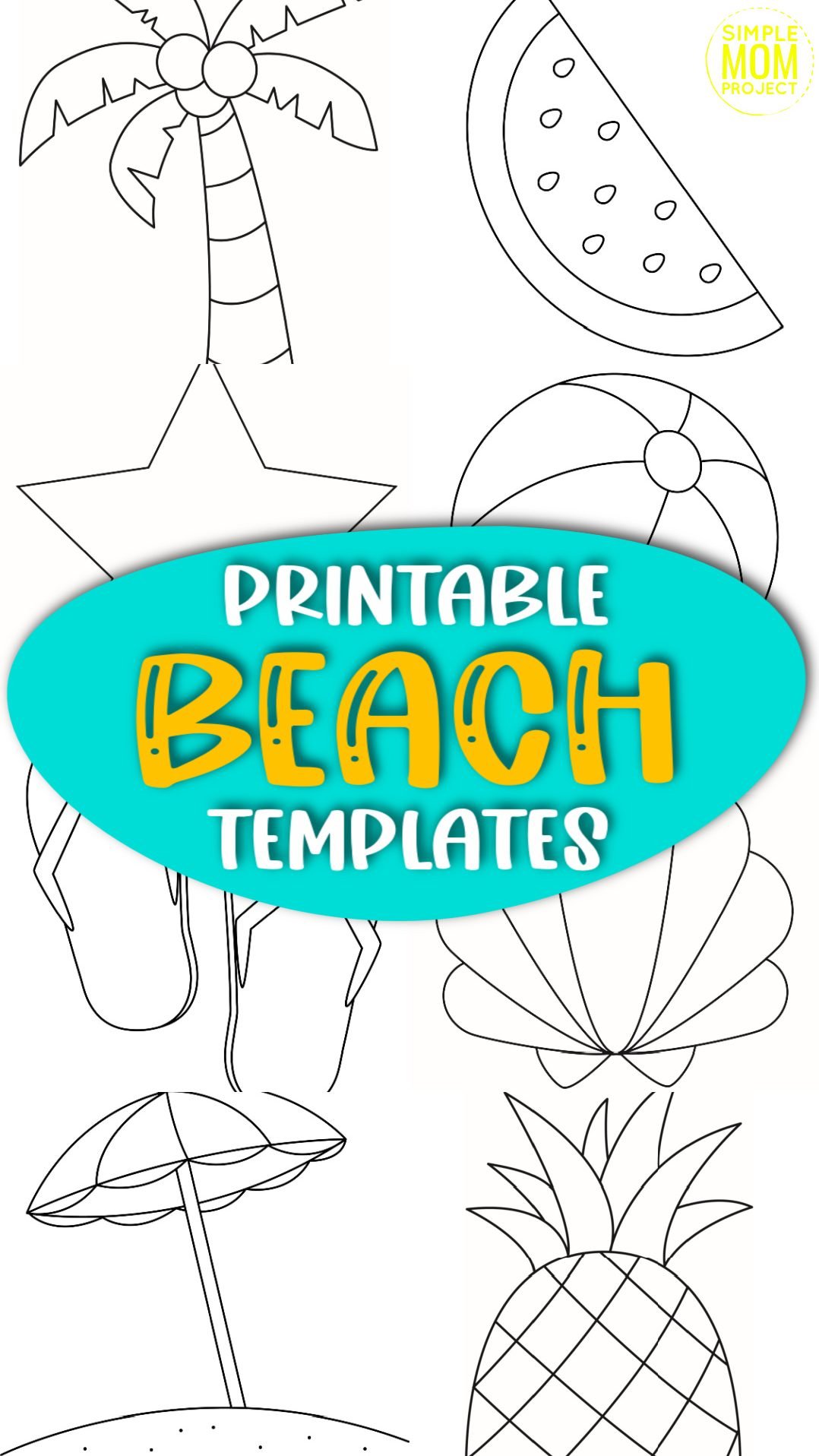 3. Develop Children's Creativity
This easy printable sandcastle template will encourage your toddler, preschool or kindergarten to freely express their creativity by using it for coloring, stencils, crafts and more.
All you need to do is gather all the simple materials they need and let them do their very own masterpiece.
It's a simple summer activity that provides a great opportunity to build your little one's self esteem and confidence.
Compliment and display their finished sandcastle template in your house to give your child the sense of accomplishment.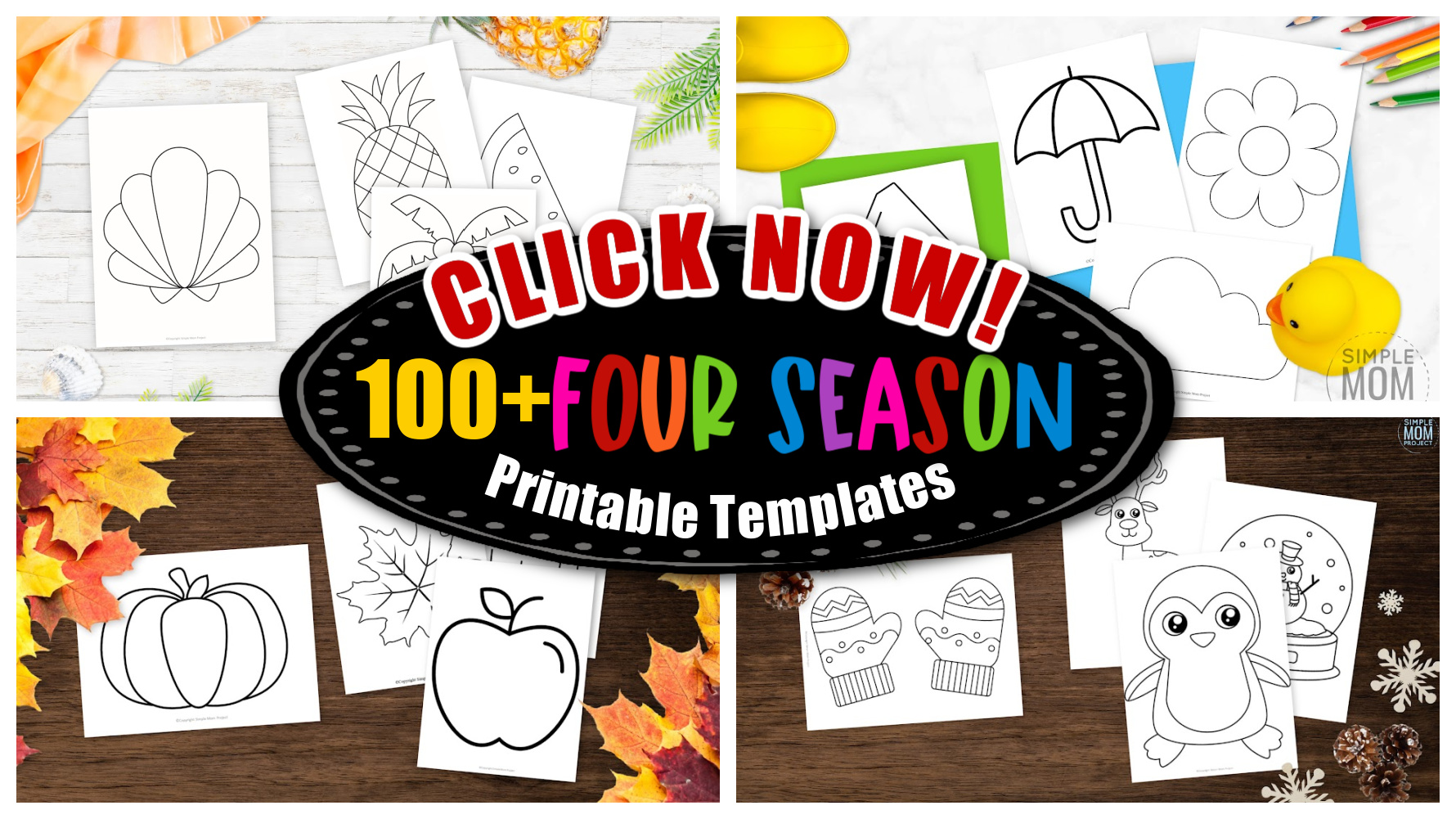 4. DIY Sandcastle Craft
This awesome DIY sandcastle craft is the perfect summer activity for children to make before and after going to the beach.
Use our free printable sandcastle template and other simple craft materials you have inside your home.
We use the recycled toilet paper rolls as the sandcastle towers.
Draw flags and triangular cones as the conical roofs then cut it out.
Glue each piece together and have your child paint this cute cartoon looking sandcastle craft.
Leave it for a few minutes until it's completely dry.
We hope you enjoyed some of our free sandcastle craft ideas, use this to spend quality time with your kids during the weekend or summer time.
Your kids will surely ask for more free printable beach templates!
Printable Sandcastle Template: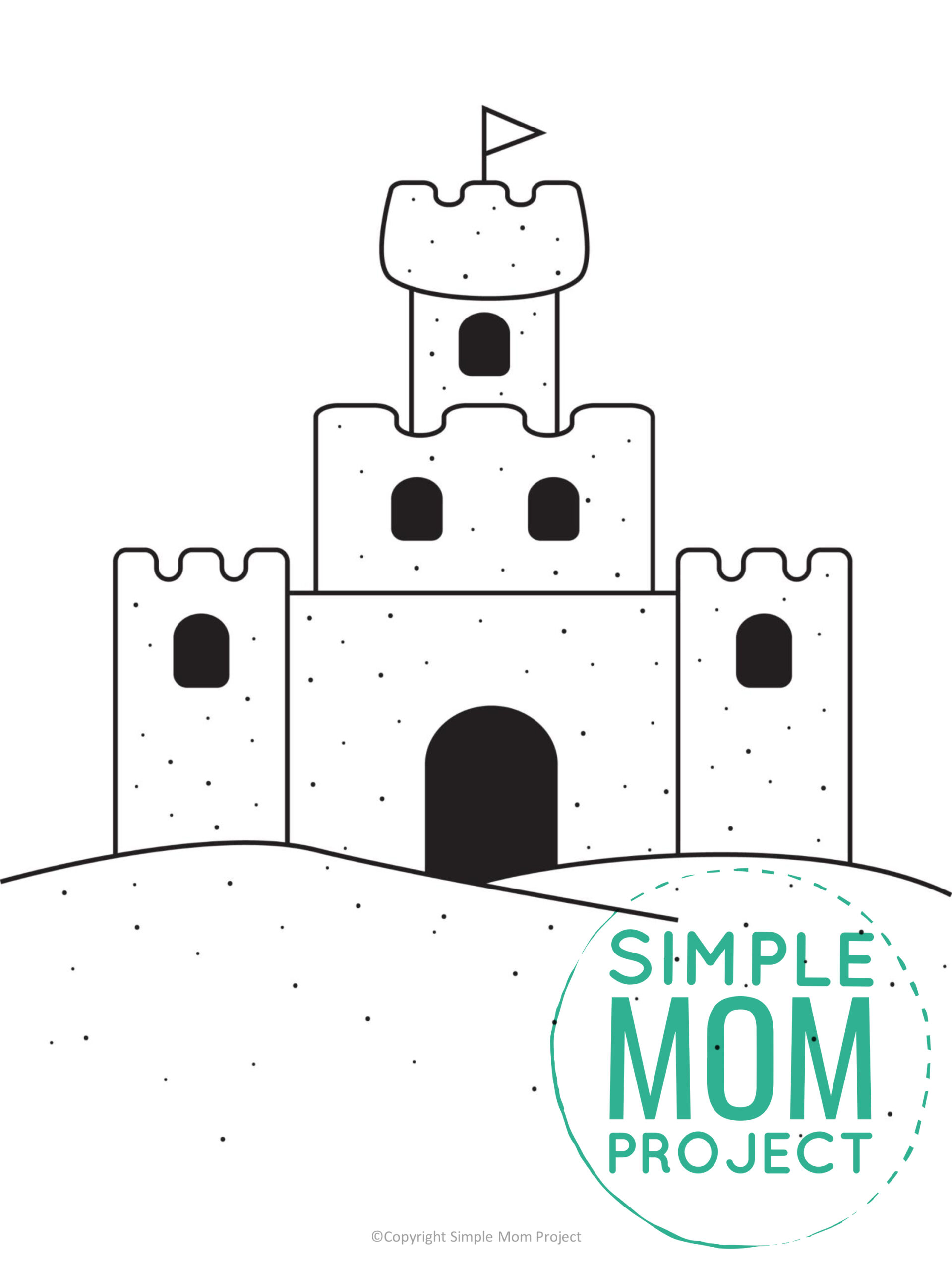 One of the most attractive things about the beach for children is building royal sand castles.
Building sand castles with your little one teaches them about teamwork and cooperation.
By making this free printable sandcastle template together, you will also strengthen the relationship you have with your children.
Having a lot of fun coloring and making crafts out of this free printable sandcastle template?
Make sure to comment down all the amazing experiences you had in the comment section!
When you have finished, be sure to share your creation on Simple Mom Project's Facebook Page and follow me on Pinterest!

Kaitlen D.
More Fun Beach Templates