Spring is right around the corner and it is almost here! I'm thinking about quality time with my children, crafting simple handmade projects together. This year I've created a cute, build-your-own bunny rabbit craft printable that's perfect for littles of all ages!
Kids love the Bunny, so I know this fun and easy spring craft will be a hit with your toddlers, preschoolers, or kindergarten learners. It's a great way to get kids excited about rabbits!
So print your free bunny rabbit template and follow along with the step-by-step tutorial to make your own adorable bunny craft.
Keep scrolling to get your own bunny rabbit craft printable, find fun ways to incorporate this spring craft in your routine and teachings and after you're done building your own bunnies, be sure to check out the build a baby chick craft. It's another fun way to help the spring season truly come alive for your little ones!
*By the way, this post may contain affiliate links which means I may receive a small commission at no additional cost to you if an item is purchase through that link. For more information, click here.*
Free Printable Build an Bunny Rabbit Craft for Kids
Here are some fun ideas for using this free printable cut and paste bunny craft:
– Listen to fun spring themed music while you build your own bunny! My kids love The Way the Bunny Hops from The Kiboomers. We have fun dancing and hopping around like bunny rabbits while the music plays. I like to look for ways to engage the senses with toddlers and preschoolers which makes music a regular part of our fun together.
– Consider a bunny themed snack time. We like to do snack time family style: a large plate filled with munchies in the middle of the table for everyone to share.
A plate filled with fresh veggies like cherry tomatoes, baby carrots, and broccoli florets with ranch dip would be a fun way to "eat like rabbits" while decorating your own bunny rabbit craft.
– Take your crafts to meet real bunnies! If you have a petting zoo or pet store nearby, consider taking your children to visit with their completed rabbit crafts. They can compare their bunnies to the real rabbits and learn more about bunny rabbits hands-on.
Facilitate their learning with questions like: "How many ears does the rabbit have?" and "Does this rabbit look the same as your bunny?"
– Don't forget story time! I love a good book and reading aloud is an important part of developing literacy and an early love of learning. One of our favorite stories is Home for a Bunny from Little Golden Books. My mother read it to me and I love reading it to my girls.
You could also read a non-fiction book to continue learning about real rabbits. We are particularly fond of Rabbits, Rabbits, and More Rabbits! By Gail Gibbons
Bunny Craft Tutorial
So without further ado, let's hop on in! Below you will find a short list of supplies to gather before you get started.
Materials Needed:
Printable Bunny Template (FOUND AT THE BOTTOM)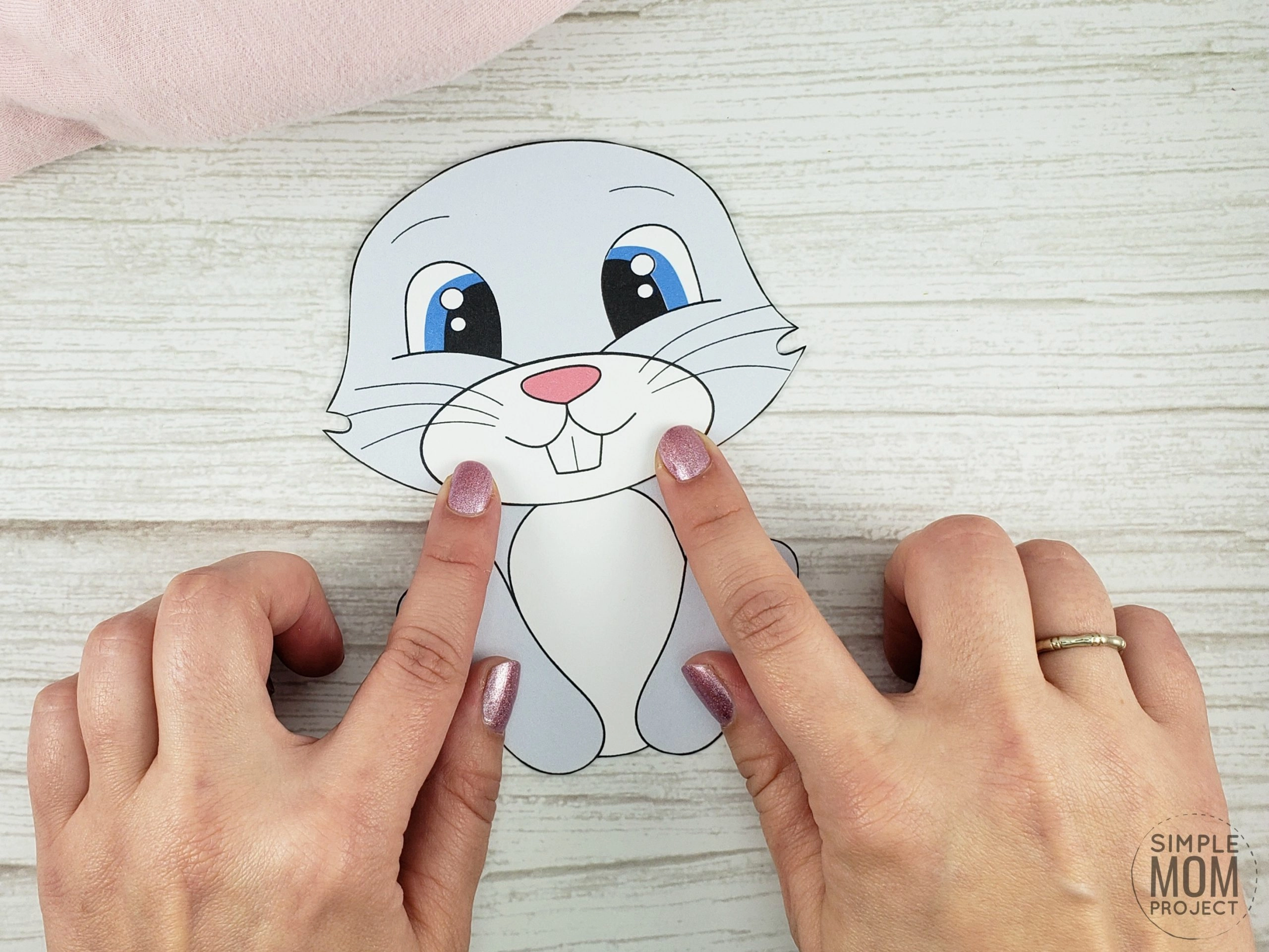 After you have gathered your supplies and printed off your favorite bunny template, cut out all of the bunny template shapes.
If you chose the blank bunny template, be sure to color him first and then cut out the body.
The initial step in the gluing process is to start with his head and body.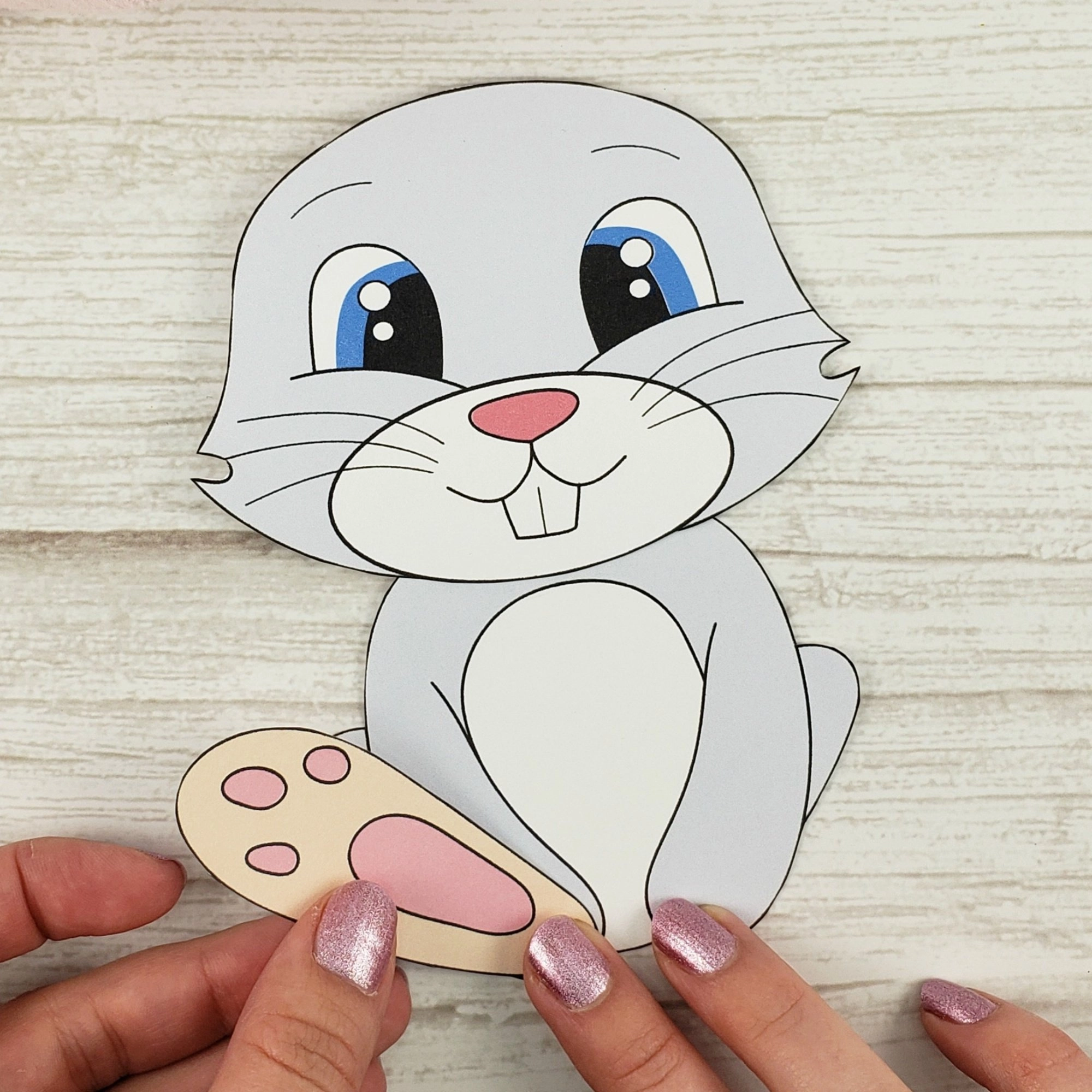 Next, glue on his adorable little feet.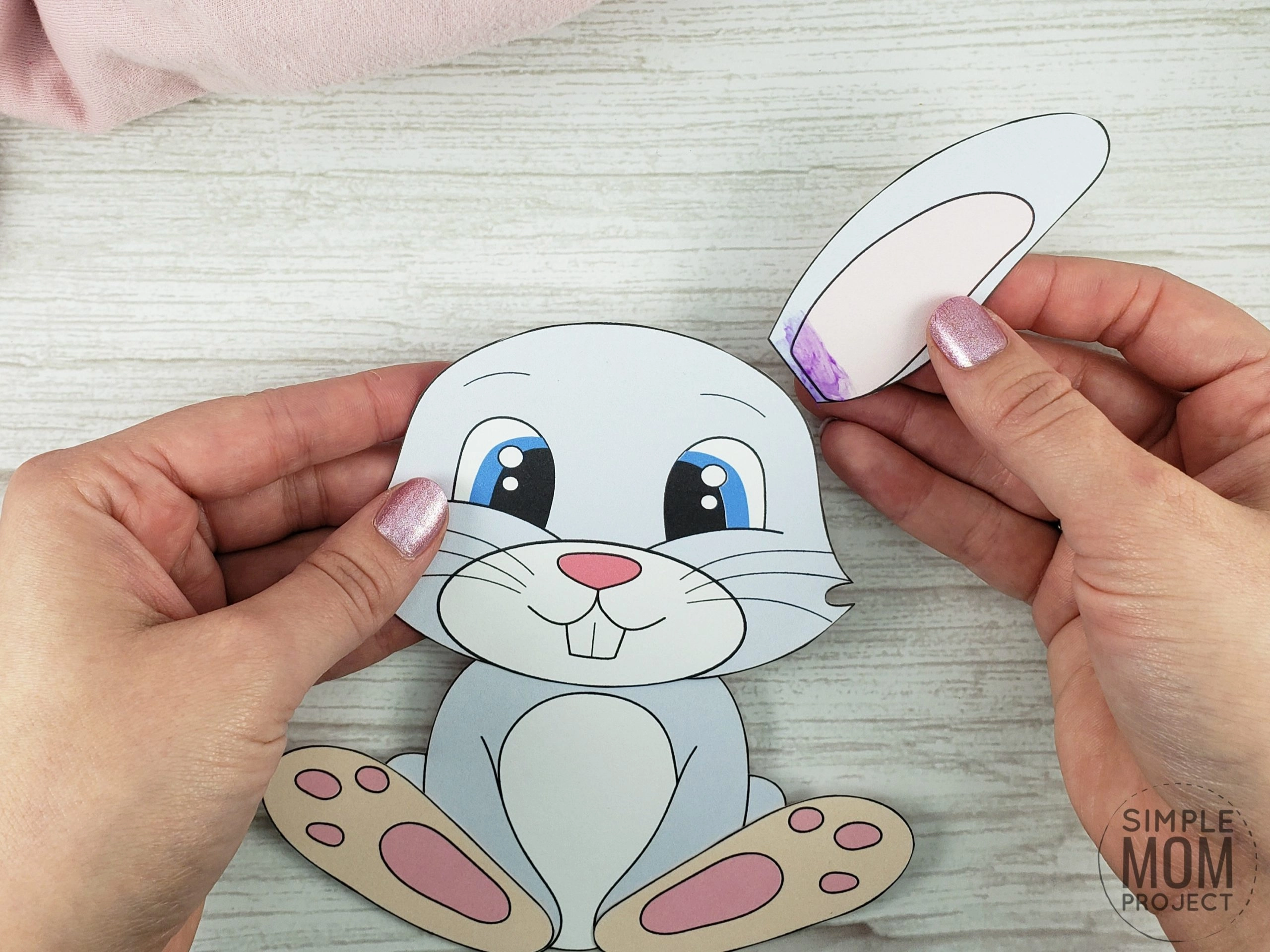 Finally, finish him off by gluing on your bunny's floppy ears.
How adorable is he?! And so easy to make!
Looking for a way to make this spring craft reusable, time and time again? Laminate him! We absolutely LOVE our laminating machine! Having never had one before, I was surprised at how easy this was to set up, laminate and put away!
Plus, we were even able to get our smallest involved in the craft too while she is learning body parts.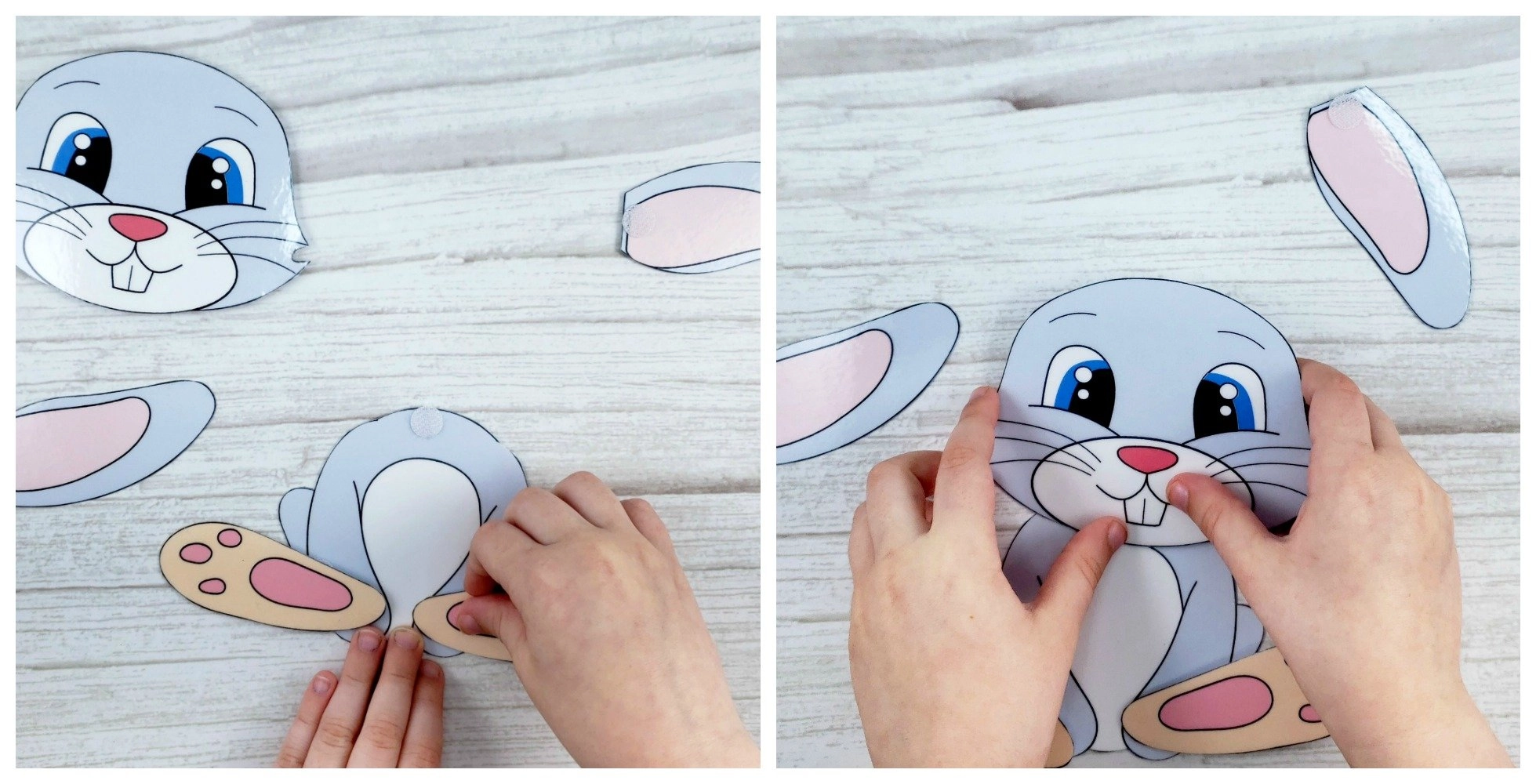 Simply laminate the bunny rabbit template first, cut out the shapes and use these small Velcro dots to be able to interchange the pieces! It's super simple!
To prevent Copyright infringement, you will see our watermark inserted on all of our images. This will NOT be included in your download.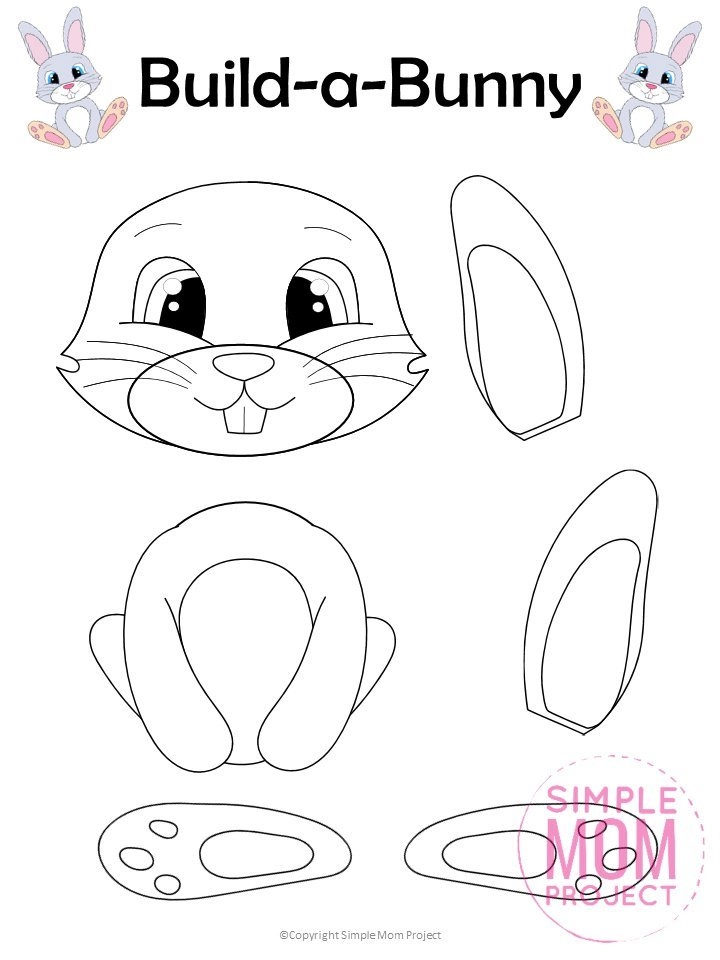 Whether you're planning to use these simple printable crafts as part of a lesson for a classroom or home school, or just looking for something fun to do with your children for quality time this season, I hope you have fun building and decorating your own bunnies.
You can use crayons, markers, break out the glitter, or even glue white fuzzy pom-poms to decorate your bunny. I'd love to see your completed bunnies in the comments and hear all about how you used this cute craft.
When you have finished, be sure to share your creation on Simple Mom Project's Facebook Page and follow me on Pinterest!

Kaitlen D.
More Fun Spring Animal Crafts: