We hope you're having fun with our bird template collection.
We've also made a printable quail template for your children.
If you're planning bird-themed learning activities or arts and crafts for preschool or even at home, this printable quail template has everything you need.
There's more to these little birds than meets the eye.
Learn more about them this weekend by participating in our fun and engaging quail-themed activities.


*By the way, this post may contain affiliate links which means I may receive a small commission at no additional cost to you if an item is purchase through that link. For more information, click here.*
Printable Quail Template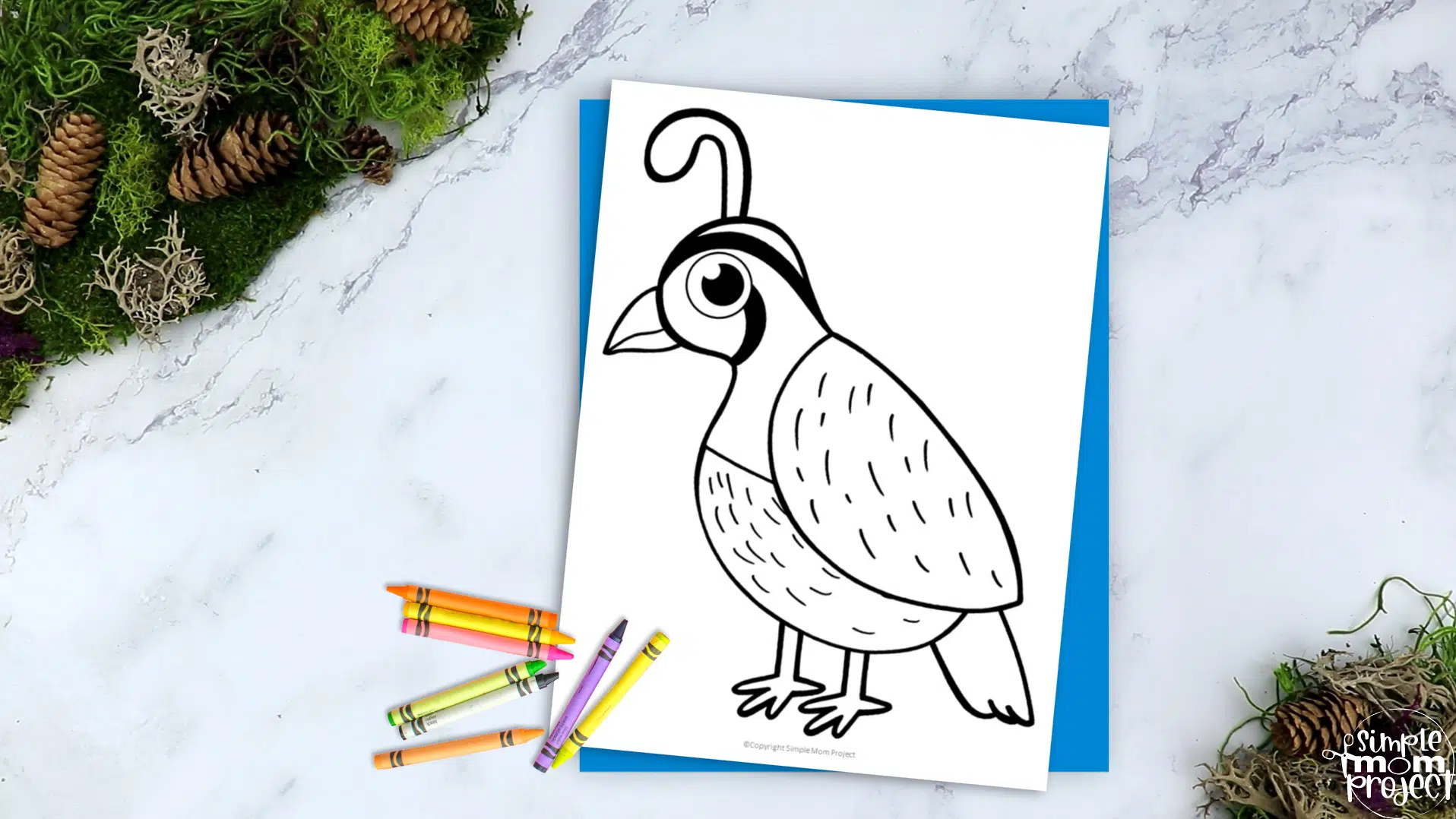 Printable Quail Template Materials Needed:
Printable Quail Template (FOUND AT THE BOTTOM)
Make your child's finished quail template a forever memory by laminating it! We use this laminator and cannot express how much we love it! It is not only inexpensive, it is SO easy to use!
Your kids will love seeing how much you adore their art work when you laminate and display it for years to come!
Looking for more amazing Quail crafts ideas? Check out our Quail Craft, and Letter Q Craft.
Ideas for Printable Quail Template
We make sure to come up with simple activities that you may use with this printable quail template.
Take note of these ideas for incorporating them into your daily routine.
1. Interesting Books About Quails
Did you know that insects and berries are among the quail's favorite foods?
These books include not only interesting stories about quails, but also facts about how they live, eat, and survive in the environment.
These are great to read before getting started on the printable quail template.
2. Q is for Quail
If you want to teach your children the letter Q, this printable quail template would be a great place to start.
When we start teaching our kids the alphabet, it is important to include objects that begin with the letter.
They grow familiar with them in this way.
This Letter Q Craft can be used for your activity.
To begin your lesson, have your kids color or paint the quail drawing.
Continue the letter of the week discussion by saying, "Q is for Quail" or "Quail starts with the letter Q."


3. Paper Plate Quail
This printable quail template idea will delight any child who enjoys arts and crafts.
Did you know you can make a quail out of a paper plate?
This paper plate quail is simple to make and only requires common art supplies found around the house.
You will just need paper plates, scissors, glue, and a copy of this Quail Craft.
Cut out the quail parts and glue them on the paper plate.
Make two or more paper plate quails to share with the whole family.
4. Quail Rock
You may be surprised to know that you can turn rocks into quails.
This printable quail template idea is a fun painting activity that can be done both indoors and outdoor.
Gather your paintbrushes, various paint colors, and some rocks, and let's get started making quails!
Some quails, such as the California Quail, are black and brown in color.
You can also use any color you have on hand, such as black or brown.
Download a copy of the printable quail template to use as a guide for painting the rocks into quails.
Create as many quail rocks as you can!
They make the most adorable rock display on side tables, porches, and even in your backyard.
Did you enjoy collecting these printable quail template ideas?
Which one was your personal favorite?
With all of these quail-themed activities, we are confident that you and your children will have a wonderful week ahead.
Your children will not only learn about these fascinating birds, but they will also make good use of their time by engaging in arts and crafts.


Printable Quail Template:
This simple quail coloring page encourages children's infinite imagination.
Working on this printable quail template will allow your preschooler and kindergartener to express their artistic abilities.
They will also practice holding crayons and markers in the proper grip position, which will help them develop their fine motor skills.
We are excited to be a part of your children's learning plans.
Please keep us updated on your planning experiences.
Leave a message in the comment section below.
When you have finished, be sure to share your creation on Simple Mom Project's Facebook Page and follow me on Pinterest!

Kaitlen D.
More Fun Bird Crafts and Templates