Did you know that plesiosaurus lived in the sea?
Plesiosaurus was a Mesozoic carnivorous aquatic reptile.
Sea turtles, which spend most of their lives underwater, were compared to their motions.
Plesiosaurus was similar to sauropod dinosaurs in that they had snake-like necks.
Keep scrolling to learn more about the plesiosaurus, which has been added to our dinosaur template collection.
Printable plesiosaurus template ideas are ready to be included in your dinosaur-themed learning plans and activities.
Spend a fun and productive week ahead with plesiosaurus!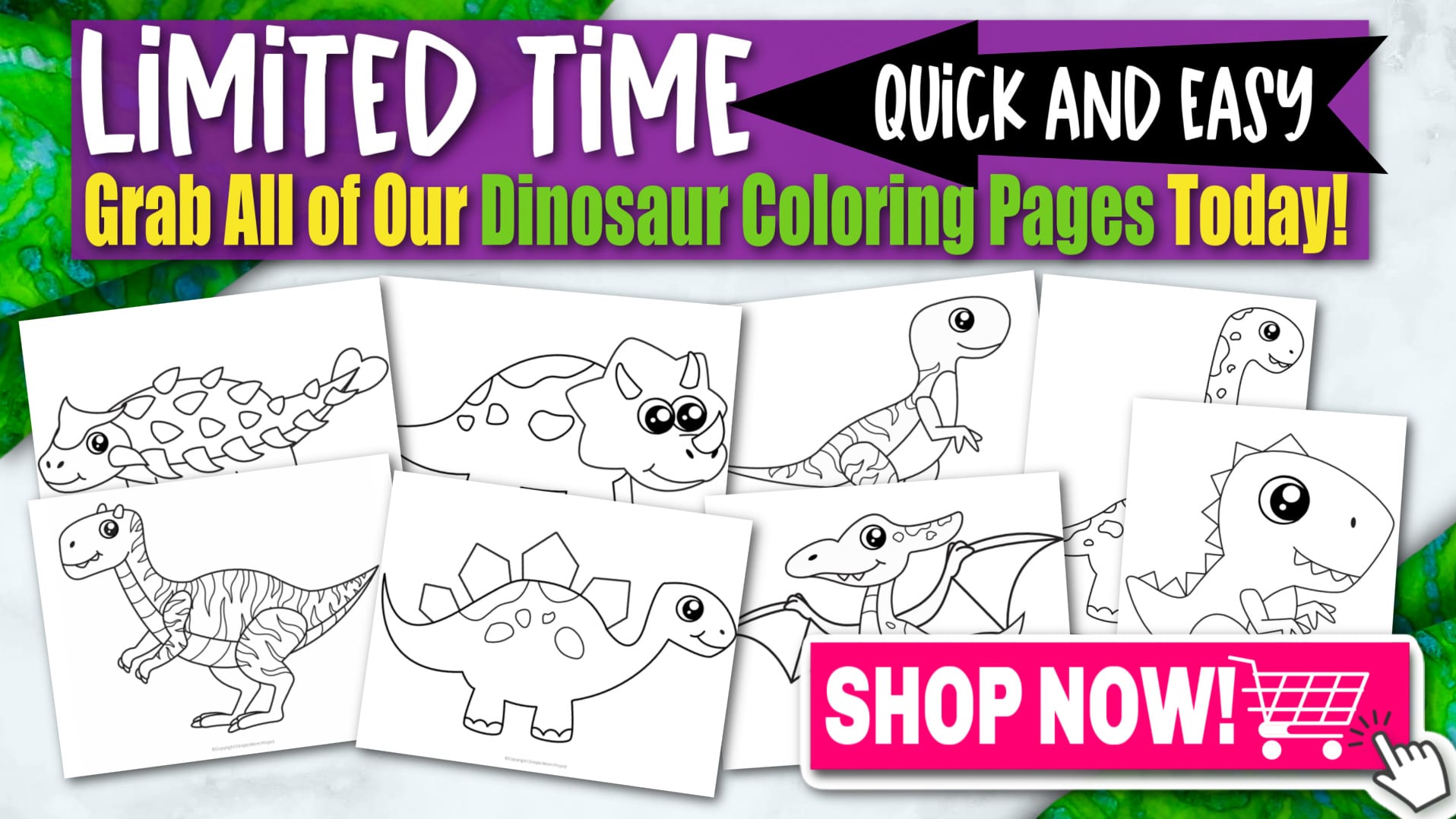 *By the way, this post may contain affiliate links which means I may receive a small commission at no additional cost to you if an item is purchase through that link. For more information, click here.*
Printable Plesiosaurus Template
Printable Plesiosaurus Template Materials Needed:
Printable Plesiosaurus Template (FOUND AT THE BOTTOM)
Make your child's finished plesiosaurus template a forever memory by laminating it! We use this laminator and cannot express how much we love it! It is not only inexpensive, it is SO easy to use!
Your kids will love seeing how much you adore their art work when you laminate and display it for years to come!
Looking for more amazing Dinosaur ideas to do? Check out our Pterodactyl, and Ankylosaurus Template.
Ideas for Printable Plesiosaurus Template
We considered the best ways to use the printable plesiosaurus template in your daily life when we designed it.
These ideas will help your children in making good use of their time.
They will certainly love these ideas because they are the easiest to do.
1. Get to Know the Plesiosaurus
When I showed my kids the printable plesiosaurus template, they had never heard of a plesiosaurus before.
They couldn't believe these creatures existed a hundred million years ago in the seas.
That's when I decided to share some plesiosaurus facts with them.
This is an excellent way to begin your plesiosaurus lesson.
Kids will discover more about them, including how they live in the sea, what they eat, and when they went extinct.
You can also share these interesting facts with your preschoolers and kindergarteners.
Plesiosaurus are not dinosaurs.
They were marine reptiles who lived in the sea.
In comparison to dinosaurs that lived on land, they lacked hips and legs.
Plesiosaurus had flippers like a sea turtle and use them to paddle through the water.
Plesiosaurus were predators.
They preyed on fish and other sea reptiles.
They went extinct around 60 million years ago, near the end of the Cretaceous period.
Plesiosaurus fossils have been discovered in Wales as one of the largest reptile fossils.

2. Plesiosaurus Collection
Along with some of the interesting information that I shared with my children, I looked up some fantastic plesiosaurus items that I may use in our activities.
They wanted to read plesiosaurus books and play with plesiosaurus toys as well.
These collectibles were extremely beneficial not only to me but also to the development of my children.
Reading these educational books improves their literacy, vocabulary, and cognitive development.
Playing with these plesiosaurus toys encourages imaginative play as well as social engagement.
3. Plesiosaurus Puzzle
Are you planning to incorporate a fun game into your learning plan?
This printable plesiosaurus template idea can be enjoyed by all family members, not only children.
Create a puzzle with the printable plesiosaurus!
For this game, all you'll need is a copy of the plesiosaurus template and some scissors.
Cut the plesiosaurus outline first, then cut the outline into parts.
You can cut them into different shapes as long as the parts remain distinct.
Ask your children to put the puzzle pieces together if they remember what the plesiosaurus looks like.
This game encourages problem-solving abilities, visual thinking, and memory enhancement.

4. Swim Like a Plesiosaurus
You can include this printable plesiosaurus template idea whether you're swimming in a pool or on the beach by moving and swimming like a plesiosaurus.
You can even do this without being underwater by paddling your arms slowly like a turtle.
Show your kids videos of plesiosaurus swimming in the ocean and have them recreate the movements.
How did these printable plesiosaurus template ideas work out for you?
What part did you enjoy the most?
We are delighted to be a part of your learning goals.
We are certain that your children will have a blast learning about plesiosaurus and engaging in plesiosaurus-themed activities.
Printable Plesiosaurus Template: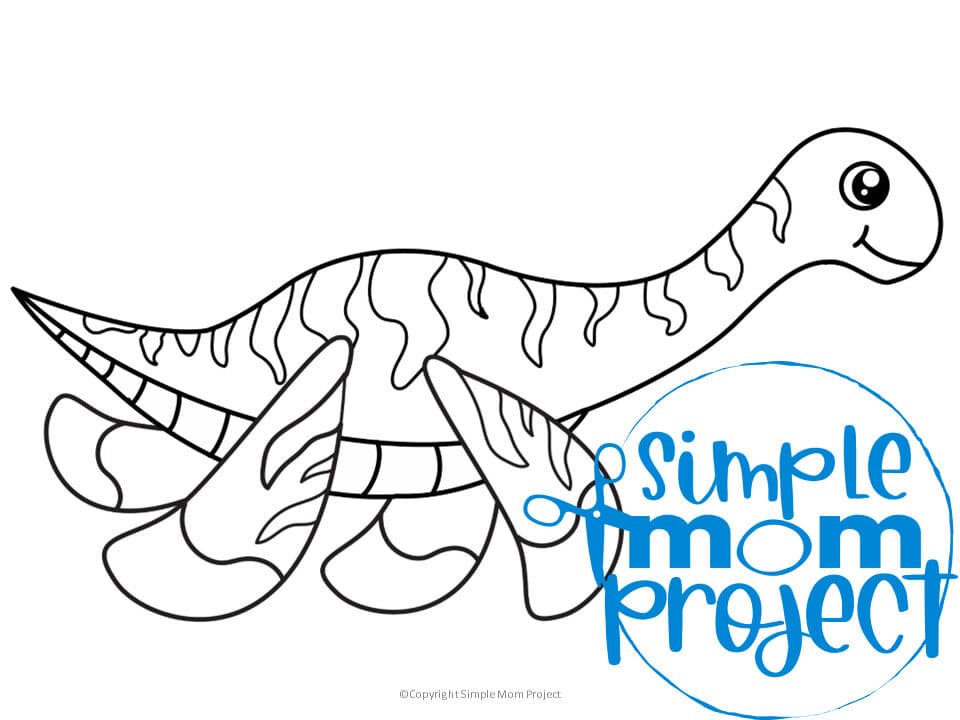 Get ready to work on this printable plesiosaurus template.
Bring out all of your decorative materials and let your kids use their imagination to create a real-life plesiosaurus from the Mesozoic era!
After you've finished, you can hang them on your wall or frame them.
We are excited to hear all your thoughts and exciting experiences with all these ideas!
Don't hesitate to interact with us in the comment section.
When you have finished, be sure to share your creation on Simple Mom Project's Facebook Page and follow me on Pinterest!

Kaitlen D.
More Amazing Dinosaur Templates