I'm excited to show you our new lion templates! These fun printable templates come in black and white or full color. They're easy to print and ready to go for crafting costume party fun when printed in color, or ready to be decorated by tiny hands for extra fun and learning in the black and white option.
The full color lion template is too cute and very easy to use! The black and white option will help preschool and kindergarten students build coloring and scissor skills necessary for writing well when they get older.
*By the way, this post may contain affiliate links which means I may receive a small commission at no additional cost to you if an item is purchase through that link. For more information, click here.*
Printable Lion Mask Templates for Kids
I can't help but think how perfect our lion mask craft would be as an activity alongside Aesop's fable The Lion and The Mouse. Students could practice narration while wearing their masks and pretending to be the lion from the story. This fun printable craft would also be a great addition to any zoo trip with preschoolers or kindergartners.
Lion Book Favorites:
Here's a few of our favorite Lion Books that also work perfectly with your new mask!
They could also have their very own lion parade at the zoo in their very own decorated masks while pretending to walk like and sound like little lions. Another great idea would be to use these fun printables as part of an alphabet unit. Ll is for Lion!
Keep scrolling to find out how to print your own printable lion mask templates and get this masquerade party started!
Supplies To Make our Lion Mask Craft:
To prevent Copyright infringement, you will see our watermark inserted on all of our images. This will NOT be included in your download on Teachers Pay Teachers.
Lion Mask Template in Color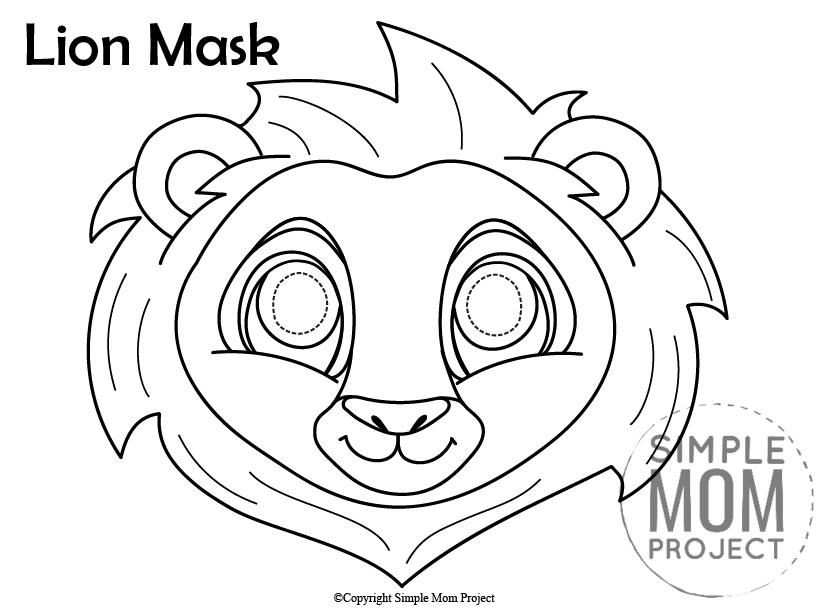 Lion Mask Printable Coloring Page
I can't wait to hear about how you decide to use them with your students in the comments!
Be sure to connect with us on Facebook and follow us on Pinterest for more fun crafts to do with your kids any time of year!

Kaitlen D.
More Fun Printable Animal Mask Crafts: