Our newest addition to the collection will make your kids even more in love with our community helper puppets!
In our neighborhood, all the workers play an important role, and we can't forget about this brave volunteer.
When a fire starts anywhere, who do we call?
Yes, firefighters!
We know that many children aspire to be firefighters, therefore we created this printable firefighter paper bag puppet template.
Make your children's dreams of becoming this community helper a reality by having them work on this community helper craft.
This printable firefighter paper bag puppet template would go great with your community helper theme at home or school.
Kids will love making their own firefighter puppets using basic materials they can find at home.
Children gain the opportunity to develop their fine motor, hand-eye coordination, creativity, and following skills in addition to creating their favorite community helper.
All the little firefighters in preschool and kindergarten are sure to love this printable firefighter paper bag puppet template!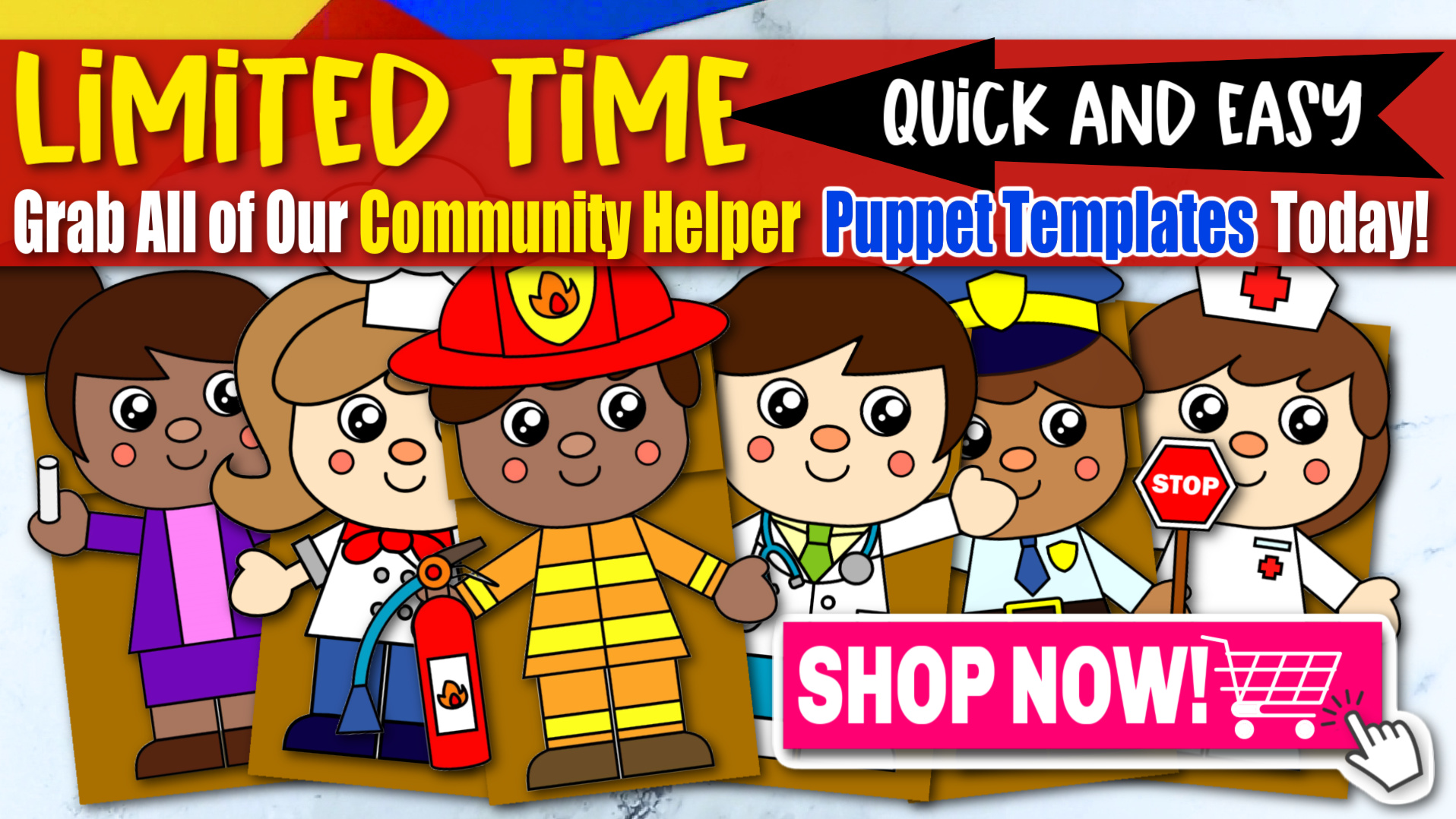 *By the way, this post may contain affiliate links which means I may receive a small commission at no additional cost to you if an item is purchase through that link. For more information, click here.*
Printable Firefighter Paper Bag Puppet Craft

Firefighter Craft Supplies Needed
Need more crafty fun? Check out our Firefighter Cut and Paste Craft, Police Officer Puppet, and Doctor Puppet
.
 T
hey are perfect for those days when staying indoors is the only thing your family can do!
Ideas for Easy Preschool Paper Firefighter Craft
There are many creative ways to include this printable firefighter paper bag puppet into your routines.
Check out some ideas for how to make the most of it with your children.
We are excited to see how you use these ideas and would love to share them with you!
1. Fantastic Firefighter Items for Kids
This coming week, are you planning to use the printable firefighter paper bag puppet template into your learning objectives?
You might be interested in these learning tools that complement the printable firefighter paper bag puppet.
Decorate your child's study spaces with these fantastic firefighter items to get them in the mood to learn about these firemen.
Display these books on firefighters and read them to your children before bed.
Set up a dramatic play corner using this firefighter suit and tools, as well as a puppet set, if you plan to use this community helper craft in school.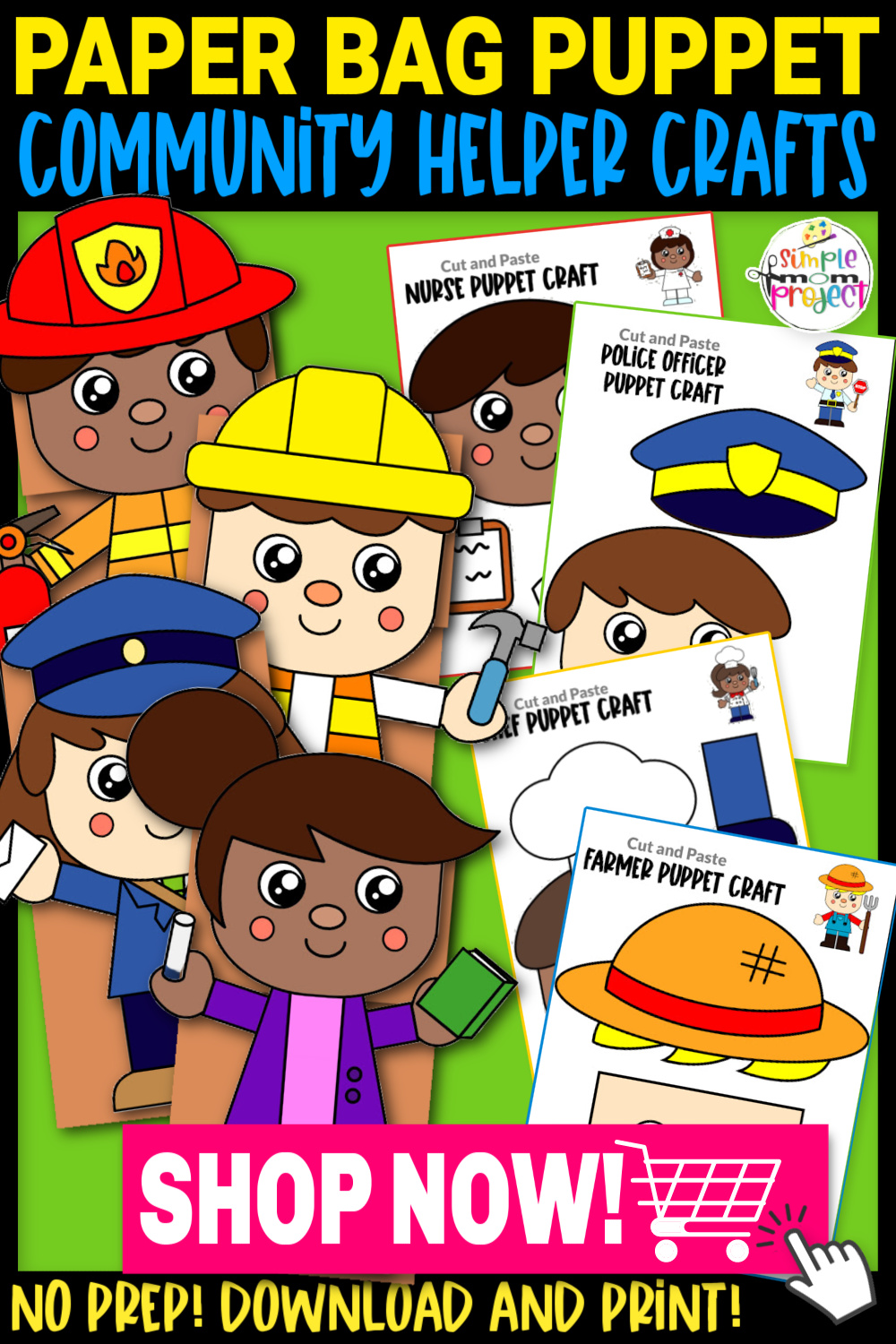 2. DIY Firefighter Popsicle Stick Puppets
All of our community helper puppets are designed to be simple and easy to build, and we always make sure that kids will like them.
Aside from using a brown paper bag to build a puppet, we also came up with the concept of using another affordable and easily accessible craft material.
Use a popsicle stick or any other kind of stick you have at home to create your own DIY firefighter stick puppets this week.
You might also encourage your children to use already used art sticks or ice cream popsicle sticks.
Use them and the printable firefighter puppet template to create a handmade fireman puppet!
Printing out the firefighter puppet template is the first step. Cut and glue all of the fireman parts together.
Once it has dried, use tape or hot glue to attach it on a popsicle stick or any other stick.
You're welcome to print more copies of the firefighter puppet template to create more of these simple and fun stick puppets of community helpers.
3. Visit a Fire Station
Have you ever happened to pass by a fire station?
If so, what came to your mind when you saw all the big, bright-red fire trucks inside?
If you haven't already, this is a fantastic time to take your kids to a fire station!
Going on a field trip to a fire station would be a fantastic way for your preschoolers and kindergarteners to spend quality time together.
This will give them an idea of what a fire station looks like both inside and out.
They will also be able to see the fire vehicles and meet all of the community's heroic firefighters.
You can also encourage your children to make a firefighter paper bag puppet and bring it with you on your visit to give to these community volunteers.
Kids will definitely love this idea and look forward to visiting a fire station soon!
4. Fire Safety Awareness
Fire safety education should be given to children both at home and in school.
It would be a perfect opportunity to teach the kids about this awareness using this printable firefighter paper bag puppet template.
This idea can be used as a lesson in the classroom or just discussed with your children at home.
Before teaching your kids about fire safety, have them make the printable firefighter paper bag puppet first.
Maintain a 2- to 3-foot distance between the kids and anything that could get hot.
They should be kept away from space heaters and stove tops, which can cause severe burns.
Place or lock up all flammable or smoking items in a high location.
Never leave matches or lighters someplace that kids can get to them or close to them.
Check smoke alarms and confirm that they are in working order wherever you go, especially at home.
Plan and practice an escape from a fire in case it occurs.
At least three times per year, practice a fire drill for your home and school.
Practice with your family and students to ensure that you are ready for the event.
If you see a fire, leave quickly.
We hope that these ideas will be incorporated into your community helper learning plans!
These are some of the best ideas we have that go excellently with the printable firefighter paper bag puppet template.
These ideas will encourage kids even more to one day become brave firefighters!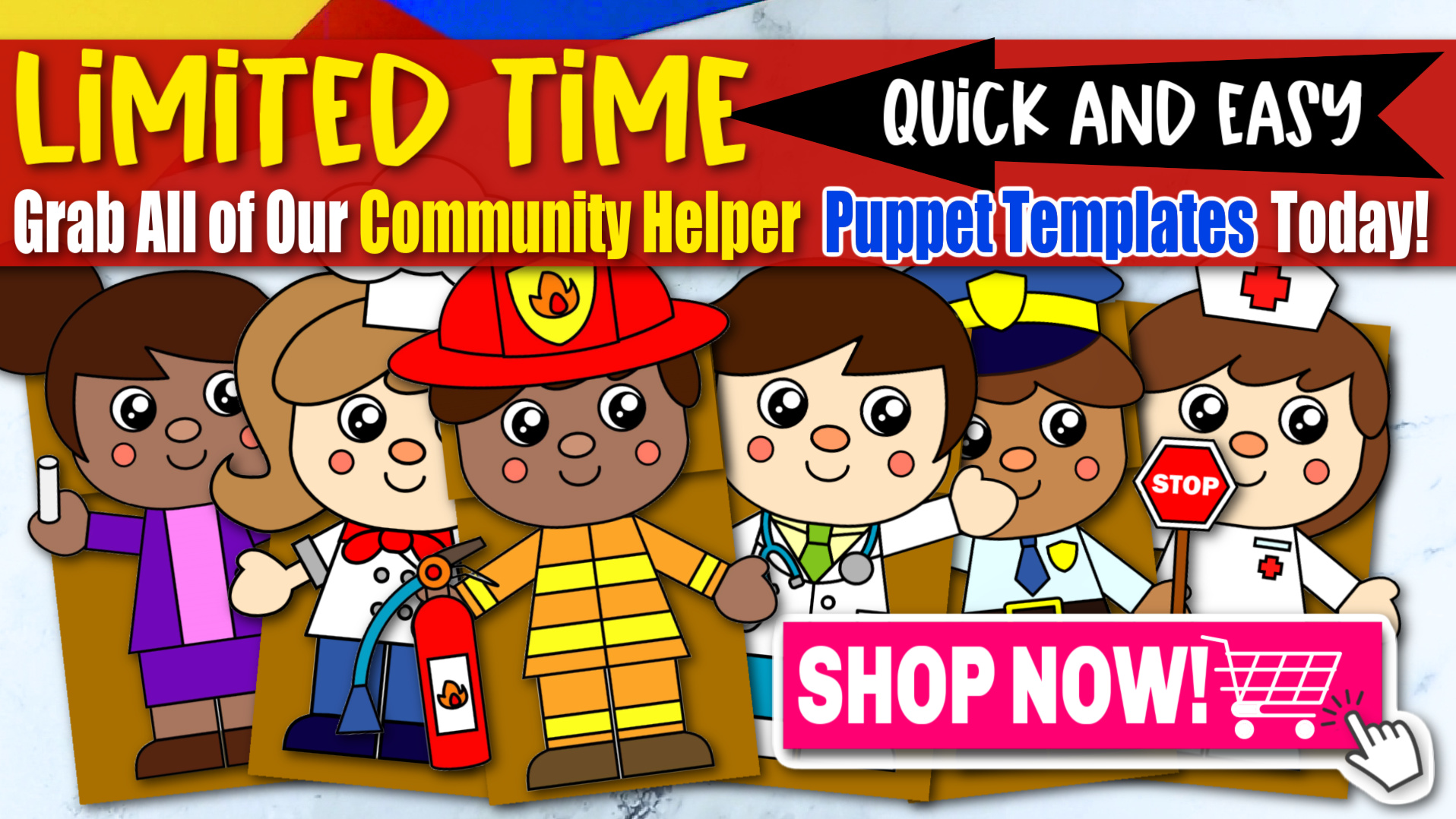 Firefighter Paper Bag Puppet Instructions
Don't forget to follow these easy steps after gathering all the supplies you need to make your firefighter paper bag puppets!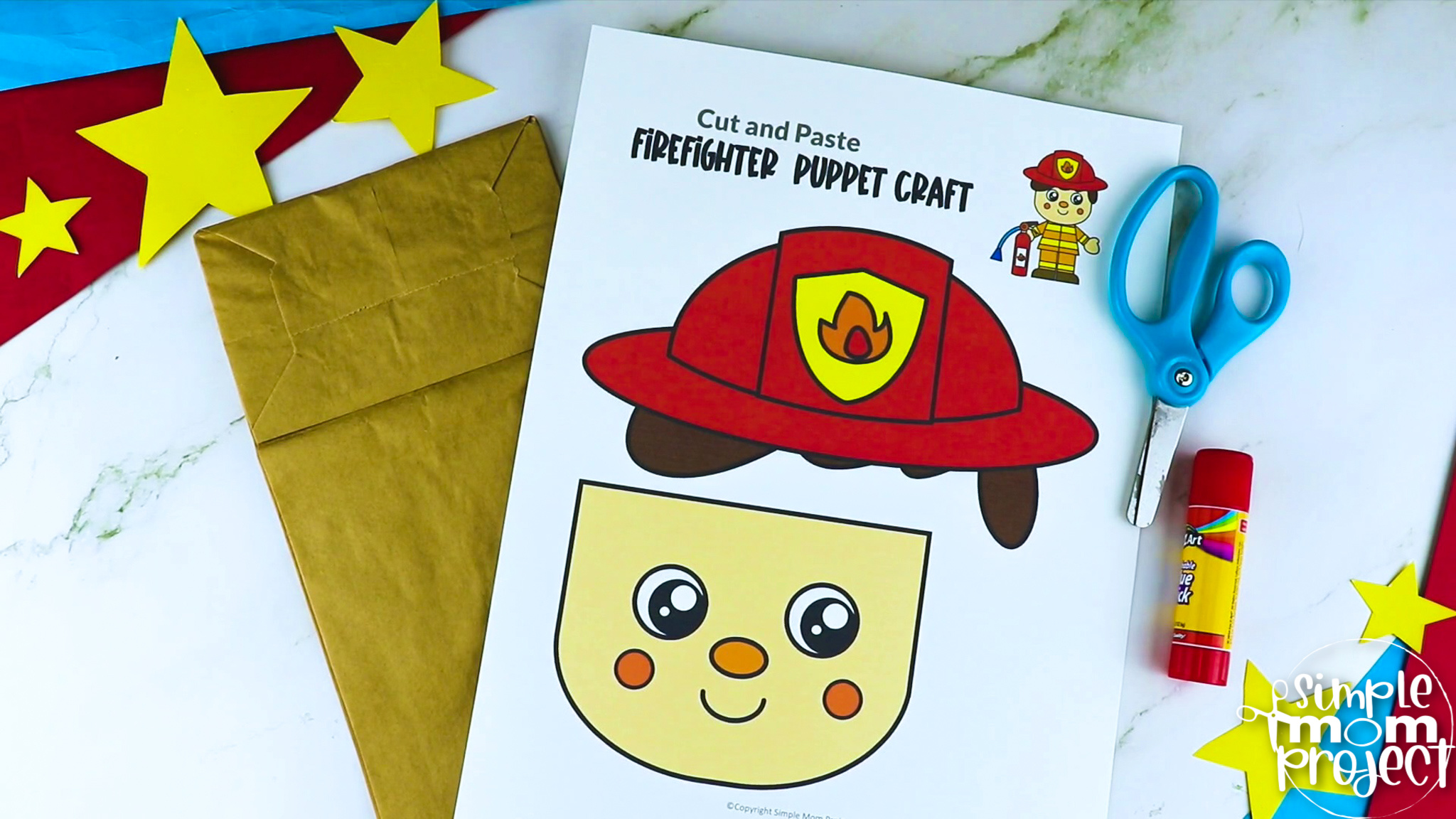 Help your children cut the pieces out one at a time by starting them with the colorful template.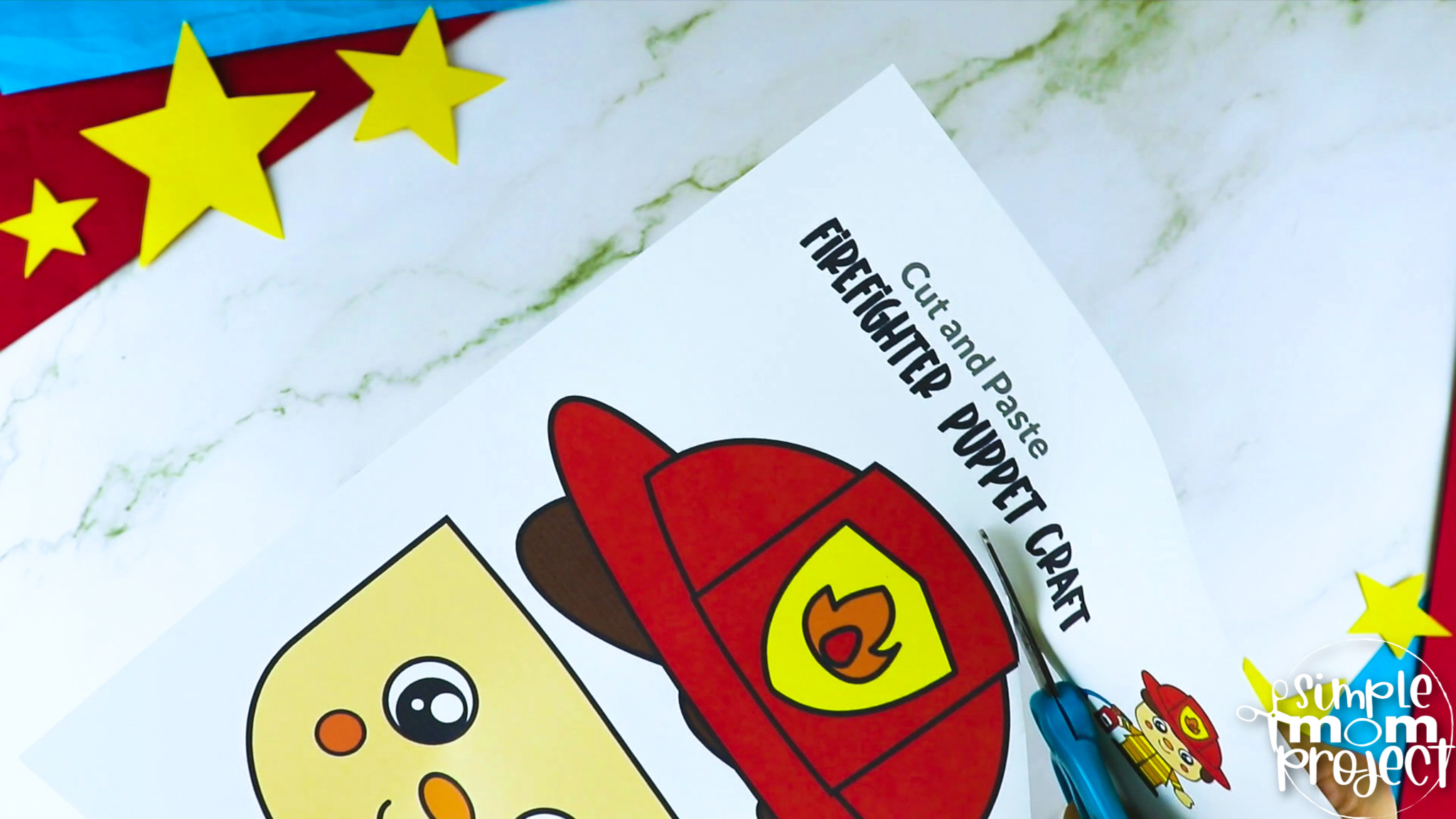 The simple black and white firefighter puppet template can be customized by children using all of their coloring supplies.
The head should first be glued to the brown paper bag's folded edge.
The firefighter's helmet is then placed on top of the head.
Place the upper body beneath the head.
Next, connect the lower body.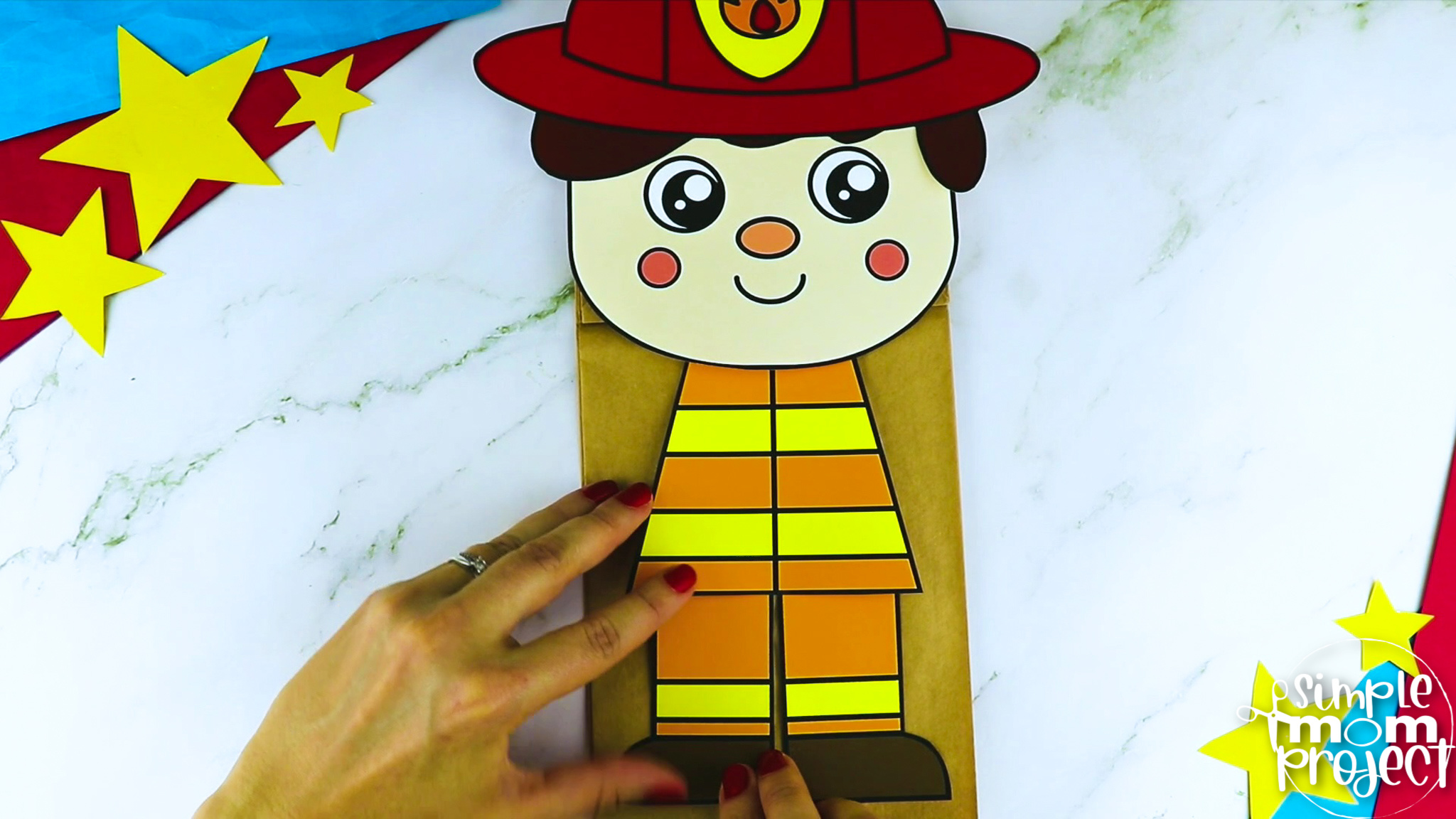 Attached one arm to the side.
The remaining arm on the other side follows.
Firefighters use this frequently, so place the fire extinguisher in its hand.
A brave-looking firefighter puppet that you created is ready to do a city rescue!
More Options to Choose:
You can print the blank version and trace the cut outs on card stock paper for a sturdier firefighter paper bag puppet craft,
Print the firefighter template in color for a simple and easy rainy day craft or,
Print the blank firefighter template and use it as a fun coloring sheet activity and then glue the pieces of the firefighter craft together.
Printable Firefighter Paper Bag Puppet Template
This printable firefighter paper bag puppet template will certainly boost your community helper preschool week!
The firefighter puppet craft would be very useful whether you want to teach your children about community volunteer work or fire.
Cutting the firefighter pieces and putting them all together would be a great activity for kids.
Working on this puppet craft also aids in the development of their fine motor skills and hand-eye coordination.
Because it fosters so many different skills in all the children, this printable firefighter paper bag puppet template is more than just a craft.
Give your kids the freedom to select from any of the many templates that we have provided.
For their options, we have created a simple black and white and colored firefighter puppet template.
The children will also find basic and easy-to-follow step-by-step instructions.
Create the printable firefighter paper bag puppet template to enjoy all of these features!
Need more community helpers puppet fun? Check out our packed list of paper bag puppets for simple craft fun with your little ones.  
When you have finished, be sure to share your creation on Simple Mom Project's Facebook Page and follow me on Pinterest!

Kaitlen D.
More Fun Printable Craft Templates