The fun never stops as we discover more uppercase letters!
Include this printable uppercase letter J template in your to-do list as you begin a new week of learning at home or at school.
This alphabet template was created to be easily customized in any way you see fit.
Have a great time adding it into your activities including coloring, tracing, writing, and crafts.
Children will enjoy spending their free time using this template to accomplish whatever they wish.
Aside from using this letter stencil for your child's favorite hobby, you can also use it to organize your classroom displays.
Use it for phonic flashcards, an alphabet board, or a word wall.
You won't believe how many different learning activities you can use this printable uppercase letter J in!
Because seeing is believing, print your copies today!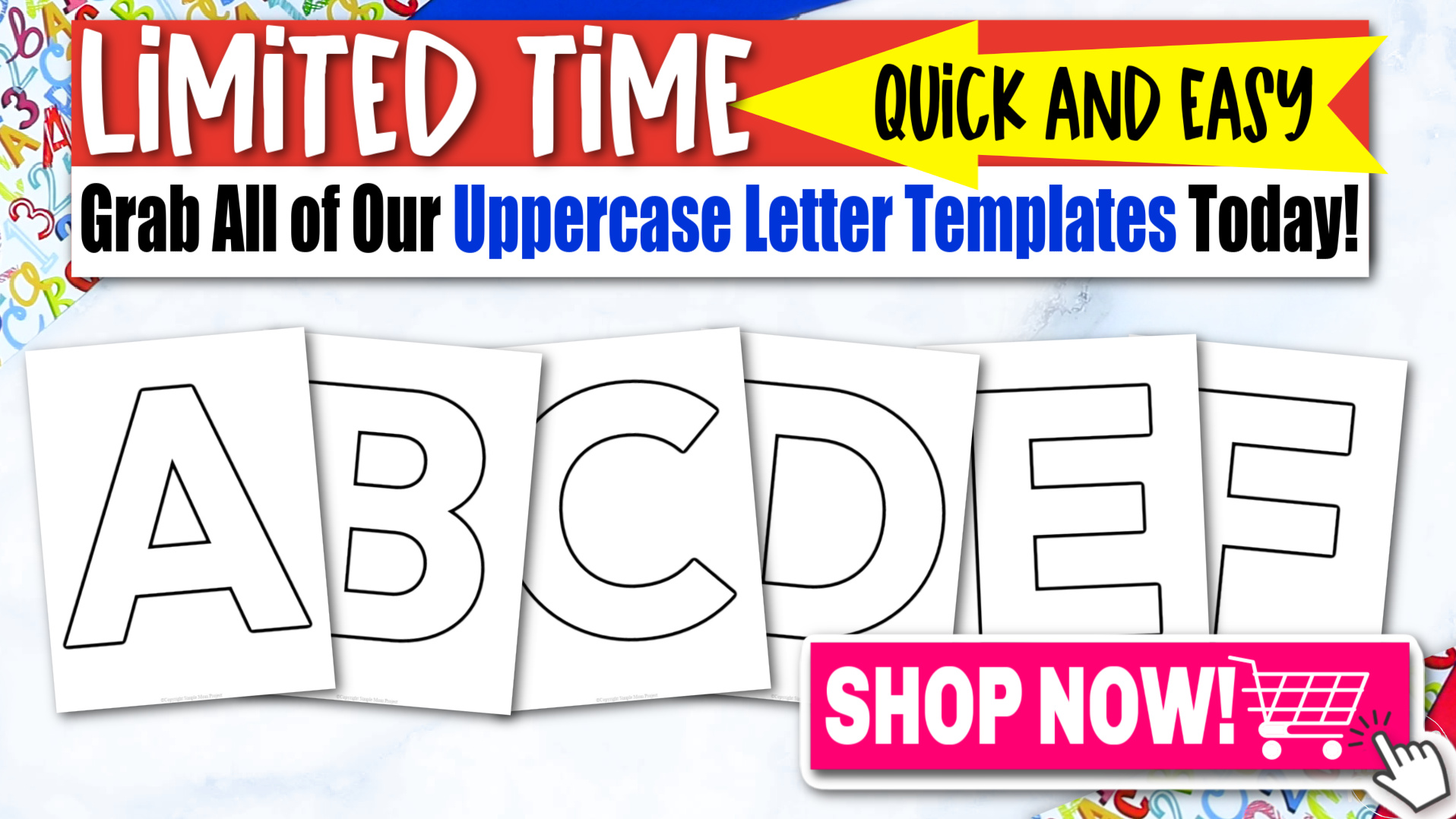 *By the way, this post may contain affiliate links which means I may receive a small commission at no additional cost to you if an item is purchase through that link. For more information, click here.*
Printable Uppercase Letter J Template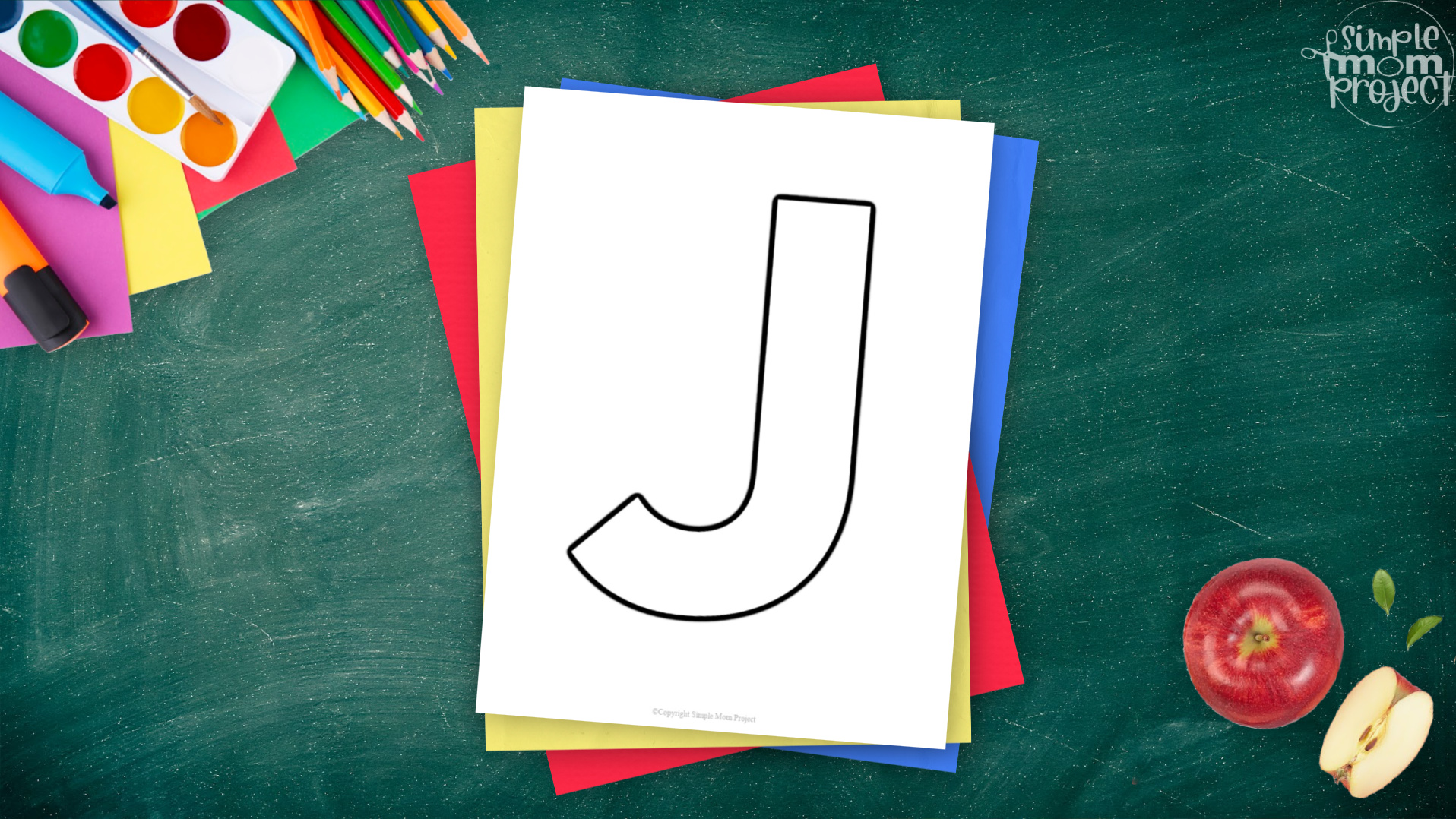 Printable Uppercase Letter J Template Materials Needed:
Printable Uppercase Letter J Template (FOUND AT THE BOTTOM)
Make your child's finished letter coloring page a forever memory by laminating it! We use this laminator and cannot express how much we love it! It is not only inexpensive, it is SO easy to use!
Your kids will love seeing how much you adore their art work when you laminate and display it for years to come!
Looking for more amazing uppercase alphabet fun ideas? Check out our Uppercase Letter I, N and Z Templates.
Ideas for Uppercase Letter J Template
Enjoy organizing your lesson plans this week using these ideas.
We would love to share all the creative ideas we have for utilizing the printable uppercase letter J template.
For kids of all ages, we made sure that each of these is simple, easy to implement, and entertaining.
We have you covered for teaching the uppercase letter J, so don't worry!
1. Best Letter J Collection for Children
With this printable template, you may teach the uppercase letter J in a variety of wonderful ways.
We've also gathered some of the top learning tools you may use to instruct children about the letter J.
Because they can be used in so many engaging routines, these tools are sure to get your kids excited about their activities!
During circle time, spend some time reading these J-themed books side by side.
You may also use these letter puzzles as an icebreaker activity for the class.
If the kids' names begin with the letter J or if they just want to, then let them cuddle with the letter J pillow.
We know how useful all of these resources will be in your daily routines, so add them to your list!
2. Alphabet Coloring Pages
It's also a fantastic idea to use this printable uppercase letter J template to create an alphabet coloring page.
This should be a regular part of your routines if you have children that enjoy coloring.
Gather everyone together and print as many copies as you'd like for the coloring activity.
Provide coloring pages to all of your preschoolers and kindergarteners, then let them use their creative talents!
Bring out all of their coloring materials, such as crayons, colored markers, and even paint if they want to.
Encourage them to blend and mix various colors to create vibrant, lovely coloring pages for the alphabet!
Once everyone has finished coloring their J page, gather them all together and hang them on your alphabet wall.
Because of their vibrant art works, it will also be a favorite in the classroom.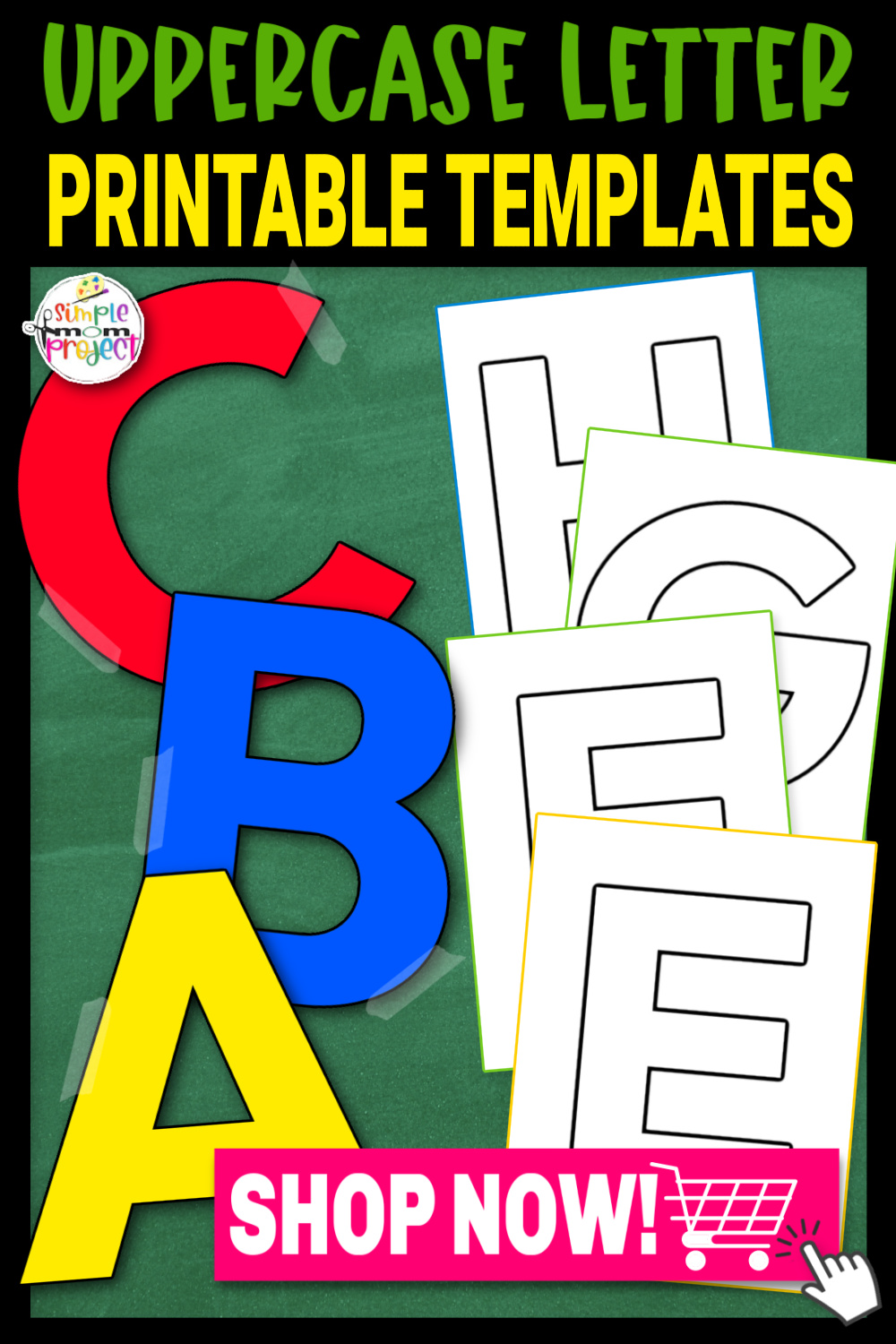 3. J Crafts
After learning some words starting with the letter J, go on to an arts and crafts project where kids can create crafts inspired by those words!
Give them a copy of the printable uppercase letter J template after letting them choose one word they want to craft.
It can be any word they want that starts with J, like a jellyfish, a jaguar, a jar, a juice, or anything else.
Give them freedom to create their masterpieces in their own unique ways.
On the letter stencil, they can cut out and paste colorful paper cutouts, color, sketch, or paint.
You'd be astounded at how well their artistic abilities come through in the crafts they make in their own distinctive style.
Make sure to collect them after they're finished, as your bulletin board will look fantastic with their finished J crafts!
4. Preschool Handwriting Worksheets
If you are preparing your children for preschool, you may begin to introduce writing to them as a practice.
Use this printable uppercase letter J template as a worksheet because the letter J is one of the simplest letters in the alphabet to write.
Before diving right into writing with a pencil and paper, we always encourage children to begin by honing their fine motor abilities.
By using their fingers to make lines and curves on sand, they can start developing their fine motor skills.
They could also practice the strokes by finger-painting on the template.
Give them a copy of the template with dashed or broken lines inside the letter if you feel that they are prepared to write with a pencil.
Letting children trace the letter J on their own will come gradually after providing some guidance.
In this approach, students won't be feeling under any pressure to write or use pencils to learn the uppercase letter J.
Enjoy incorporating all of these ideas in your plans this week!
These are the most creative ways we have for teaching your children about the uppercase letter J.
Because of these ideas, we are confident that learning the alphabet will be one of their favorite lessons.
We hope to see you back soon as we're adding more uppercase letters to our collection!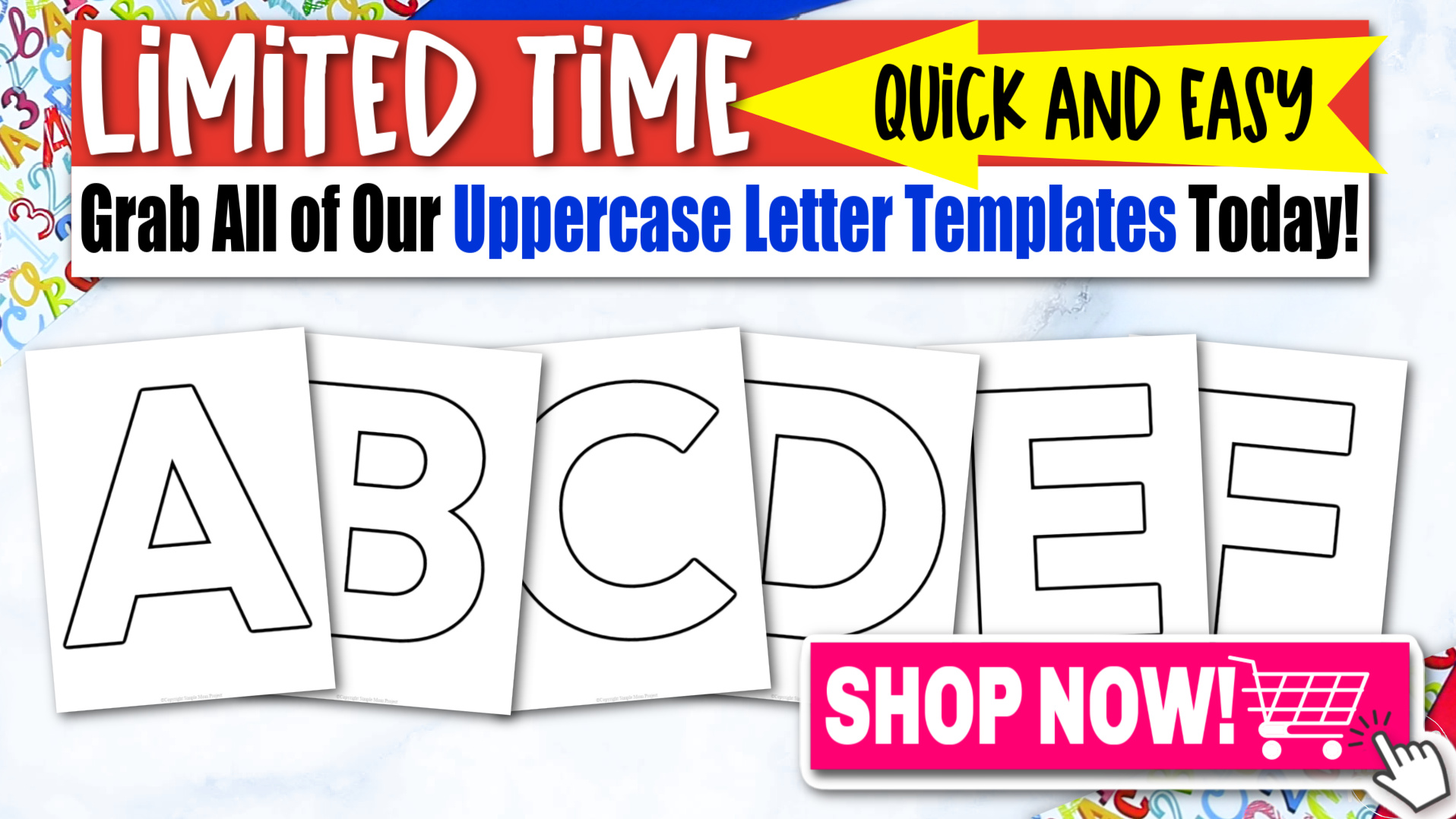 Printable Uppercase Letter J Template: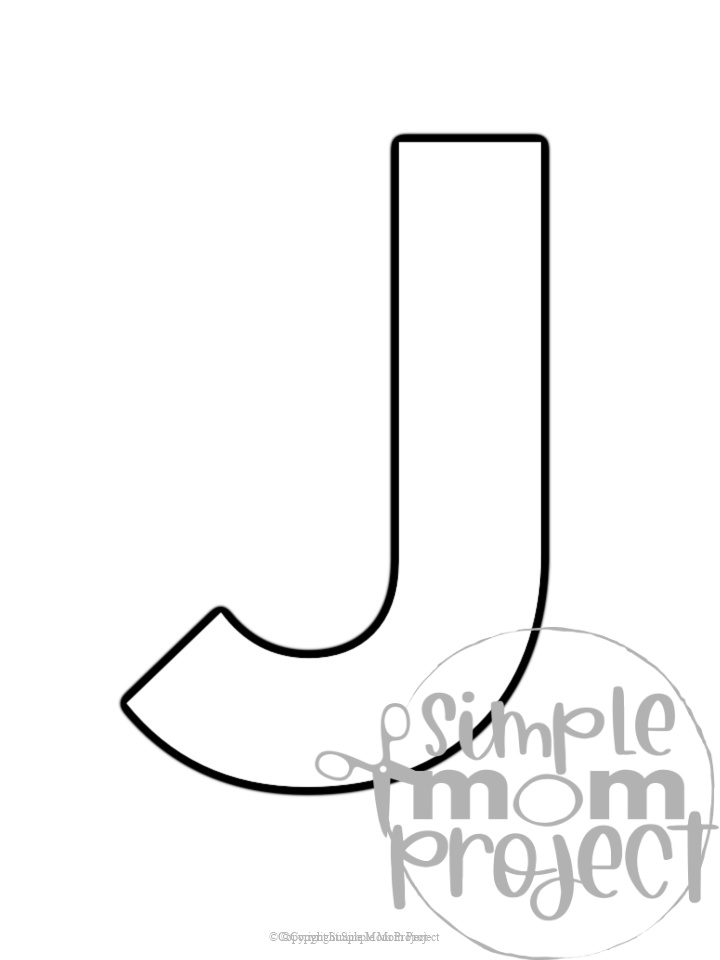 We have the template you need if you're looking for something free and printable to use in your alphabet lessons and activities.
This simple bubble letter J in black and white is exactly what you need to print!
We designed this printable uppercase letter J template so that you and your children can have fun with your alphabet routines.
Use this for worksheets on writing and tracing, coloring, and arts and crafts, as well as lessons on words that begin with J and its phonic sound.
You may already organize a whole week of engaging lesson plans on the letter J using this template.
You may also use it to decorate your classroom or your child's study area!
Create a vocabulary poster, an ABC wall, a bulletin board, or phonic flashcards with a letter J template.
Don't forget to leave a message in the comment section.
When you have finished, be sure to share your creation on Simple Mom Project's Facebook Page and follow me on Pinterest!

Kaitlen D.
More Fun Preschool Printable Uppercase Templates