Getting ready to learn about construction vehicles for a new week?
Why not incorporate this free printable cement truck template into your plans?
We designed this unique black and white template for your kids to be able to use in a range of enjoyable educational activities.
This is free and easy to print so you can easily utilize it into any activity you have in mind.
Make a construction coloring book, cement truck craft, construction trucks flashcard and more with this printable cement truck template.
Whatever approach you choose to take, it will surely bring out the best in your kids.
They will be able to improve their creativity and independence in completing their tasks, as well as their fine motor skills and hand-eye coordination.
This awesome cement truck is something you wouldn't want to miss!
Print your copies right away and get to work on this week's construction-themed lesson plans!
*By the way, this post may contain affiliate links which means I may receive a small commission at no additional cost to you if an item is purchase through that link. For more information, click here.*
Printable Cement Truck Template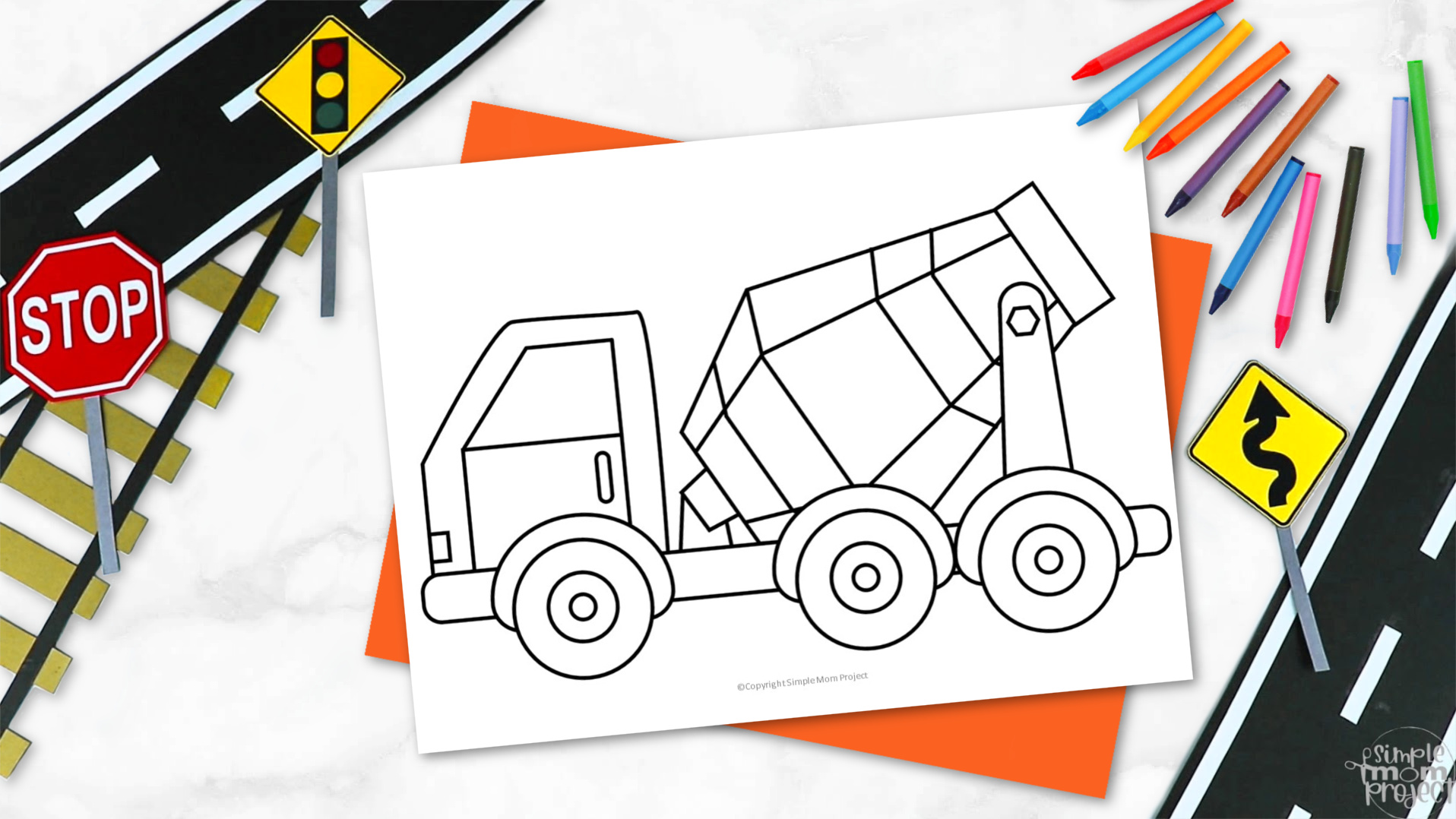 Cement Truck Template Supplies Needed:
Printable Cement Truck Template (FOUND AT THE BOTTOM)
Ideas for Cement Truck Template
We'd love to share these creative ideas for incorporating the free printable cement truck template into your daily activities that we have put together.
We made sure that each of the ideas are simple, fun and easy to put into action.
All of these may be made using inexpensive materials!
All you need are some ordinary household items and the printable cement truck template.
Please feel free to write these ideas down as you read on.
1. Cute Cement Truck Collection
Improve your lesson plans by including some of the top learning materials that go well with the free printable cement truck template.
This incredibly cute cement truck collection will be a huge help in organizing your routines.
These learning materials may be used in whatever routines you have, whether it is circle time, art, reading and even free play.
We have included books and educational toys that you might work on before and after working on the printable cement truck template.
Don't worry because all of these materials are low-cost but definitely fun to include in your plans.
The links we've compiled below will let you find them!
2. Parts of a Cement Truck
Do you have little ones that appreciate this amazing construction equipment so much?
Then learning about its parts will be their favorite!
Using this printable cement truck template, teach and introduce the different parts of the cement truck.
You might also add the purpose of each part for them to know how it works and how it helps with their favorite truck.
Use this printable cement truck template as a visual aid on your board or as a flashcard.
Once you have printed a copy, you can cut out the outline of the truck and attach it to the cardboard to make it durable.
Post the cement truck template on the bulletin board to remind kids about the day's cement truck parts lesson.
Once they are familiar with the parts, give each of them a cement truck template and have them label the parts.
3. Truck Coloring Pages
These amazing construction vehicles are sure to delight children!
If you have kids who can't get enough of these massive machines, you'll love turning this printable cement truck template into a coloring page.
Print as many copies as you need then put all your printable cement truck templates into a coloring book.
It would be a great idea to work on the truck coloring pages with your kids in order to keep them occupied and productive while you complete your tasks.
Give children access to a variety of coloring tools, including crayons, markers, and, if they choose, paint!
Allow them to decorate their coloring pages in any way they want to create a colorful and wonderful cement mixer coloring book.
4. Cement Truck Themed Classroom
It would be fun to decorate your study spaces, regardless of whether you plan to use this printable cement truck template in your home and classroom activities.
This printable cement truck template is available in black and white, allowing you to personalize it to match your needs.
You may transform it into a cement truck banner, bulletin board or wall poster, and even for your school door displays.
Children would be inspired to make their cement truck crafts with this idea.
Decorate your classroom and study nooks with as many cement truck templates as you desire!
We had a great time sharing these ideas with you.
How did these fit into your week's planning?
We hope to see you and your children putting all of this into practice soon.
Children would definitely enjoy learning about these incredible cement trucks!
Keep an eye out for more construction vehicles in the coming days!
Printable Cement Truck Template:
What a wonderful day to learn about an awesome kind of construction equipment that kids love!
This printable cement truck template is a simple black and white template that may be used for a variety of fun activities.
This template is perfect for learning about construction equipment or simply learning about science equipment.
Use this construction vehicle template to create a cement truck coloring page, flashcard, bulletin board poster, and more this week.
It is free to print and very accessible wherever you are, so kids can enjoy it to the fullest!
It would also aid in the growth of creativity, fine motor skills, equipment knowledge, and other skills.
So, what are you waiting for?
Grab your copies today and don't miss the features this printable cement truck template offers!
Don't forget to leave a message in the comment section.
When you have finished, be sure to share your creation on Simple Mom Project's Facebook Page and follow me on Pinterest!

Kaitlen D.
More Free Printable Vehicle Templates