Get ready because you're going to love this adorable bunny mask craft template we've made.
This printable is perfect for enjoying the spring season with your little ones!
There are so many fun ways to enjoy this bunny craft.
It can be done either as a fun activity in your rabbit unit studies or just a simple way to play and stay inside on a rainy spring day.
Masks are a great way for children to use their imagination and practice role playing.
Playing pretend helps kids make sense of the world around them.
Wearing a mask is a fun way to pretend and can help shy kids to feel brave and give them the courage to experiment with being more outgoing.
Keep scrolling to get ideas and learn about why and how this bunny masks coloring activity is perfect for pretend play.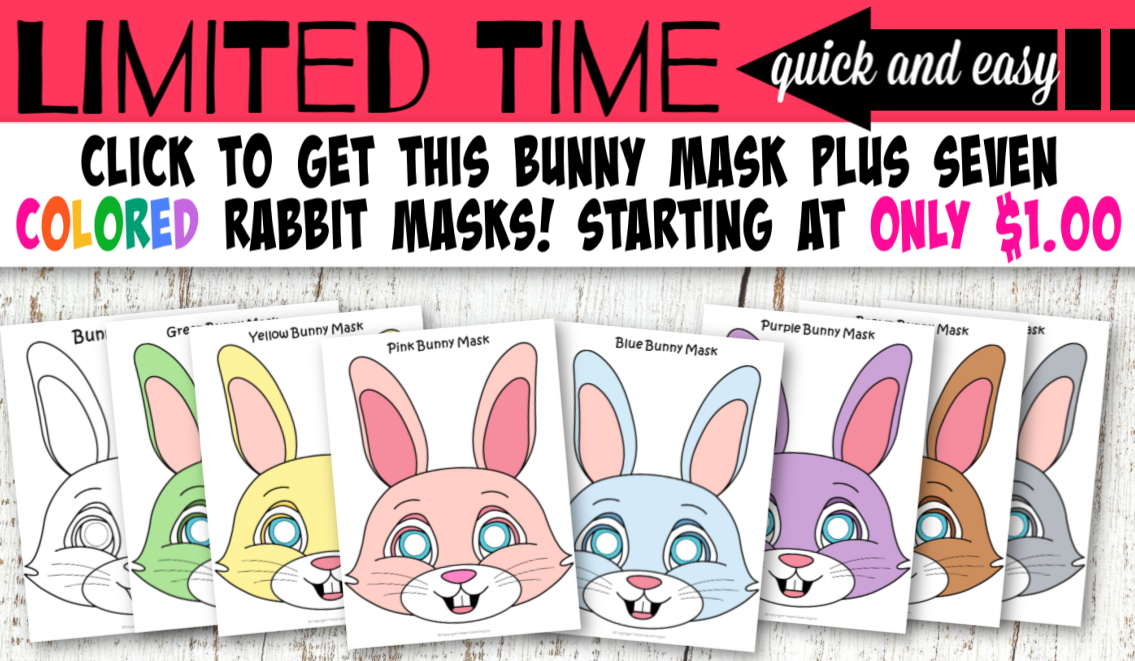 *By the way, this post may contain affiliate links which means I may receive a small commission at no additional cost to you if an item is purchase through that link. For more information, click here.*
Free Printable Bunny Mask Template Coloring Page
Bunny Mask Supplies:
With minimal supplies, this party can get started.
Printable Bunny Rabbit Mask Template (found below)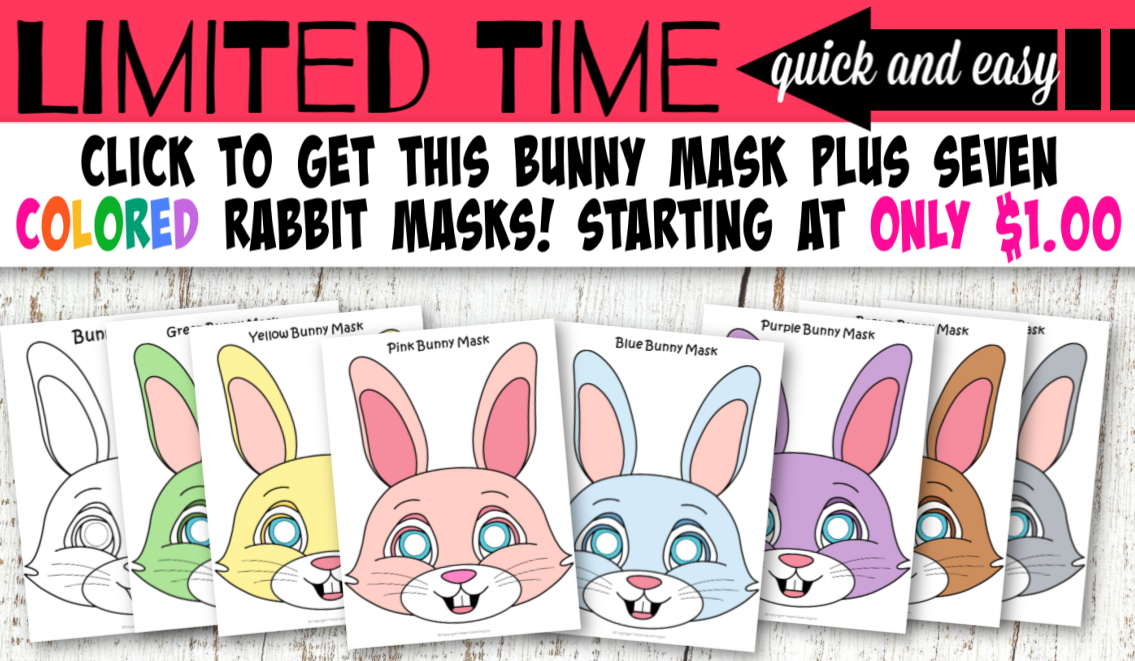 Fun Ways to Enjoy our Bunny Mask Template
If you're planning an fun get together, why not print this fun bunny mask coloring page for your young guests?
Set up an Bunny mask decorating table.
These masks are the perfect craft for children to enjoy getting creative together while they learn.
Choose fun materials like scented markers, beeswax crayons, or even glitter glue pens to really bring this bunny mask coloring sheet to life! Set everything out and let kids explore crafting together.
Pretend to be a bunny!
Wear your uniquely designed bunny mask while you practice hopping like a bunny, enjoying bunny snacks like carrots (It's a great way to sneak in extra veggies!), and use pillows and blankets to build your own "bunny burrow" indoors.
Dress up for story time!
Choose a book with bunny characters like Beatrix Potter's Peter Rabbit or Rosemary Wells' Max & Ruby series to read aloud with your little ones. Decorate your own bunny masks to look like characters from the books!
It's an excellent way to encourage reading comprehension skills with young learners.
While you can absolutely print on whatever paper you wish, we recommend a sturdy cardstock paper.
It lasts a whole lot longer through the fun.
Not wanting to wait on the elastic bands to come? Try gluing your bunny mask template to a Popsicle stick.
If you are like us, there's tons lying around the house. In very strange places, I might add.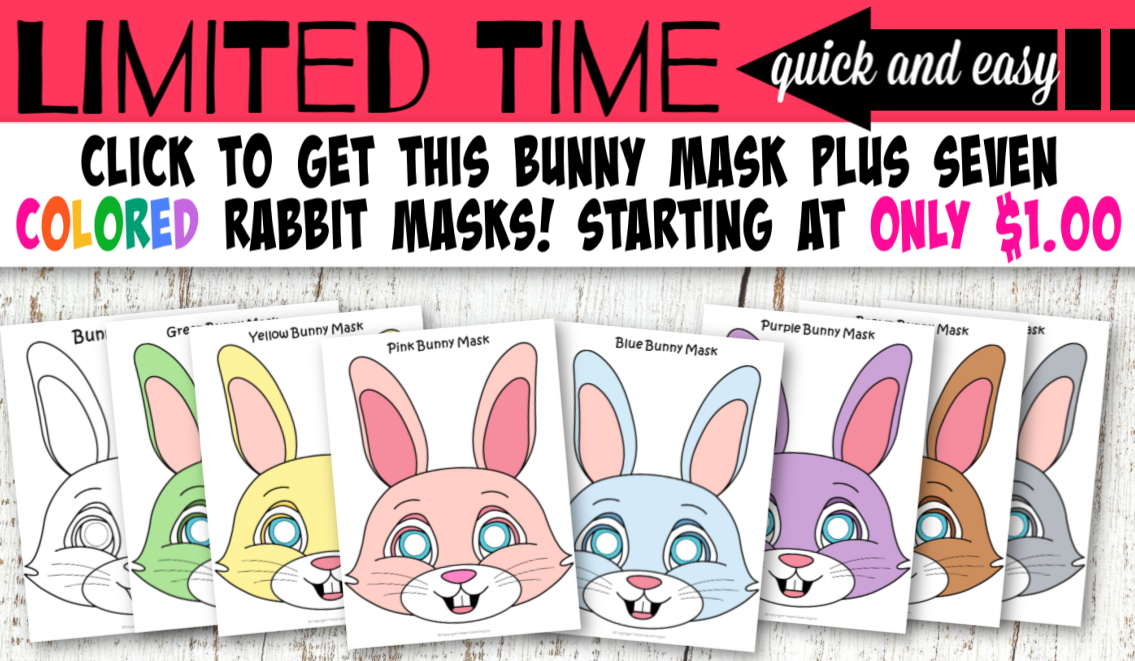 Free Printable Bunny Mask Template
To prevent Copyright infringement, you will see our watermark inserted on all of our images. This will NOT be included in your download.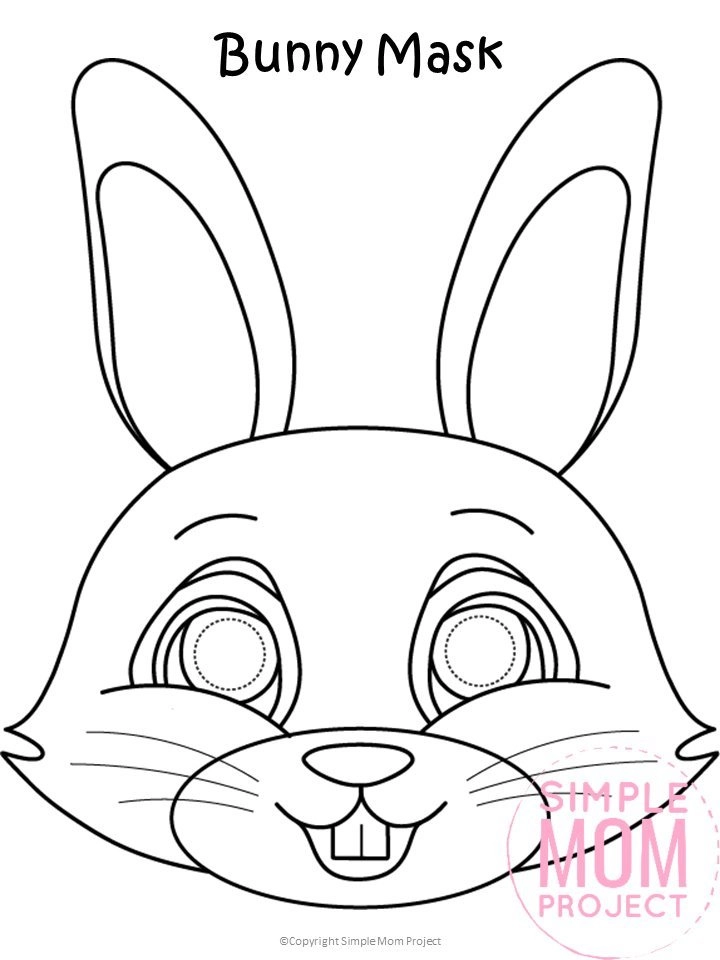 I'm sure you're full of ideas about how to enjoy making your own bunny masks.
I hope your children enjoy crafting these simple bunny masks with you as much as I have enjoyed crafting these with my two girls.
Got a craft tradition that you and your kids do each year? Don't forget to share your own craft ideas in the comment section.
I love hearing about how you're soaking up the spring time fun!

Kaitlen D.
More Fun Animal Mask Templates: