Did you know that pigeons are extremely intelligent birds?
They are known for their exceptional navigational skills.
They are also quite sociable and generally travel in flocks of birds.
Pigeons are also a popular character in Mo Willems' Pigeon series.
These fantastic one-of-a-kind birds are a must-have to add to our collection of bird templates, therefore we've created a printable pigeon template for your children.
We've put up some fun activities to go along with the printable pigeon template that you can do with your family this weekend.
With these amazing pigeons, you're in for a fun and productive weekend!


*By the way, this post may contain affiliate links which means I may receive a small commission at no additional cost to you if an item is purchase through that link. For more information, click here.*
Printable Pigeon Template
Printable Pigeon Template Materials Needed:
Printable Pigeon Template (FOUND AT THE BOTTOM)
Make your child's finished pigeon template a forever memory by laminating it! We use this laminator and cannot express how much we love it! It is not only inexpensive, it is SO easy to use!
Your kids will love seeing how much you adore their art work when you laminate and display it for years to come!
Ideas for Printable Pigeon Template
Pigeons are an interesting topic for science and arts and crafts lessons at home.
Check out these ideas for incorporating the printable pigeon template into your learning plans and routines.
1. Fun Pigeon Books for Kids
Make reading a habit before beginning your class with your kids.
Reading helps children improve their literacy and vocabulary.
These pigeon books have engaging stories that your children will love reading while using the printable pigeon template.
2. Letter P Recognition
If you're looking for a fun activity to go along with your letter of the week lessons, this printable pigeon template is perfect.
The letter P can also be used to teach about pigeons and other birds.
You can also start spelling and tracing lessons with the printable pigeon template.
You can draw the word "pigeon" and have your children trace the dots.


3. Pigeon Handprint
Did you know that pigeons make excellent house pets?
They are smart enough to perform simple household tasks and are also quite affectionate.
Whether you have a pigeon at home or not, your children will enjoy making this printable pigeon template.
This is also a great family-friendly outdoor activity.
Pigeons come in different colors.
Pigeons are mostly gray, but some are white.
In the handprint craft, you can use any color of paint you wish.
Begin by using a paintbrush to paint your child's hand.
If they want, they can even dip their hands in the paint.
Encourage them to stamp their hand on the paper softly.
After the handprint has dried, you can add more pigeon features with a pen or crayon.
4. Cupcake Liner Pigeons
Have you read a book about pigeons by Mo Willems?
His pigeon animation in the book is adorable and simple to make into a bird craft.
In this printable pigeon template idea, we will make a pigeon craft out of cupcake liners, popsicle sticks, construction paper, scissors, and glue.
Fold the cupcake liner in half to begin.
You can use any color of cupcake liners you have on hand, including blue ones.
Using glue, attach the cupcake liner to the popsicle stick.
Make a coin-sized circle for the pigeon's head, then a smaller circle for the eyes, and two dots for the pupils with a marker.
For the beak, cut a little triangle shape.
You can create more cupcake liner pigeons by repeating the process.
These pigeon crafts can also be used in imaginative and puppet play shows.
We hope the printable pigeon template ideas helped you organize your learning plans and routines at home.
We are confident that your children will spend more time in these activities this weekend. They will undoubtedly want a pet pigeon as well!


Printable Pigeon Template: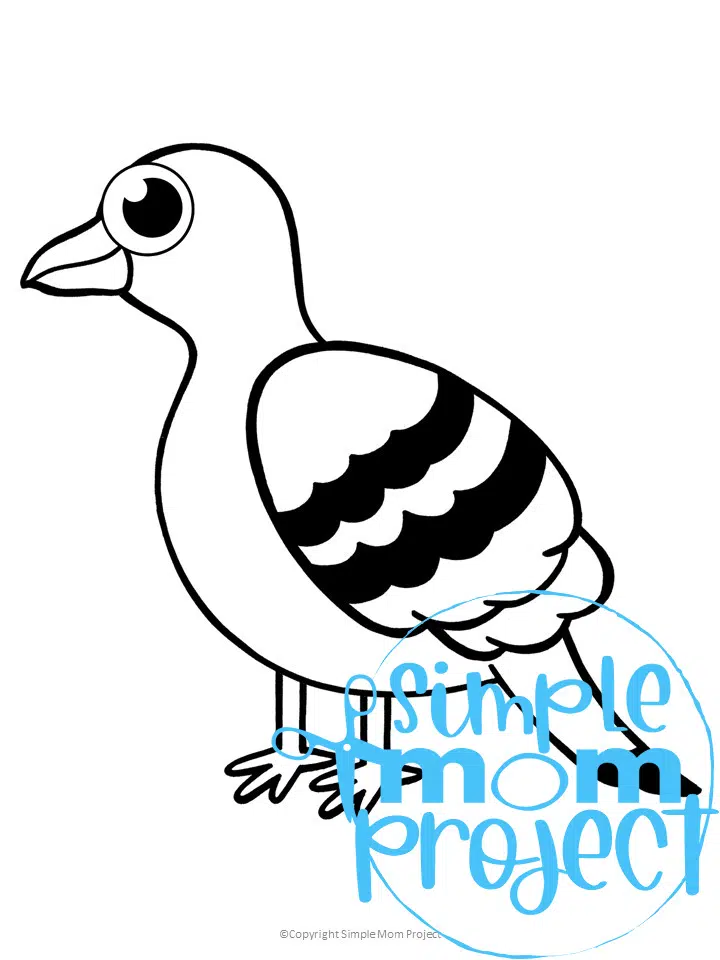 This simple pigeon coloring page is perfect for kids who enjoy coloring, painting and decorating.
Working on these bird templates can allow kids to express and improve their creativity.
Allow them to explore with a range of creative materials and let their imaginations run free as they create a pigeon.
We don't want to miss out on your memorable experiences with this printable pigeon template!
Please feel free to comment on your learning ideas in the comments area.
When you have finished, be sure to share your creation on Simple Mom Project's Facebook Page and follow me on Pinterest!

Kaitlen D.
More Fun and Amazing Bird Templates