There are lots of fun ways and educational activities related to airplanes that kids could enjoy.
Our kids benefit from playing with airplane activities in a number of exciting ways.
My kids loved doing these activities, so I want to share some with other kids who enjoy flying.
Here are some ideas I have, ranging from imaginative play to hands-on activities!
On one of our trips outside of town, we watched airplanes take off and land in the airport.
One idea I have is to take them to an aviation museum where they could learn about different planes and the history of flight.
This can be really exciting for children, right?
Especially if they have never seen a plane up close before!
Outdoor airplane activities will also be an instant hit with your children!
Head outside and take part in activities like flying model rockets, kites, and airplanes.
Let our children experience the thrill of flight firsthand!
20+ Airplane Activities and Easy Airplane Craft Ideas for Preschooler Kids
We've scoured the skies for the best airplane activities and airplane crafts for your kids, so check them all out!
Make sure to grab a pen and paper because you won't want to miss any of these ideas!
Classic Paper Airplanes
Do you struggle to keep your children away from electronic devices?
Well, I'm happy to tell you that it's not as difficult as you think!
We found that learning to make paper airplanes with my little kids was one of the most amazing and fun ways to pass the time when we didn't have any other source of entertainment!
You only need your hands and a little creativity to create these simple paper airplanes.
Making these crafts requires no special skills, but it does do a lot for your kids!
From helping them build their hand-eye coordination to improving their fine motor skills.
All you need is just a piece of paper that you can easily find at home.
Kids of all ages will enjoy exploring their creativity and imagination.
There are endless possibilities when it comes to making these wonderful paper airplane crafts, and it is a perfect family bonding activity!
Experiment with a variety of unique designs, from basic to complex, because there are many easy steps and techniques to make one.
Check out these simple supplies to take your DIY airplane crafts to the next level!
Fun Airplane Toys
Playing with airplane toys is a lot of fun for our little airplane enthusiasts.
There are a lot of things and airplane toys available on Amazon that will provide kids with hours of imaginative play.
Since we know you've been looking for these, we've gathered the most entertaining ones that are suitable for kids, and of course, reasonably priced!
I also wanted to include some of the fun times my girls and I had with all of these amazing toys.
Why not set up a miniature airport playset with toy planes, control tower, and airplane runway?
My kids had a lot of fun planning imaginary flights and learning about airport operations.
Yours would certainly enjoy it as well!
You could also get them a model airplane kit to put together, which will teach them about all the different parts of the plane.
It is a cool plane creative project perfect for preschoolers and first grade kids!
Get your kids a little pilot plush toy, and they can be an airplane pilot, guiding their plush passengers through the skies.
My kids and I put up all the chairs and sat all of their plushies in them like airplane passengers!
The best part is that they don't have to choose which plush toy to include because they can use them all!
Be extra creative and get your kids pilot costumes then let them decorate cardboard boxes with paint and markers to create airplanes.
Kids of all ages would enjoy dressing up as pilots and taking imaginary flights!
Whether it's community helper day or dress-up days at school, my kids can wear their pilot costumes whenever they choose!
Awesome Airplanes Books
Of course, books will always be a part of our activities!
I'm sure kids would enjoy reading through picture books about airplanes.
They can explore the world of aviation through age-appropriate airplane books.
Encourage them to read fictional stories, non-fiction books, or picture books with vibrant illustrations that are sure to capture their imaginations.
We're going to highlight some of the fantastic picture books with an airplane theme that my girls and I loved reading together!
This book takes kids on a noisy adventure through the sky.
It gives kids an idea of what to expect, including the sounds and sensations that come with being on a plane.
Amazing Airplanes (Amazing Machines)
I love how this book features colorful illustrations and introduces kids to different types of planes.
For children who have never seen an airplane or are unfamiliar with the concept of flying, this book is a perfect way to introduce them to planes.
This book helps to reduce anxiety in children who may be nervous or scared about their first airplane ride.
It provides a comforting and reassuring message that everything will be okay, and that flying is a sage and enjoyable experience. 
20 Airplane Arts and Crafts Ideas
Free Printable Airplane Template
Don't settle for pricey templates when you can get ones from us with just one click!
Decorate your child's room with this free printable airplane template, which you may download and print as many times as you want!
Kids would have more time to design their own aircraft templates anytime and anywhere.
Sharing this with you makes me so happy because I want kids to have fun using it as my daughters did!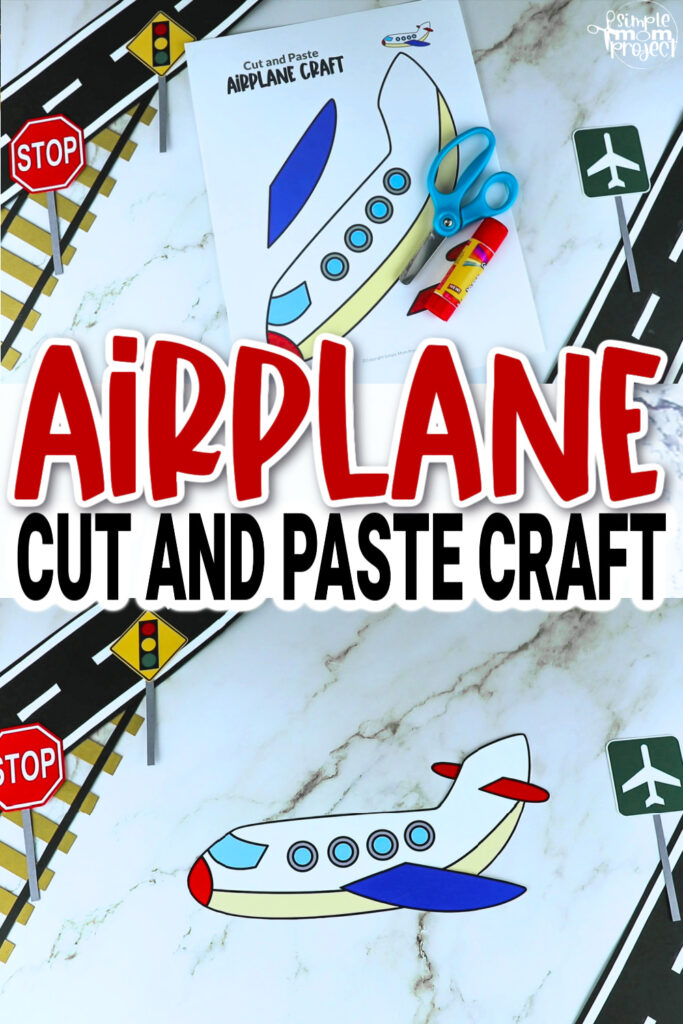 Along with coloring, cutting is a fantastic activity for developing fine motor skills.
All of the children who are starting to use scissors with little hands will like making this cut and paste airplane craft.
The activity is straightforward and not overstimulating for children of this age, so they will have no trouble cutting and pasting the airplane pieces.
Check out this cut-and-paste craft right away, and enjoy making an airplane craft with everyone you know who likes planes!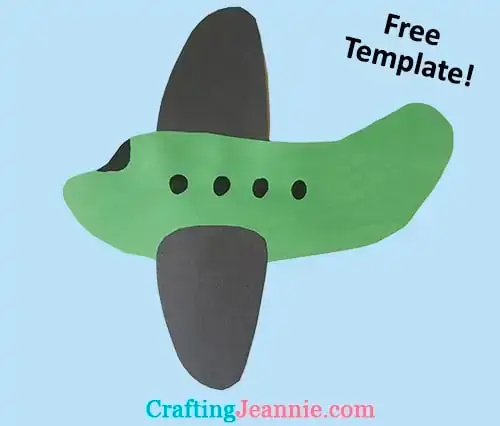 Airplane Craft for Preschoolers
Can't get enough of airplane templates? Enjoy using and personalizing this free airplane craft template however you like with your preschoolers by downloading it.
With the easy-to-follow step-by-step instructions for this craft, the kids' arts and crafts activity time would be a piece of cake.
It won't take you more than ten minutes to complete this activity, but the kids will love it so grab them right now!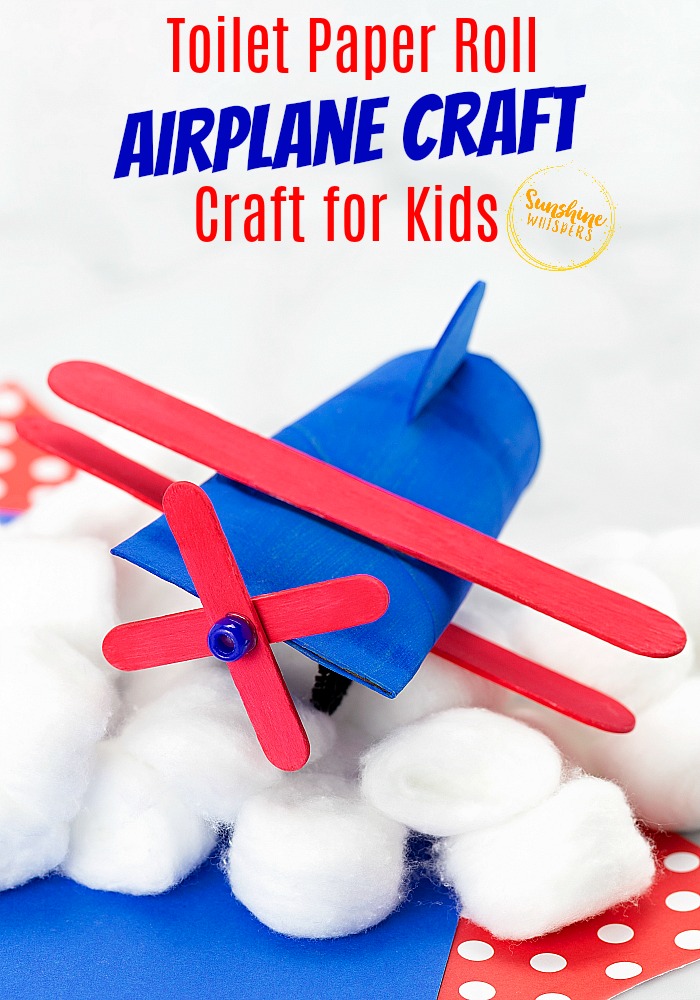 Toilet Paper Roll Airplane Crafts for Kids
I'm always looking for ways to recycle and repurpose items from around the house to make something fun for my kids.
That's why this toilet paper roll airplane craft for kids has become one of my girls' favorite easy airplane projects.
Only empty toilet paper rolls, popsicle sticks and some readily available materials are required to begin this craft, which kids can reuse as a DIY toy!
I know everything seems thrilling, so don't wait too long to check out this airplane craft for family bonding!
As a mom of two, being practical is essential, especially when it comes to buying toys when we can put together our own airplane.
Children may learn how to construct their own airplanes that they might later use as toys with the help of this simple and enjoyable airplane project.
Imagine the sense of accomplishment of creating something from scratch and then being able to use and play with it whenever you want.
Let's check out this airplane today rather than spending money on pricey aircraft toys!
Do you have a pile of colored paper that you want to make into something fun for your kids?
I tried making a paper loop airplane with my daughters using all the scratch paper we could find around the house, and we enjoyed it.
Any paper will work for building your paper loop airplanes, whether it be colorful or scratch paper from your previous crafts.
Try building your own with your kids right now!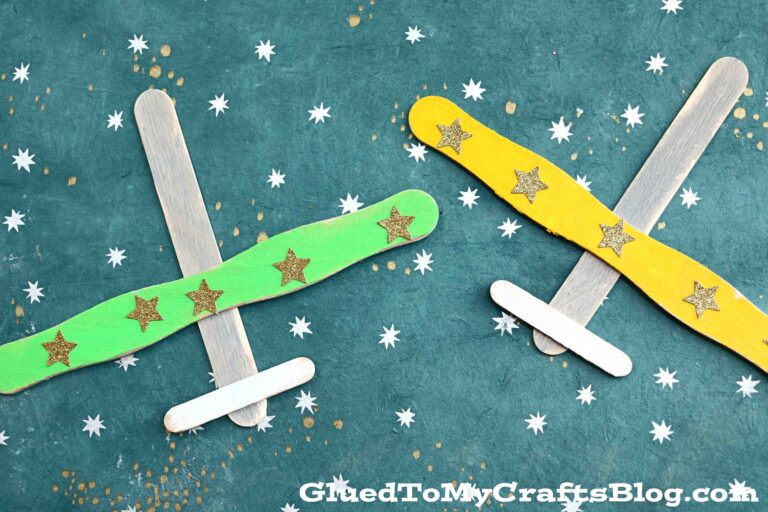 Since you're searching for a fun airplane craft activity to do with your kids, we recommend this popsicle stick airplane craft.
It is not only an awesome idea to spend time together, but it may also help them develop their fine motor skills, hand-eye coordination, and creativity.
Check out this popsicle stick airplane craft to keep your kids engaged and excited today with their own airplane craft!
I'm always looking for fresh ways and great ideas to make a new craft for kids by reading craft blogs and watching simple craft tutorials.
I enjoy watching tutorial videos because I can visualize the results and foresee how my project will turn out if I follow the instructions.
Try making this cute airplane craft by following this full tutorial video!
It's simple and would just require a few items and fun ideas!
My girls and I enjoy experimenting with different craft supplies.
Wooden sticks are one of our favorite building materials because we can do so much with them with just glue.
Did you know that you could make an airplane out of your wooden sticks?
Amazing, isn't it?
Grab your sticks right away and click this simple step-by-step tutorial for a wooden stick airplane project!
How to Make a Paper Airplane Fly
Making an airplane out of paper is quite simple.
You could create an airplane out of paper with just a few simple folds.
However, how can you make it fly?
You can learn how to make paper airplanes fly by watching this tutorial video, and you'll be making your own in no time.
Kids will have so much fun watching this video, which teaches them all of the tricks they need to know.
Either you want to create an aviation theme space in your classroom or decorate your child's room with airplanes, airplane templates would be very helpful.
This paper airplane template activity that we discovered creates a wonderful 3D paper airplane that is perfect for all of the little aviation lovers out there!
Here, you could pick from a variety of airplane templates so that kids could make their own choices.
Download and print the airplane templates to get started on your paper airplane right away!
Paper and Craft Stick Airplanes
Giving our children a variety of craft supplies to work with so they can make their own personal favorites is a great way to foster their imagination and creativity.
This paper and craft stick airplanes project requires only a few simple materials but offers plenty of chances for children to exhibit their artistic ability.
My daughters enjoy gluing the craft sticks together to form the airplane wings.
Check it out right away since I'm sure your kids will love making their own DIY airplane crafts too!
Ever made a craft that your kids could use to play with?
This airplane craft is not only easy and simple to build, but it also has lots of uses later!
Cardboard rolls may be found anywhere and are the main component for creating your own simple aeroplane craft.
Enjoy reading the entire craft article and building your cardboard roll airplanes!
My kids enjoy making and building things, and this simple airplane craft idea gives them an awesome outlet for their creative energy.
This pool noodle airplane can pique their interest in science and engineering, allowing kids to build a better grasp of how the world works.
When they are done building it, they can enjoy playing with it and imagining they are flying through the air.
Your children are going to love this pool noodle airplane, so try it out right now!
Do you have kids who love drawing?
Because I do!
They've been asking me to show them how to draw an airplane, and I needed some help because I'm not a very good drawer.
This airplane drawing tutorial video was a tremendous help to me while teaching my kids how to draw.
Not only is it easy to draw, but it will definitely inspire your children to create their own planes!
Make a simple paper jet airplane to learn basic origami planes!
As a frustrated origami enthusiast, I enjoyed producing these paper jet planes and teaching my kids how to fold them.
Watching this tutorial video was far more helpful in helping me build and fold my airplane origami than going through various origami blogs.
If it helps me, I'm confident it will help you as well!
Enrich your reading time activities and role-playing exercises with this simple airplane puppet craft.
Kids will have a great time playing with them in the air while acting like pilots.
My daughters created this airplane puppet craft and used it for a variety of activities, including reading and flying games.
Find out how to make one right now!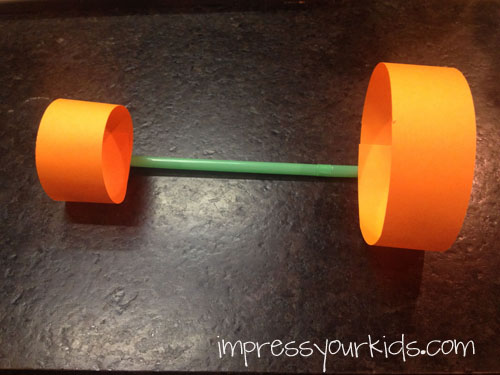 If you're a mom like me, you should check out this craft.
I found this wonderful airplane craft from a mom whose kids spent days during the summer making interesting crafts because the theme is the sky.
This is the the one airplane craft that you could do with your kids this summer too!
This footprint airplane canvas craft involves printing your child's foot onto a canvas to make the airplane's wings and then using paint to design the body of the plane, propellers, and other parts.
It's not only a fun method to express yourself artistically, but it's also a terrific way to capture their footprints and make a lasting memory.
Don't miss out on this fantastic airplane craft and get your canvas ready right away!
Paper plates are one of the handiest items I have around the house to help my kids and I produce different arts and crafts.
We made this paper plate airplane craft since we were on an airplane kick.
It's a traditional airplane project that kids are sure to enjoy making and customizing with their favorite designs and hues.
Click on it to learn more about how to construct this paper plate airplane—it only has just a few simple steps!
Kids will have a blast with airplane-themed activities and arts and crafts.
These activities can help them develop essential skills such as creativity, hand-eye coordination, and problem-solving, while also providing a fun and engaging experience for both you and your child.
Plus, by incorporating a theme that many kids find fascinating, you're sure to capture their attention and spark their curiosity about the world around them.
Airplane activities and arts and crafts are a great way to spend quality time with your child while fostering their cognitive and sensory development!
When you have finished, be sure to share your creation on Simple Mom Project's Facebook Page and follow me on Pinterest!

Kaitlen D.