I'll never forget the happiness on my girls' faces as they worked on their own airplane templates.
So, never settle for pricey airplane templates when we have ones that are free to download, very simple to use, and completely customizable!
This free airplane template is perfect for all the little airplane enthusiasts out there seeking for a fun rainy day project.
Making this airplane design will give kids numerous opportunities for creativity and fun because I know that kids need a break from their regular routine, too!
Did you know that there is not much adult supervision needed when using our free airplane template?
In other words, kids can enjoy the thrill of creating their own airplanes!
With these airplane coloring pages, kids could engage in hours of imaginative play, pretending to be a pilot, and flying their awesome airplanes to new adventures.
I put up all of my children's finished works on the wall of their rooms, and watching them feel proud of themselves is priceless.
Kids are likely to feel a sense of accomplishment once they have finished their airplane templates.
We all want that for our children, don't we?
*By the way, this post may contain affiliate links which means I may receive a small commission at no additional cost to you if an item is purchase through that link. For more information, click here.*
Printable Airplane Template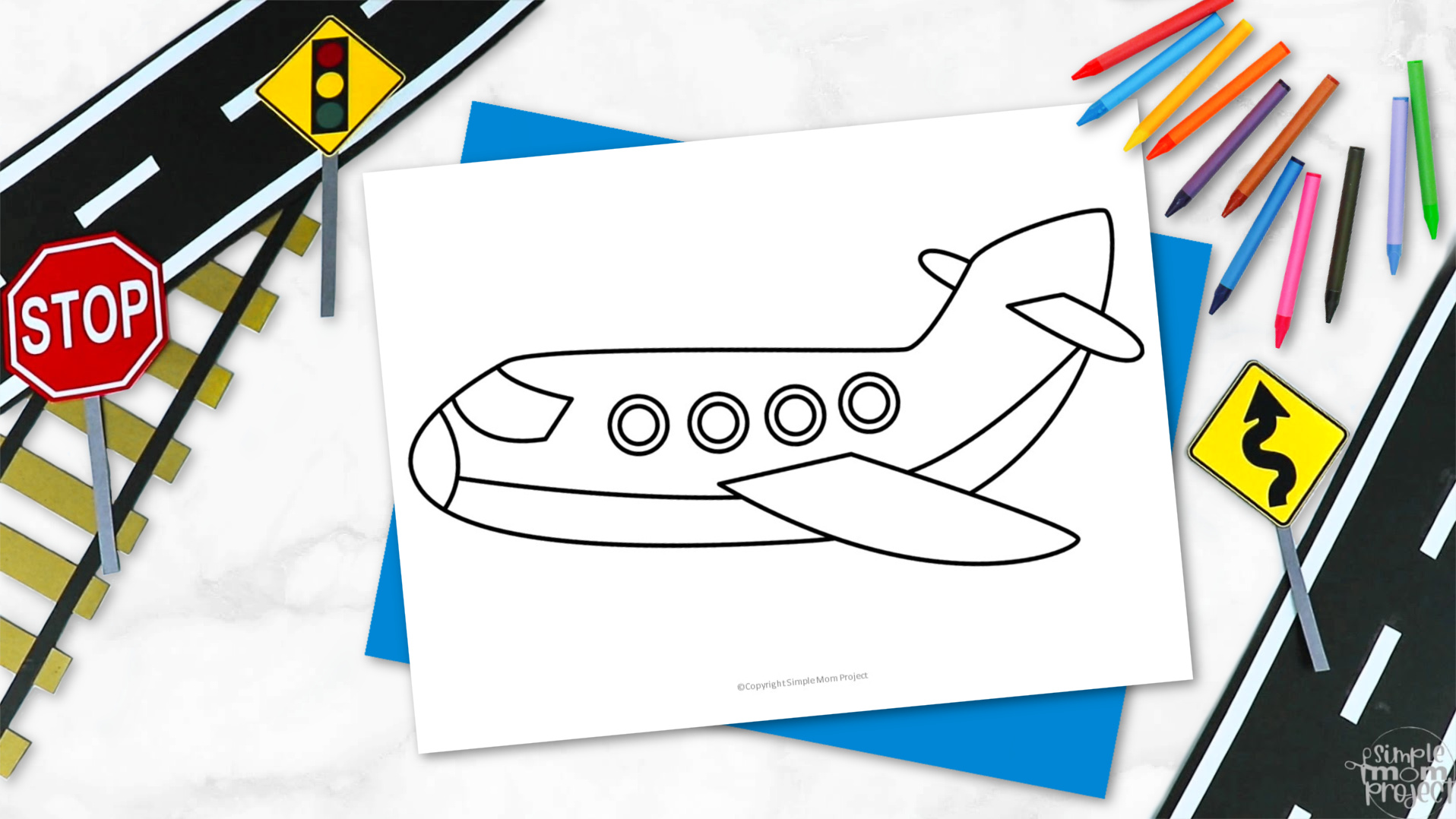 Airplane Template Supplies Needed:
Printable Airplane Template (FOUND AT THE BOTTOM)
Ideas for Airplane Template
We created a list of creative ideas for the printable airplane template in addition to the template itself.
We made sure that each of these ideas would work best with the airplane template and would be easy to apply both at home and at school.
Feel free to incorporate these ideas into your routines this week as you learn about airplanes!
1. Awesome Airplane Collection
Let's decorate your classrooms and study nooks with airplane-themed stuff!
Check out our awesome collection of airplanes, which we know will be excellent teaching materials.
The printable airplane template can be introduced using this collection, or you can let the kids use these materials once they've done their templates.
Children would surely like playing with airplane house finger puppets and reading books about airplanes.
These resources would be a big hit with them because they are engaging and enjoyable to learn with.
We make certain that the materials in our collection are age appropriate, affordable, and easily accessible.
Enjoy exploring these resources by clicking on the links below!
2. Letter A for Airplane
If you're studying the letter A this week, you may also work on this printable airplane template.
One of the most common words that represent the letter A is airplane, which makes it an effective teaching tool.
The kids can color the template with any decorative items once you're done teaching them the letter A.
Crayons, markers, paint, or even colorful cutouts could be used to decorate it.
During their week of the letter A, you could also utilize the airplane to introduce them to a new vocabulary.
Create a word wall in your classroom or study areas using their finished airplane templates.
3. Air Transportation
The best template to teach about air transportation is this printable airplane template.
This can be used for science lessons as well as arts and crafts projects.
Use it for visual aids, PowerPoint presentations, and more.
Before having the kids work on the airplane template, talk to them about air transport, its importance, and how we use it in our daily lives.
You might also provide some basic things to do when flying.
This week's lesson on air transportation would be ideal for preschool and kindergarten kids.
We all know how much children adore airplanes!
Use this printable airplane template as a visual aid on the board and have the kids identify its parts as well.
4. Cardboard Airplane Craft
Have your kids ever flown in a plane? What do they experience when it is in flight?
Making an airplane craft would be a fun arts and crafts activity for a transportation week, whether or not you have ever been in an airplane.
If your children aspire to be pilots, they will love making this project!
Print the airplane template, then gather some cardboard, glue, and scissors.
Cut out the airplane outline and glue it to a piece of cardboard.
Cut out the airplane outline once more after it has dried.
Have fun launching it into the air!
It's not only a craft project; it also doubles as a fun DIY airplane toy!
The printable airplane template can also be used as a guide to create your own cardboard airplane or paper airplane craft using your own design of shapes.
How did all of these ideas assist you in creating your lesson plans for transportation?
We believe that these ideas will make lesson planning much simpler and easier for you.
These are some of the most creative approaches we know of to teach children about airplanes.
Enjoy seeing more of our free vehicle templates as they become available over the next few days!
Kids would love to have more of these enjoyable to use templates!
Printable Airplane Template:
This is where all the creativity begins, as children use all of their favorite colors and experiment with different coloring and painting techniques on their airplane templates.
Let's give those little hands something to do by having them add more craft supplies like stickers and glitter.
This is not only a lot of fun for kids, but it also helps them develop important qualities including fine motor skills, problem-solving, and hand-eye coordination.
It's a great way for kids to explore their imaginations and learn new things while having fun. 
Try out this free airplane template and discover how much fun your kids can have with it!
It only takes a few seconds to download the free airplane template, which only requires a printer and some paper.
Add crayons, markers, paint, or even craft items and you're set to go!
You never know, you might even uncover in your children a new talent for engineering or design!
We'll include the template at the bottom of this post, and do let us know if you need any assistance putting it together.
We can't wait to witness your kid's imagination soar and to see the final output!
Please feel free to share this to anyone studying about transportation, airplanes, or the letter A!
Don't forget to leave a message in the comment section.
When you have finished, be sure to share your creation on Simple Mom Project's Facebook Page and follow me on Pinterest!

Kaitlen D.
More Free Printable Vehicle Templates