There's nothing like receiving a thoughtful and an uplifting gift, and a box of sunshine is a perfect way to brighten someone's day.
Filled with items that are yellow, bright, and cheerful, a box of sunshine can show someone you care and that you're thinking of them.
We've put together a list of ideas that will help you in making your own unique box of sunshine that will make your loved ones smile.
To make things even easier for you, we've included a free sunshine template that you can use to design your box.
So, whether you want to express your feelings to a friend, make someone's day, or simply make a fun and cheerful gift, we've got you covered!
Let's get started and bring some brightness your way!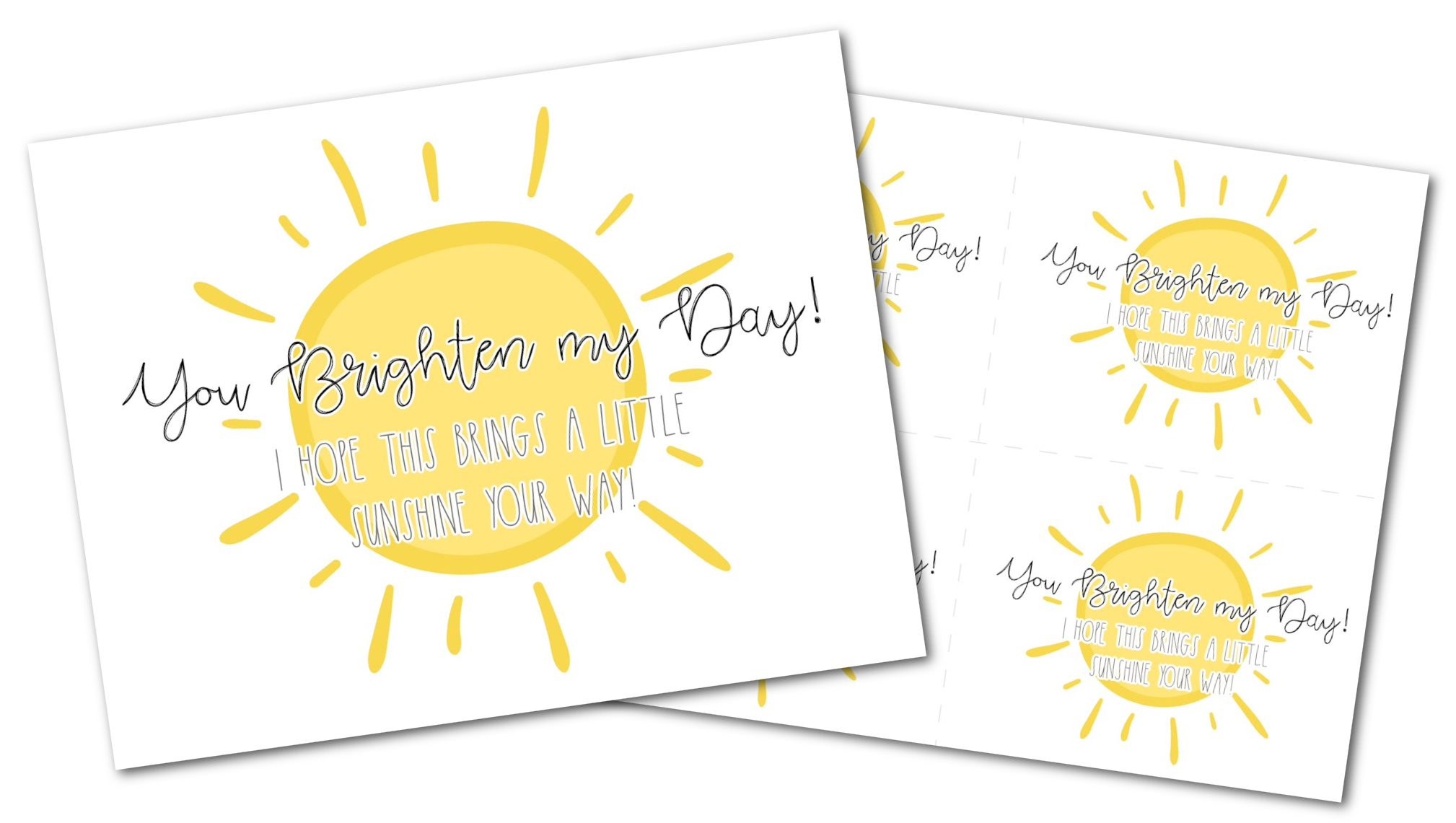 Box of Yellow Sunshine Gift Ideas with Free Printables
We are so happy to share all of these ideas for gifts we have prepared for you.
And the best part is that all of these ideas go perfectly with our free sunny printable!
Choose your brightest pens and make a list of these yellow sunshine gift ideas!
Free Printable
Nothing compares to the amazing feeling of giving the perfect sunshine gift box to someone special to you. 
It's a great idea to give someone something to brighten their day.
Is this sunshine gift basket for a friend who is celebrating a milestone, a family member who is moving out of town, a relative who is a new mom, or a neighbor who has been going through a tough time lately?
Don't you wish you could find a free sunshine printable that would be a thoughtful way to personalize your gift boxes?
These free printables with yellow sunshine themes would be great to include in your little sunshine gift box!
Grab your favorite yellow items and pair them with these fun printables!
Pairing a sunshine gift box with sunshine theme free printables can be a great way to add a personal touch to your gift.
There are so many wonderful ways to include it into your yellow box of sunshine, and we would love to see how creative you can be!
At the end of this post, you will be able to browse the pdf files that are available for free digital downloads at any time and from anywhere.
Favorite Things
A sunshine gift box is one-of-a-kind and thoughtful gift that will put a smile on someone's face and remind them of sunny days even when the weather is dreary.
Make it the best surprise box for someone close to you by including items that they will find very useful.
We made sure to include items that will be useful everywhere they go, as well as items that they may share with others.
Here is a list of fun goodies to add in your sunshine boxes to give you an idea of what those are.
These are just a few of the items that we believe would make them excited to open their surprise boxes.
It's one of the best care packages ideas you can present to a family member, friend, or neighbor.
Yellow Things
The color yellow is often associated with sunshine, happiness, and warmth.
We know you're excited to put together your own box of sunshine with all the brightest yellow gifts you can find, so we're going to share some of our favorite yellow things with you!
An easy way to get them is by making a click-and-buy purchase on Amazon instead of making a trip to the dollar store or the grocery store.
Enjoy making your gift boxes shine by selecting from the many treats we've listed below!
 16 Box of Sunshine Gift Ideas
Anyone who receives this gift box is going to love everything inside!
The scented candle definitely makes a great get-well gift, and the stainless-steel tumbler is perfect as a teacher-gift.
Your bucket of sunshine gifts would be extra special if they came with fluffy socks and silk headbands!
Get these great products today, and we hope you become a ray of sunshine to everyone around you!
What we appreciate most about this get-well package is how high-quality and convenient the products are.
If the person receiving it loves tea, the white lemon ginger tea is a must-try.
From soothing teas to a sea salt and sage candle to fuzzy socks and a ceramic mug, this is a wonderful way to bring comfort and care during a tough time.
So why not send someone a get-well kit to brighten their day a little?
Grab one right now!
Self-care is essential: In today's busy world, it's important to take some time to prioritize your mental and physical health.
This self-care pack contains all of the products you'll need to relax, reduce stress, and take care of yourself or someone you care about.
Enjoy the soothing rose mist and lavender soy candle while getting the full pampering treatment from the face serum, lip balm, soap bar, and heel balm.
Indulge in some self-care this week by purchasing this set right away!
Surprise your closest friend, mom, or coworker with this kind gift if you're on the hunt for something special to give them!
An insulated tumbler, ideal for coffee or tea, a soy wax scented candle to help them unwind and de-stress, a pair of fuzzy socks, a gift card, and an absolutely adorable tiny succulent are all included in this box.
The gifts in this care package are just the perfect ones to express your care, hence I would personally like it for myself!
Make your best friend's day unforgettable with this friendship gift basket loaded with thoughtful items that can be given at any time of year.
This gift basket is perfectly made with a stainless tumbler, trinket tray, lavender candle, makeup mirror, sweet keychain, cute socks, and a funny card for your customized remarks.
Your best friend's heart is sure to melt when they see all of these things!
Sunflowers are one of my favorite flowers!
And if you know someone who loves them, let them know how much you care by giving them this sunflower gift box.
The bath bomb, scented candle, handcrafted bracelet, sunflower tumbler glass, cupcake socks, and greeting card are all as wonderful and cheery as sunflowers.
Today, make someone's day happier by sharing what you love about sunflowers!
7. You Are My Sunshine Package
I always send something to cheer up a buddy when they are feeling under the weather or going through a difficult moment.
I found this box of sunshine that is exactly what I've been looking for to send to my friends.
This box also includes a mug, a pair of yellow socks, a card, a stress ball, cheddar Pringles, Lemonhead candy, a Belvita cookie, M&M's chocolate peanuts, and juicy fruit gums.
Comfort foods and sunny presents in one box are guaranteed to make your friends happy!
As a mom of two, a spa day sounds perfect.
But did you know you could spend a relaxing day at home exactly like you would at a spa?
I wanted to tell you how lovely it was to help me rest after a long day thanks to this soothing spa gift basket that I received from a relative.
Body butter, hand cream, bath bomb, handcrafted bath soap, scented candles, and a wine glass are all included in this gift basket.
Bring the spa into your home with this serene spa gift box and share it with someone precious to you!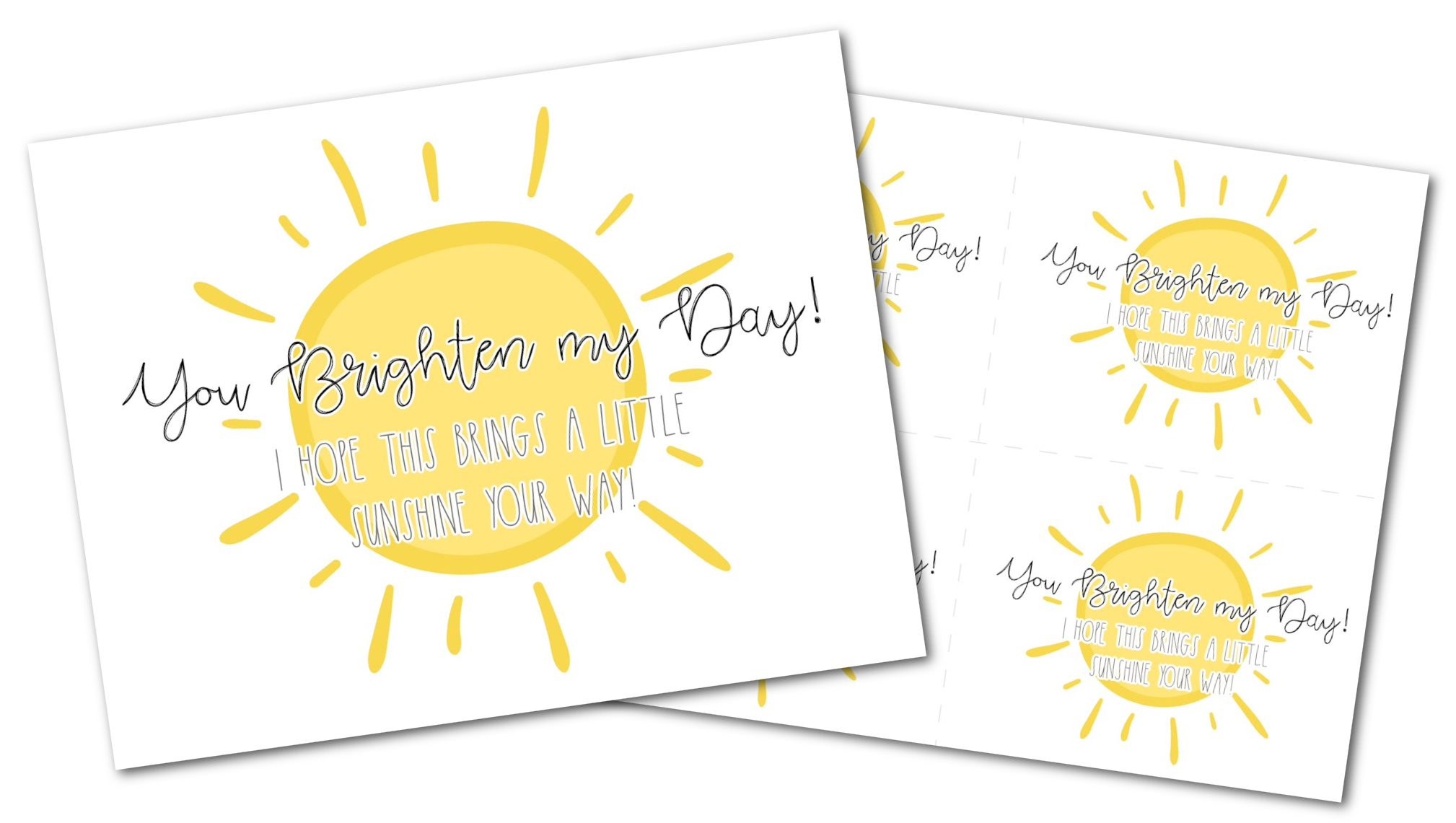 Sending this college care package to your child will show them that you are constantly thinking about them.
It's a wonderful way to convey your long-distance love and best wishes for success in their studies.
Everything they could possibly want, including their favorite snacks and treats, is included in this care package.
It also comes in a sweet and colorful little box of sunshine, which would make their day even better.
This care gift box is perfect for those you know who are in the process of healing or recovering from surgery.
Getting through a difficult period is not easy, but giving something would show them your compassion and best wishes.
Everything in this gift, including the cozy blanket, silky eye mask, fleece socks, and water tumbler, is certain to give them solace and warmth at a trying time.
Pair this present box with your personal note on the gift card to let them know about your special words for them.
It's wonderful to express our love and support for our closest friends in any manner we can.
For myself, whose best friend resides in another city, I make it a point to send her something that expresses my best wishes and feelings.
I was able to brighten her day by giving her this thoughtful gift basket filled with lavender tea, cinnamon sticks, natural honey, dipper sticks, sunshine candles, safety matches, soft socks, and a gift card.
Because they are all handmade with love, this gift is perfect for anyone you are thankful for!
12. Unique Gifts for Someone Special
Treat your mother, wife, girlfriend, or sister to this one-of-a-kind gift basket!
Every woman in our life deserves to be appreciated for all that she accomplishes, as well as to be loved and cared for.
This box has been carefully handpicked, and the items that are inside are wonderful for any celebrations the women in your life may be planning.
Special individuals in our lives deserve special and one-of-a-kind presents like this one!
What is the best way to express gratitude to someone amazing that you miss so much?
Their comfort food and drink! This cookie and tea gift package that I sent to my mother was one of her favorites, and she truly loved receiving it.
If you know someone who does, get them this gift package, which includes a herbal tea, apricot jam cookies, a sea salt and sage candle, a honey sheet mask, and wildflower honey sticks!
14. You Are My Sunshine Music Box
Hearing the song "You Are My Sunshine" in a music box is an experience like no other.
This wooden musical box has a beautifully carved sun on it.
To play the song for as long as you wish, simply turn the handle!
Your bundle of sunshine presents would be incomplete without this music box!
This lovely care box is filled with so much love and care that anyone who receives it is bound to feel better and happier!
Sending a gift to someone doesn't require a special occasion, so send this care package to your mother, wife, sister, daughter, or friend right away.
The insulated tumbler, lavender-scented candle, luxurious flannel blanket, fuzzy socks, bath bombs, silk eye mask, silk headband, and gift card are all items that they will love.
To top it all off, this thoughtful care package comes in an elegant gift box!
Make someone's day by sending them this sunshine gift box filled with delightful treats!
I would love to receive this gift box because the items inside are as wonderful as the sun and sunflowers on the stuff in it.
A stress ball, fuzzy socks, honey bar soap, lemon bath ball, thermal wine tumbler, and sunflower blanket are included in this personalized basket.
It even comes with a bright artificial sunflower that you can pair with your special sentiments on the sunshine greeting card!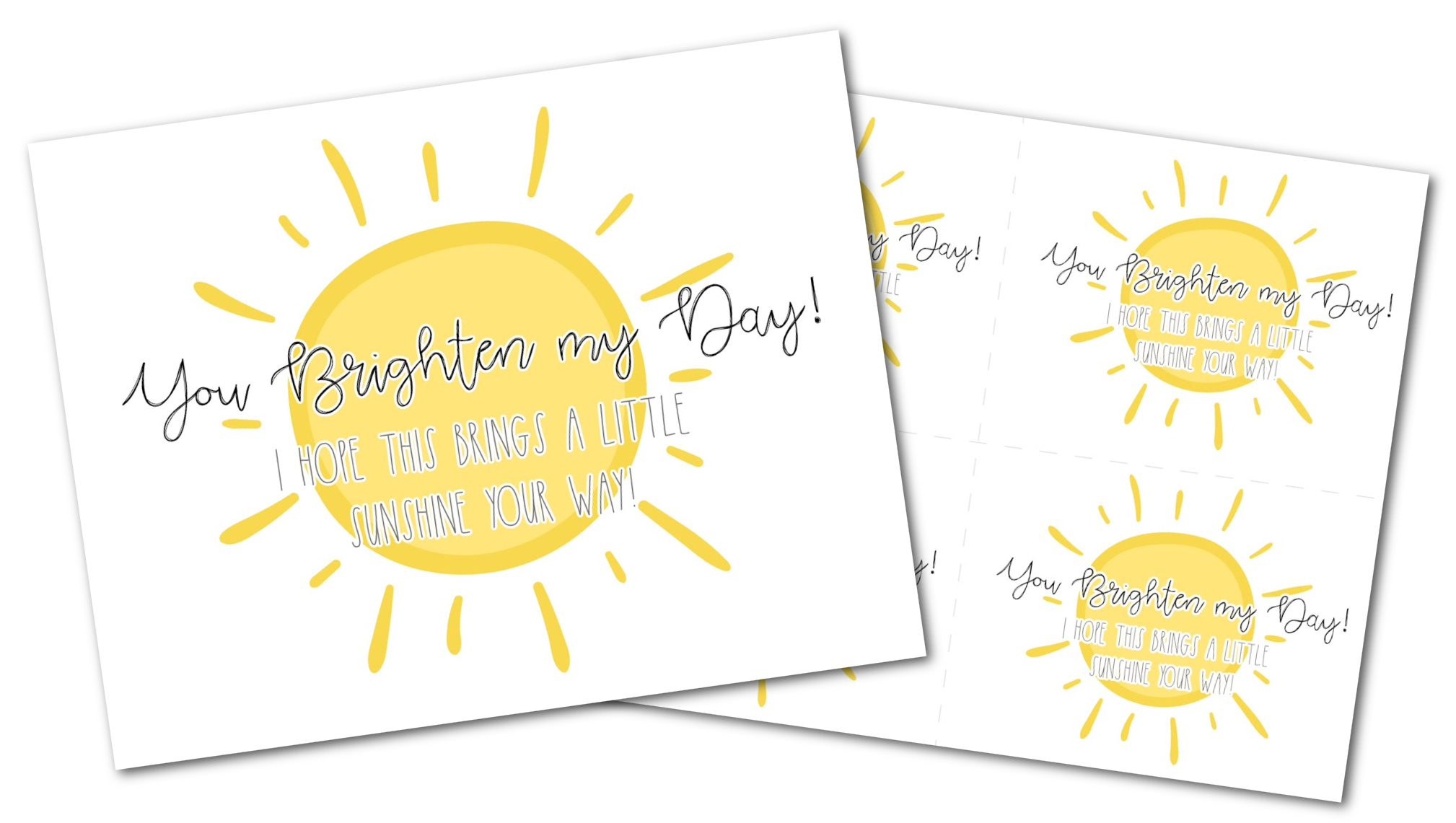 Anyone would be thrilled to receive one of these amazing sunshine gift boxes!
Use any of these ideas and printables to brighten someone's day.
Enjoy adding all the yellow items we prepared to your gifts, and don't forget the free sunshine printable that you can use in a variety of ways!
When you have finished, be sure to share your creation on Simple Mom Project's Facebook Page and follow me on Pinterest!

Kaitlen D.