This week, are you learning the alphabet letter B?
Don't forget to incorporate learning about uppercase letters as well!
Allow your kids to figure out how to write the letter B on their own while you learn all the words that begin with the letter B.
You may use this capital letter B printable to teach your children everything there is to know about alphabet letters.
This letter B template comes in helpful for tracing, writing, crafting, and learning the phonic sound of B.
Use this free printable letter B stencil outline to plan your letter of the week lessons, alphabet crafts, and writing exercises at home and at school.
Even better, you can create anything you want using this printable uppercase letter B template!
You can modify it by coloring, painting, or sticking colorful cutouts on it.
This uppercase letter B will also go well with all of your letter B themed books!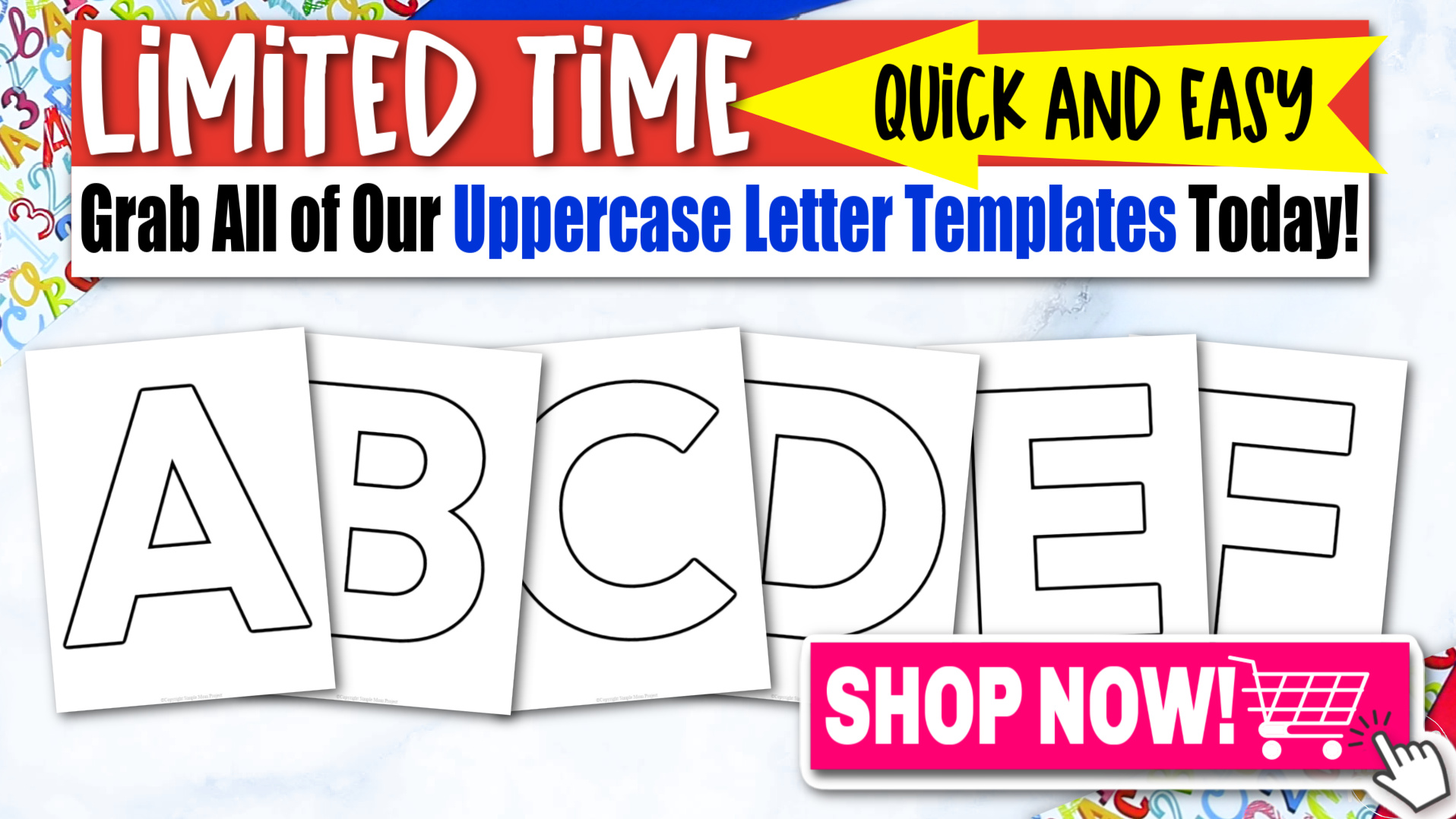 *By the way, this post may contain affiliate links which means I may receive a small commission at no additional cost to you if an item is purchase through that link. For more information, click here.*
Printable Uppercase Letter B Template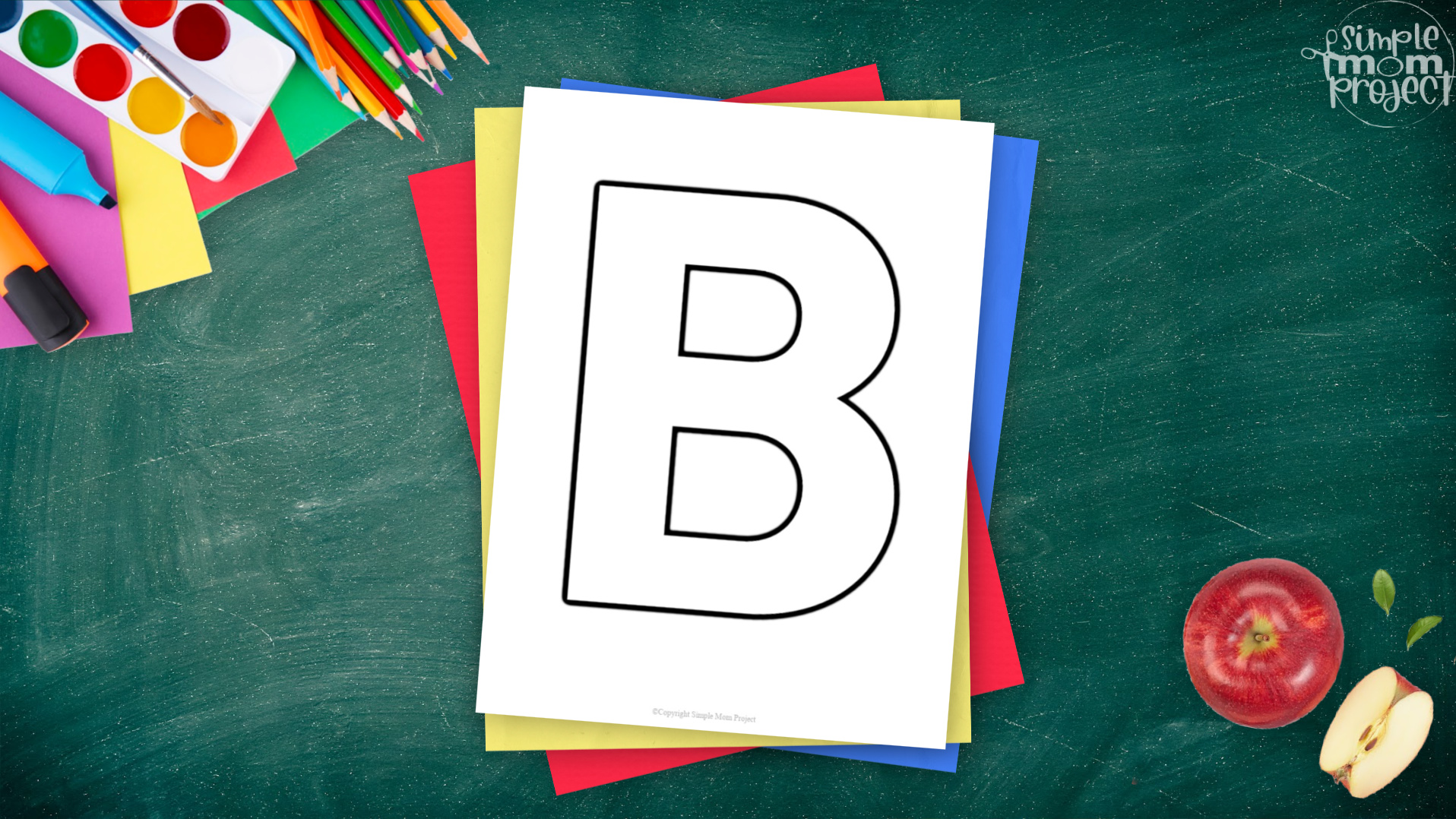 Printable Uppercase Letter B Template Materials Needed:
Printable Uppercase Letter B Template (FOUND AT THE BOTTOM)
Make your child's finished coloring page a forever memory by laminating it! We use this laminator and cannot express how much we love it! It is not only inexpensive, it is SO easy to use!
Your kids will love seeing how much you adore their art work when you laminate and display it for years to come!
Looking for more amazing uppercase alphabet fun ideas? Check out our Uppercase Letter A, M and T Templates.
Ideas for Uppercase Letter B Template
We would love to share all of these suggestions for using this free printable uppercase letter B template in your daily activities.
These activities are great for toddlers, preschoolers, and kindergarteners.
We made sure that all of these ideas are easy, fun, and simple to practice.
As you read on, have fun making notes about all of these ideas!
1. Learn the Uppercase Letter B
You might be unsure about how to introduce your kids to this uppercase letter B template.
We've gathered some of the best learning resources you can use to introduce it, so don't worry!
These items are perfect for circle time, reading time and playing time routines.
Before introducing them to the letter template, let your children read books about the letter B and practice writing it on a wooden letter board and with flashcards.
Make sure to add these simple and inexpensive learning resources to your list!
2. Preschool Coloring Pages
We all know how much kids like coloring.
This uppercase letter B is the perfect template if you're looking for a completely free printable to use for your coloring activities!
Your kids will enjoy using all their coloring supplies to create a beautiful uppercase letter B template.
After learning about the letter B, let your kids use their imaginations to create and alter their own letter templates.
As blue begins with the letter B, you may also suggest that they color their uppercase letter B template that color.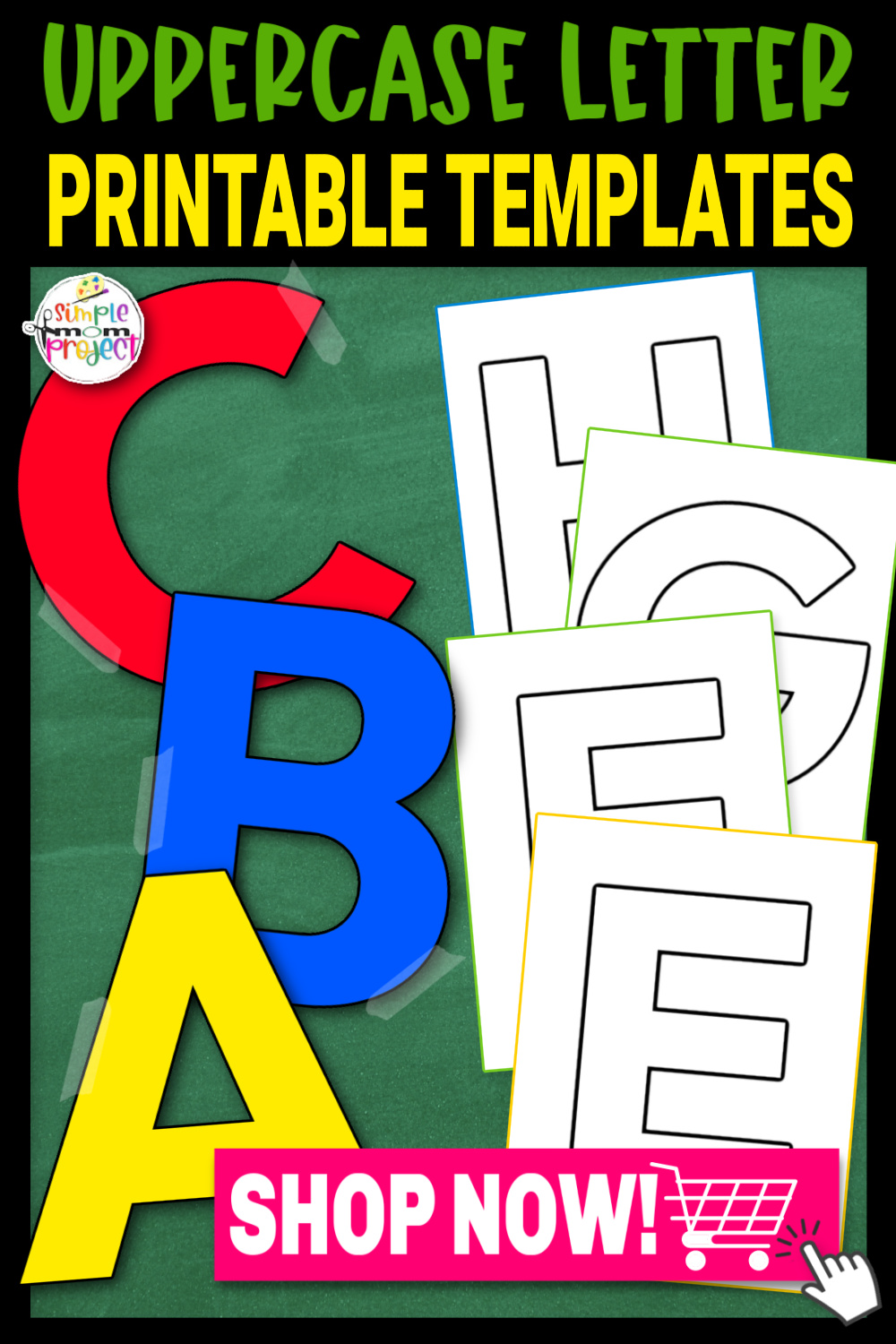 3. Butterfly Craft
The butterfly is one of the most frequently used nouns to represent the letter B.
Make a butterfly craft using this free printable uppercase letter B template, which was made to be used in your children's everyday activities!
After printing a copy of the letter template, cut out your colorful construction paper pieces.
Your children are allowed to use any materials they like to create their butterfly crafts.
They may begin by sketching the butterfly's parts, or they could glue cutouts to the letter B outline.
In either way, using this uppercase letter B template to create letter B crafts is excellent!
4. Letter Tracing Worksheets
One of the exercises for your kids to practice their fine motor abilities is tracing and writing.
You can start practicing tracing after they have finished learning about words that begin with the letter B.
Practice tracing is a fantastic place to start if your kids are getting ready for preschool to improve their pencil grasp.
You don't have to ask them right immediately how to trace the letter B using a pencil.
Start by directing them to trace the stencil letter B with the tip of their index finger on the template.
Give them a pencil and some paper once they are comfortable with the strokes.
If you have kindergarten children, use the printable uppercase letter B to create dotted lines for their tracing activities.
All of these ideas are sure to make letter learning fun and memorable!
These activities will keep your kids interested and eager to learn more uppercase letters in the future.
We hope you will enjoy incorporating these ideas into your daily activities as much as we enjoyed sharing them with you!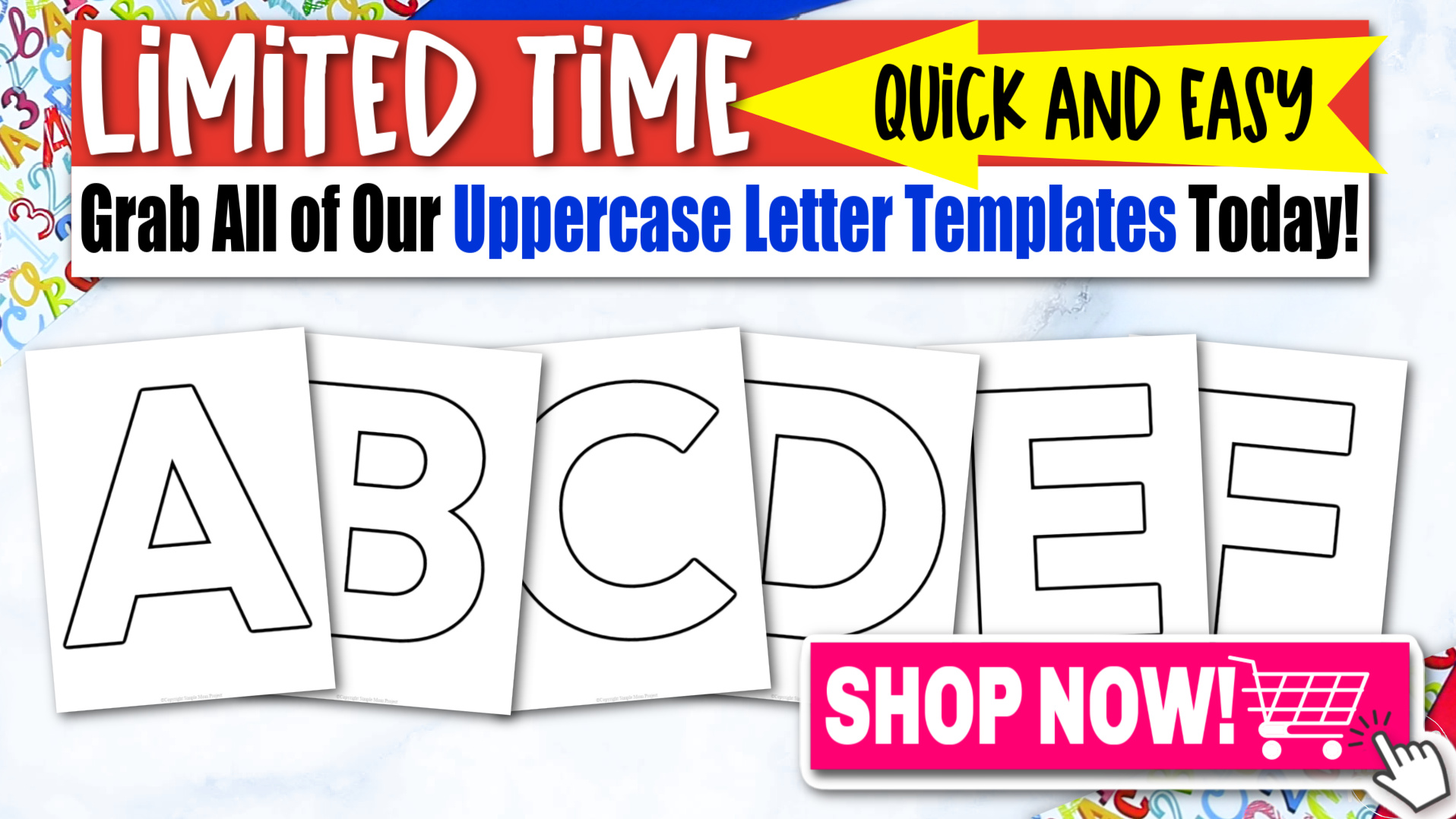 Printable Uppercase Letter B Template: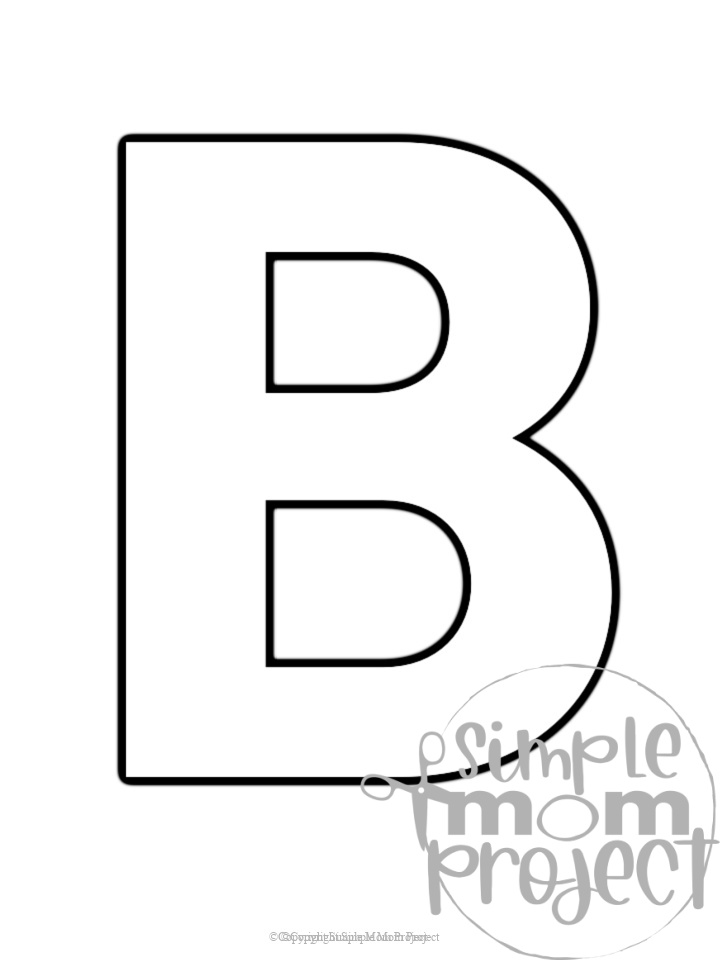 Which letter is your favorite? Does your name begin with the letter B?
Then use this uppercase letter B template to create some delightful crafts using that letter!
It's so much fun to use this printable bubble letter stencil for any activity you have in mind.
You may use it to create crafts, color pages, write and trace, and even make room decorations for your kids!
This uppercase letter B outline is useful not only for fine motor, creativity, and alphabet development in children, but also for parents and teachers to use on special occasions.
This letter B template is helpful if you're planning to create an alphabet wall or have a letter of the week coming up at home or at school.
Enjoy customizing this uppercase letter B anyway you and your children want!
Don't forget to leave a message in the comment section.
When you have finished, be sure to share your creation on Simple Mom Project's Facebook Page and follow me on Pinterest!

Kaitlen D.
More Fun Free Printable Uppercase Templates