Have you watched Disney's new Mandalorian show? It's become a favorite in our household! We are all smitten with the new catchphrase: "I have spoken." My kids' favorite part of the show is watching Baby Yoda eat frogs!
The scenes elicit cries of "EWW!" and simultaneous fits of giggles in our living room.
If you're also a Mandolorian fan, you should definitely check out this new printable paper craft. Just print, cut, and glue to build your very own Baby Yoda (frogs not included).
There are so many ways to enjoy these adorable crafty characters! Keep scrolling to get lots of great ideas for using this Baby Yoda printable.
*By the way, this post may contain affiliate links which means I may receive a small commission at no additional cost to you if an item is purchase through that link. For more information, click here.*
Free Printable Baby Yoda Craft for Kids
Does your little Star Wars fan have a event coming up?
This baby Yoda craft is the perfect addition to a Mandalorian or Star Wars themed event. Set up an activity table with these fun build-a-baby-yoda printables, scissors, and glue. Don't forget your camera! You're definitely going to want to snap pictures of your little party guests crafting together.
Fellow Star Wars fans having a baby?
Throw them an adorable baby shower with a cute new Star Wars theme to help them welcome their own new baby with Baby Yoda. There are so many cute possibilities with a Baby Yoda theme! 
Even if you're not having a party, build your own Baby Yoda crafts with your little ones for some Star Wars themed quality crafting time you'll all enjoy. After you've assembled your own little Yodas, don't forget to practice channeling the force through play. 
Need more ideas for using the force with your little ones? 
– Glue your final Yoda craft to a large sheet of paper and write a cute saying like, "Yoda the Best Friend!" He would make one amazing greeting card!
– Build a microfighter for the resistance, a Death Star cannon, or a droid with LEGO Star Wars building kits. 
– Instead of gluing the Yoda pieces together, glue them to a paper bag and make this Star Wars jedi into a paper bag puppet!
– Focus on education by building writing, reading, and math skills with your kids using Star Wars workbooks from Workman Publishing. The workbooks cover a variety of subjects from preschool to fourth grade using Star Wars themes and characters to keep kids motivated and engaged.
– Attach your Baby Yoda craft to a balloon and play a game of "don't drop Baby Yoda" in the living room by working together to keep the balloon from touching the ground. 
– Practice reading with your early readers by having them read Star Wars themed early readers to their new Baby Yoda friend. It's a great way to build fluency and practice new reading skills with beginning readers.
So let's get started making Yoda!
How to Build a Baby Yoda Craft Tutorial:
Yoda Craft Supplies:
Printable Baby Yoda Template (FOUND AT THE BOTTOM)
Start by cutting out all of your shapes for your Yoda craft from either your colored cardstock or construction paper.
The next step is to assemble his outfit. Glue the cuffs on to the bottom of his jacket and the collar on to the top.
When gluing on the cuffs, be sure to leave a small dry space at the bottom where his hands will tuck under. See the next step for a visual.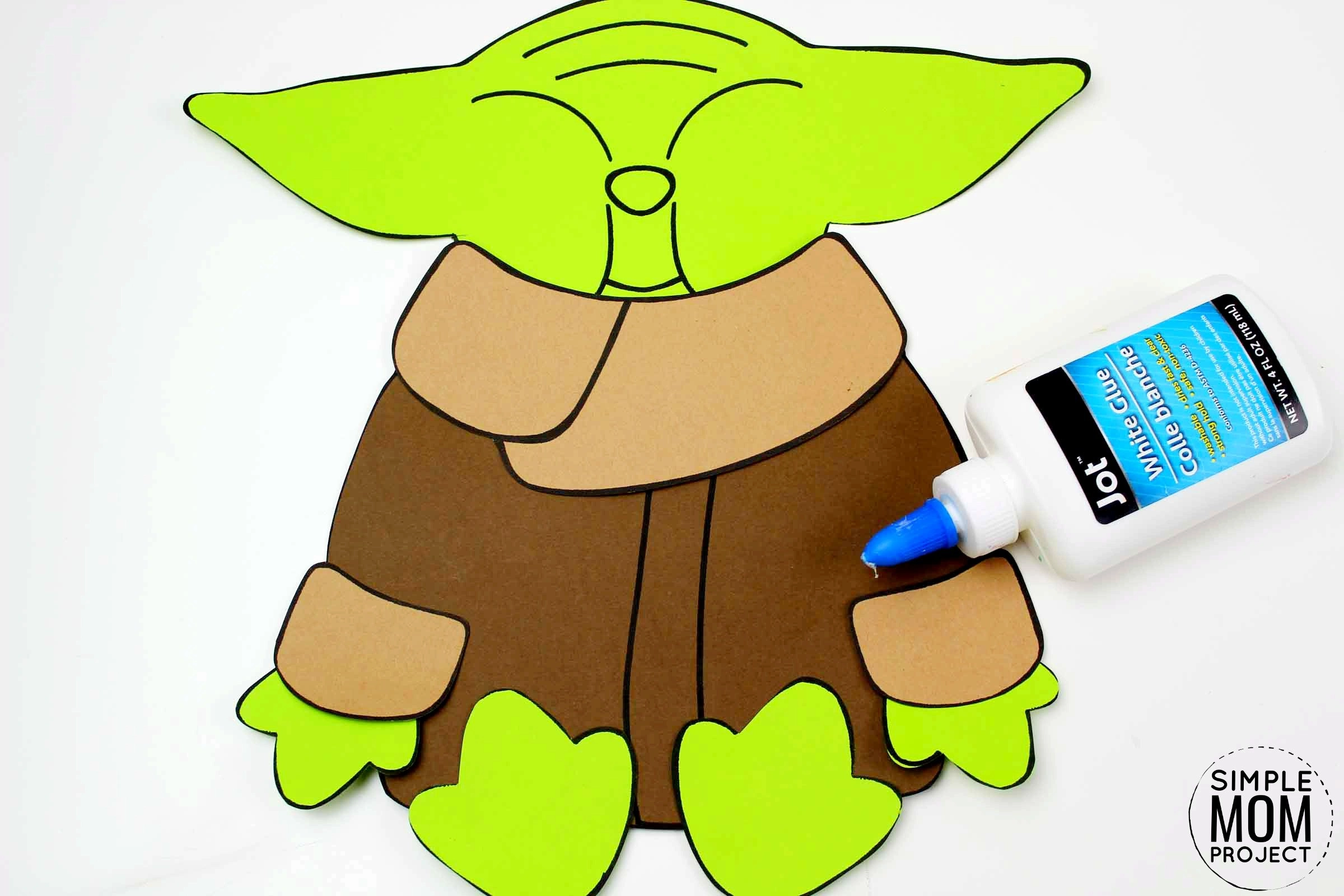 After that, start gluing Yoda's green body on.
Finally, attach his cute baby eyes and his ears. He is all complete! How easy was that?!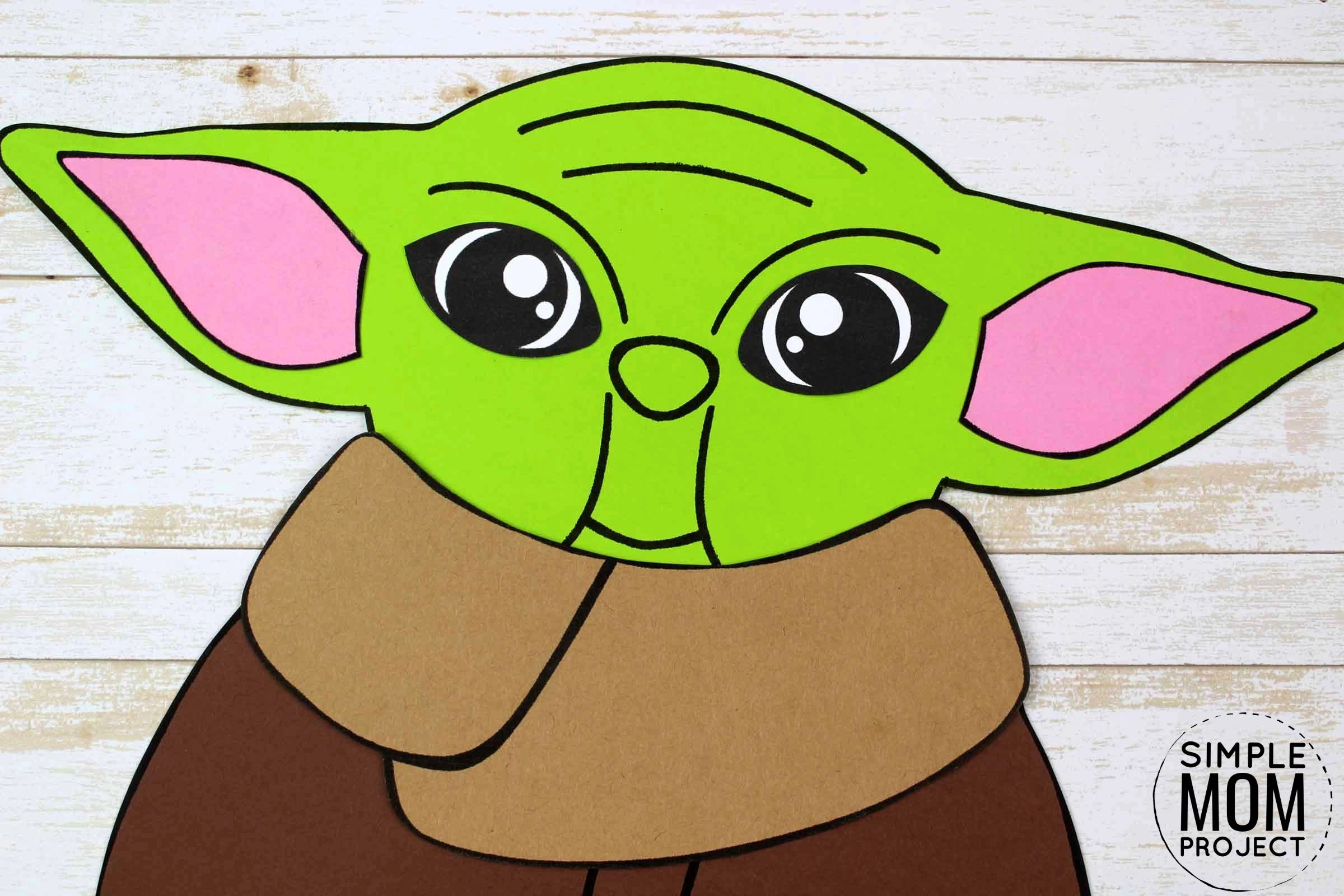 To prevent Copyright infringement, you will see our watermark inserted on all of our images. This will NOT be included in your download.
Baby Yoda Template
Got more great ideas for games to play with this cute Baby Yoda printable craft? Tell me all about it in the comments. I love hearing your ideas for spending quality creative time with crafts. Keep scrolling to get your own build-a-Baby Yoda craft printable and may the force be with you!
When you have finished, be sure to share your creation on Simple Mom Project's Facebook Page and follow me on Pinterest!

Kaitlen D.