Waiting is hard. There's no denying that. And if we are honest, waiting for God is sometimes even harder. We have to remember we are on His time. He is not on ours.
At times we feel as though He isn't listening to our prayers or simply doesn't understand the pain we are going through or the urgency of our situation. This thinking though implies that He isn't the one calling the shots.
The LORD is good to those who wait for him, to the soul who seeks Him. It is good that one should wait quietly for salvation of the LORD (Lamentations 3:25-26 ESV) Also in Romans 8:18 Paul tells the Romans and us this, "For I consider that the sufferings of this present time are not worth comparing with the glory that is to be revealed to us."
The LORD is using these times of waiting to refresh, renew and to teach us something. Instead of dwelling on what is not happening in our lives, perhaps we should use this time to discover what God might be trying to teach us.
So if you are experiencing pain, sorrow or simply just waiting on something…trust in the LORD and wait for Him. He will always reward those that are faithful to Him.
Psalm 27:14 (NLT)
Wait patiently for the LORD.
Be brave and courageous.
Yes, wait patiently for the LORD.
Be sure to tell us in the comments how you plan to use this waiting period. Maybe you don't know yet or maybe you just don't know where to start. Use this free printable bible verse coloring page of Psalm 27:14 to inspire you. You can always ask me questions.
Free Printable Psalm 27:14 Bible Verse Coloring Page
To keep it in line with our crafting site, I thought it fun to make a bible verse coloring page so you can display it proudly on the fridge, in your office, on your classroom wall, or framed on as wall decor.
However you decide to showcase your art work, I hope it helps you find your way closer to God and lets you hear Him as he is reaching out to you.
*By the way, this post may contain affiliate links which means I may receive a small commission at no additional cost to you if an item is purchase through that link. For more information, click here.*
Materials Needed:
Printable Bible Verse Coloring Page (FOUND AT THE BOTTOM)
To prevent Copyright infringement, you will see our watermark inserted on all of our images. This will NOT be included in your download.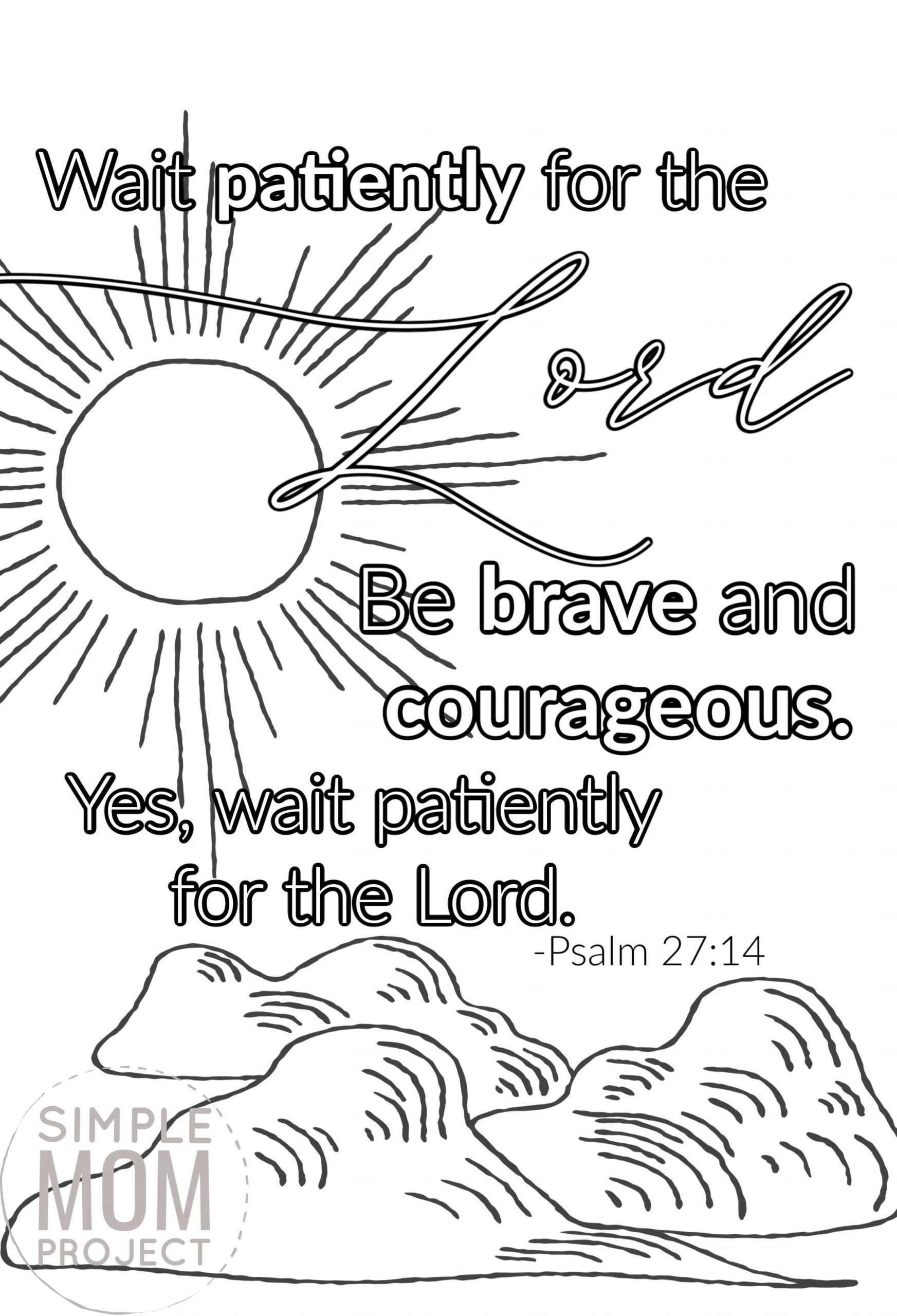 Have a favorite verse you'd like seen turned into a coloring page? Comment below which is your favorite and how God impacted your life.
When you have finished, be sure to share your creation on Simple Mom Project's Facebook Page and follow me on Pinterest!

Kaitlen D.
More Printable Bible Verse Coloring Pages: