This free printable narwhal coloring page for kids is something fun to do on a rainy or cold day.
This adorable Kawaii coloring sheet is a fun activity to have printed out for days when your toddlers are feeling bored.
Boredom buster activities are something that every parent should have on hand while raising children.
You'll love the realistic design of my free printable for kids to print and color whenever they need something creative to enjoy.
I'm sharing some ideas to help you incorporate this mythical creature coloring sheet into your daily life below.
*By the way, this post may contain affiliate links which means I may receive a small commission at no additional cost to you if an item is purchase through that link. For more information, click here.*
Free Printable Narwhal Template
Narwhal Template Materials Needed:
Printable Narwhal Coloring Sheet (FOUND AT THE BOTTOM)
Make your child's finished narwhal coloring page a forever memory by laminating it! We use this laminator and cannot express how much we love it! It is not only inexpensive, it is SO easy to use!
Your kids will love seeing how much you adore their art work when you laminate and display it for years to come!
Need more arctic animal fun? Don't miss out on all our arctic animal coloring book for more winter themed coloring pages and crafting fun with your little ones.
Ideas for Printable Narwhal Template for Kids
1. Alphabet Education
The first idea to use this coloring sheet for kids is to include it in part of your alphabet education.
You can download and print this narwhal coloring page, then write an uppercase N and lowercase n on the sheet.
Make some copies and work with your preschoolers to use this narwhal pattern to start recognizing the letter N.
2. Arctic Animal Fun
Using my printable coloring book and this adorable coloring sheet free, you'll be able to encourage your kids to learn more about arctic animals.
Kids generally love animals from all over the world, so my narwhal coloring page for kids is a fabulous addition to any arctic animal education lessons you may have planned with your preschoolers.
3. Family Bonding Time
I enjoy using realistic drawing printable options for family bonding time.
You can print this free cute animal coloring sheet of a mythical creature for each family member.
Sit down with your children at the dining room table with crayons, markers, and colored pencils to enjoy some quality time together.
Coloring is a simple activity that's free and fun for adults and kids to enjoy together.
This newborn baby cute baby printable is free to download and print as many times as you'd like.
I enjoy offering families new ways to enjoy learning more about the world around them all the while connecting in a world that tends to push this busy lifestyle that keeps parents from spending quality time together with their children.
Whether you opt to use this printable narwhal coloring page for kids as part of your alphabet education, arctic animal fun, or family bonding time, I'm confident that you'll love using my chubby cute free printable as part of your daily life with toddlers.
Printable Narwhal Template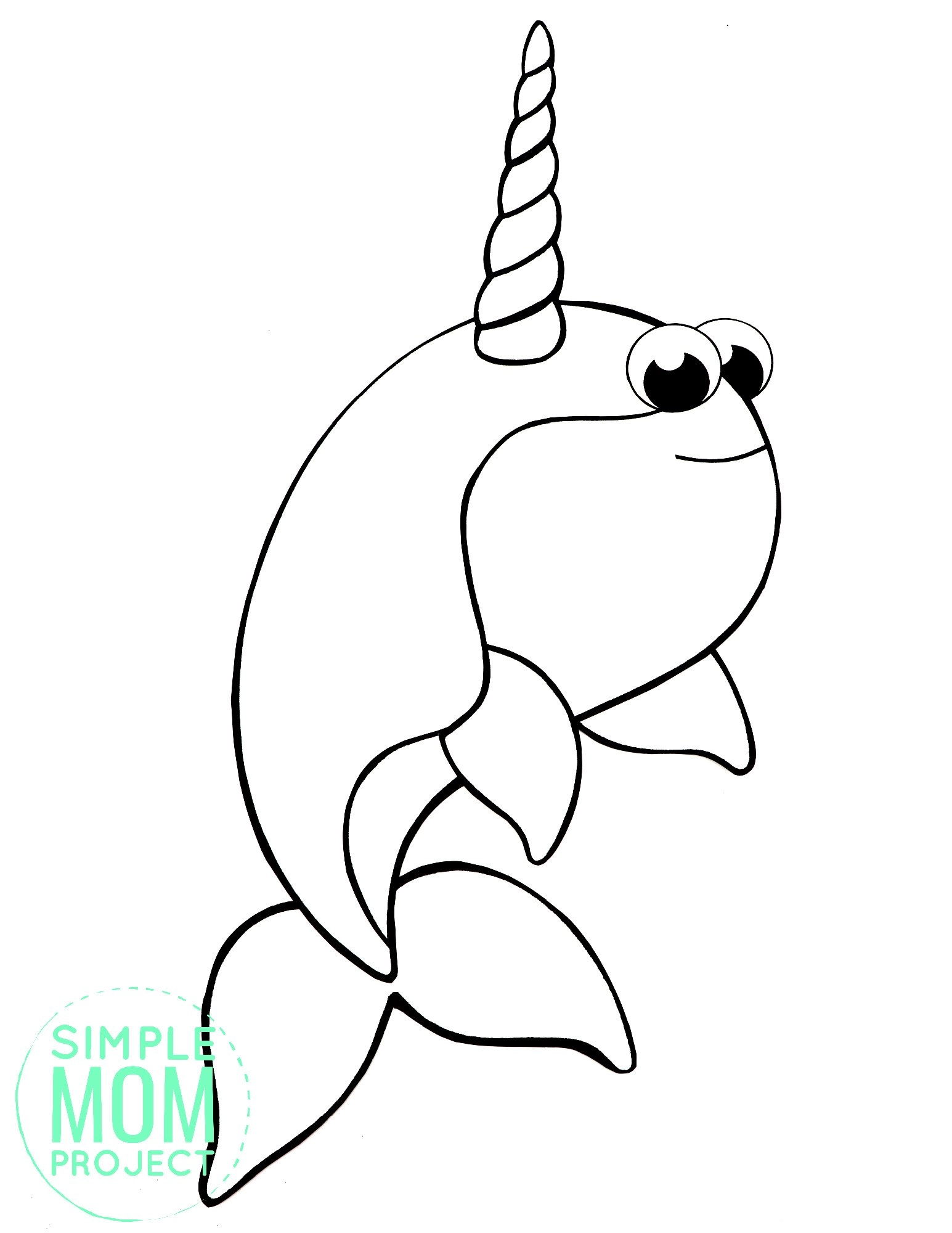 As you can see there are many ways you can use this easy paper narwhal coloring page for preschoolers.
This preschool arctic animals coloring book printable will help you enjoy some quality family time together, educate your preschoolers, and keep little hands busy while you read stories.
When you have finished, be sure to share your creation on Simple Mom Project's Facebook Page and follow me on Pinterest!

Kaitlen D.
More Fun Arctic Animal Templates