This cute arctic fox coloring page will give your preschoolers hours of fun coloring together!
This cute baby fox free printable coloring page is an excellent way to take a break from traditional education and help inspire your kids to have a love of arctic animals!
All you need to do is download this arctic fox coloring page and print as many copies as you desire for every kid in the home.
My cute baby coloring pages feature a variety of options for mindful coloring activities for families.
*By the way, this post may contain affiliate links which means I may receive a small commission at no additional cost to you if an item is purchase through that link. For more information, click here.*
Free Printable Arctic Fox Template
Arctic Fox Template Materials Needed:
Printable Arctic Fox Coloring Sheet (FOUND AT THE BOTTOM)
Make your child's finished arctic fox coloring page a forever memory by laminating it! We use this laminator and cannot express how much we love it! It is not only inexpensive, it is SO easy to use!
Your kids will love seeing how much you adore their art work when you laminate and display it for years to come!
Need more arctic animal fun? Don't miss out on all our arctic animal coloring book for more winter themed coloring pages and crafting fun with your little ones.
Ideas for Arctic Fox Template
Below are some of my favorite ways to use this arctic fox coloring page in your daily life with kids.
1. Wild Animal Education
Download and print this realistic free printable coloring picture for each of your kids.
Gather up some coloring supplies and place your kids around a table.
You'll then discuss information and perhaps share a video about wild animals such as the arctic fox.
During this time your kids will be engaged in open dialogue about arctic animals such as this wolf pup while they finish their easy step by step free printable coloring page.
2. Easy Creative Cool Traceable Activity
Another fun way to incorporate this arctic fox coloring page into your daily life is to use it as an easy creative cool traceable activity.
Simply gather up some tracing paper and print this cute baby arctic fox coloring page.
Have your kids place tracing paper on top of the free printable and trace their female fox onto paper.
This will help enhance your kids' fine motor skills and hand-eye coordination.
3. Mindful Coloring Activity
During our current times in the world, more families need unique ways to practice mindfulness.
Being mindful is the art of being present in the moment.
You'll be more aware of your surroundings, hear what family is saying and feel happier when you use activities like my arctic fox coloring page as part of your mindful coloring activities with kids.
As your family colors this summer animal printable wolf, you'll pause your outside thoughts.
No thinking about work, household chores, kids' schools, or anything.
You'll simply emerge yourself in the mindful coloring of this cute baby fox coloring page.
4. Fox Storytime
Lastly, you can always use my free printable of this cute baby fox as part of your story time entertainment.
Having coloring pages around for preschoolers to color during story time will help your kids stay focused and sit still during story time.
Gather up your favorite arctic fox children's books and read aloud while your kids color their arctic fox coloring page.
These are just a few ways I'd encourage you to revisit how you use coloring pages in your daily life with preschoolers.
Finding new ways to reduce stress while encouraging a love of learning with your kids is part of the fun in parenting!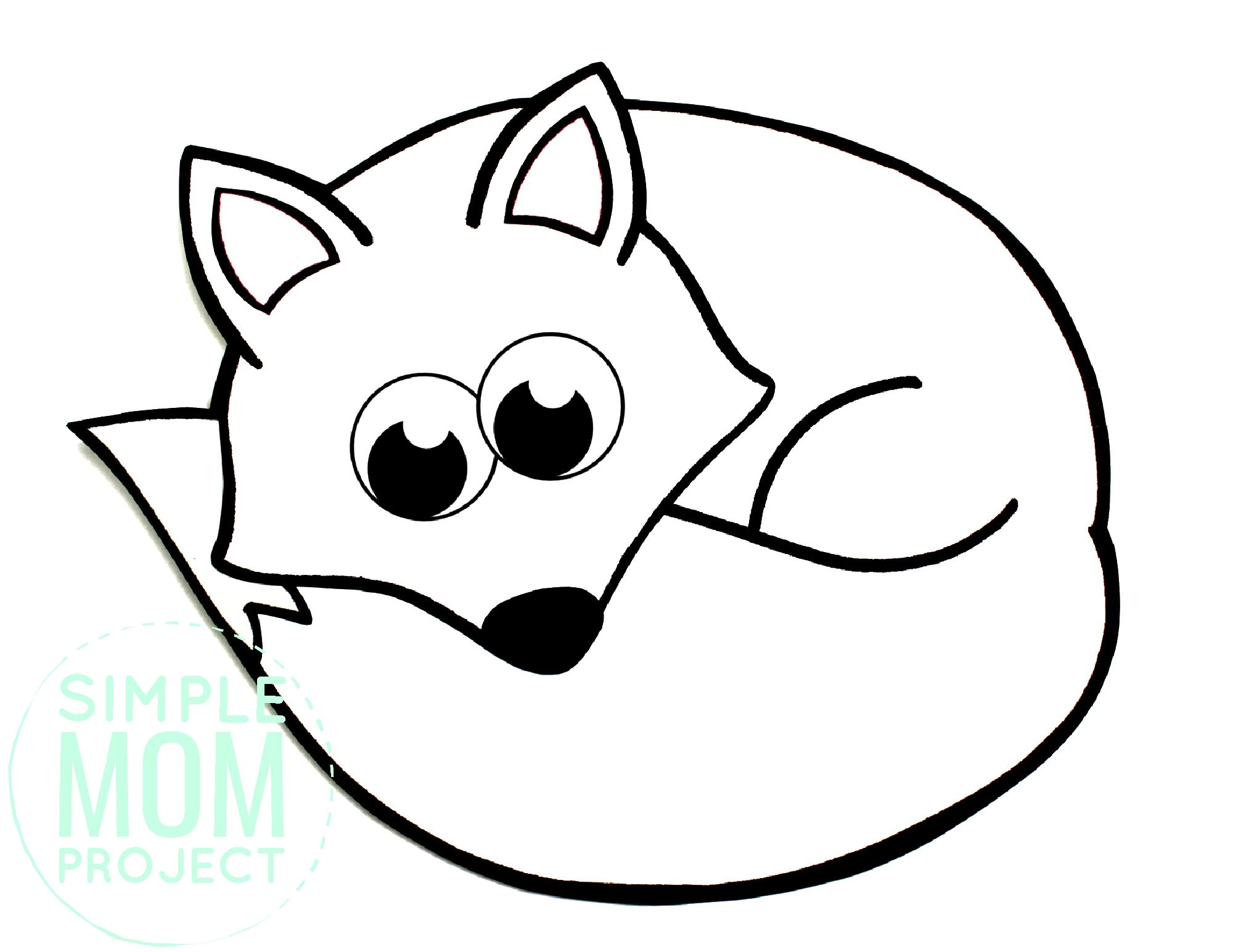 As you can see there are many ways you can use this easy paper arctic fox coloring page for preschoolers.
This preschool arctic animals coloring book printable will help you enjoy some quality family time together, educate your preschoolers, and keep little hands busy while you read stories.
When you have finished, be sure to share your creation on Simple Mom Project's Facebook Page and follow me on Pinterest!

Kaitlen D.
More Fun Arctic Animal Templates